These No Bake Protein Brownie Cups have a soft and fudgy brownie center surrounded by a thin crisp layer of chocolate. They're grain-free, gluten-free, and easily made vegan, and/or paleo. A healthy and delicious way to satisfy those chocolate cravings!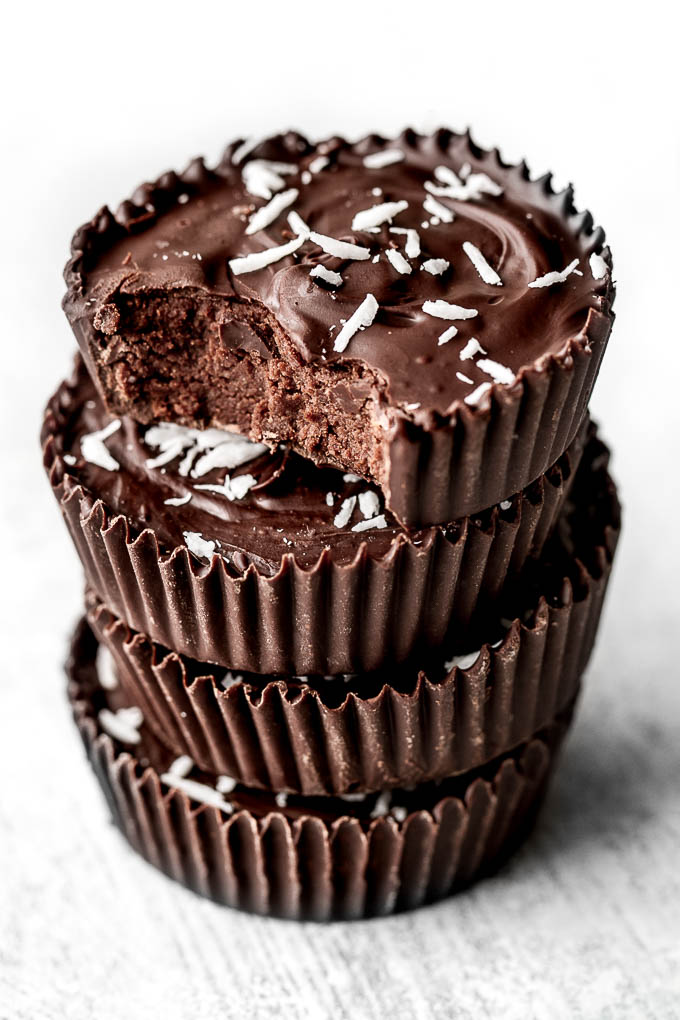 So I usually try to start my recipe posts with some kind of story or witty humour or something, but all I really want to do today is jump right in and talk about these no bake protein brownie cups so that you can hop off your computer or phone and go make them.
Which I know is presuming a lot, so I guess I should say "so that you can hear me out and decide if you wanna go make them."… [And then go make them]. Because honestly? HONESTLY?? These guys are pretty epic.
I mean, there are recipes where I take my first bite and I'm like… "Oh yes, this is delicious. Exactly what I was going for." And then there are recipes where I take my first bite, my eyes go all wide, and it's just like ho.ly.SH*T THIS IS AMAZING!!!!
These cups are part of that second group.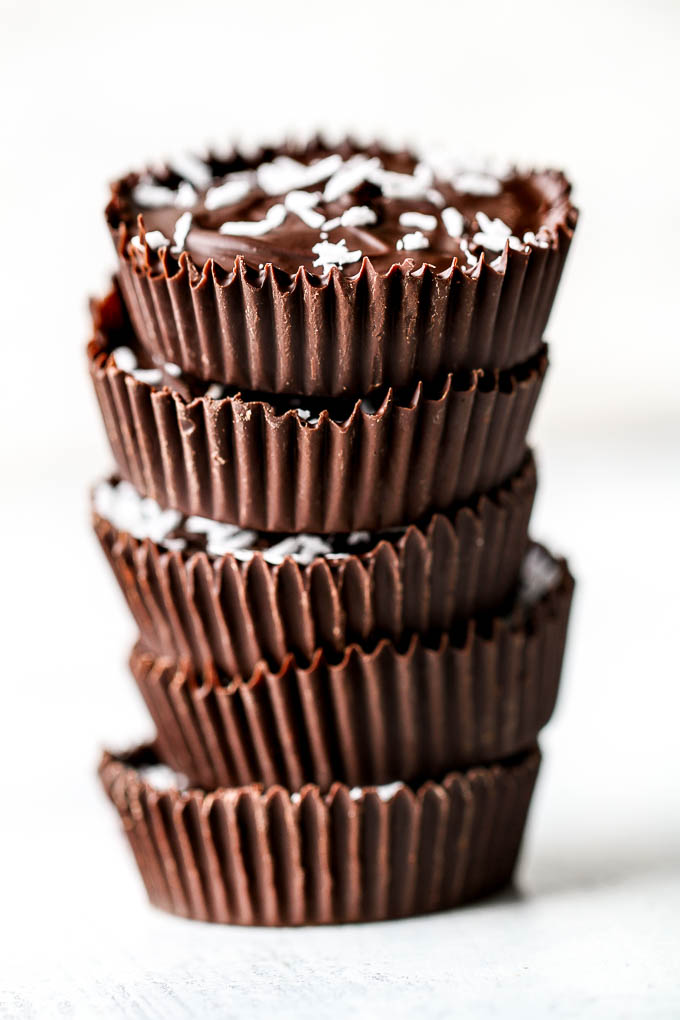 Because how can they be anything short of amazing when they're basically a soft and fudgy no bake protein brownie surrounded by a thin, crisp layer of chocolate? You bite into one, and while the chocolate shell offers up a little bit of resistance at first, it quickly gives way and your mouth is met with the delicious taste of chocolate on chocolate. Or chocolate on chocolate brownie, if we're getting technical.
But not just any brownie! The brownie stuffed into these little cups is made without any flour, butter, or oil, and packs a nice little protein punch. It's grain-free, gluten-free, and easily made vegan and/or paleo depending on what kind of protein powder you use. I tend to lean towards plant-based protein powders since I find they agree with my stomach a lot better, and I really like this one and this one. But you can use whatever kind of you have on hand!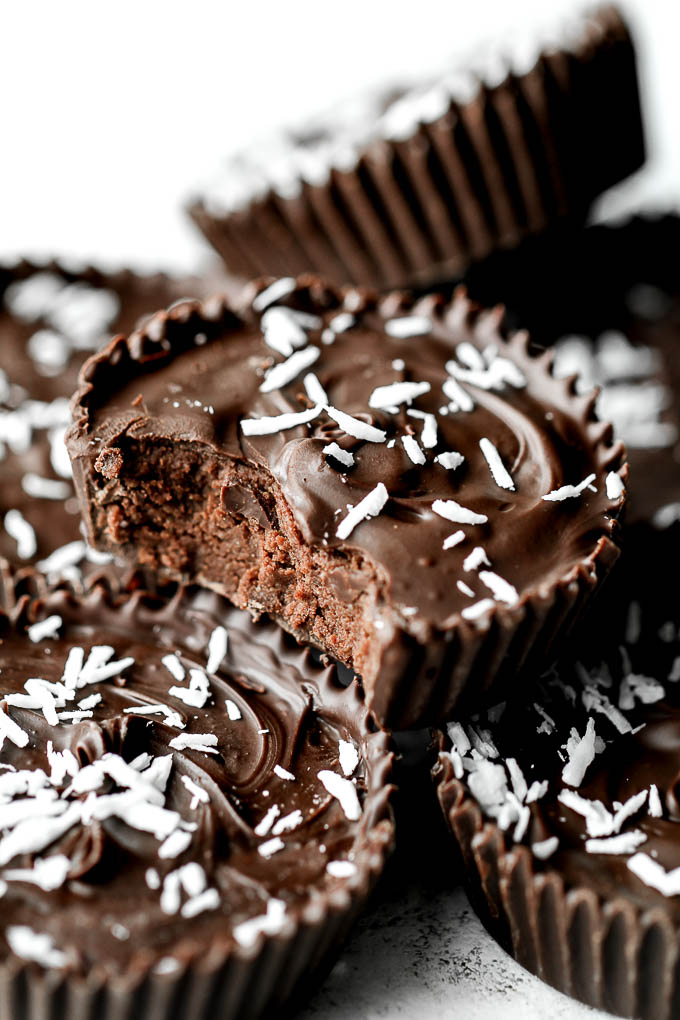 So let's talk about the process of making these little guys. I know the directions look a bit lengthy and daunting, but I promise you they're super easy to make!
You start by creating the cups for the brownies to go into. To do that, you line a muffin pan with paper or silicone liners, melt some chocolate, place a few dollops of melted chocolate into each cavity, and use the back of a spoon to push the chocolate about halfway up the edges of each liner. Like so: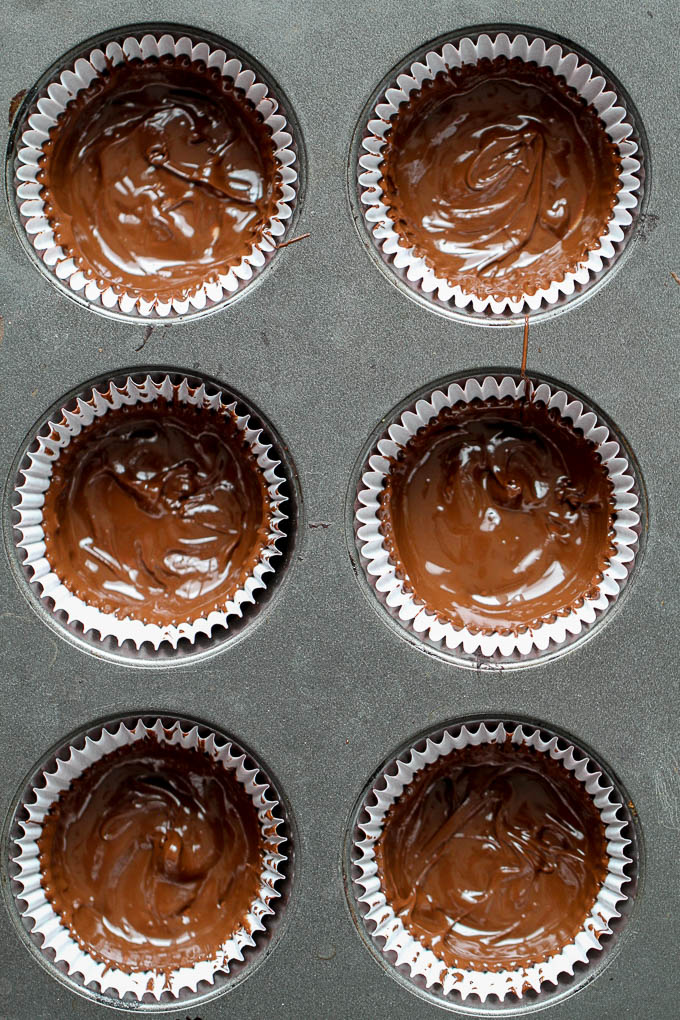 You want it to be a pretty thin layer since the brownie will take up most of the room.
Then, while that's setting in the freezer, you make the brownies by adding all the ingredients into a bowl and using those epic arm muscles to mix away. Once you have a dough, form it into little balls, flatten them slightly, and place them into each of the cups. Like so: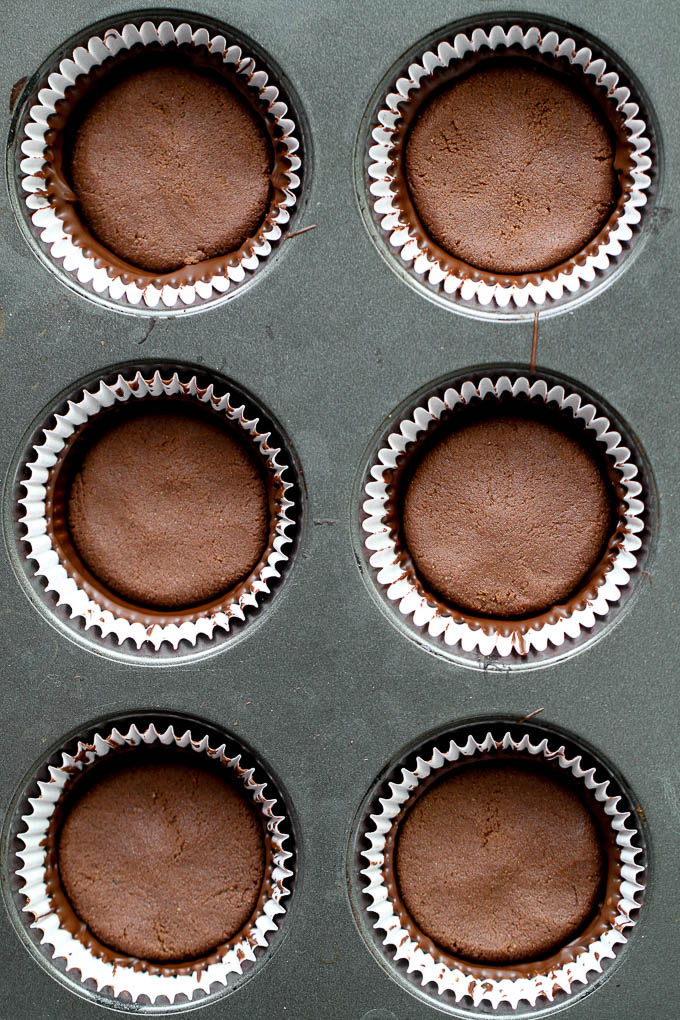 After that, melt the remaining chocolate, use it to cover each brownie cup, place them in the freezer again to set, and VOILA! You've got yourself a batch of irresistible no bake protein brownie cups with a soft and fudgy center surrounded by a crisp chocolate shell. I hope you love them as much as I do.
Happy eating!!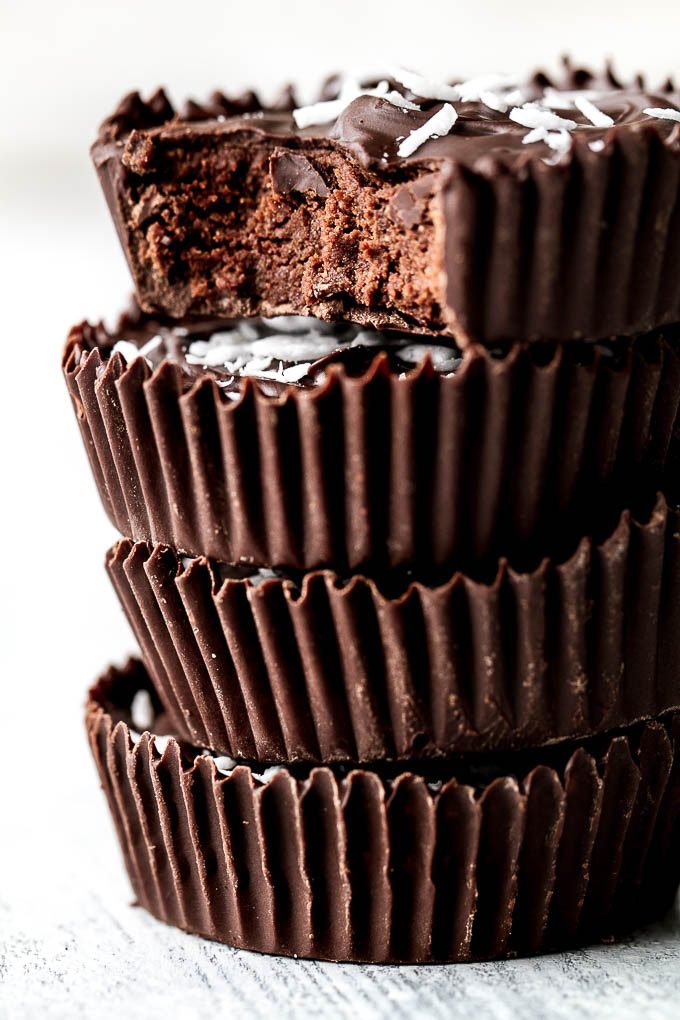 I'd love to know if you make this recipe! Leave a comment and rating down below to let me know what you think, and subscribe to our mailing list to receive new recipes in your inbox!
Print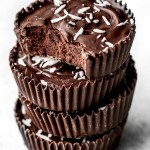 No Bake Protein Brownie Cups
---
Author:

Total Time:

15 mins

Yield:

12 cups

1

x
---
Instructions
Line a muffin pan with 12 paper or silicone liners. Set aside.
Add 2/3 cup (120 g) of the chocolate chips to a microwave safe bowl and microwave in 1 minute increments until the chocolate is fully melted, stirring between each round. Alternatively, you can also melt the chocolate in a saucepan set over low heat.
One the chocolate is melted, fill each muffin liner with about 2 tsp (10 ml) of melted chocolate and use the back of a spoon to bring some of the chocolate a little over halfway up the sides to create a cup. Place the pan in the freezer to set.
While the chocolate is setting, prepare the brownie filling by adding the remaining ingredients (coconut flour through nut butter) to a large mixing bowl and mixing until all the ingredients are well combined and a dough forms. Depending on the ingredients you use, you may need to add a splash of extra milk or a small sprinkle of coconut flour to get the right consistency. The mixture should stick together easily when pressed without being overly sticky or wet.
Using a tablespoon, roll the dough between your hands to form individual balls and then flatten them slightly so that they resemble the shape of the muffin cups. Place one of these discs into each of the muffin cups and use your fingers to gently flatten them so they press up against the sides.
Melt the remaining 1/3 cup (60 g) of chocolate chips, and add a generous teaspoon to each of the cups to cover them up. Sprinkle on any desired toppings (salt flakes, sprinkles, shredded coconut, etc.), and then place them in the freezer for a minimum of 10 minutes to allow everything to set. Store the cups in an airtight container the fridge for up to a two weeks, or in the freezer for up to 3 months.
Notes
* I used a plant based protein to make these vegan, but feel free to use whichever protein is your favourite. Just note that different types of powders absorb liquid differently, so you might have to adjust how much milk you add depending on which kind you use. ** You can also use honey if not strictly vegan.
Keywords: brownie, chocolate, dessert, gluten-free, healthy, no bake, protein, recipe, snack, vegan

Looking for more no bake chocolate recipes? Try one of these!
Almond Crisp Snack Bites
Healthy Chocolate Fudge Bites
No Bake Brownie Bites
No Bake Dark Chocolate Cheesecake Bars
Chunky Monkey Cups

*Disclosure: Some of the links included in this post may be affiliate links, meaning I'll earn a small commission if you purchase through them, at no additional cost to you. I only recommend products I personally use and believe will add value to my readers. Thank you so much for helping support Spoons!