Soft, tender, and loaded with chocolate flavour, these melt-in-your-mouth no-bake chocolate fudge bites taste ridiculously decadent while being made with good-for-you ingredients. Gluten-free, vegan, and customizable depending on your dietary needs, this is a healthy treat that everyone will love!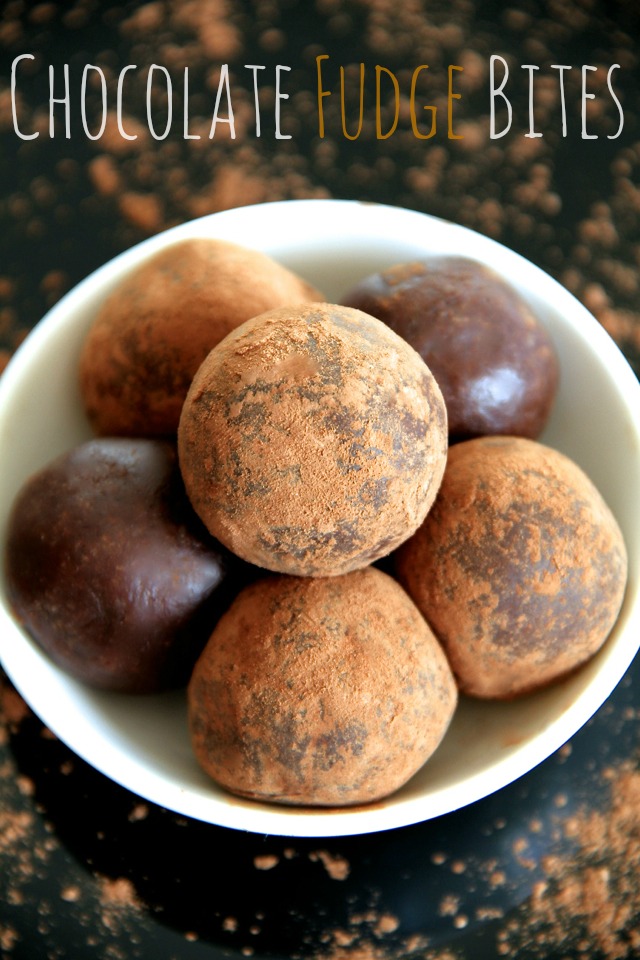 Some ideas are better in theory than they are in execution. Case in point — today's recipe.
The original plan was to make chocolate chia bites, which sounded like a great idea seeing as chia seeds are little nutritional powerhouses that boast an impressive list of health benefits. I had all sorts of grandiose notions of calling them little superfood bites (I know, I know — humour me), but those notions fizzled and died about an hour after I had my first bite.
See, along with their impressive list of health benefits, chia seeds also boast the uncanny ability to get stuck in the most unfortunate of places, with teeth being their hangout of choice. I can't even tell you how many times I've found a rogue chia seed hanging out around my gum line long after I've finished eating; silently doing its little gel-ly thing and making itself even harder to detect. With luck, it'll be hanging out in the back with the molars… but I'm usually not that lucky.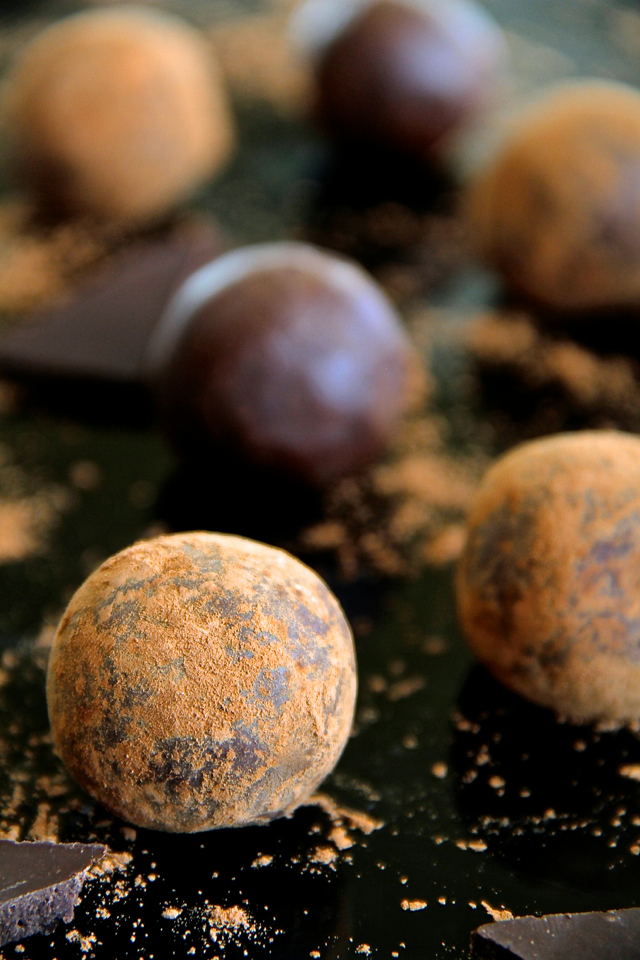 So the sneaky little seedlings got the sack.
They did not pass "GO;" they did not collect $200; they did not get one free phone call home.
They simply went back into their baggie to do whatever it is that chia seeds do when they're not being annoying; and what started out as chocolate chia bites became chocolate fudge bites…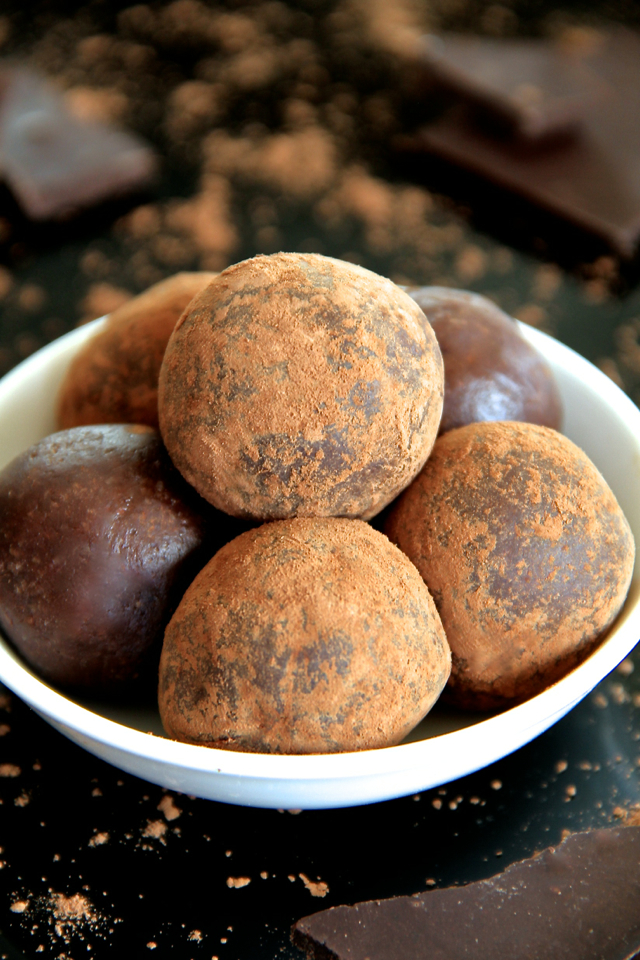 Quite a trade up, if I do say so myself.
These bites are soft, tender, and loaded with chocolate flavour. They boast the coveted ability to melt in your mouth [without leaving anything stuck in your teeth], and straight up feel like eating a piece of sweet, chocolatey fudge.
Only… without all the butter and sugar. Which isn't bad in moderation, but becomes a little less desirable when you're eating 2 3 4 5 pieces a day… which may or may not have been the case with these bites.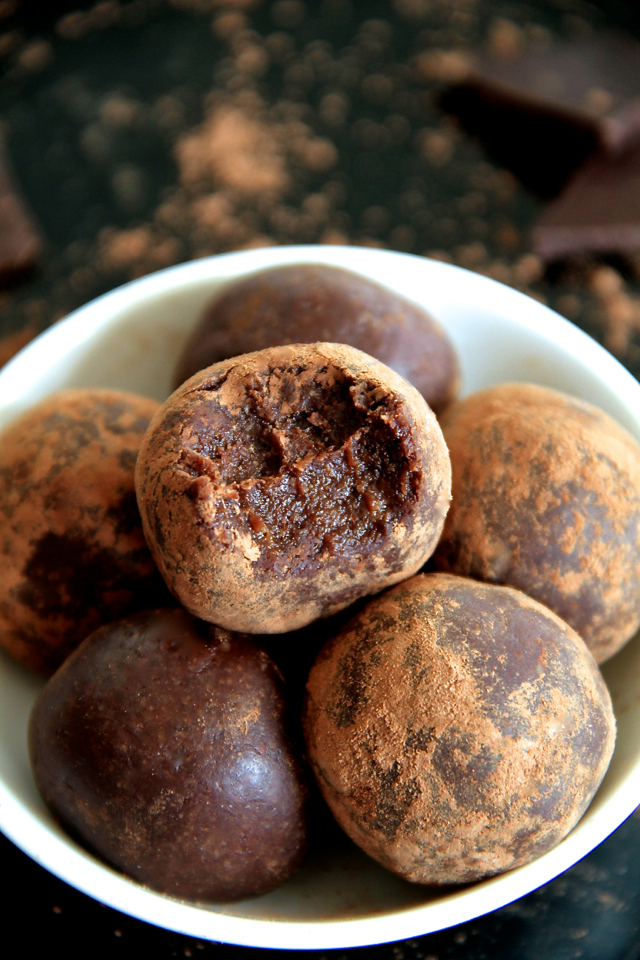 Thankfully, they're made with simple good-for-you ingredients like dates (I know, I know… you're not surprised), nut butter, oats, and cacao powder. That's it. 4 ingredients and roughly 7 minutes is all that stands between you and these decadent bites… and you can even customize them based on your individual needs, so no excuses.
They're already vegan, gluten-free, and refined sugar-free, but you can easily make them grain-free by replacing the oats with some almond flour, or give them a little pop of protein by swapping in your favourite protein powder. No matter which way you go, I have a feeling you'll become hopelessly addicted to love these!
Happy eating!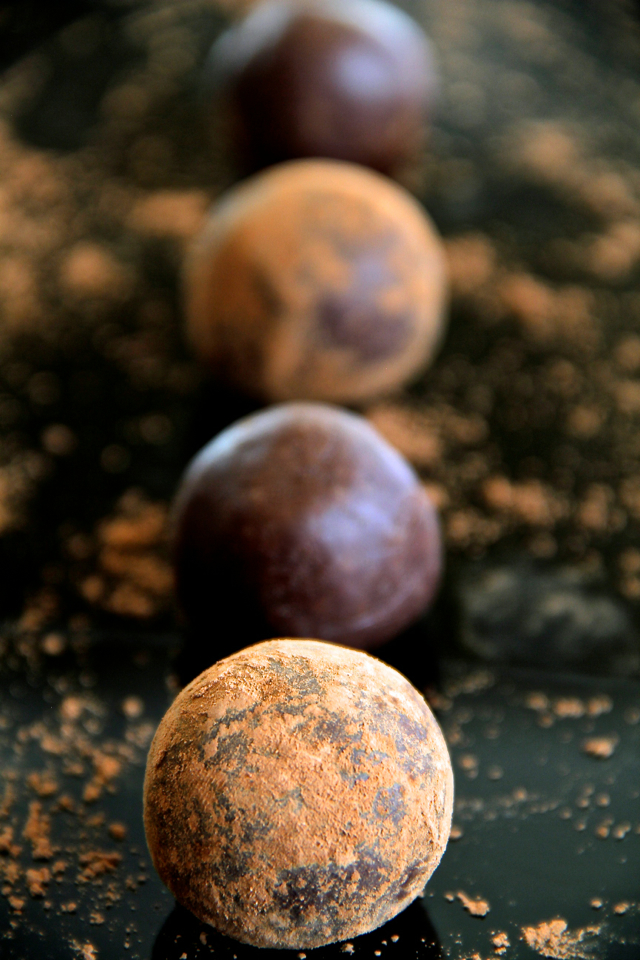 I'd love to know if you make this recipe! Leave a comment and rating down below to let me know what you think, and subscribe to our mailing list to receive new recipes in your inbox!
Print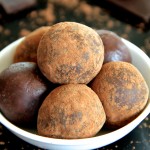 Healthy Chocolate Fudge Bites
---
Author:

Total Time:

10 mins

Yield:

16

bites

1

x
1/2 cup

(

40 g

) rolled oats*

1/4 cup

(

20 g

) cacao powder**

1 cup

Medjool dates (about 12 dates or

180g

)

3 Tbsp

(

48 g

) nut butter***
---
Instructions
Add oats to food processor or high-speed blender and pulse until they reach the consistency of a fine powder.
Add dates, nut butter, and cacao powder, and continue processing until fully combined. Scrape down the sides of your processor as needed.
Using a tablespoon, scoop out dough and roll each portion into 1-inch balls. If desired, coat with extra cacao, coconut, nuts, sprinkles, chocolate shavings, etc.
Store bites in a sealed container either in the fridge or at room temperature for up to a week.
Notes
* to make these grain-free, you can sub the oats for an equal amount of almond flour or protein powder. ** or unsweetened cocoa powder. *** I used a creamy almond, but feel free to use whichever nut/seed butter is your favourite. You can also cut back the nut butter to 2 Tbsp. and add 1 tsp. of maple syrup or agave to add a little extra sweetness.
Keywords: cacao, chocolate, chocolate fudge bites, date fudge, dates, gluten-free fudge, vegan fudge

Looking for more healthy no bake recipes? Try one of these!
No Bake Vegan Oatmeal Fudge Bars
No Bake Double Chocolate Fudge Protein Bites
No Bake Chocolate Sunflower Seed Butter Granola Bars
No Bake Sweet & Salty Trail Mix Bites
No Bake Brownie Batter Truffles