Why does it feel like I haven't done a monthly favourites post in forever?
Possibly because my last one happened all the way back in November and it's now February, but I skipped over December in favour of a favourite blog recipe roundup, and I had to wait until the end of January before I could share my January favourites.
And would you look at that! January just so happens to have come and gone, which means I can finally fill you in on what I've been loving all month. Side note: does anyone else love it when a new month starts on a Monday? It's like a fresh start double whammy. But I digress. On with the favourites!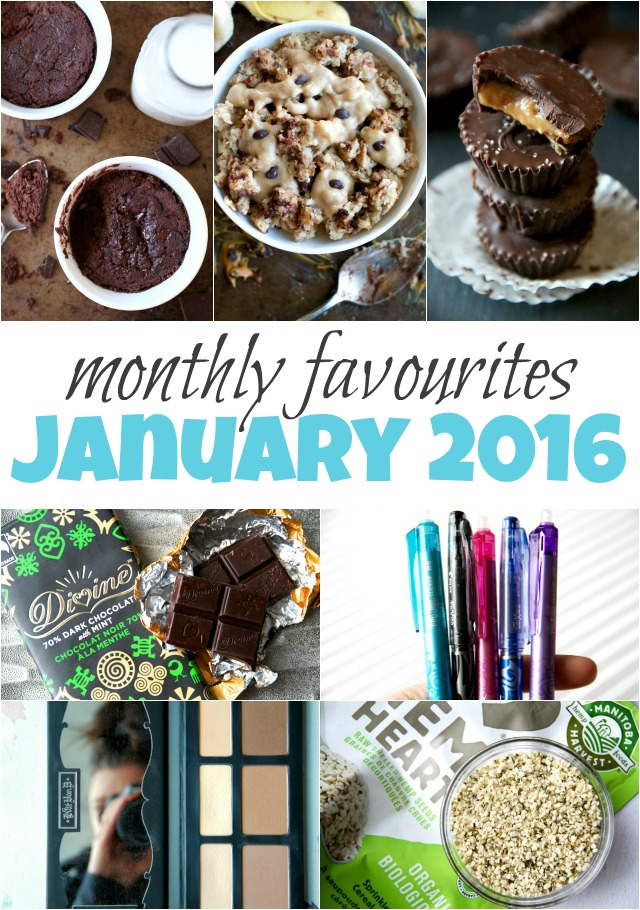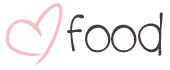 70% Mint Dark Chocolate from Divine Chocolate.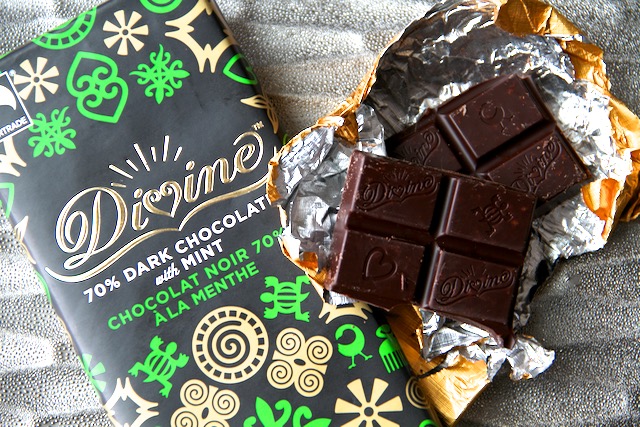 What it is: Dark chocolate with crispy mint pieces and natural peppermint oil.
Why I love it: Uhm… because it's delicious? I'm a huge fan of mint chocolate in general, and I LOVE how this one has little crispy mint sugar crystals in what's otherwise a super smooth bar. The fact that it's made with fair-trade ingredients is just icing on the [chocolate] cake.
. – . – . – .
Organic Hemp Hearts from Manitoba Harvest.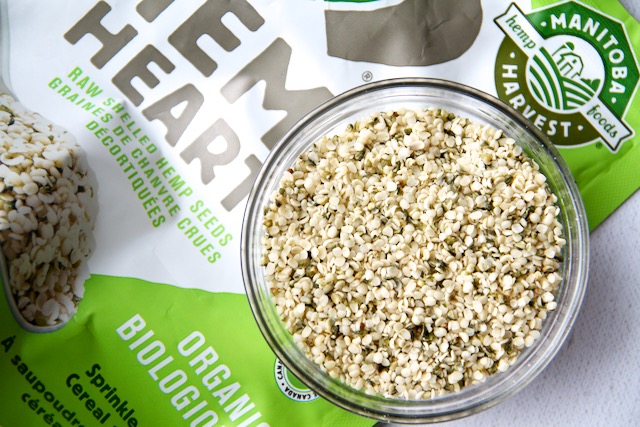 What it is: The nutritious centre of de-hulled hemp seeds, sporting 10g of plant-based protein and 10g of omegas per serving.
Why I love it: I've been trying to focus on getting more omegas into my diet lately, and hemp seeds are my favourite way to do it because they don't taste as bitter as flax seeds and they don't get stuck in your teeth like chia seeds. They have a slightly nutty flavour and tender crunch, and they're great in oats, smoothies, and salads [side note: recipe coming at ya tomorrow!].
. – . – . – .
And holy.SNAP was January a tasty month on Spoons! Blog recipes included: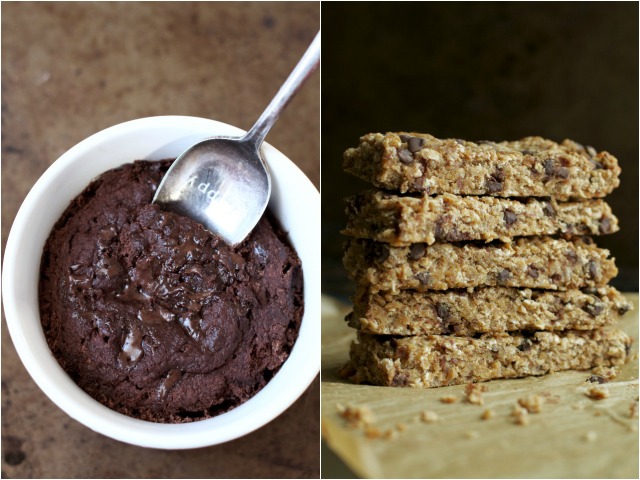 Healthy Two Minute Brownies || Soft and Chewy Banana Bread Granola Bars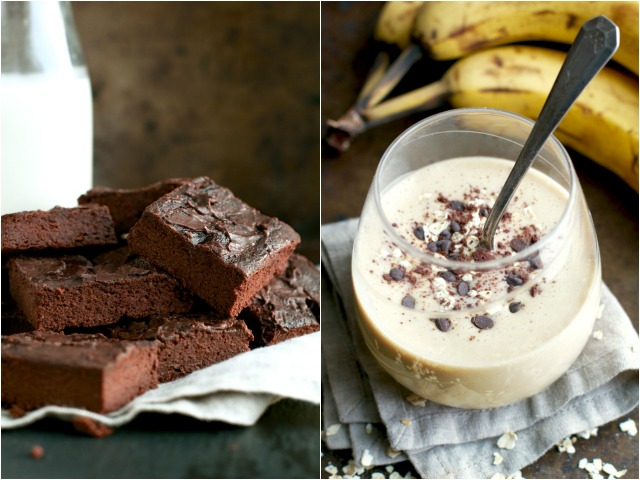 Healthy Chocolate Lover's Blender Brownies || Banana Cream Pie Overnight Oatmeal Smoothie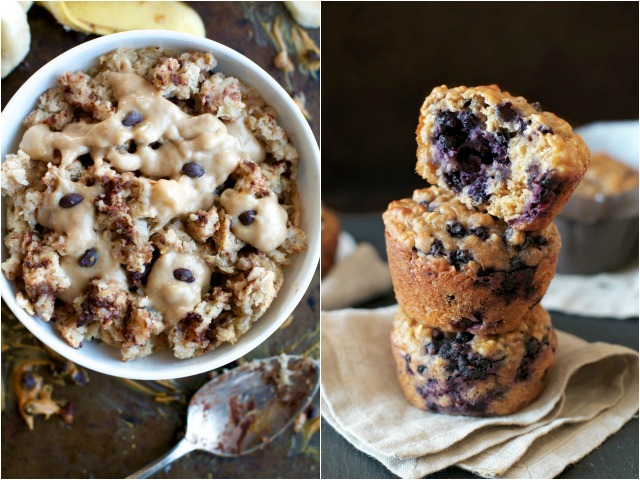 Chunky Monkey Breakfast Bake || Blueberry Oat Greek Yogurt Muffins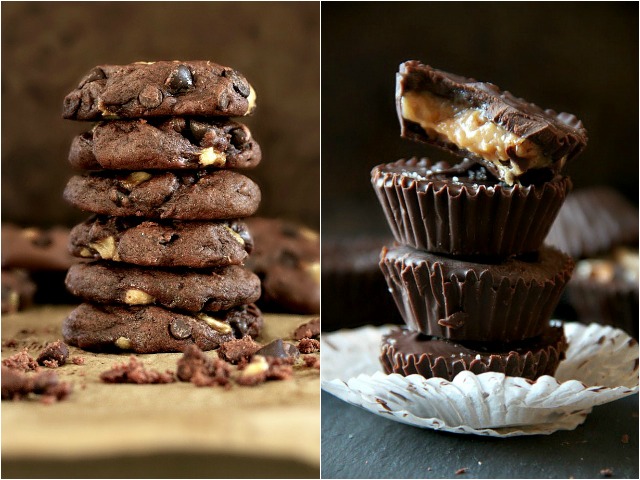 Soft and Chewy Double Chocolate Banana Cookies || Chunky Monkey Cups
. – . – . – .

Lights, Camera, Lashes 4-in-1 mascara from Tarte Cosmetics.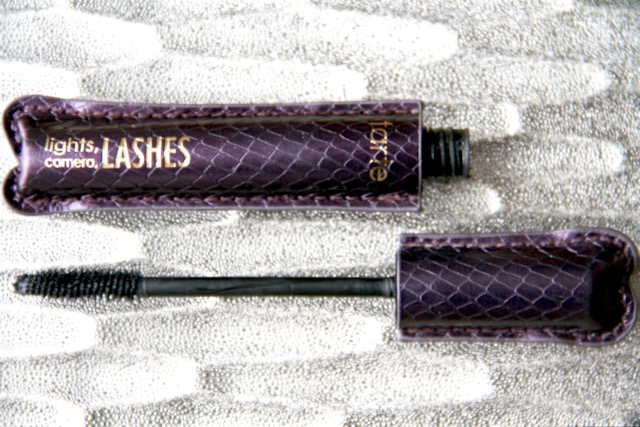 What it is: A lengthening, curling, volumizing, and conditioning mascara.
Why I love it: It makes me look like I'm wearing falsies without having to deal with the hassle of actual falsies. This gives my lashes volume like WHOA, and it's one of the only mascaras that will actually help my lashes hold a curl. I love how the formula is a little on the thicker side but never clumps, and I love that the bristles on the wand are on the shorter side so you can really focus on pushing it into your lashes without having to worry about poking yourself in the eye or getting mascara all over your eyelid. I keep wanting to believe that I can find a drugstore mascara that will do a similar job, but this proves me wrong every time I buy it.
. – . – . – .
Shade + Light contour palette from Kat Von D Beauty.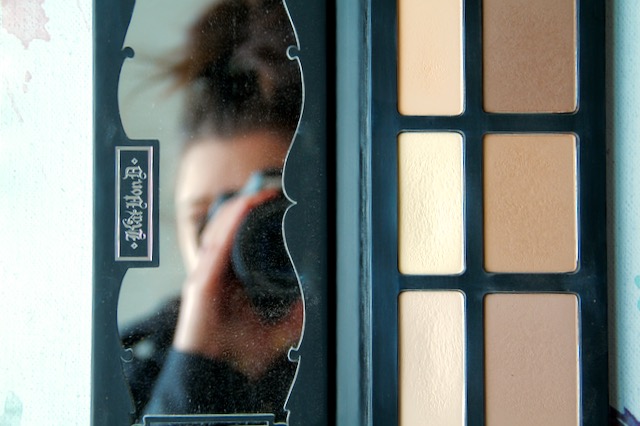 What it is: A face palette with three shades for contouring and three shades for highlighting, used to define facial features and create dimension.
Why I love it: Helloooooooo cheekbones! Contouring your face is such a great way to make your facial features pop, and I love how the darker shades in this palette add depth without making you look muddy or ashen, while the lighter shades really brighten up whatever area they're applied to. The formula of the powders is super smooth and easy to blend, and the colours work with pretty much any skin tone. I may or may not also use them on my eyes ?
. – . – . – .
Translucent Loose Setting Powder from Laura Mercier.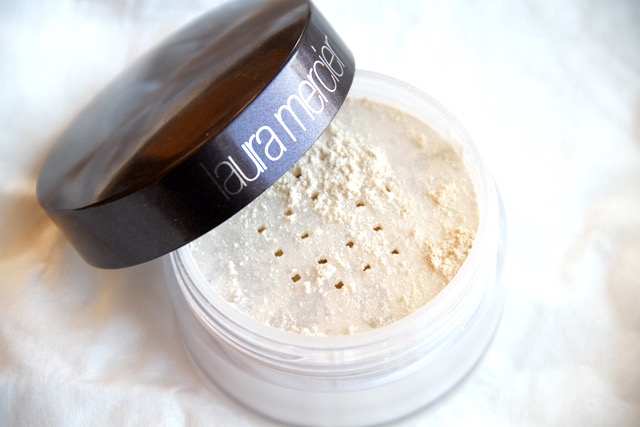 What it is: An finely milled, lightweight setting powder that leaves skin with a flawless silky finish.
Why I love it: I mentioned this back in my November favourites after only using it for a short time, and I just wanted to follow up and say that I'm still in love with it. –> "If you're looking for a lightweight powder that'll set your makeup without making you look cakey or powdery, then you need this in your life. Not only does it give your skin a beautifully smooth and silky finish, but it helps control the oils that your skin produces, making your makeup last longer and keeping your face from looking greasy (even in the T-zone). It's also great for setting your undereye concealer and keeps it from creasing throughout the day."
. – . – . – .
Coconut Milk and Vanilla Mint Visibly Soft Lip Balms from EOS.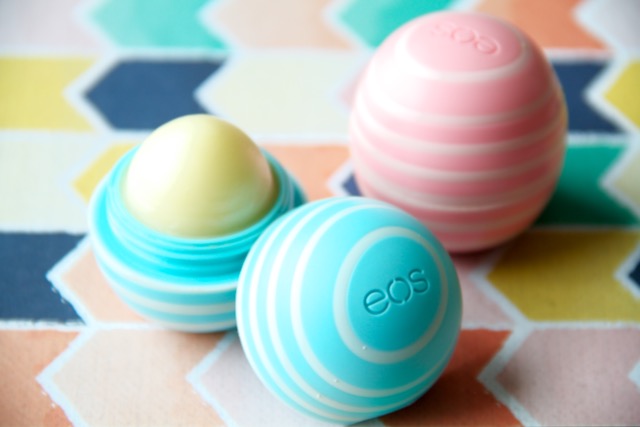 What it is: A natural lip balm enriched with conditioning oils, moisturizing shea butter, and antioxidant vitamins C & E.
Why I love it: They changed their formula! And these new ones in the striped packaging are so much more hydrating and luxurious – it feels like they actually stay on my lips and keep them moisturized for a good amount of time. I also love how they're made with natural ingredients and don't contain a tonne of chemicals or dyes.
. – . – . – .

Erin Condren Life Planner from Erin Condren.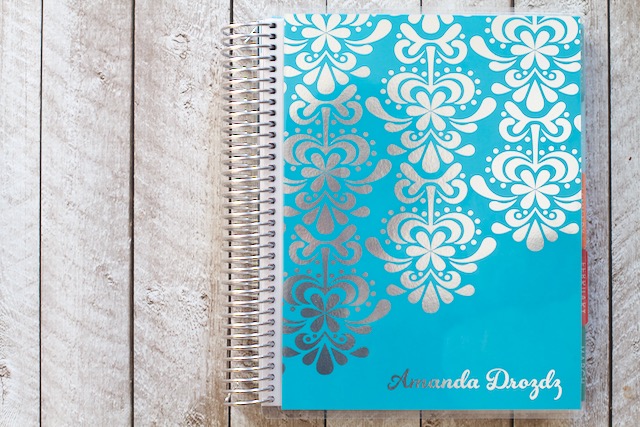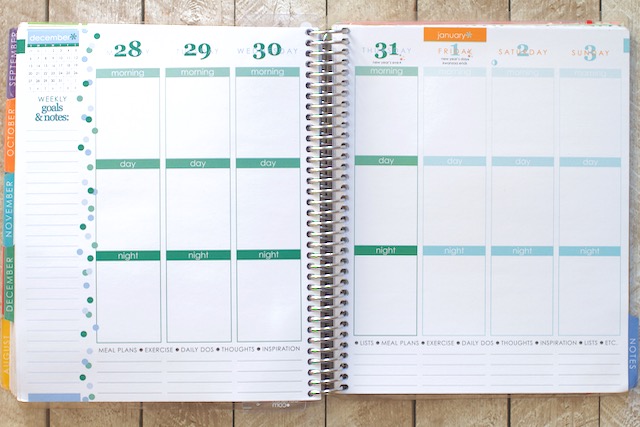 What it is: A stylish and functional customizable day planner filled with bright colours and motivational quotes.
Why I love it: I've already done a full review on this planner so I'm not going to go into too much detail here, but I love how pretty it is while being functional at the same time. It makes it so much easier to stick to, and while I know it's a bit pricey for a planner, the quality is awesome and I literally use this thing every.single.day so it's totally worth it. That and I'm a sucker for decorating it and basically use it like a scrapbook.
. – . – . – .
FriXion erasable pens from Pilot.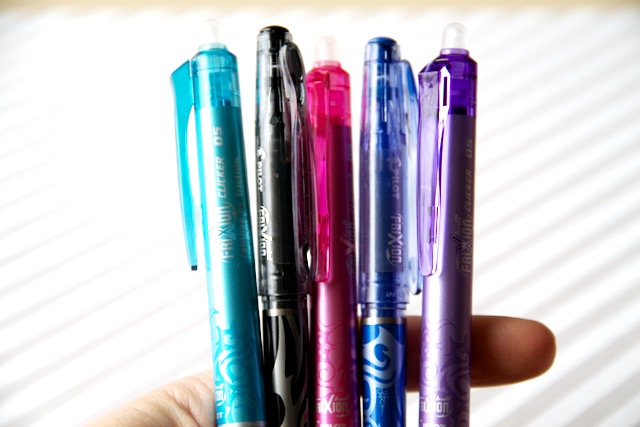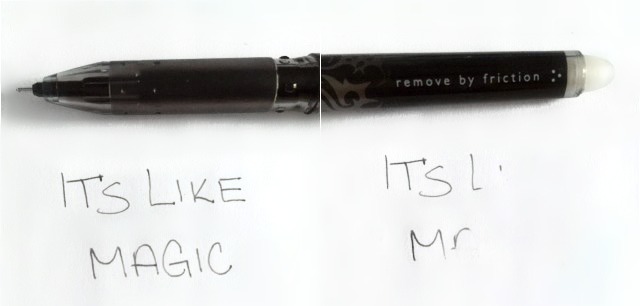 What it is: Erasable gel ink pens that use friction to erase mistakes — "The heat generated by erasing friction causes the unique thermo-sensitive gel ink to become clear so the words disappear completely from the page."
Why I love it: These have been a godsend in my planner where I get a little OCD about neatness. They look, feel, and write like regular gel pens, but you don't have to worry about making mistakes or needing to change things around because they're 100% erasable. And I'm not talking the crappy "erasable" pens that use an actual eraser to erase and end up mostly smearing the ink all over the page. These use friction to get rid of the ink, and don't leave any smears or eraser gookins to brush away. Just make sure you don't use them on any legal documents, for obvious reasons.
. – . – . – .
Disclaimer: this post was not sponsored by any of the companies mentioned nor does it contain any affiliate links. I genuinely love all these products, and that's why I'm sharing them with you.

Let's chat!
What's one thing you've been loving this month?
Tell me at least one awesome thing that happened in January!
More places to find me!
E-mail — [email protected]
Twitter — runwithspoons
Facebook — runningwithspoons
Pinterest — runwithspoons
Instagram — runwithspoons
Bloglovin — runningwithspoons
Snapchat — runningspoons