Hey guys, happy Saturday! 😀
I hope you all had an awesome Thanksgiving and survived the madness that is Black Friday. I avoided the malls like the plague and decided to just hole up at home. I actually ended up passing out around 10, which gave me a glorious 8 hours of sleep for the first time in what feels like weeks. Bliss.
Today's schedule is pretty packed (a weekend workout, grocery shopping, lunch with Mom, a coffee date with a friend, and seeing Life of Pi with Mr. Starbucks), but I came across this health survey over on Sara's blog the other day and really wanted to fill it out myself. I'm kind of [read: very] nosy when it comes to the eating/exercising habits of others, so I thought it'd be fun to share mine as well…
 . – . – . – .
1. What did you eat for breakfast? The same thing that I've eaten for breakfast for the past 3+ months (wow that's embarrassing to admit). Greek yogurt, cereal, a banana, another fruit (applesauce today), and almond butter.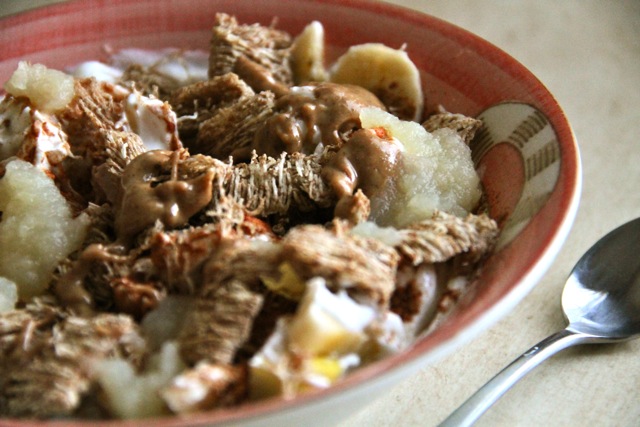 2. How much water do you drink a day? I fill up a big 2L (8 cup) jug before I go to bed every night and try to finish it throughout the course of the day. That, in addition to herbal teas, probably puts me at about 10+ cups.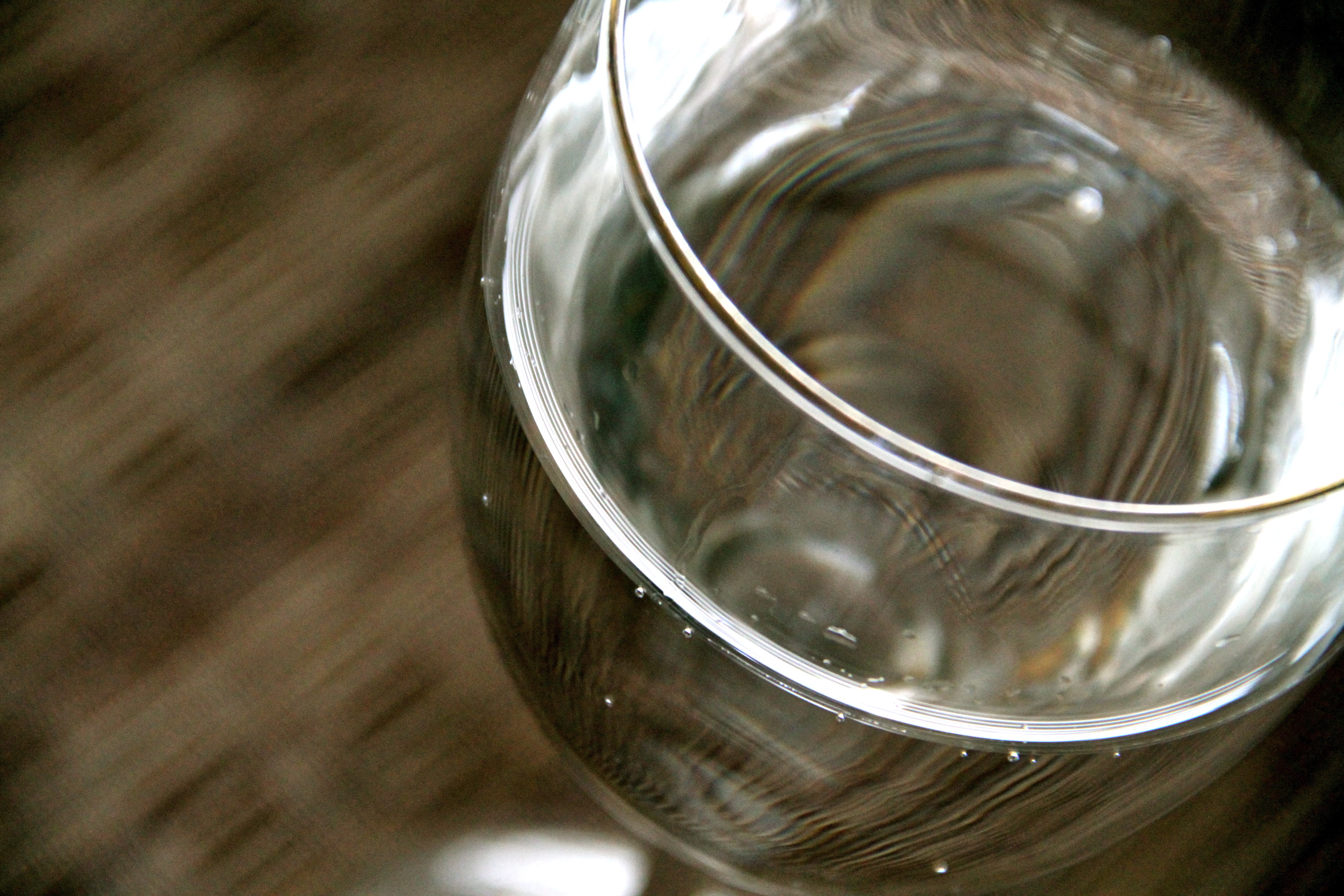 3. What is your current  favorite workout? Living life! I'm not currently doing any formal workouts, but I do my best to stay active throughout the day. Going for walks is probably my favorite way to do that, followed by randomly busting out the dance moves when I'm home alone. Oh yeah.
4. How many calories do you eat a day? I think that out of any diet related question, this is probably the one that people are most curious about. Unfortunately, I have no idea. After spending years as a compulsive calorie counter, I gave up the habit and have no desire to go back. Although it's a constant work in progress, I try and eat as much as my body tells me that it needs, making sure to toss in the little bit extra that's good for my soul as well.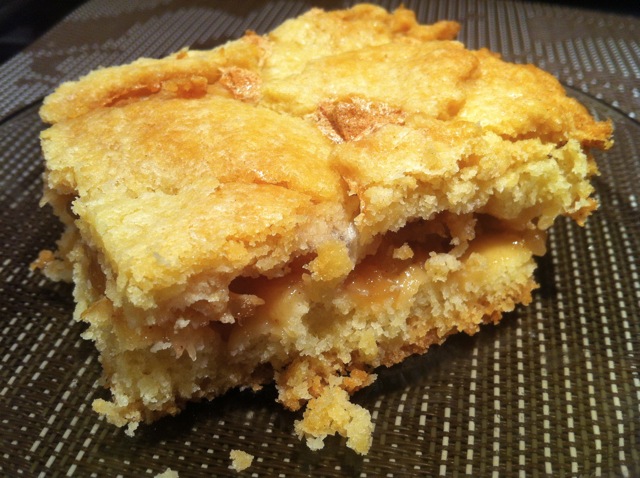 5. What are your favorite healthy snacks? My all-time-favorite will always be the AB/banana combination…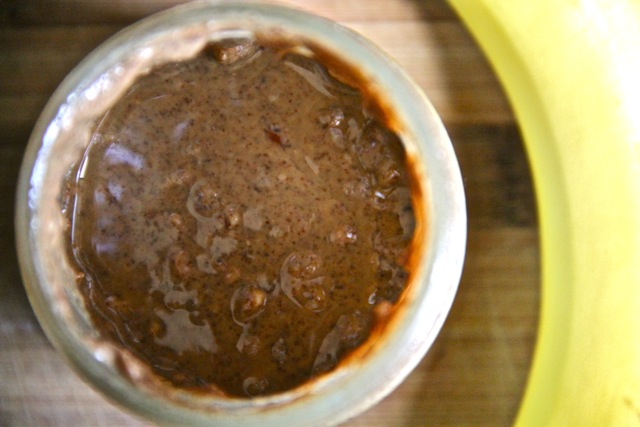 … but a few other things that come to mind are: any and all fruit, Greek yogurt, Popchips, and chocolate.
 6. What do you usually eat for lunch? I used to be a lot more creative with my lunches, but lately it's been a simple turkey/cheese wrap or sandwich of some sort alongside a random collection of easily digestible veggies.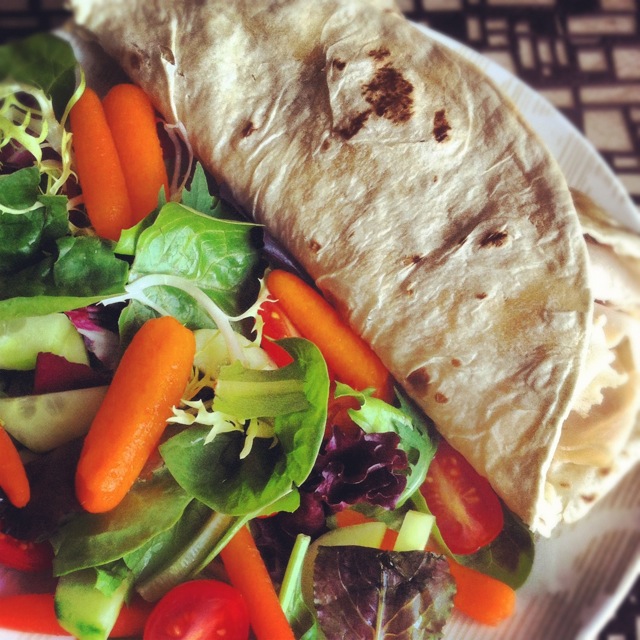 7. What is your favorite body part to strength train? My mind 😉
8. What is your least favorite body part to strength train? My left pinky toe. Seriously, no matter how many toe curls I do, that damn thing is just always going to be a weakling. Bugger.
9. What are your "bad" food cravings? The kind that I can't figure out – those drive me absolutely crazy! In all seriousness, though, I've stopped labelling food as being good or bad. Food is food; there are healthier and less healthier foods, but at the end of the day it all serves some purpose. The only bad craving is a craving ignored.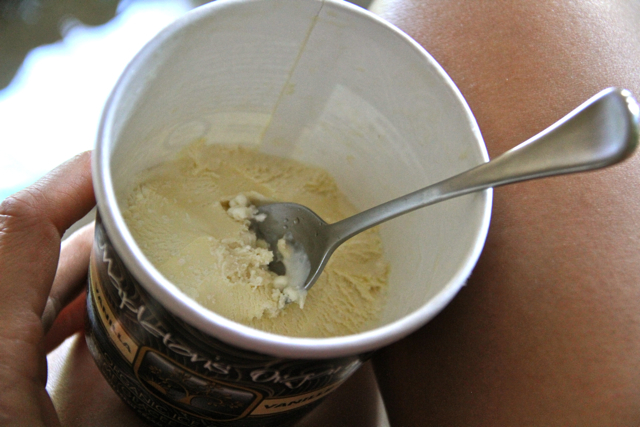 10. Do you take vitamins or supplements? I do. I take vitamin D, calcium/magnesium, and an omega 3-6-9.
11. How often do you eat out? Not often! I have a severe peanut allergy so my family didn't do a lot of eating out when I was growing up and it never became a big part of my life. The boy is trying to nudge me towards giving it another shot though, so we'll see what happens with that.
12. Do you eat fast food? Fast food = quick food? Because most of my meals take 10 minutes or less to prepare. But if we're talking traditional fast food, then I've been known to enjoy the occasional trip to the golden arches, yes.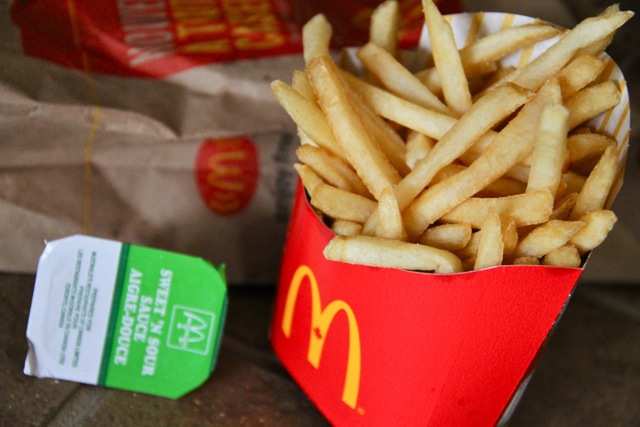 13. Who is your biggest supporter? My family. No matter how many times I stumble and fall, they're always there to pick me up and give me a cookie. I think I just might keep them around…
14. Do you have a gym membership? Nope. The world is my oyster gym.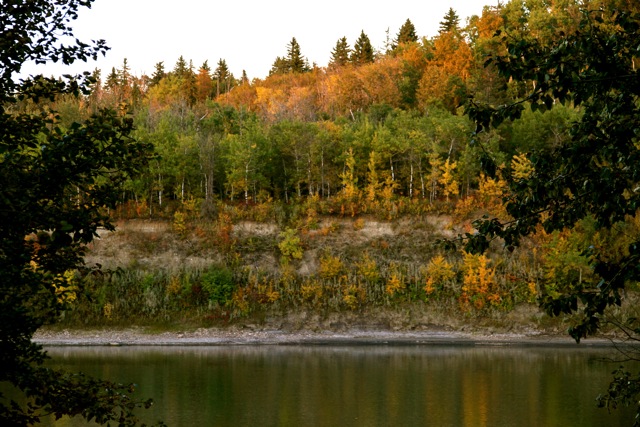 15. How many hours of sleep do you get a night? Ugh. Sleep. Lately I've been getting around 4 or 5, but I'd like to be getting at least 6 or 7. I'd ask for 8+ every night, but that's just wishful thinking.
16. Do you have a "cheat" day? 😯 Whut? Cheating implies commitment, and the only thing I'm committed to is doing my best to give my body what it wants/needs. That's something I never really deviate from, so I guess that means I don't cheat? Short answer: every.single.day.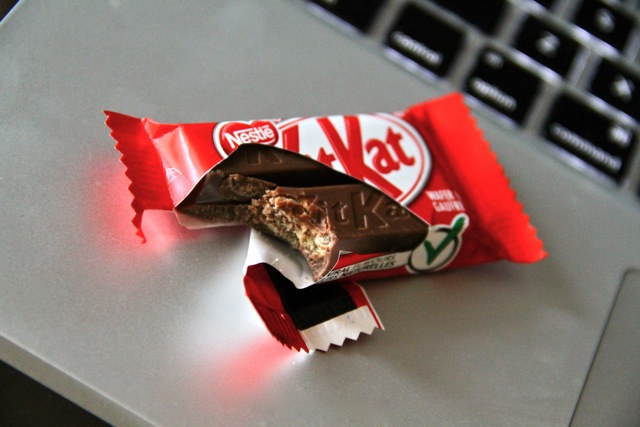 17. Do you drink alcohol? Not really. I'm a laughable lightweight who hates hangovers.
18. Do you have a workout buddy? Erm, no? Because no one can keep up with my impressive level of fitness? 😆 Sometimes me and Kaiah hang out, but she's a bad influence because she's just so lazy…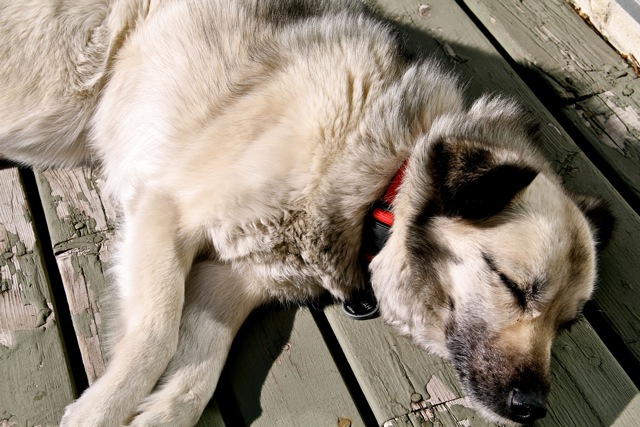 19. What is the best thing that has changed about your life since committing to a healthy lifestyle? You mean since committing to a truly healthy lifestyle as opposed to the pseudo-healthy lifestyle that I tried to follow before? Getting my life back. I have no idea what I was doing back then, but it definitely wasn't living. An obsession with numbers, a fear of food, constantly ripping apart every inch of my body… that's not life. Since giving up the rigid control and embracing a life of balance and moderation, I can definitely say that I feel better than I probably ever have.
20. What was the last healthy thing you did? Way to put me on the spot! Uhm. I… filled out this survey, which made me happy when I realized how far I've come on my journey with health; and happy = healthy, right? 😀
. – . – . – .
What did you have for breakfast today?
How often do you eat out?
How many hours of sleep do you usually get?