Yesterday… hoooo boy. Let me tell you. No, really… let me tell you.
Judging by the comments you guys left in yesterday's post, a lot of us are dealing with raging appetites these days… and yesterday was another epic one for me. By the time lunch rolled around, I think I had already eaten pre-breakfast [fruit], breakfast, second breakfast, a snack, and a few random nibbles of this and that — I may as well pack my bags and move to Hobbiton.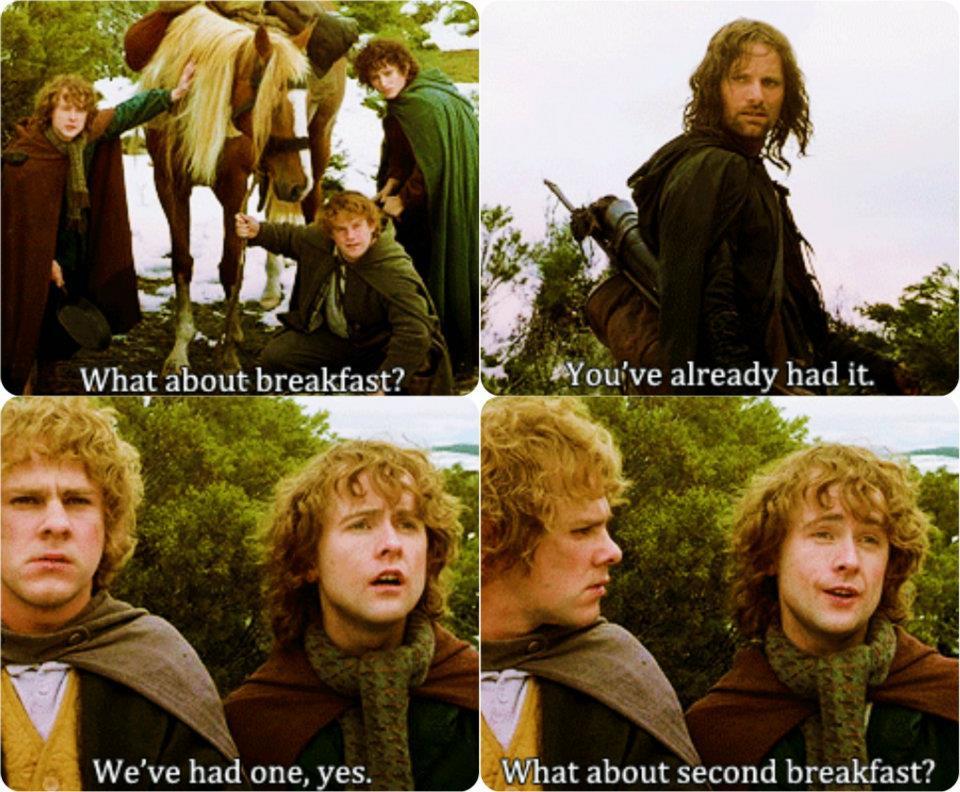 [source]
Either that or get a second job to help pay for my grocery bills 😉 I'm able to joke about them now (for the most part), but there was a time where insatiable appetite days tormented me — not only because of the anxiety I'd feel as a result of my increased hunger, but because I wouldn't allow myself to eat more than normal so I ended up being hungry all.day.long, and we all know how that goes…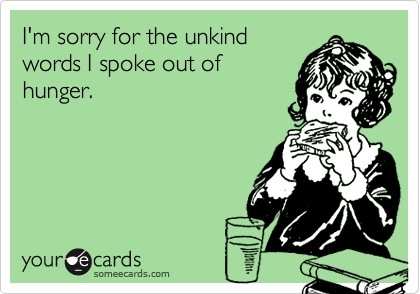 Not well. Irritability. Lack of focus. Lack of energy. Lack of desire to think about anything other than food… it's not a pleasant way to live. And yet we trick ourselves into believing that it's the only way to live if we want to be happy — failing to realize that the self-induced starvation is actually taking away from our happiness instead of adding to it.
It's been a while (almost exactly 1 year!) since I've written about my attitude towards those days where I feel like a bottomless pit, so I figured a little update was in order — especially since I've been getting a lot more e-mails concerning recovery lately. In short, I guess I'd call it a non-issue. I definitely notice the days where I feel like a bottomless pit, but I see them as a humorous nuisance more than anything else — a mindset that I honestly never thought that I'd be able to get back to.
See, before my ED, I never thought twice about how, what, where, or when I ate. Poptarts for breakfast? Grabbing an unplanned treat during the day? McDonald's at 1 AM? Yes, usually, and sure. Okay, so I definitely wasn't a picture of healthy eating, but at least I had a healthy mindset; and for all my lack of concern over my diet, my body seemed to be doing just fine.
Enter an ED where everything became controlled, restricted, and healthified. Only so much of certain foods at specific times — absolutely no wiggle room. You probably don't need me to tell you this but… it was misery. Constantly watching the clock to see when I was "allowed" to eat, feeling unsatisfied after a meal because it wasn't what I wanted, forcing myself to go hungry because I had already filled my allotted calories for the day. Ugh. Even thinking about it makes me cringe.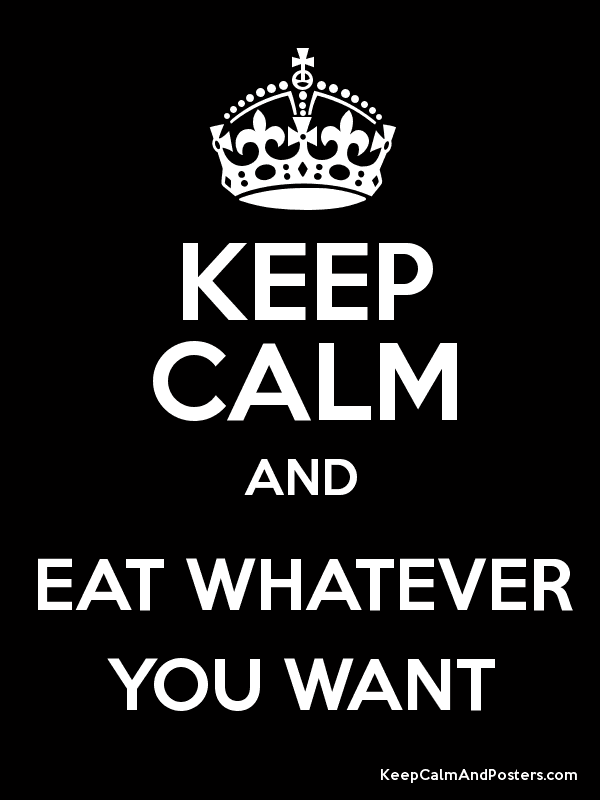 [source]
It wasn't an easy or quick journey to get from there to here, and while I wish I could tell you exactly how it happened, I've been having a hard time putting the story of my recovery into words because there were so many different aspects to it — I'm working on it, though. What I can say to anyone struggling with this kind of thing is that all those fears that tell you that your world will fall apart and you'll become absolutely miserable if you let go of the control and eat when you're hungry are absolute garbage.
You won't "let yourself go" and turn into a fat, lazy blob, but you will become healthier, feel happier, and regain your life. Did I ever think that I could be happy at a higher weight? No. Am I? Hell yes. Sure I gained a few pounds in the process, but those few pounds are more than worth the carefree feeling of just eating and moving on. My body seems to have found its natural set point, and my weight stays the same without me really having to put much effort into it.
So please, please, please… be kind to yourself. Don't needlessly rob yourself of happiness because you think that being thinner will make you happier. There's so much more to life than being able to fit into a certain [usually unnatural] size, and you'll miss out on most of it if you're lost in a hunger-induced fog.
Do you have an easy time honouring your hunger? Did you ever struggle with it?
Do you believe in idea that bodies have a natural set point?
I'd love to hear any of your thoughts or personal experiences 🙂