Before I started blogging, I spent a good handful of months as a silent reader — I'd eat up the words of my favourite bloggers on a daily basis without ever really interacting with them. Whaaaaaat?! I was shy! But despite my shyness, it wasn't long before I started feeling the itch. You know the one I'm talking about… the itch to start a blog of my own. And why not?! I loved to write; I loved to take pictures; and I loved the idea of being part of a community of like-minded people.
So after debating it for weeks and trying to come up with the perfect name for a few more weeks, I finally took the plunge. I'm not even kidding when I say that I had a panic attack after publishing my first post, but starting a blog was seriously one of the best decisions I've ever made. Not only has it introduced me to so many amazing people, but it's opened me up to opportunities that I honestly never dreamed of.
Does any of this sound familiar? The desire to write? To share? To be part of an awesome community? If so, then this post might just be the last little push you need to finally take the plunge and start a blog of your own, since I'll be walking you through the step-by-step process of… well… how to start a blog 😀 And if you already have a blog [that's not self-hosted], maybe this will help convince you to make the switch!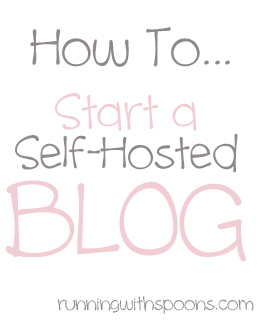 There are three main steps to staring a blog:
1. Setting up a domain name and hosting.
2. Installing WordPress.
3. Choosing a theme.
Let's take a look at each one in more detail.
1. Setting Up a Domain Name and Hosting
The best part! Before you can start sharing your brilliant content with the world, you need to have a domain name and a little bit of rented webspace to call home.
Your domain name is basically your web address — mine is runningwithspoons.com. It's a good idea to have it be the name of your site to make it easier for people to find you, but it can pretty much be anything you want. You should also have a few different options picked out just in case your first choice has been taken.
When you have your list of names, you can head on over to Bluehost to see if they're available. Just enter the name you want in the box on the left, make sure the .com is selected, click next, and keep your fingers crossed!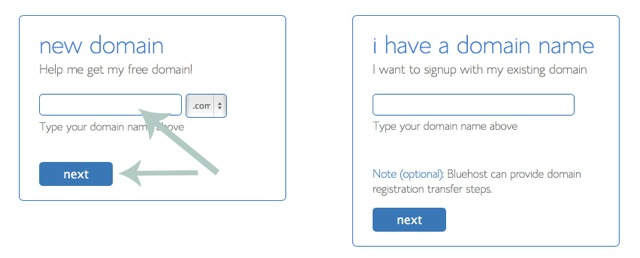 Once you have your name all set up, it's time to get hosted!
Hosting (or self-hosting) is basically renting space on the web to store all your content — like a house where you keep all your stuff — and your host is like your landlord.
There are a few places on the web where you can do this for free, but for anyone who wants to get serious about blogging, self-hosting is the only way to go. Yes, you have to pay for it, but it doesn't cost much at all (as little as $5 a month), and comes with some really great advantages like:
more control over the look and feel of your blog (think themes and design options),
plugins that enhance the blogging experience for you and your readers, and
the ability to advertise, and therefore monetize, your blog.
For my host, I chose to go with Bluehost. Not only do they have great rates, but their customer service is top notch and they give you your domain name for free when you sign up with them. Winning!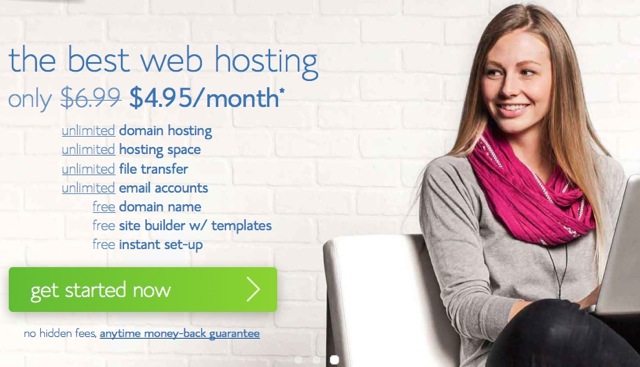 Bluehost gives you a few different options when it comes to hosting packages, with 1, 2, or 3 year terms. I chose to go with 3 years since I knew I wanted to keep blogging for a while and it had the best monthly rates, but you can choose whichever option best suits your needs.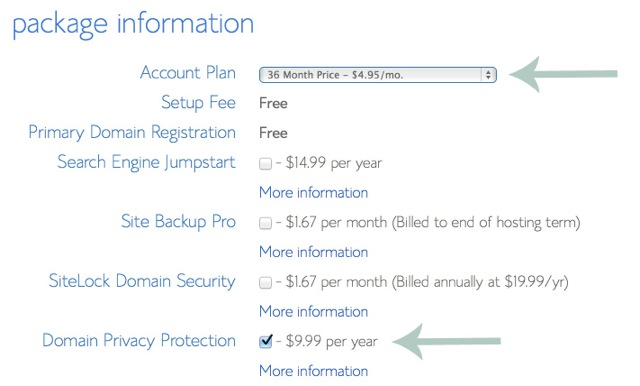 It's also highly recommended that you purchase Domain Privacy Protection, since that keeps your name, address, and phone number from being displayed to the public.
2. Installing WordPress
Now that you're all set up with Bluehost, it's time to go ahead and install WordPress. This will be your blogging software and the platform from which you'll do almost all of the work for your blog. It's really easy to use and what I personally use for runningwithspoons.com. And the best part is that it's super easy to install!
First, log in to your Bluehost account from their main page with the information they sent you in the introductory e-mail. This will get you to your control panel, where you'll need to scroll down to Website Builders and click on WordPress.

This will take you to the following screen, where you'll just need to hit Install.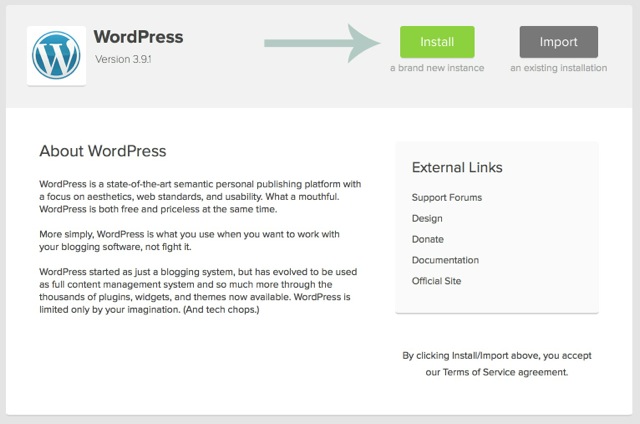 From there, all you need to do is hit Check Domain on the next screen, since your domain name should automatically be filled in.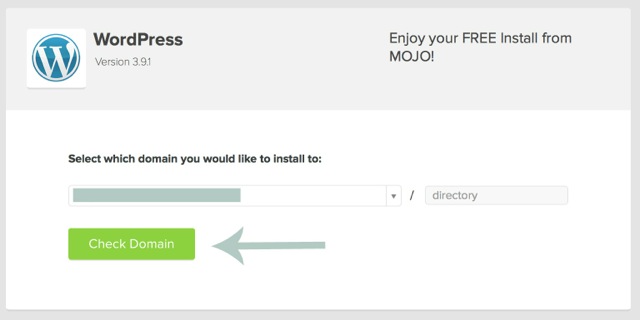 Almost done! The next screen will let you Show Advanced Options. Check that box and go ahead and set up a user name, password, and e-mail address that you want to receive information to. Make sure you remember this since you'll need it to log in to your site later on!
Next, check the box that says automatically create a new database for this installation and the one that says you have read the terms and conditions. Finally, click Install Now and you're all good to go!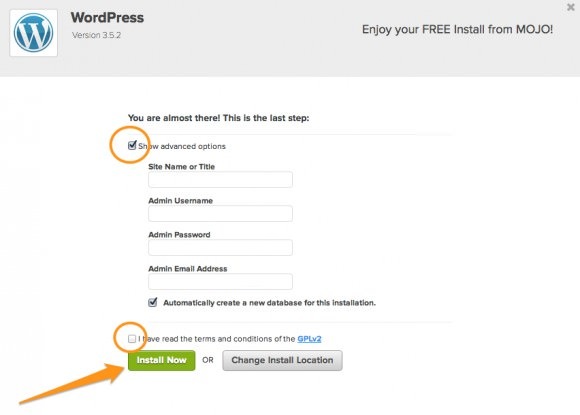 To access your WordPress platform and begin working on your blog, type the login URL into your web browser. This is the address that looks something like www.yourdomainname.com/wp-admin. It will take you to a screen like this where you'll enter the username and password that you set up for yourself. This is how you'll log in every time you want to access your blog.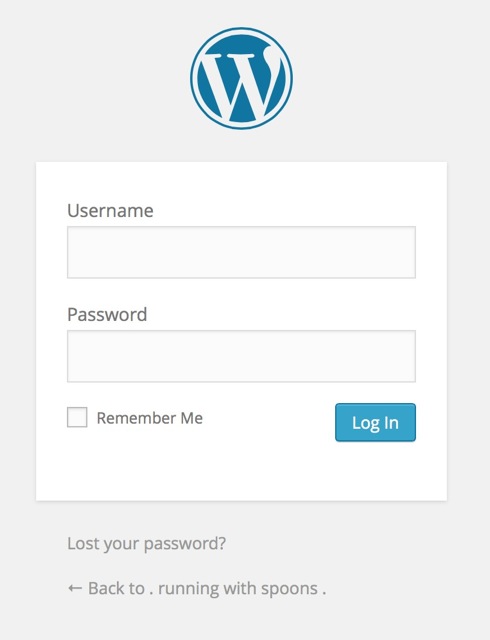 3. Theme and Design Options
Now that you're all moved into your new home, it's time to decorate! A theme is how your blog is laid out visually. It dictates your content area, your sidebars, your colour scheme, your header, your menus, etc. It's basically the layout your readers see when they visit your blog.
WordPress offers a tonne of free theme options, which you can look through here. But as with free hosting, free themes are somewhat disadvantageous in that you have to stay within the bounds of a pre-determined layout with limited control over most aspects of it. If you feel your creativity being stifled, the solution is to purchase a premium theme.
For Running With Spoons, I use The Thesis Theme for WordPress.
I love Thesis because it gives me unlimited control over my design without having to worry about any complicated coding. The option is there if I want it, but it's not necessary to make my blog look good. And signing up also gives you access to an amazing community that will both inspire you and help you out with any issues you might have. I've been using it since day 1 and have no complaints!
Once you pick your theme, all that's left is to set it up and voila! You've got your very own blog!
Disclaimer: Some of the links mentioned above are affiliate links and I will earn a commission if you purchase through those links. However, my recommendation of them is based solely on the fact that I use those products myself and find them to be extremely beneficial. If you have any questions, feel free to e-mail me ([email protected]).

Bloggers: How long were you silent readers before you started blogging, and what made you want to start?
Readers: Do you ever feel the itch to start a blog yourself?
More places to find me!
E-mail — [email protected]
Twitter — runwithspoons
Facebook — runningwithspoons
Pinterest — runwithspoons
Instagram — runwithspoons
Bloglovin — runningwithspoons