Stay warm this winter with this creamy hot chocolate smoothie bowl! Made with wholesome ingredients and loaded with fiber and plant based protein, this vegan smoothie makes a healthy and comforting breakfast or snack.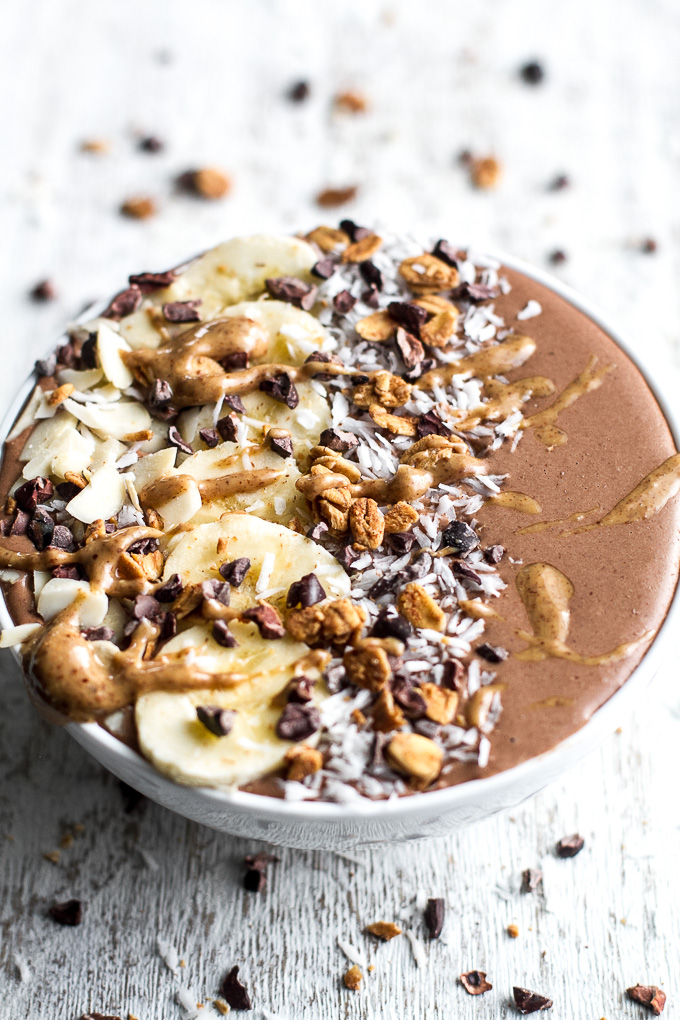 You better believe I'm posting a smoothie recipe this close to Christmas!
I mean, cookies and candy are amazing and all, but we've still gotta eat breakfast, right? Or lunch if you're like me and enjoy one of these hot chocolate smoothie bowls in the early afternoon after a late morning photoshoot.
On that note, can we please talk about how the winter sun (or lack thereof) has messed with my shooting times? I had a good thing going with late afternoons all summer long, but that's basically twilight now. And that's on days where we actually get sun. On the cloudy ones (read: 90% of them), it's basically dark at 2pm.
But it is what it is, and the good news is that it's all downhill from here, ladies and gents! I mean, isn't tonight supposed to be the longest night of the year? Yeah, yeah! It's winter solstice, a.k.a the first day of winter! But if you ask me, the longest night of the year is any night where you either: a) can't sleep, and/or b) feel sick. Ya know what I'm saying? I mean, I know you know what I'm talking about when it comes to those crazy nights where you're just praying for morning to come.
But why are we talking about this?! I have a smoothie for you! And it tastes like hot chocolate…
So here's the thing… I may never go back to eating my smoothies from a glass ever again.
I mean, I abandoned the idea of using straws [in favour of spoons] years ago, but now it's time for the glasses to go too.
Reason? Toppings. You have way more surface area to work with when you eat your smoothies from a bowl, and more surface area = more toppings. And more toppings = more happiness. It's my favourite kind of math.
The only thing is, when you really want to load up on toppings, you really gotta make sure your smoothie can handle it. This means it has to pass the floating spoon test…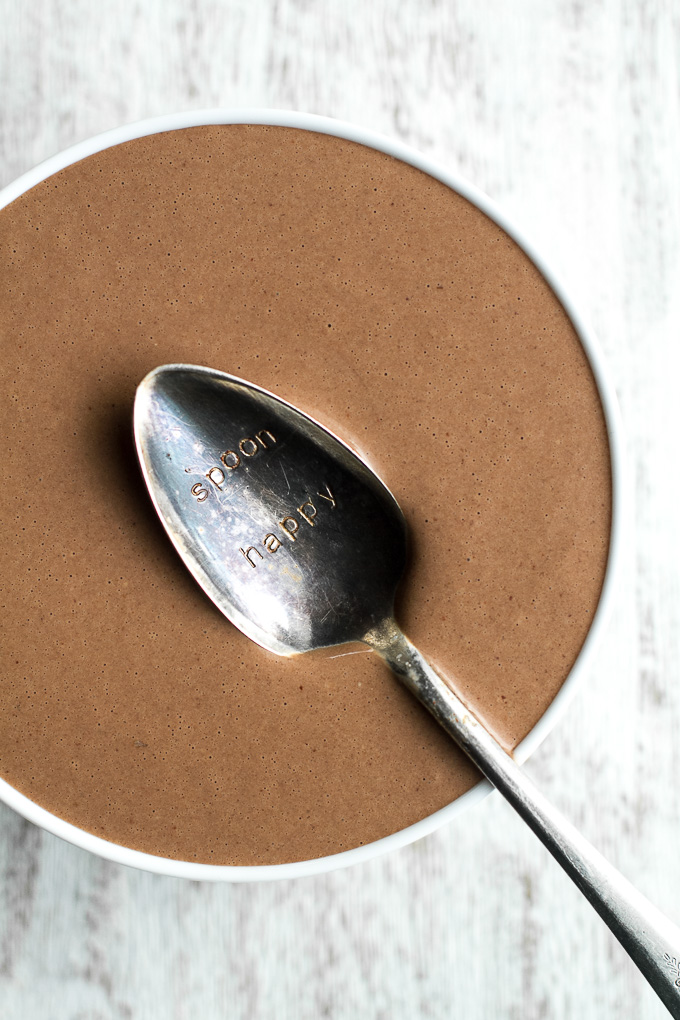 I mean… if your smoothie isn't thick enough to hold your spoon up, you're doing it wrong.
In my humble opinion, of course 😜
But there's just something about a thicker smoothie that's so much more satisfying. So if you feel like smoothies never seem to keep you full for more than 30 minutes, you might want to look into adding some ingredients that'll bulk them up.
Like what? Well, oats are definitely a favourite. Not only do they add a nice amount of fibre, minerals, and plant-based protein, but they give smoothies a creamy consistency that reminds me of melted ice cream. No joke.
Then there's the nut butter for healthy fats and protein.
AND! The best part of all – heating up the smoothie after blending it to make it super thick, creamy, and comforting. I know it's one extra step, but I promise you it's so very worth it. Especially in the middle of winter when we could all use the extra warmth.
So yeah! I hope you enjoy this vegan & gluten-free hot chocolate smoothie bowl that you can top with whatever your heart desires. Might I suggest banana, coconut, granola, cacao nibs, and nut butter? Definitely a winner.
Happy eating!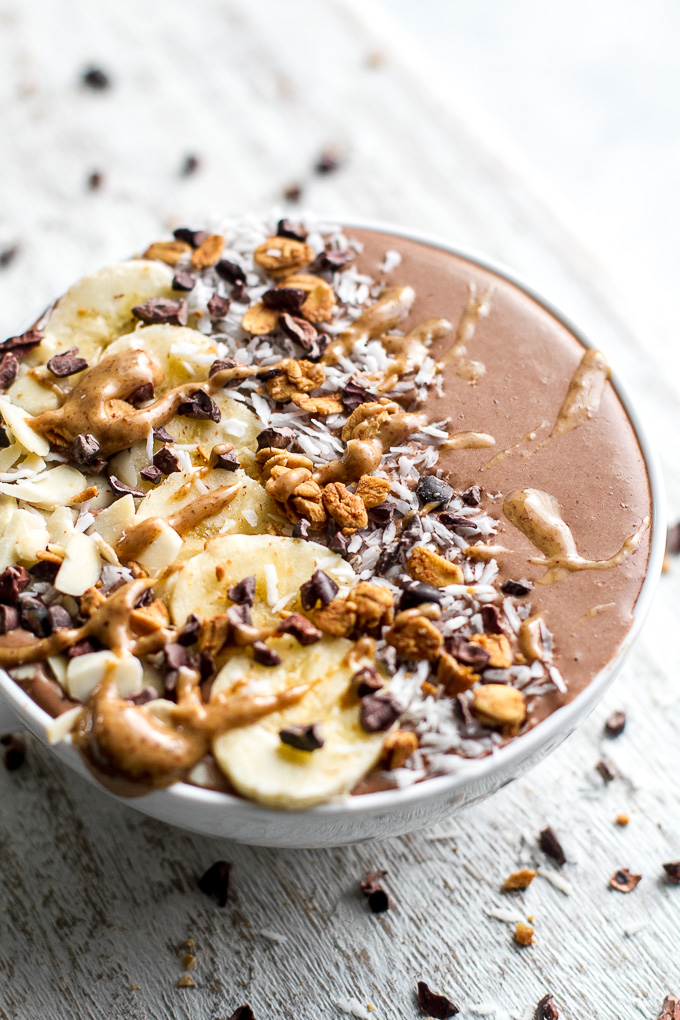 I'd love to know if you make this recipe! Leave a comment and rating down below to let me know what you think, and subscribe to our mailing list to receive new recipes in your inbox!
Print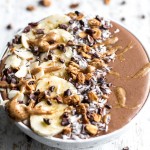 Hot Chocolate Smoothie Bowl
---
Author:

Total Time:

10 mins

Yield:

1

serving

1

x
1 cup

(

240

ml) unsweetened almond milk

1 Tbsp

(

16 g

) nut butter OR dairy-free chocolate chips

1 Tbsp

(

15

ml) maple syrup*

1/2 cup

(

40 g

) rolled oats

2 Tbsp

(

10 g

) unsweetened cocoa powder

1/2 tsp

vanilla extract
---
Instructions
The night before, add all ingredients (except chocolate chips, if using) to the bowl of your blender and give it a stir to ensure that everything is well combined. Cover and place in fridge for at least 3 hours, preferably overnight. This step isn't absolutely necessary, but allowing the oats to soak for a few hours will make them easier to blend and give you a smoother, creamier smoothie.**
When ready to eat, blend on high until oats are fully broken down and a smooth and creamy consistency is reached.
Transfer the smoothie to a small saucepan set over medium heat (adding chocolate chips, if using) and bring to a simmer or boil, depending on how hot you want it. If the smoothie is too thick, add an extra splash of almond milk until desired consistency is reached.
When your smoothie reaches your preferred temperature, transfer it to a bowl, garnish with toppings of choice, and enjoy!
Notes
* You can sub this with whichever liquid sweetener you have on hand. ** if you have no time to let your oats soak, you can simply skip to step 2 and 3, but then transfer your warm smoothie back to your blender and blend until it becomes creamy.
Prep Time:

5 mins

Cook Time:

5 mins
Keywords: breakfast, chocolate, chocolate for breakfast, gluten-free, healthy, hot chocolate, hot chocolate smoothie, recipe, smoothie bowl, vegan