Hey, hey friendly faces! Happy Thanksgiving to my fellow Canadians!! Aaaaand happy Monday to everyone else. Can I interest you in a slice of leftover dessert to ease the pain of having to go back to work/school? 😀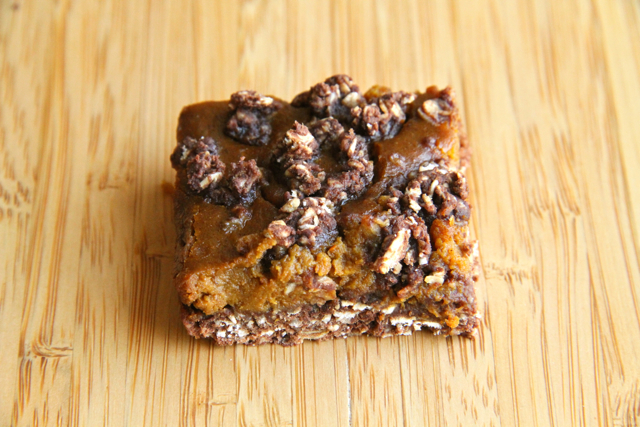 Even though Thanksgiving doesn't seem to be as big of a deal up here in Canada as it is in the States, I'm still more than happy to milk it for all it's worth. Good food, time with the family, an extra day off. What's not to love?! Okay, so food comas can be a serious threat, and food babies aren't exactly the most pleasant thing either, but it's nothing a good pair of stretchy pants can't fix, am.I.right? 😉
This year (as is pretty much the case every year), I was put in charge of dessert — a task I happily accepted. I love baking, so any excuse to get my butt in the kitchen is a big win in my books. The only problem was that I had no idea what to make — none. I wanted something that screamed Thanksgiving, but neither I nor my family enjoy pumpkin pie, which is basically the quintessential Thanksgiving dessert. Since I'm pretty sure it's all about the texture, I decided to put a twist on the traditional pumpkin pie by nixing the pie aspect completely and sandwiching the filling between two chewy oatmeal layers to offset the goopiness instead.
This is what I ended up with…
Pumpkin pie bars, with a chocolatey oatmeal crust and crumble…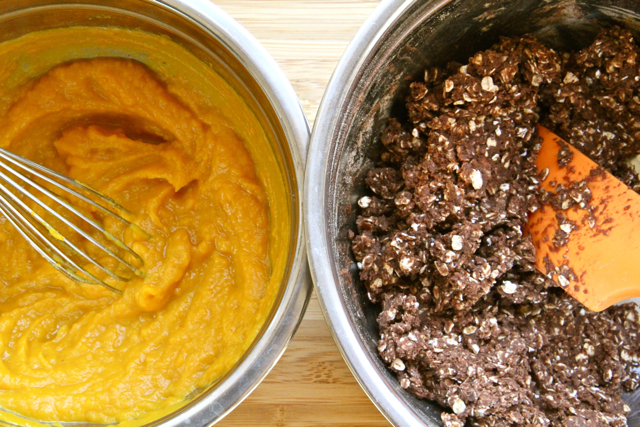 Everyone knows that pumpkin and chocolate are a match made in heaven, and these bars are a perfect example of that. The first taste to hit your tongue is the sultry spiciness of the pumpkin filling, quickly followed by the rich earthiness of the cocoa — which, in addition to providing you with that beloved pumpkin-chocolate combo we all love, adds nicely to the complexity and depth of the flavour.
Can you tell that I've spent quite a lot of time getting up close and personal with these bars? Because I definitely have…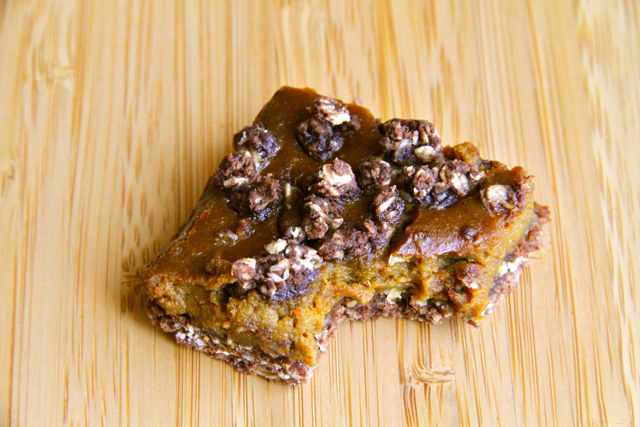 Thanks to some mandatory post-baking quality control taste testing and the existence of a second stomach that handles dessert, I ate more than enough of these little guys yesterday to be able to offer you a very graphic description, but I'll do my best to keep it PG-13…
Ooey. Gooey. Spicy. Sweet. Rich. Dense. Satisfying. Intense… All of the above. And while the flavours are amazing, I have to say that my favourite part may very well be the contrasting textures. You've got a gooey pumpkin filling on one hand, and two chunky oat layers on the other… so, unlike traditional pumpkin pie, the goop factor is balanced out by a nice chewy crust. Perfection.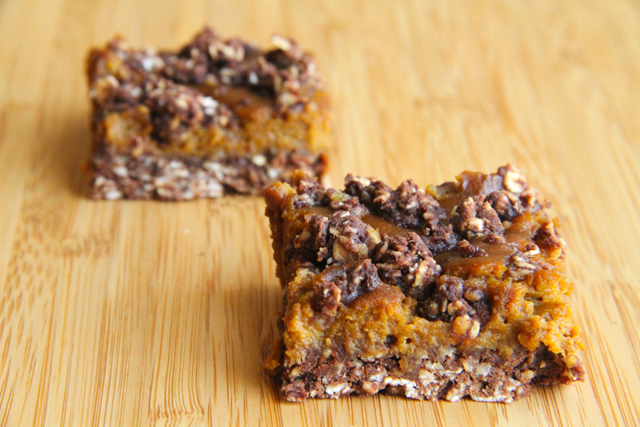 I'd love to know if you make this (or any!) recipe! Tag @runwithspoons on Instagram and Twitter, and be sure to subscribe to our mailing list to receive more healthy and delicious recipes straight to your inbox!
Print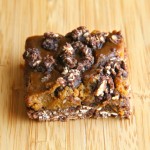 Pumpkin Pie Chocolate Oatmeal Bars
---
Total Time:

45 minutes

Yield:

9

–

16

bars, depending on size

1

x
For the crust:
1 1/4 cups

old-fashioned oatmeal

1/2 cup

whole wheat flour

1/4 cup

cocoa powder

1 tsp

. baking powder

1/4 tsp

. salt

2 Tbsp

. coconut oil (or butter), melted

1/4 cup

applesauce

1/4 cup

maple syrup
For the filling:
1 cup

canned pumpkin puree (NOT pumpkin pie filling)

1

egg, lightly beaten

1 tsp

. vanilla extract

1/4 cup

honey (or maple syrup)

1 1/2 tsp

. cinnamon

1/4 tsp

. cloves

1/4 tsp

. nutmeg

1/4 tsp

. ginger
---
Instructions
Preheat oven to 350ºF and lightly grease an 8×8 baking pan.
For the crust: In a large mixing bowl, combine oats, flour, cocoa, baking powder, and salt. Stir until fully combined and set aside. In a smaller mixing bowl, combine coconut oil, applesauce, and maple syrup. Mix well before adding to oat mixture and stir until fully combined. The dough will be somewhat dense and crumbly — this is how you want it.
For the filling: Either by hand or using a blender, combine all the filling ingredients and mix until fully incorporated. Set aside.
Divide crust mix in half. Using a spatula or your fingers, firmly press half of the dough into the bottom of your square pan. If there isn't enough to fully cover the bottom, add some from the mix remaining in the bowl. Pour filling over the bottom crust layer, spreading evenly. Using your fingers, crumble remaining crust mixture on top of filling, pressing down slightly.
Bake for 30 minutes, or until pumpkin has set.
Remove from oven and let cool completely before cutting into bars.
Prep Time:

15 minutes

Cook Time:

30 minutes
Keywords: baking, chocolate, healthy dessert, healthy Thanksgiving, pumpkin, pumpkin pie, pumpkin pie bars, recipe, Thanksgiving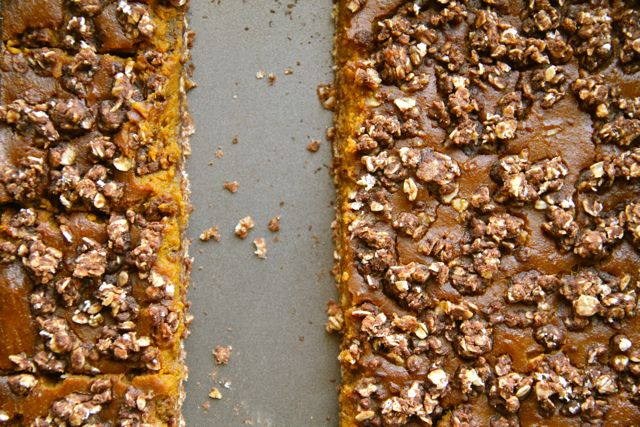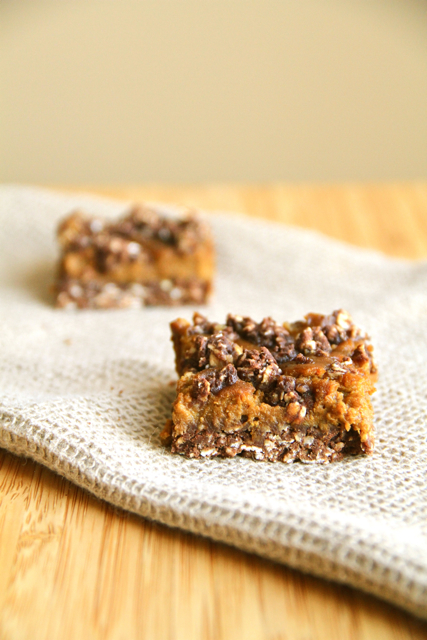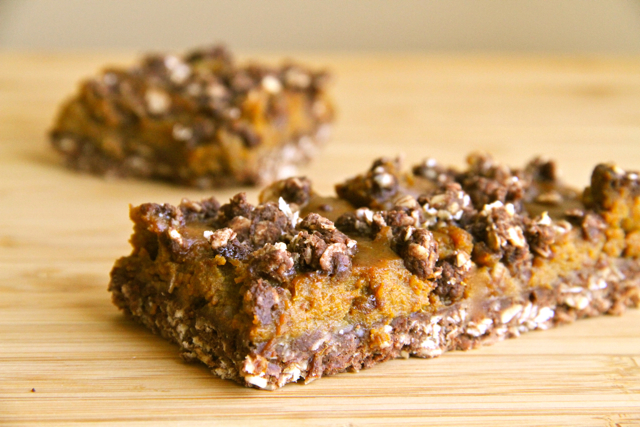 If you wanted to keep things a little more traditional, you could make this recipe in a circular pan as opposed to a square one and cut it up into triangles instead. I opted to go the bar route because I have a vendetta against pumpkin pie to maintain 😉 Alright, that's a complete lie. The truth is… I couldn't find my pie pan (do I even have one?!) and I was due for dinner in a couple of hours, so — bars it was! Thankfully, no one seemed to mind.
I hope you guys are having a great Monday, and whether you're celebrating Thanksgiving or not, take a moment to practice some gratitude and focus on your blessings — you'll be surprised how big of a difference it can make in your happiness.