These healthy Double Chocolate Zucchini Muffins are made without any butter or oil, but so soft and tender that you'd never be able to tell! Greek yogurt and shredded zucchini keep them moist, while a double dose of chocolate makes them taste super decadent. A healthy and delicious way to satisfy those chocolate cravings!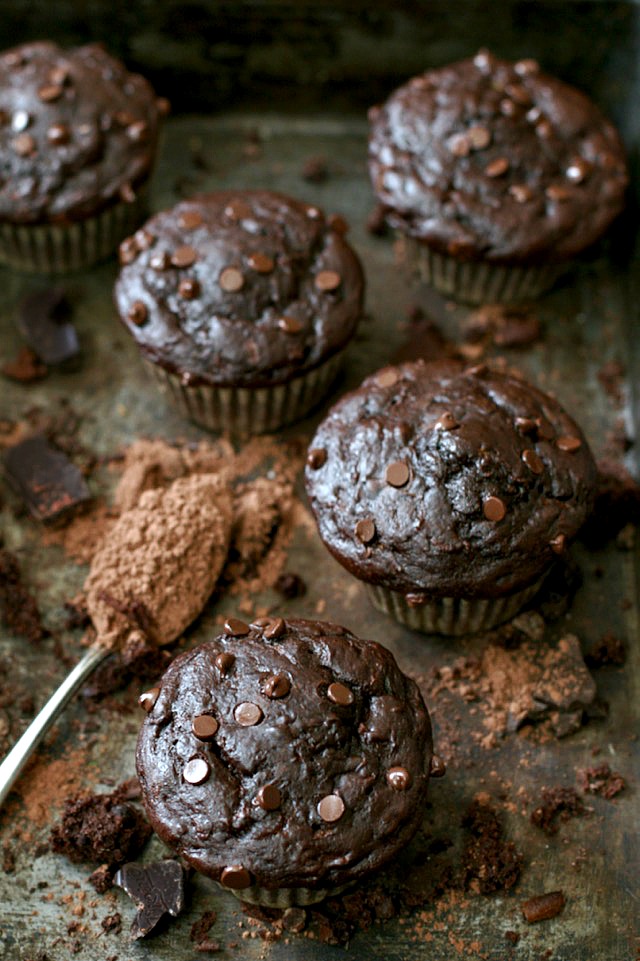 Those days where you get hit with a sudden urge to whip up a batch of healthy double chocolate zucchini muffins at 10pm only to realize that you only have about 2 tablespoons of flour left to your name…
No? Never happened to you? Lucky ducky. Picture this…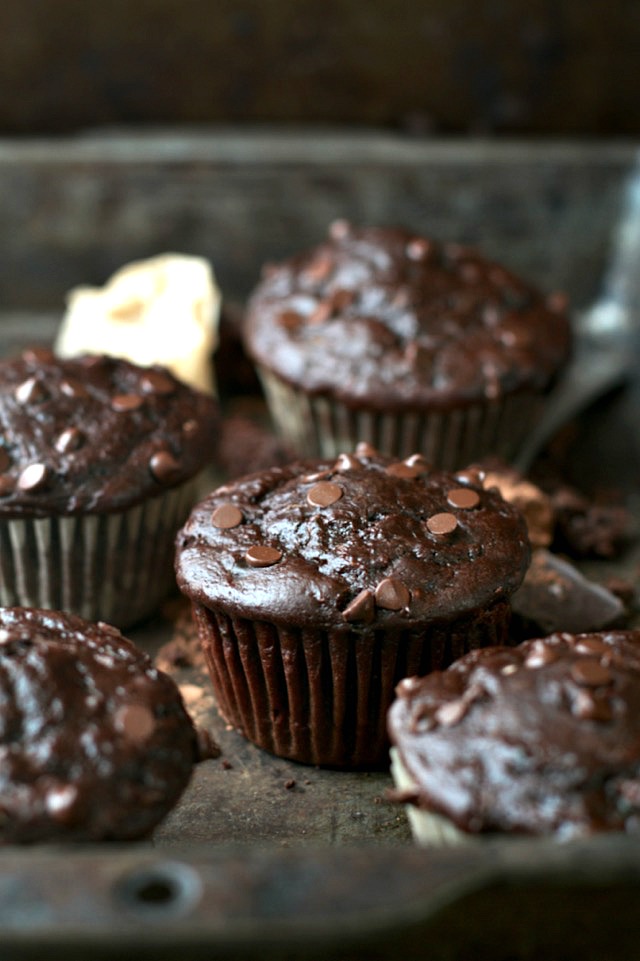 It's about 9:45 on a Tuesday night. I'm hanging out in my pjs (complete with fuzzy slippers), but I can't sleep thanks to this strange new thing my body is trying out.
It wants to be both an early bird and a night owl, which means I'm super productive in the early morning and late at night, but basically useless from 1-5pm. At least creatively. I'm pretty sure my brain falls asleep and I go into autopilot.
Anyways, it's 9:45pm and I'm just putzing around until I get hit with the bright idea to do some baking. So I:
check "The Big List of Blog Recipe Ideas;"
see "chocolate zucchini muffins" scrawled in there;
think "zucchini would be perfect for spring!" (which officially starts tomorrow);
remember that I conveniently happen to have zucchini in my fridge;
go about gathering up the remaining ingredients;
come to "The Big Bucket of Flour" and realize that… womp womp… it's basically empty.
Now, if you know me, you know I'm not a die-hard zucchini fan.
I've learned to tolerate it when it's paired with masked by chocolate, but it's not something I normally (read: ever) have on hand… so the fact that I had zucchini but NO FLOUR made me feel like I was in the twilight zone.
It also meant that I couldn't make any muffins, so I scrapped the idea, kicked off the fuzzy slippers, and stayed up until around 12:30am goofing around learning the ins and outs of Lightroom… only to wake up bright and early the next morning so that I could run to the store and [finally] make (and EAT) these…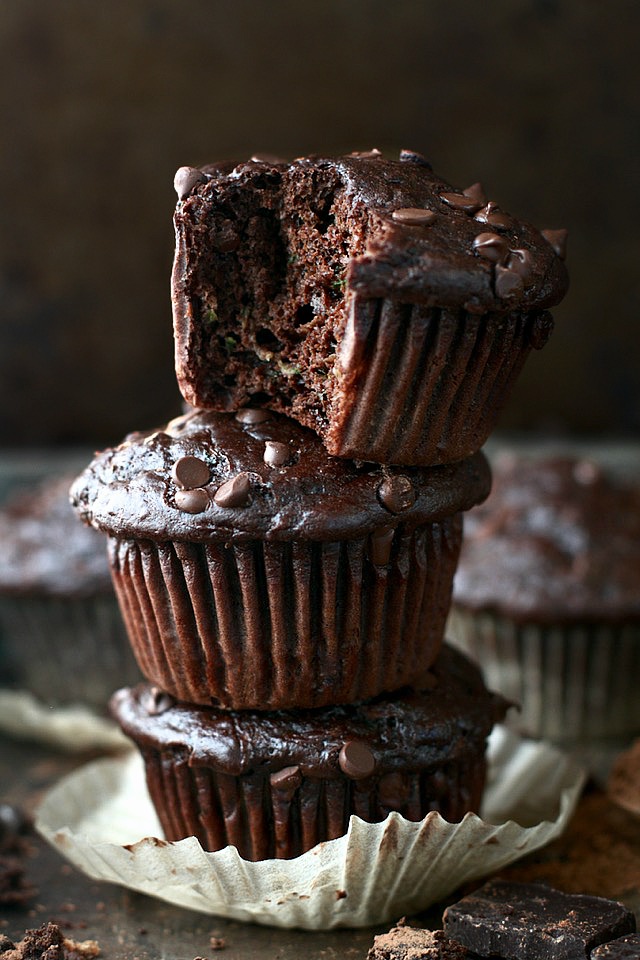 Like all my other Greek yogurt muffins, these ones are made without any butter or oil, but stay super soft and moist thanks to the killer combination of yogurt, applesauce, and zucchini.
They're naturally sweetened with maple syrup and coconut sugar, and you can make them even healthier by subbing out the chocolate chips for some dark chocolate chunks.
If you're worried about tasting the zucchini, don't. You're looking at a girl who's got the squishy squash on her veggie hit list (right up there with eggplant), and I can promise you that you won't even know it's in there. All you'll taste is a deliciously decadent chocolate muffin that's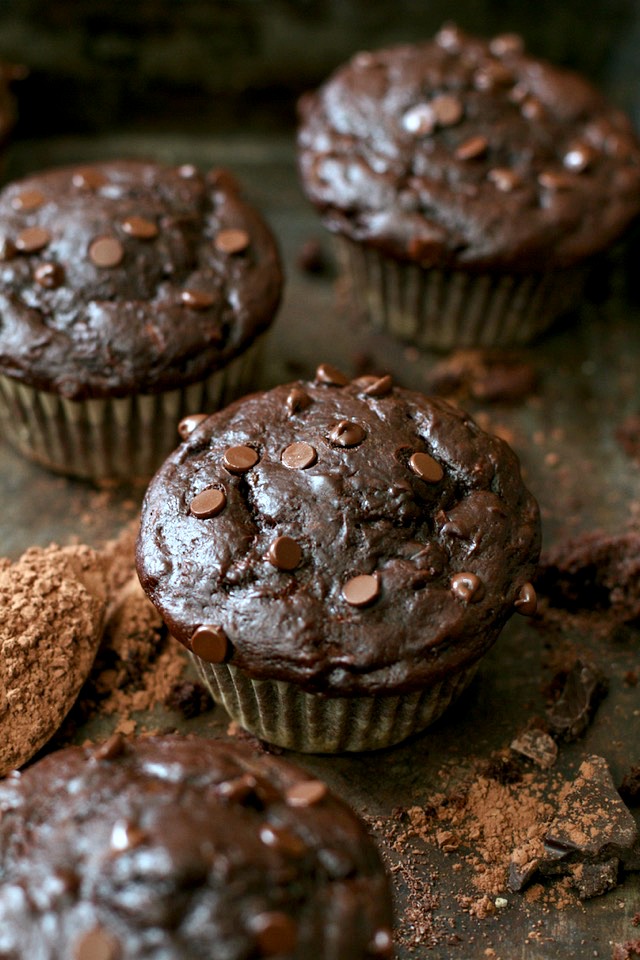 I'd love to know if you make this recipe! Leave a comment and rating down below to let me know what you think, and subscribe to our mailing list to receive new recipes in your inbox!
Print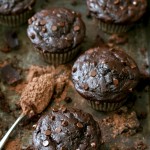 Healthy Double Chocolate Zucchini Muffins
---
Author:

Total Time:

27 mins

Yield:

12

muffins

1

x
1 cup

(

120 g

) whole wheat pastry flour*

1/2 cup

(

40 g

) unsweetened cocoa powder

1 1/2 tsp

baking powder

1/2 tsp

baking soda

1/4 tsp

salt

2

large eggs

1/2 cup

(

115 g

) plain Greek yogurt

1/4 cup

(

60

ml) maple syrup**

1/4 cup

(

50 g

) coconut palm sugar

1/3 cup

(

80

ml) unsweetened applesauce

2 tsp

vanilla extract

1 cup

(

110 g

) grated zucchini

1/2 cup

(

80 g

) semisweet chocolate chips
---
Instructions
Preheat your oven to 350F (176C) and prepare a muffin pan by lining the cavities with paper liners or greasing them with cooking spray or oil. Set aside.
In a large mixing bowl, combine the flour, cocoa, baking powder, baking soda, salt, and chocolate chips. Set aside.
In a separate bowl, beat the eggs until they become slightly frothy before whisking in the yogurt, maple syrup, sugar, applesauce, and vanilla. Mix until well combined before folding in the grated zucchini.
Add the wet ingredients to the dry ingredients, mixing gently until just combined. Be careful not to overmix.
Divide the batter evenly among the 12 muffin cups, filling until they're about 3/4 of the way full. Top with additional chocolate chips, if desired.
Bake for 17-19 minutes, or until the tops of the muffins are firm to the touch and a toothpick inserted into the centre comes out clean. Allow the muffins to cool in the pan for ~10 minutes before transferring them to a wire rack to cool completely. Store in an airtight container at room temperature for up to 5 days, or freeze for up to 3 months.
Notes
* You could also make this with all purpose flour or use a mix of 1/2 cup (60 g) whole wheat and 1/2 cup (60 g) all purpose. ** You can sub this with regular brown sugar. *** I like to place a handful of shredded zucchini between two paper towels and lightly squeeze it over the sink to get some of the liquid out. You don't want to get it all out, but you don't want it to be wet and soggy either.
Prep Time:

10 mins

Cook Time:

17 mins
Keywords: chocolate, chocolate muffins, chocolate zucchini muffins, Greek yogurt, healthy chocolate muffins, healthy muffins, recipe

Looking for more healthy Greek yogurt muffin recipes? Try one of these!
Blueberry Oat Greek Yogurt Muffins
Banana Oat Greek Yogurt Muffins
Carrot Oatmeal Greek Yogurt Muffins
Greek Yogurt Muffins
Apple Oat Greek Yogurt Muffins