You won't find any butter or oil in these healthy Almond Butter & Jelly Muffins! Greek yogurt keeps them soft and tender, while swirls of almond butter and jelly add tonnes of flavour.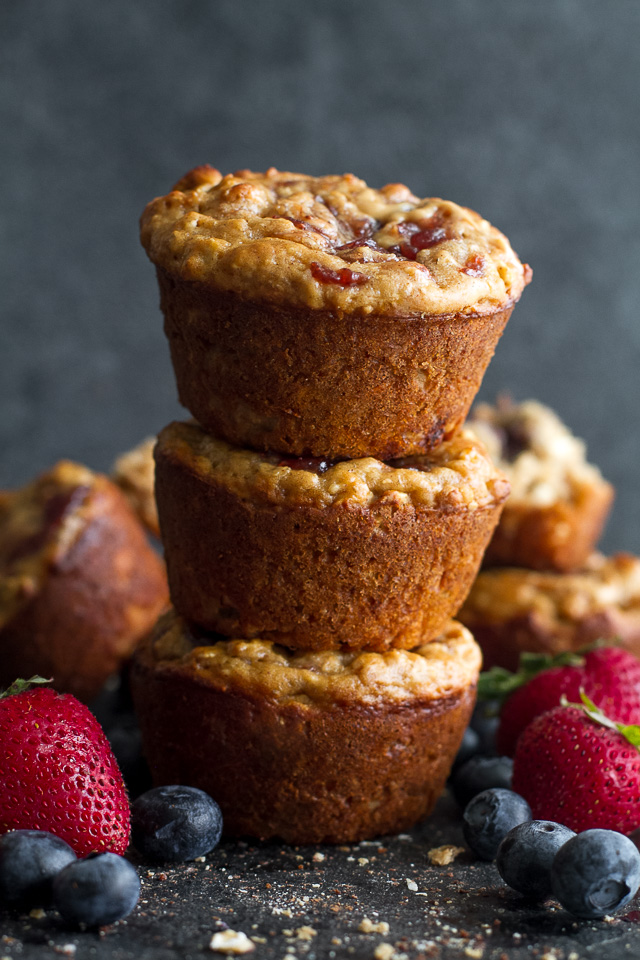 I am SO RIDICULOUSLY EXCITED to share this recipe with you guys!!! So ridiculously excited.
And, yes… this is one of those times where caps and multiple exclamation points are 100% necessary. As is spellcheck, apparently, since I can't seem to spell 'necessary' when I get really excited. Nailed it that second time, though… aaaaaaand then managed to misspell 'second' in a way that made spellcheck think I meant 'seance.' Oops. Fingers not keeping up to brain.
Anyways! I'm rambling… which is kind of what happens when I get excited. Or nervous. Or hyper. Or tired. Or… any emotion that sits at either end of the spectrum.
But today? Today we're excited. And also slightly hyper, so bear with us.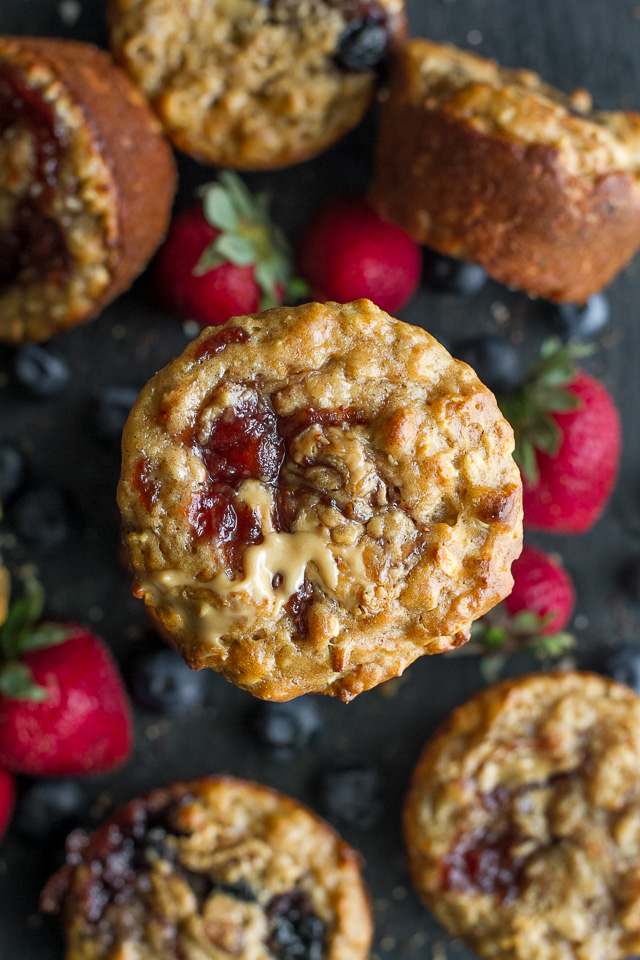 So I'm going through a bit of an ABJ phase at the moment, and by that I mean I've been eating that combo for lunch more often than I care to admit (read: basically every day).
Usually as a sandwich, sometimes as a second bowl of oatmeal, and lately, in the form of these almond butter and jelly oatmeal muffins…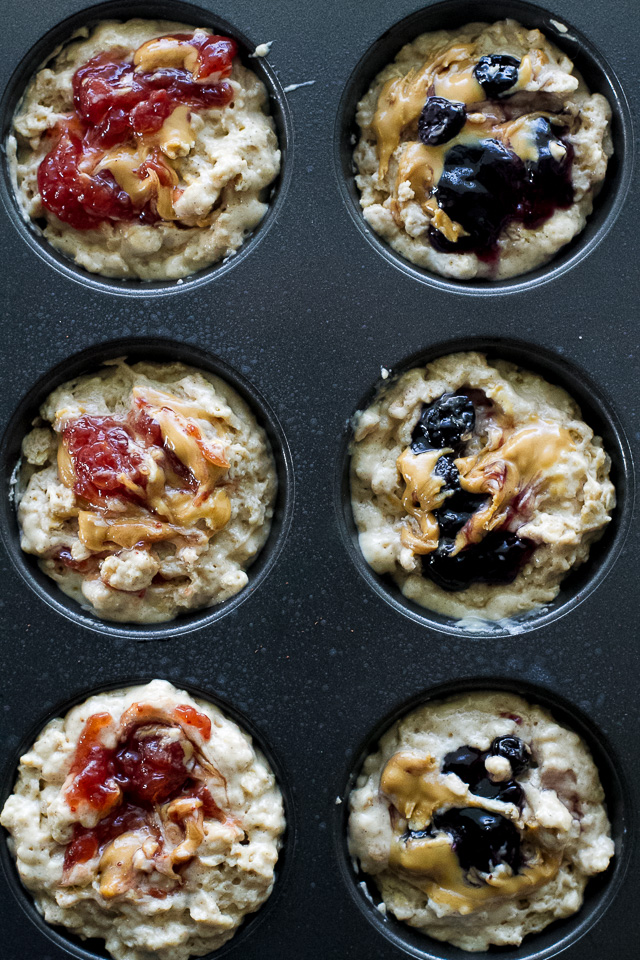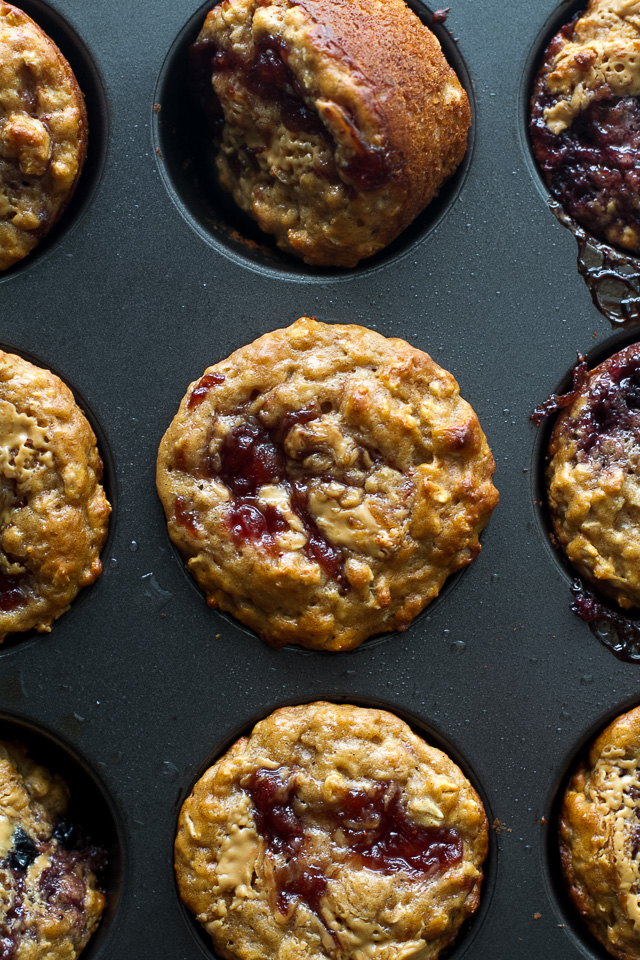 What can I say? You guys know I love my sweet lunches, and these muffins are healthy enough to eat as part of a meal if you do so desire.
You can also swap out the almond butter with peanut butter if you want to make peanut butter and jelly oatmeal muffins, buuuuuut long-term readers will know that this girl doesn't swing that way. Unfortunately. I would if I could! Especially because my food blogger brain imagines it would be a whole lot better for SEO.
Oh, and if you're dealing with nut allergies or want to make these nut-free so that your kids can safely take them to school, just swap out the almond butter for some roasted soy nut butter (I like the Wowbutter brand). I can't speak to this statement personally, but apparently it's supposed to taste pretty similar to peanut butter. And it's 100% safe for schools and those dealing with nut allergies, so thumbs up for that.
Anyways, let's get a little more up close and personal with these muffins…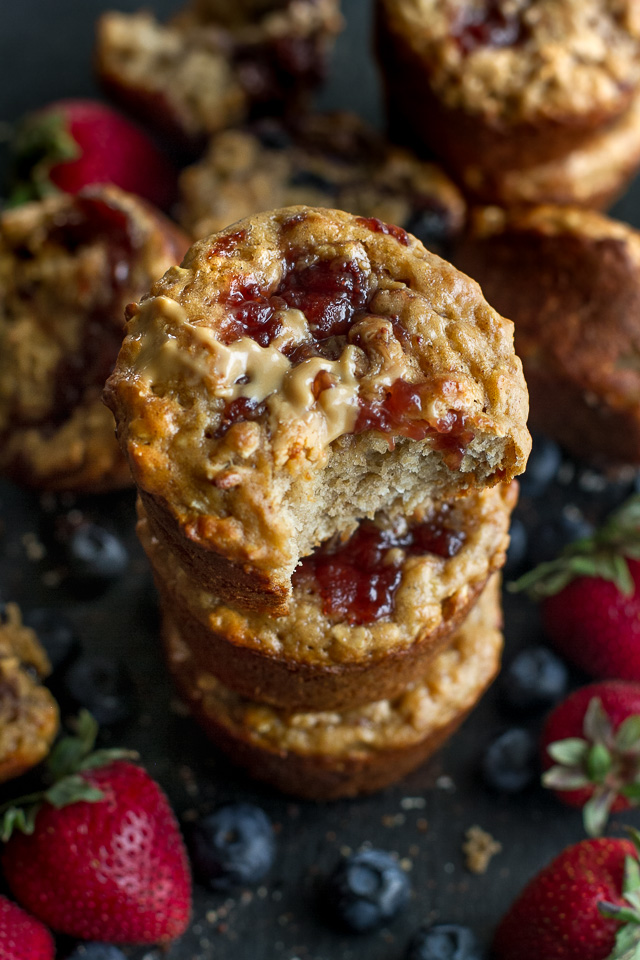 Like a lot of my other muffins, these ones are made with one of my favourite baking substitutions – Greek yogurt. This stuff is pretty magical because it helps make muffins soft and tender while keeping them oil-free. I like to use 2% because I've found that adds a touch of extra moisture compared to 0%, but it's not that big of a deal and you can really use whichever you prefer.
For the jelly, I made half the batch with blueberry jam and the other half with strawberry, but again… use whichever is your favourite. And use as much of it as you want! I gave a general guideline for how much ABJ to put on each muffin, but feel free to add more if you want a more intense ABJ (or PBJ) flavour.
Happy eating!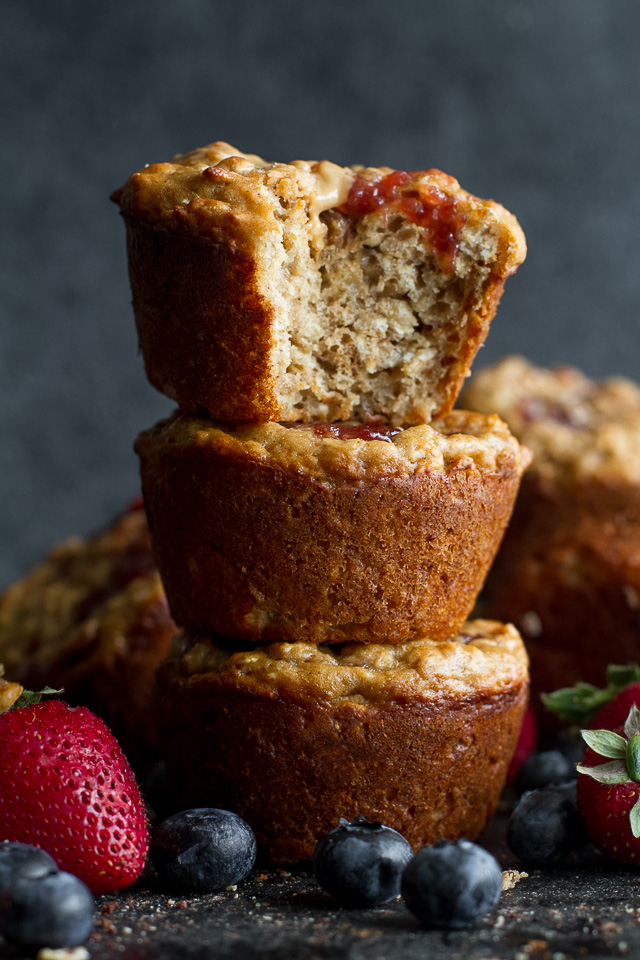 I'd love to know if you make this recipe! Leave a comment and rating down below to let me know what you think, and subscribe to our mailing list to receive new recipes in your inbox!
Print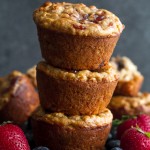 Almond Butter and Jelly Muffins
---
Author:

Total Time:

30 mins

Yield:

12

muffins

1

x
1 cup

(

120 g

) whole wheat pastry flour*

1 cup

(

80 g

) old fashioned rolled oats

1 tsp

ground cinnamon

1 1/2 tsp

baking powder

1/2 tsp

baking soda

1

large egg

1 cup

(

225 g

) plain Greek yogurt

1/4 cup

(

80g

) liquid honey

2 tbsp

(

25 g

) coconut palm sugar**

2 tsp

vanilla extract

2

–

3

Tbsp (

30

–

45

ml) your favourite jam

1

–

2

Tbsp (

16

–

32

g) nut/seed butter
---
Instructions
Preheat your oven to 350F (176C) and prepare a muffin pan by lining the cavities with paper liners or greasing them with oil or cooking spray. Set aside.
In a large mixing bowl, combine the flour, oats, cinnamon, baking powder, and baking soda. Set aside.
In a separate bowl, lightly beat the egg a few times until the yolk breaks. Whisk in the yogurt, honey, sugar, and vanilla. Add the wet ingredients to the dry ingredients, mixing gently until just combined.
Divide the batter evenly among the 12 muffin cups, filling them almost to the top. Top each muffin with 1/2 tsp of jam and 1/4 tsp of almond butter, and use a toothpick to swirl them around. Try not to bring the jam too close to the edge, or it'll melt and burn on the side of the pan.
Bake for 17-19 minutes, or until the tops of the muffins begin to turn golden brown and a toothpick inserted into the centre comes out clean. Allow the muffins to cool in the pan for ~15 minutes before transferring them to a wire rack to cool completely. Store them in an airtight container at room temperature for up to 5 days, or freeze for up to 3 months.
Notes
* You can also use all purpose flour or a mix of 1/2 cup (60 g) all purpose and 1/2 cup (60 g) of whole wheat flour. ** You can also use regular brown sugar.
Prep Time:

10 mins

Cook Time:

20 mins
Keywords: AB&J, almond butter, almond butter and jelly, breakfast, Greek yogurt, healthy muffins, jelly, muffins, oatmeal muffins, oats, PBJ, recipe, snack

Looking for more healthy oatmeal muffin recipes? Try one of these!
Blueberry Oat Greek Yogurt Muffins
Banana Oat Greek Yogurt Muffins
Zucchini Oat Greek Yogurt Muffins
Apple Oat Greek Yogurt Muffins
Flourless Vegan Banana Muffins