It's hard to believe that it's already been a week since I got back from Hawaii, and while I've managed to settle back into my routine and give jet lag the boot, these post-vacation blues are still clinging to me pretty tightly, and I'm pretty sure that this is partially responsible for that…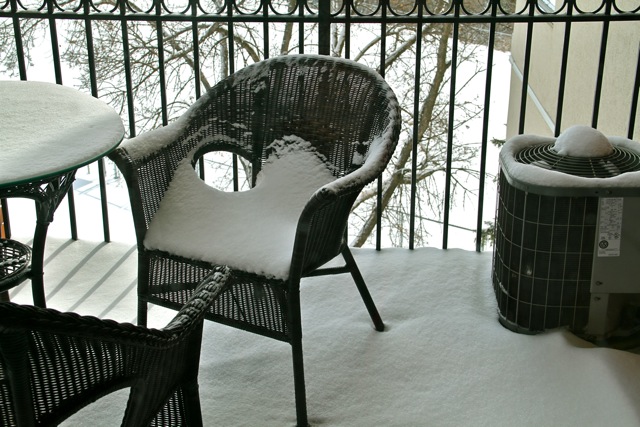 Oh my. If anyone lives in a nice warm place and has a nice warm room for a cold Canadian girl to occupy for a couple of months, please don't hesitate to speak up. I'm clean, I'm quiet, and I bake…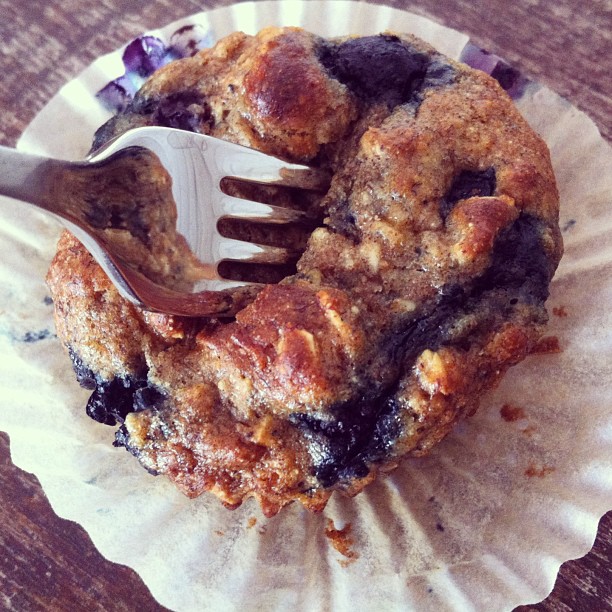 … which is actually what I spent most of my weekend doing since going out and freezing my toes off didn't sound all that appealing. That little gem right there is part of a batch of blueberry banana muffins that I whipped up during my baking spree. If you follow me on Instagram then you may have already fallen victim to my teasing, and if you don't then I'm afraid you're going to fall victim today – I'll definitely be sharing the recipe with you guys, buuuuut you have to wait until tomorrow. And no, it's not because I'm trying to be cruel, but because I had something else planned for today…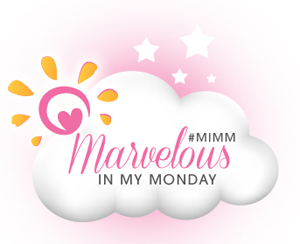 Since it's MIMM and I could use a bit of warm-weather-reminiscing up to help get me out of this snow-induced funk, today's post is going to be another highlight from Hawaii. Coincidentally, it also happens to be what I thought was the most marvelous part of our trip. If you missed part 1 of my Hawaii highlights series then be sure to check out my recap of Diamond Head, and if not, then let's move on to talk about…
Manoa Falls.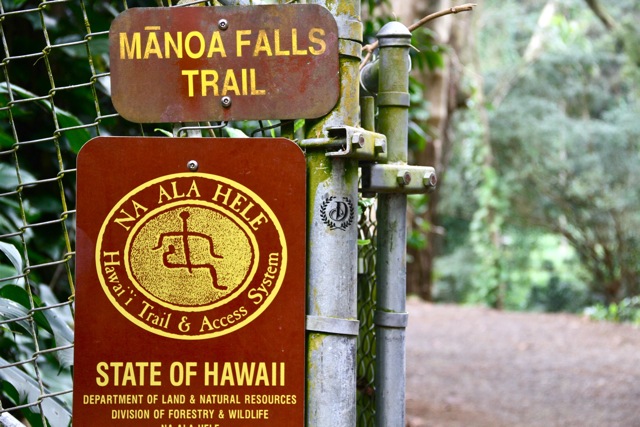 The Manoa Falls trail is another hike that we did while in O'ahu, but unlike Diamond Head with its well-maicured path, this one proved to be a little more tricky…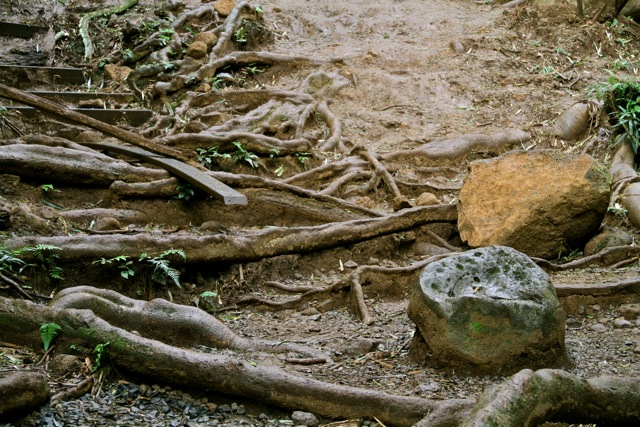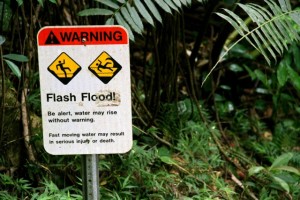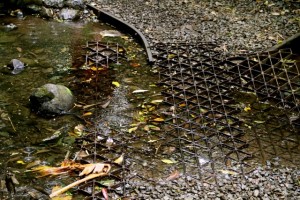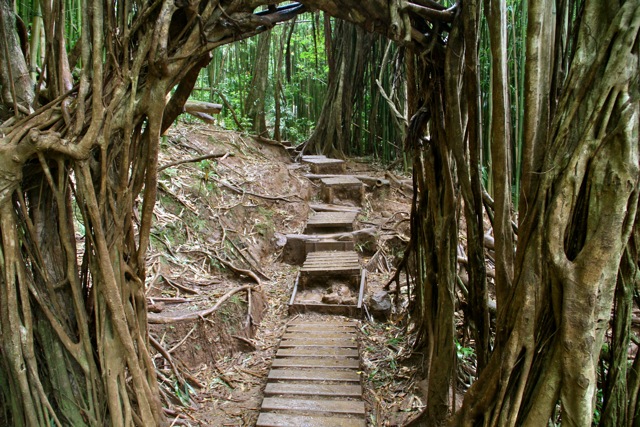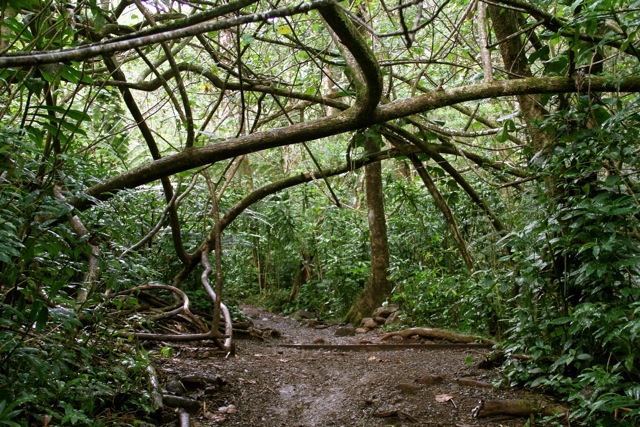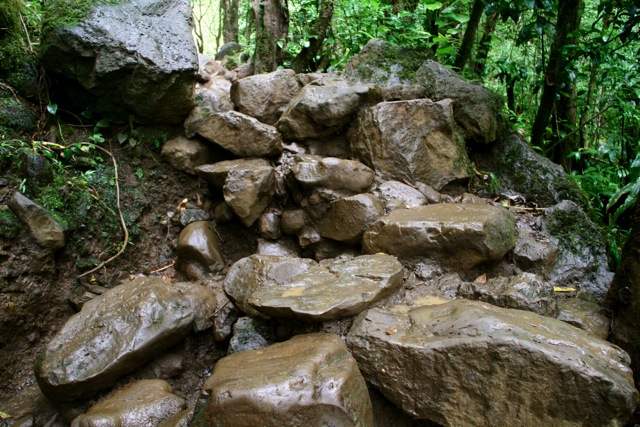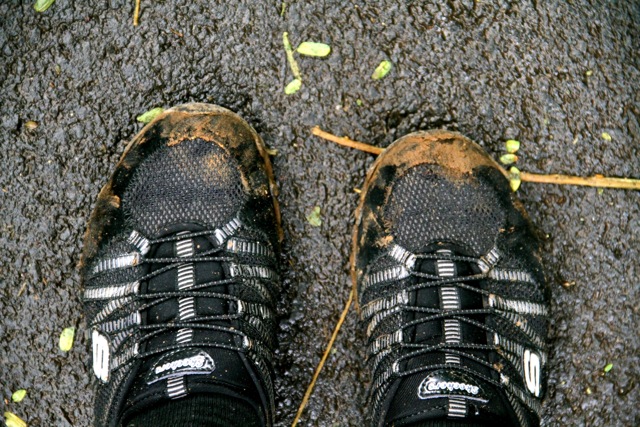 Although the trail is well-travelled and easy to follow, its also incredibly slippery thanks to the mud, and the constantly varying terrain requires a good deal of navigating. There are rocks to climb, streams to cross, steep slopes to scale, and bulky roots to avoid. Nothing a little careful vigilance can't handle, but you definitely have to watch where you put your feet, which is incredibly difficult to do when your eyes want nothing more than to take in all of the beauty that surrounds you…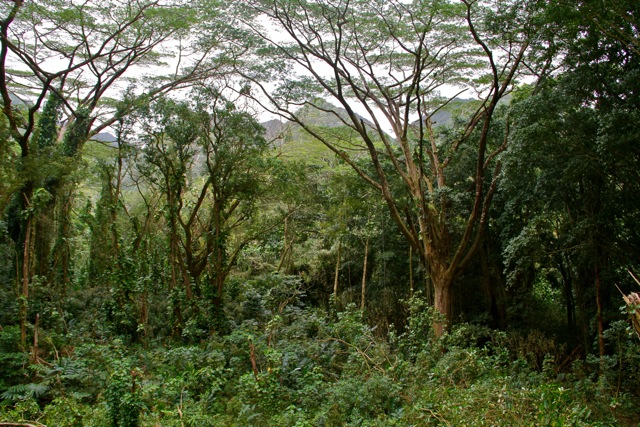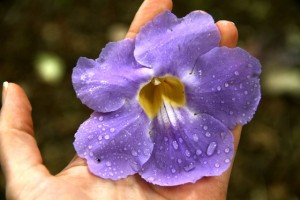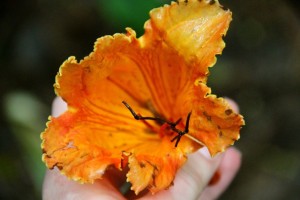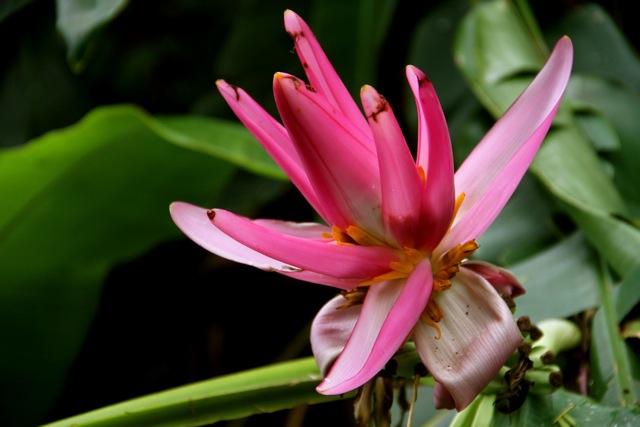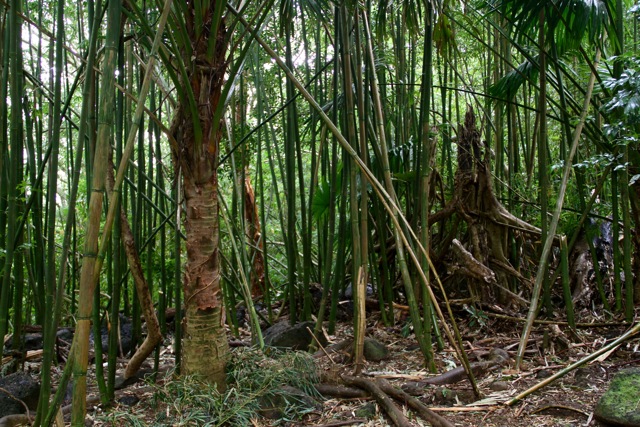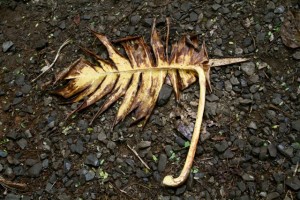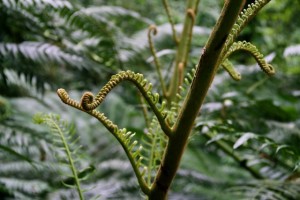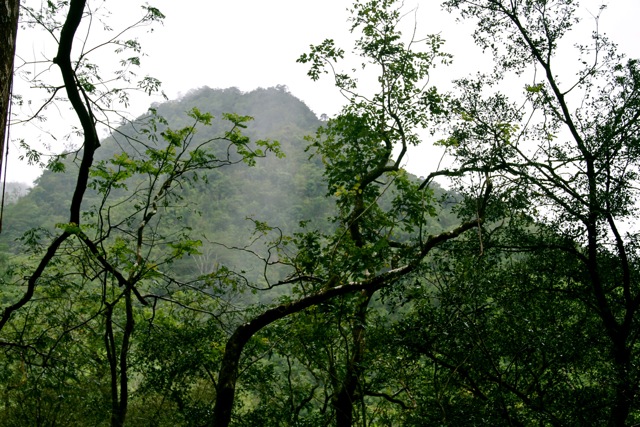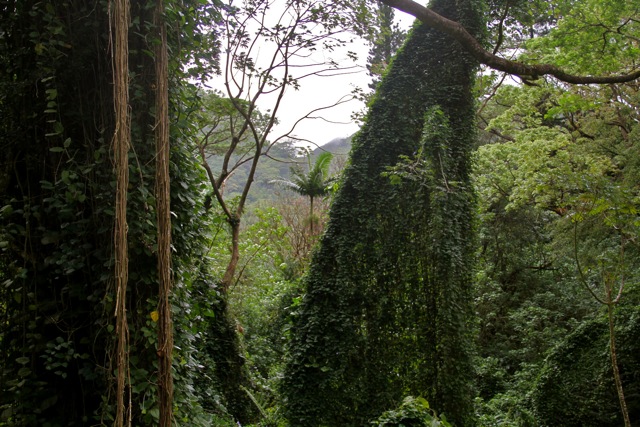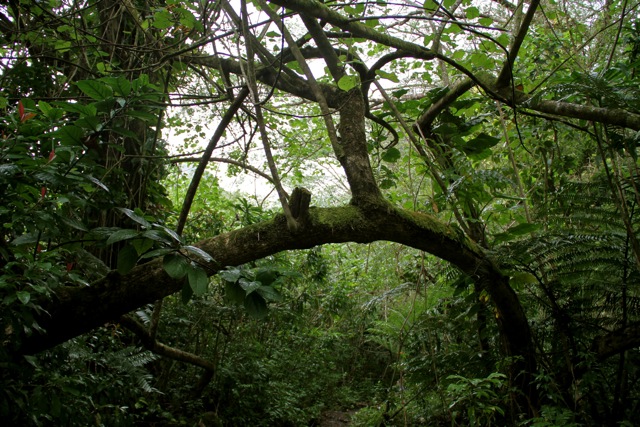 This was my first time in a rainforest and I was absolutely blown away by how beautiful it was; so much so that I probably spent more time with a camera planted in front of my face than not…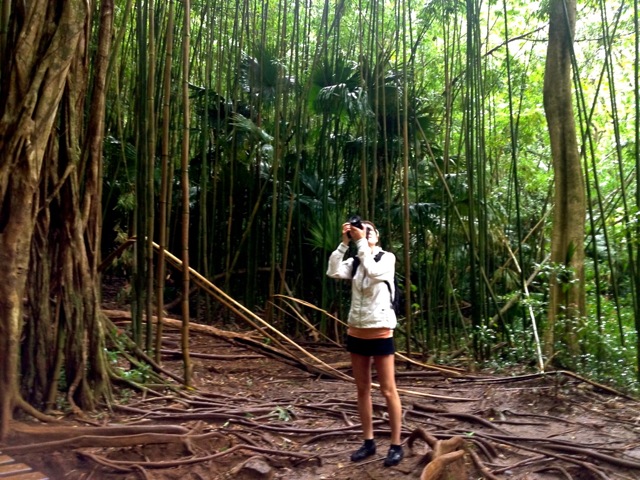 And for a fun bit of trivia, did you know that Manoa Falls is where some of the scenes from Jurassic Park and Lost were filmed?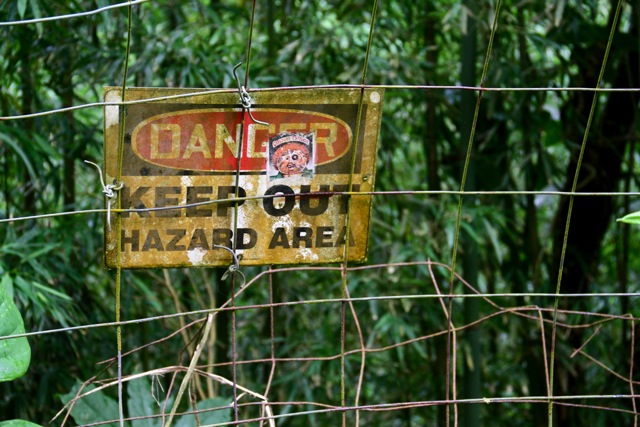 And speaking of the falls, after a 0.8 mile (1.3 km)  hike that takes approximately 35 minutes to do, you'll have the pleasure of finding yourself in the company of the falls themselves…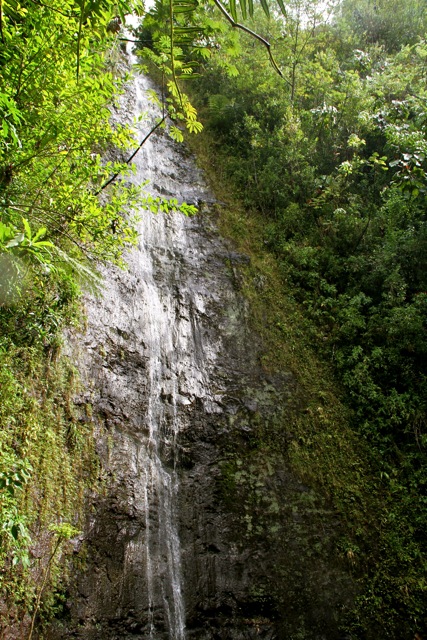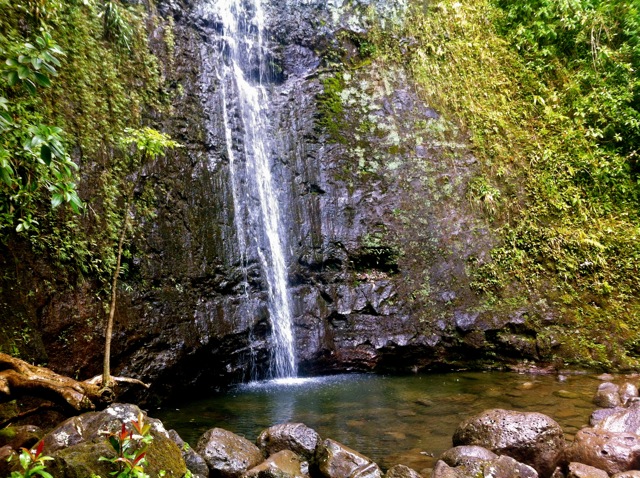 Gorgeous. Hiking the Manoa Falls trail was easily my favorite part of our trip and I definitely recommend putting it in to your schedule if you ever find yourself planning to visit Hawaii. And if you need a second opinion, here's what Momma Spoons had to say when I asked her how it was:

And here she is tackling the trail in her red poncho: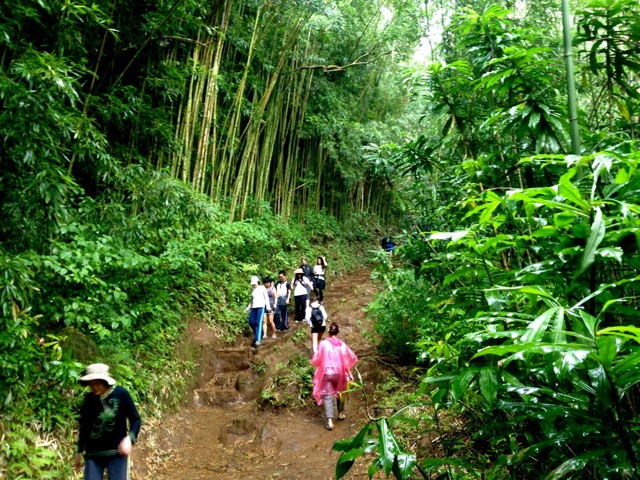 Love that lady!
Some tips:
Wear appropriate shoes. Flip flops are definitely not suitable for this trail. The steep and slippery slopes make running/hiking shoes pretty much a necessity, especially the further along the trail you go. It also helps to bring shoes that you don't mind getting dirty.
Bring bug spray. Sunscreen isn't needed since you'll be doing most of the trail in the shade of the trees, but mosquitos can be a big problem so having a can of bug spray on hand isn't a bad idea.
Bring something waterproof to wear. You'll more likely than not be caught in a pretty decent downpour on your hike, so toss a lightweight poncho into your bag to stay dry (note: you can buy flimsy ponchos at pretty much any gas station or snack shop for $1.25)
Don't drink the water or go for a swim. As tempting and serene as it may seem, the freshwater streams in Hawaii can be contaminated with leptospirosis, which is a funky bacteria that can make you ill. Avoid that by avoiding the water.
. – . – . – .
How's the weather in your neck of the woods? Is it looking like spring yet?
Are you an outdoorsy person? Do you like getting dirty/wet and braving the elements?