This lightened-up Greek Yogurt Pumpkin Banana Bread is made without butter or oil, but so soft and tender that you'd never be able to tell! Not quite pumpkin bread, not quite banana bread, it combines hints of both to create a healthy and delicious fall-inspired snack.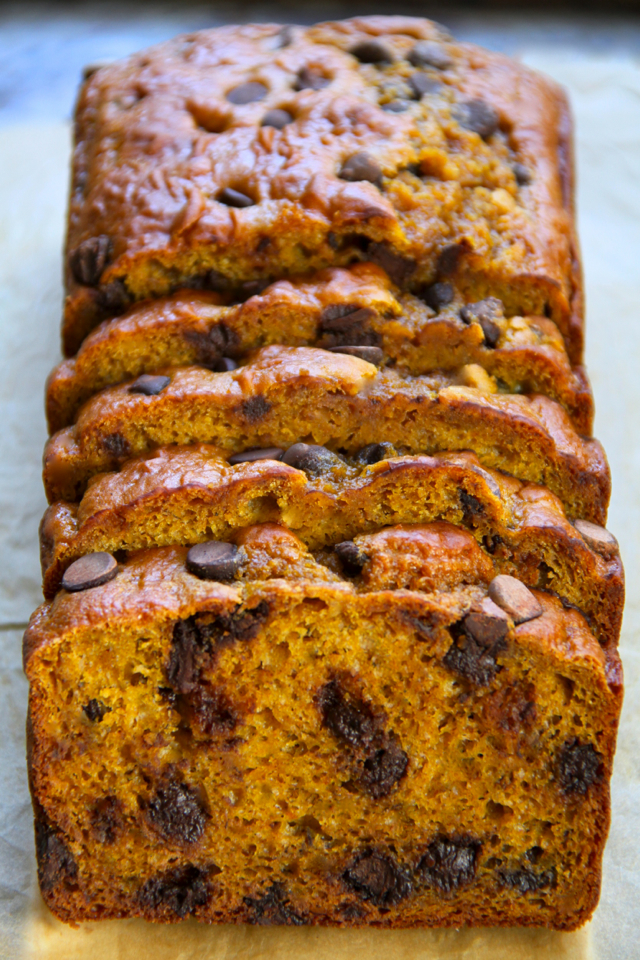 Allow me to introduce you to the product of my indecisiveness — also known as pumpkin banana bread. Because why force yourself to decide between pumpkin bread and banana bread when you can have both in one ridiculously soft and tender loaf, amiright? And why go through the hassle of making two separate loaves when when you can combine the two and have the best of both worlds?
That, my friends, is what we call winning at life.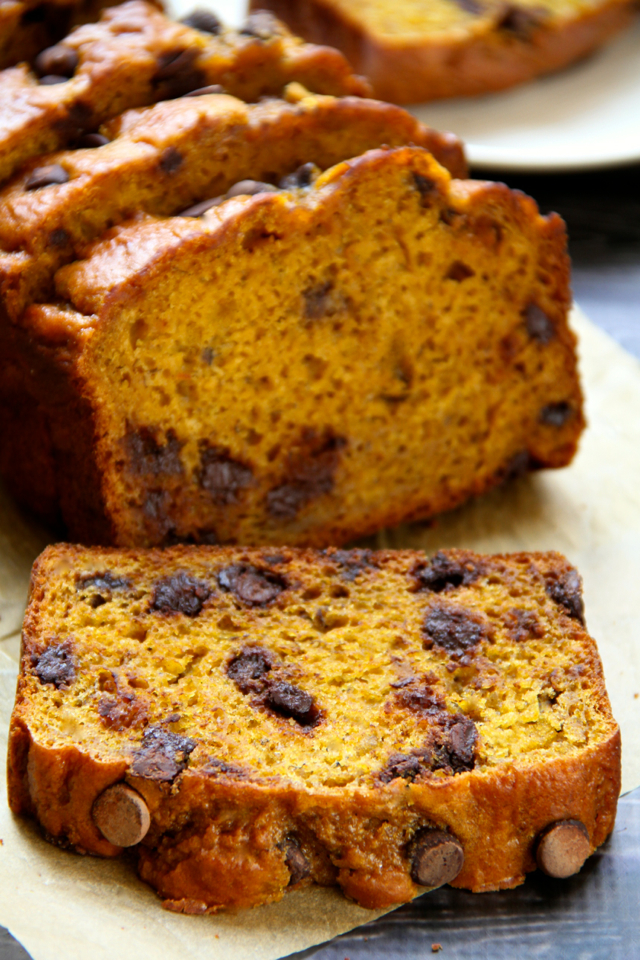 Actually… that's what we call spur-of-the-moment "toss everything into a bowl and hope for the best" baking experiments gone [mercufully] right… but it sounds so much better when I act like I actually planned for things to turn out that way.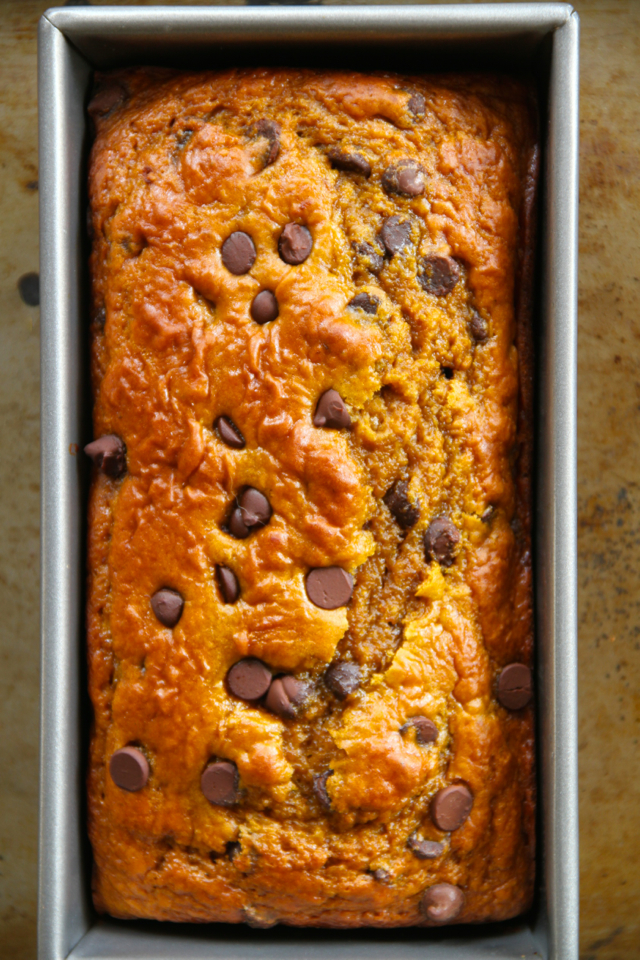 The truth is that I was originally planning on sharing a pumpkin pancake recipe with you guys today… until a few things got in the way of my carefully scribbled out plans.
First, the weather. I don't know how things are looking in your neck of the woods but we've had a handful of cold and rainy fall-like days that have made a warm and toasty kitchen feel that much more inviting. And, yes, I know you make pancakes in the kitchen as well, but the oven has always felt infinitely more comforting than the stove.
And it produces infinitely tastier things… just saying.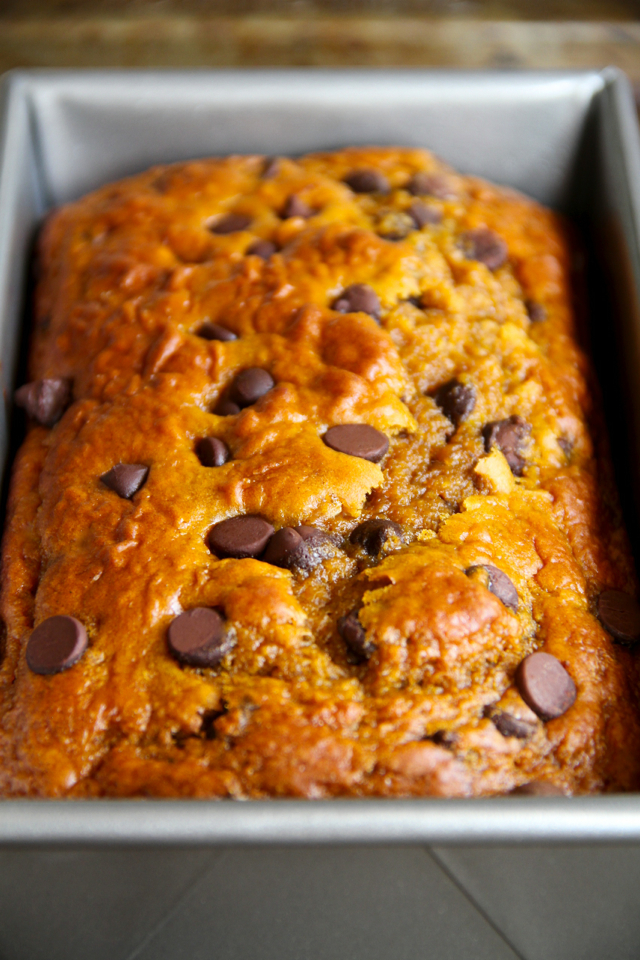 Then there was the issue of finding myself in the unfortunate position of having to use up both the leftovers from the can of pumpkin I opened earlier and a bunch of overripe bananas that the fruit flies were attacking.
Can we talk about pumpkin can sizes for a second? Because they seriously need to start selling pumpkin in different sized cans so you can buy as much as you need without having to worry about having a bunch of extra squash hanging around after everything is said and done.
Need half a cup? Here's a half-cup sized can for you. 1 cup? We have that too! None of this 15 oz. nonsense where you use less than half and need to figure out how to get rid of the rest. If you do find yourself in that unfortunate position, though, this is my answer for you…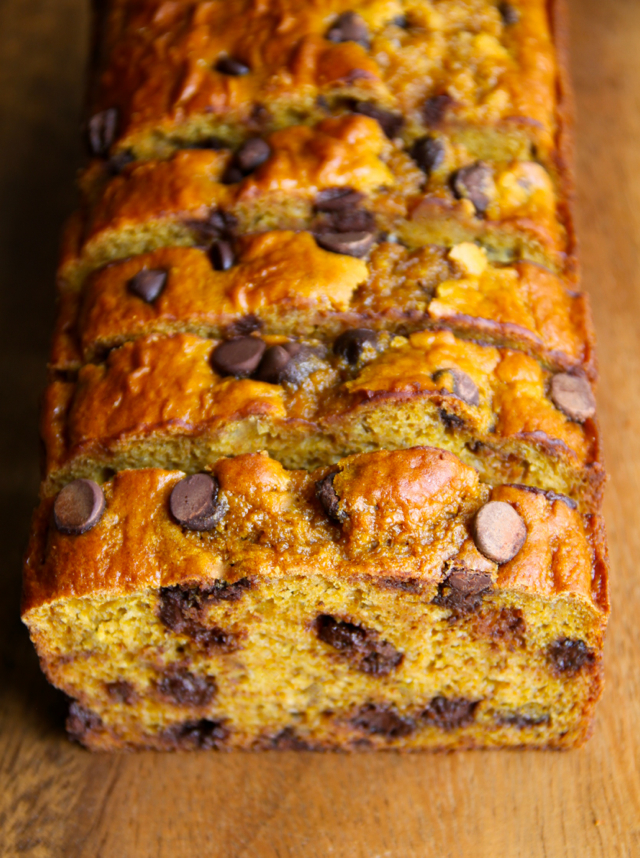 Greek yogurt pumpkin banana bread. A deliciously healthy snack that kills two birds with one stone and tastes pretty freaking fabulous as a result.
Not quite pumpkin bread, not quite banana bread, it combines hints of both to create a soft and tender bread that's subtly sweet, subtly spiced, and loaded with flavour.
And if that wasn't enough, then what about the fact that it's made without butter or oil and only 1/4 cup of refined sugar? A lot of pumpkin/banana breads call for epic amounts of oil and sugar to help make them moist and flavourful, but I've found that you can cut back on both dramatically without sacrificing on flavour by making a few simple swaps; namely, by adding Greek yogurt and maple syrup.
So if you're looking for a healthy and delicious snack — or a way to use up leftover pumpkin and/or overripe bananas — give this pumpkin banana bread a try!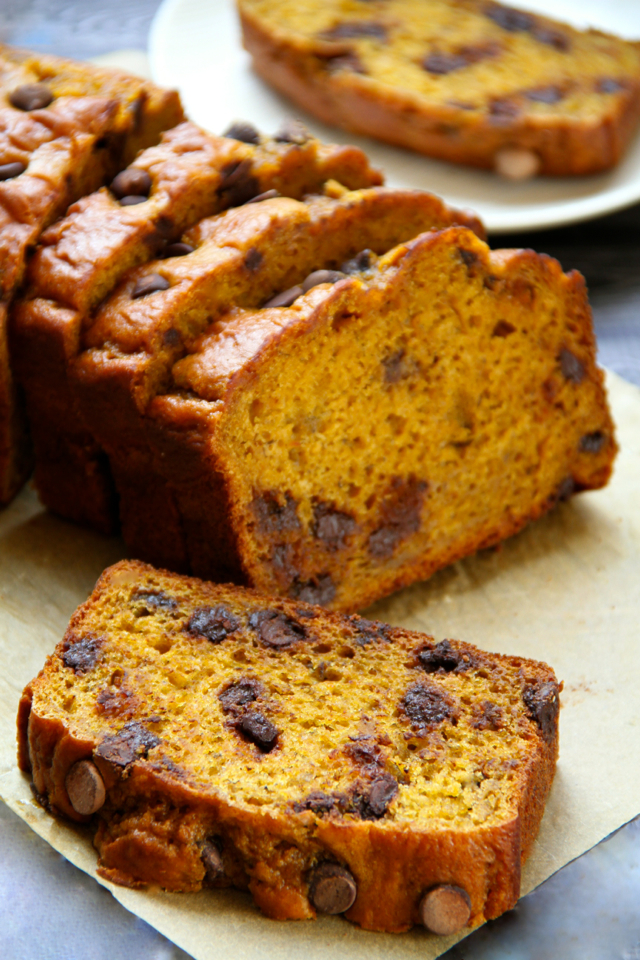 I'd love to know if you make this recipe! Leave a comment and rating down below to let me know what you think, and subscribe to our mailing list to receive new recipes in your inbox!
Print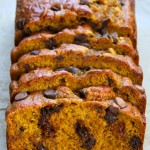 Greek Yogurt Pumpkin Banana Bread
---
Author:

Total Time:

1 hour 10 mins

Yield:

1

loaf, 12 slices

1

x
1 1/2 cups

(

150 g

) all-purpose flour*

1 tsp

baking powder

1/2 tsp

baking soda

1 tsp

ground cinnamon

1/2 tsp

ground ginger

1/4 tsp

ground nutmeg

1/2 tsp

sea salt

2

large eggs, lightly beaten

1

medium-size ripe banana, mashed (

100 g

or

1/2 cup

)

1/2 cup

(

120 g

) pumpkin puree

1/2 cup

(

115 g

) plain Greek yogurt

1/4 cup

(

60

ml) maple syrup

1/4 cup

(

50 g

) brown sugar

1 tsp

vanilla extract
Optional add-ins: 1/2 cup (85 g) chocolate chips/raisins/nuts/etc.
---
Instructions
Preheat your oven to 350ºF (176ºC), and lightly grease a 9 x 5 (23 x 13 cm) bread pan. Set aside.
In a large mixing bowl, combine flour, baking powder, baking soda, spices, and salt. Stir until well combined and set aside.
Lightly beat the eggs in a medium sized mixing bowl. Add mashed bananas, pumpkin, Greek yogurt, maple syrup, brown sugar, and vanilla. Stir until well combined.
Pour the wet ingredients into the dry ingredients and stir gently. Do not over mix. Fold in any add-ins you wish to include.
Pour the batter into the loaf pan, spreading it out evenly, and bake for 60 minutes, or until a toothpick inserted into the centre comes out clean. After 45 minutes, you may wish to cover with a sheet of tin foil to prevent the top from getting too brown.
Remove from oven and let cool for about 10 minutes before transferring to a cooling rack to cool completely.
Notes
* You could also make this with whole wheat pastry flour or sub our 1/2 of the all-purpose with whole wheat.
Prep Time:

10 mins

Cook Time:

60 mins
Keywords: banana, banana bread, chocolate chip, Greek yogurt, healthy, pumpkin, pumpkin banana bread, pumpkin bread, recipe

Looking for more recipes using Greek yogurt? Try one of these!
Banana Oat Greek Yogurt Muffins
Greek Yogurt Banana Bread
Apple Oat Greek Yogurt Muffins
One Bowl Greek Yogurt Apple Oat Bread
Greek Yogurt Banana Oat Bread