I don't know what the weather has been like in your neck of the woods, but it's been pretty cold and gloomy around these parts for the last couple of days…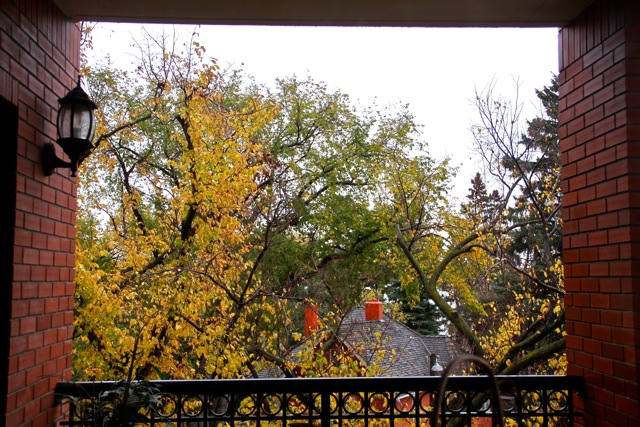 I can't say I mind, though. It's honestly been nice to be able to relax at home and not feel pressured to go out and take advantage of a gorgeous day (summer, you're exhausting). Most evenings, you'll find me under a blanket with a cup of tea or cocoa in one hand and a good book in the other. And if I'm not on the couch, I'm in the kitchen experimenting with my favourite fall flavours.
There's seriously nothing more comforting than being in a warm kitchen on a cold day, especially when there's a delicious smell wafting out of the oven. That's why, when Udi's Gluten Free offered me a chance to participate in their Fall Comfort recipe challenge, I jumped at the opportunity…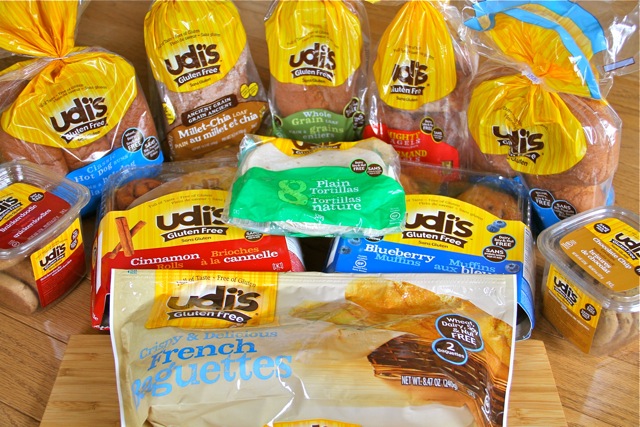 Even though I'm not gluten-free myself, I know that a lot of my readers are, and I can definitely relate to the inconvenience that comes with having to live with serious food allergies (side note: Udi's also happens to be dairy, soy, and NUT free as well!). With the increasing sketchiness of our food supply, food allergies and sensitivities seem to be becoming more and more common, with people having to give up certain foods left, right, and centre. Canadian Attitudes to Gluten-Free Study estimates that approximately 4.3 million Canadians (12.3%) have gone gluten-free, or have reduced gluten in their diets, and when it comes to sticking to a gluten-free diet, bread is the most commonly reported challenge. In the baked goods category, 79% of Canadians say bread is very or moderately important in their family's diet, and nearly one in four Canadians who are gluten-free or gluten-reduced say they cheat with bread [source].
Yowza. But I guess that's not really surprising seeing as bread is… well… it's pretty darn delicious…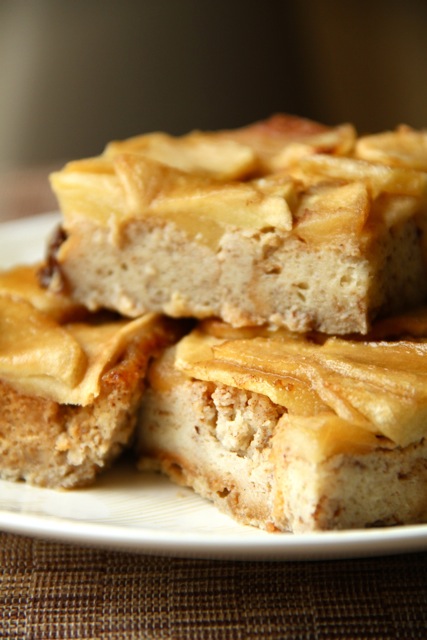 Not bread, says you? Bread pudding, says I! Part of the challenge was to use at least one of the products I received in a comforting fall recipe, so I opted to go with something that everyone loves — bread. The only thing was, what do you do with bread besides make sandwiches or French toast? You puddingify it…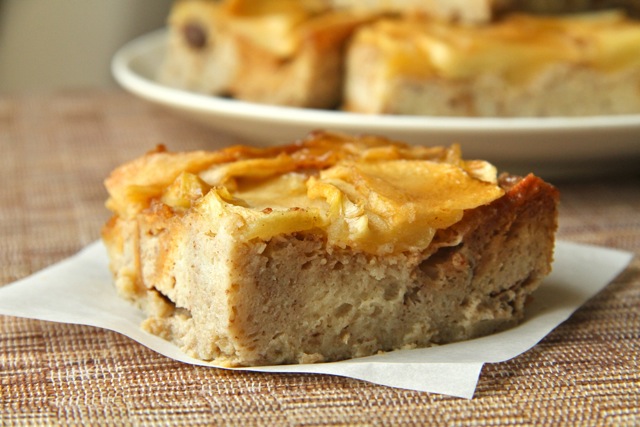 I can't honestly tell you that I've ever had bread pudding before, much less made it, so I have no idea what possessed me to try and come up with a recipe of my own, but it seemed like a brilliant idea at the time (note: the time was 9:30 PM on a Tuesday night). Turns out, it was a brilliant idea. Not to toot my own horn or anything (totally tooting… stop giggling), but this recipe is good. To make it fallish, I decided to go the apple-cinnamon route since I've already dabbled with pumpkin and figs. Pat on the back for a decision well-made.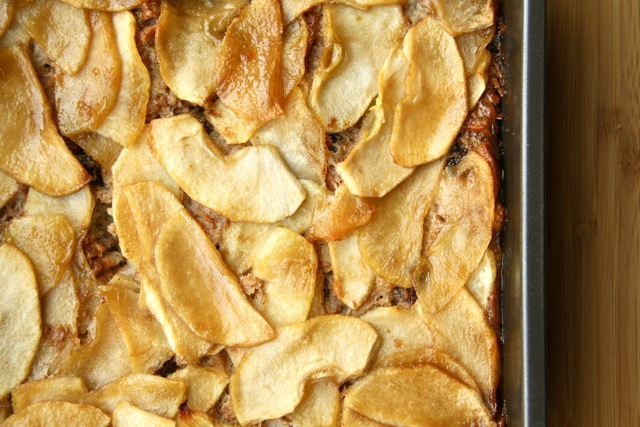 The apples make this fluffy pudding even fluffier while adding to the overall autumnal feel. And the fact that they're spiked with coconut and caramelized brown sugar just makes them that much more luxurious. I had no idea what to expect going into this recipe, seeing as I didn't know what bread pudding was supposed to feel or taste like, but I've gotta say that I'm more than pleased with how this dish turned out, regardless of whether or not I'm using the term "bread pudding" loosely.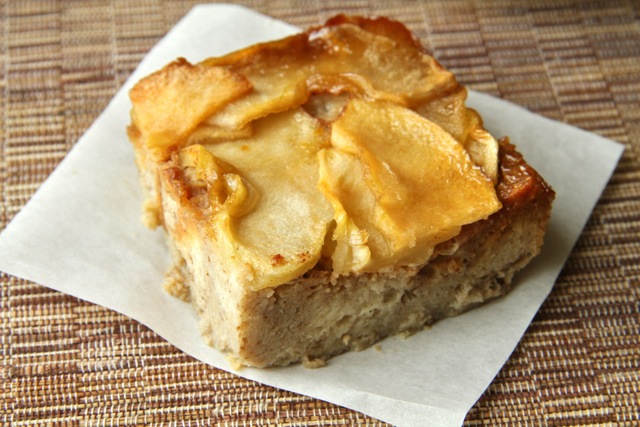 I'd love to know if you make this (or any!) recipe! Tag @runwithspoons on Instagram and Twitter, and be sure to subscribe to our mailing list to receive more healthy and delicious recipes straight to your inbox!
Print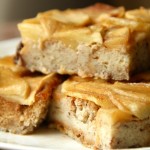 gluten-free apple cinnamon bread pudding
---
Total Time:

54 minutes

Yield:

9

servings

1

x
6 cups

(~

5 oz

.) Udi's Gluten Free Whole Grain Bread, cut into 1′ cubes

1 cup

vanilla almond milk

3

eggs, lightly beaten

1/3 cup

maple syrup

1 tsp

. vanilla extract

1 tsp

. ground cinnamon

1/2 tsp

. ground nutmeg

1/4 tsp

. salt

1/4 cup

raisins

1/4 cup

brown sugar

1 Tbsp

. coconut oil

2

apples, peeled, cored, and sliced 1/4′ thick
---
Instructions
Begin by generously greasing an 8×8 inch baking dish. Add bread cubes, making sure there is enough to cover the entire bottom of the pan. If not, cut up another slice.
In a medium sized mixing bowl, whisk together milk, eggs, maple syrup, vanilla, cinnamon, nutmeg, and salt until well incorporated.
Pour wet mixture over bread cubes, pressing down on them to ensure that they soak up the liquid. Fold in raisins and let sit for at least 20 minutes, checking regularly to make sure the bread cubes are getting spongy.
Preheat oven to 350F.
While bread cubes are soaking, prepare your apples by adding the coconut oil and apple slices to a skillet over medium-low heat and cooking until tender, approximately 8 minutes. Remove from heat and allow to cool.
Spoon apples over bread cube mixture, distributing evenly and using a spoon to fill some of the gaps between the cubes. Sprinkle with brown sugar.
Bake for 45 minutes to an hour, or until apples are golden brown and egg mixture is set.
Remove from oven and serve. Top with maple syrup or enjoy as-is. Store leftovers in a sealed container in the fridge for up to 5 days.
Prep Time:

12 minutes

Cook Time:

42 minutes
Keywords: baking, bread pudding, Fall, gluten-free, recipe, Udi's Gluten Free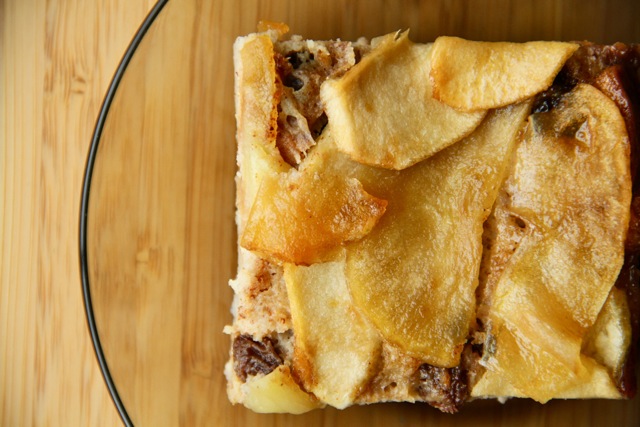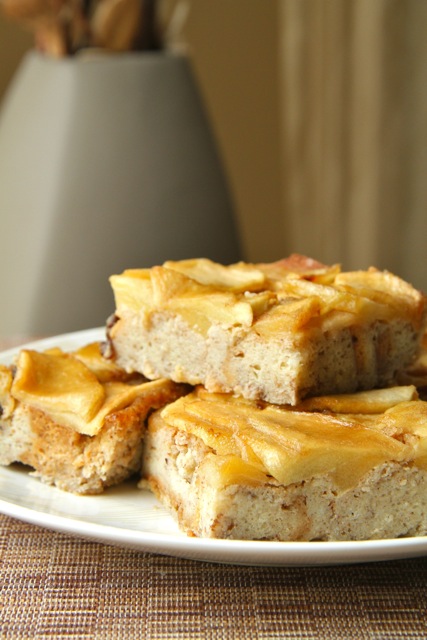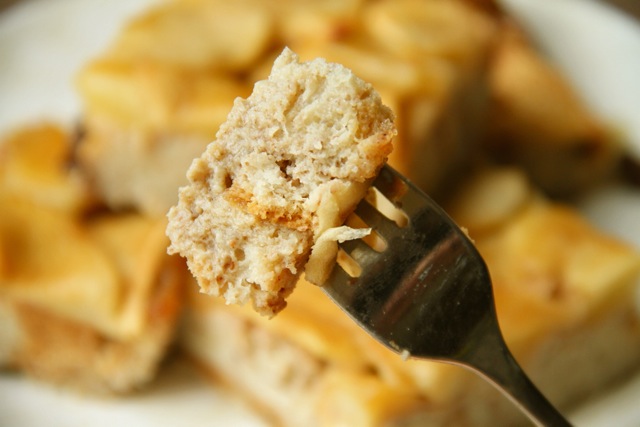 Fluffy, flavourful, sweet, and spicy, this guy is the perfect comfort food for fall. And if that's not enough for you, Udi's was generous enough to allow me to host a giveaway that'll award a Fall Comfort prize pack valued at $150 (just like the one seen near the beginning of the post… plus a cutting board, lunchbox, and comforter) to one lucky reader. All you have to do is follow the steps to enter below (open to Canadian addresses only).
The giveaway runs until the 27th, which I know is somewhat of a long wait, but I can promise you that it's well worth it. I've been taste-testing some of the other products that I got in my goodie-package over the past few days, and I have to admit that I wouldn't have been able to tell they were gluten-free if I didn't know. Well played, Udi's… well played indeed.
Happy Friday, friends! Make sure to eat something delicious this weekend! 😀

Disclaimer: Udi's sent me the Fall Comfort pack free of charge. All thoughts/opinions expressed are my own.