You're going to have to forgive me.
Last week was the first week in a good long while that I didn't share a single recipe with you guys. Not one. I spent so much time rambling on about selfies, food combinations, and my winter fitness plans, that I didn't quite manage to squeeze a recipe in there on top of everything else. I'm sorry 😳 Can you find it in your heart to forgive me? How about if I come bearing bribes gifts?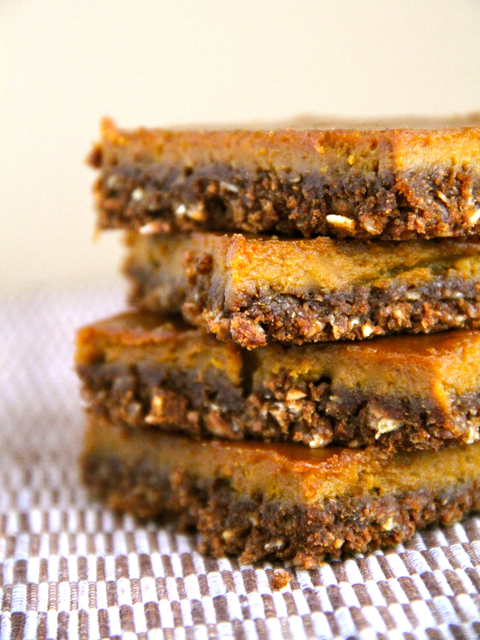 Gingerbread pumpkin bars. This is the part where I should probably lie and say that I made these solely as way to apologize to you for slacking on the recipe front last week, but the truth of the matter is that I made these solely as a way to satisfy a random craving for pumpkin and gingerbread that hit me yesterday afternoon — and satisfy they did. But let's not get caught up in the petty details behind my motives, mmkay? Let's talk about these bars instead…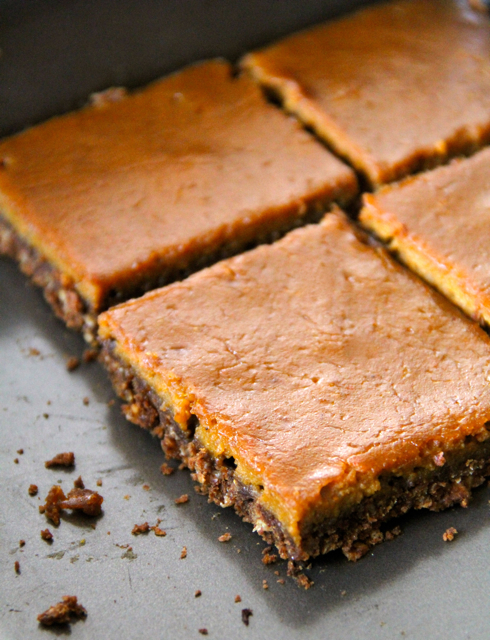 If they look a little familiar, that's because I based them off my beloved pumpkin pie chocolate oatmeal bars, tweaking a few ingredients to make them a bit more seasonally appropriate.
See, we're (or at least I'm) currently in a seasonal limbo — the calendar says fall, but the weather says winter. Compound that with the fact that it's nearly December (winter) and our American friends have yet to celebrate Thanksgiving (fall), and the lines between what kind of treats are supposed to come out of the oven around this time become a little blurred… which is why you straddle the line and go with the best of both worlds.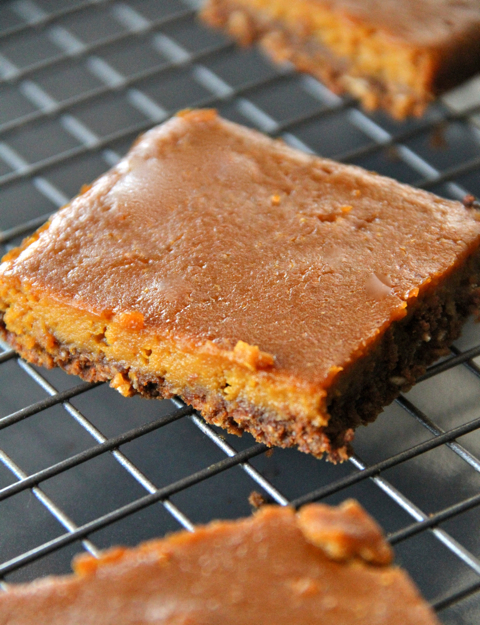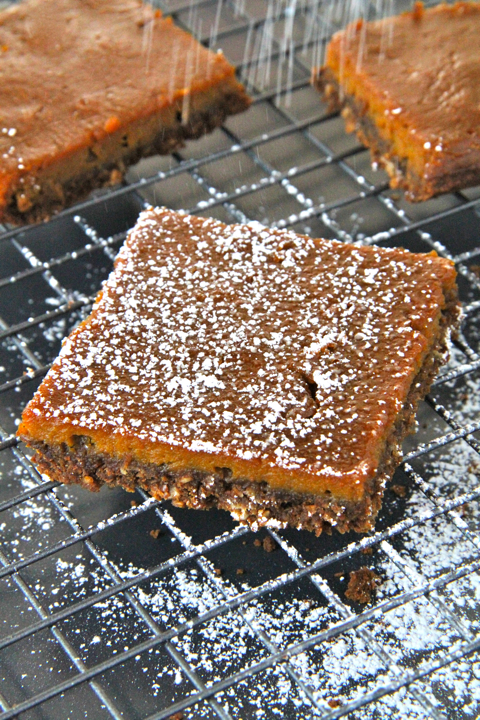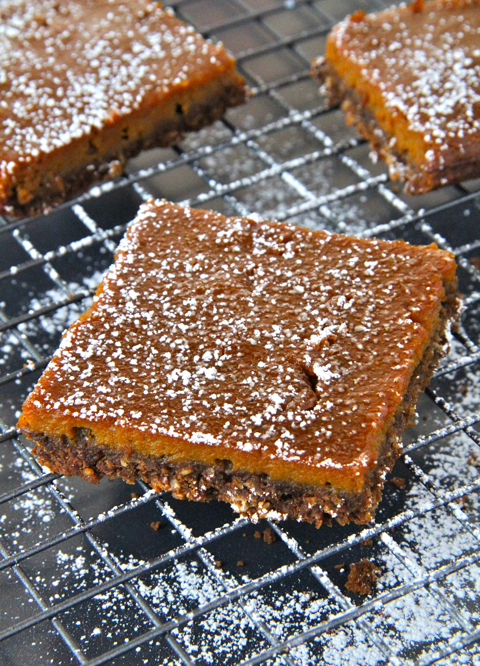 Pumpkin and gingerbread — a perfect treat to make the transition from fall to winter. These bars have the same ooey, gooey, spicy, sweet, rich, and intense qualities as their predecessor, but they've switched up their spices and swapped out their cocoa powder for molasses — all in the name of gingerbread.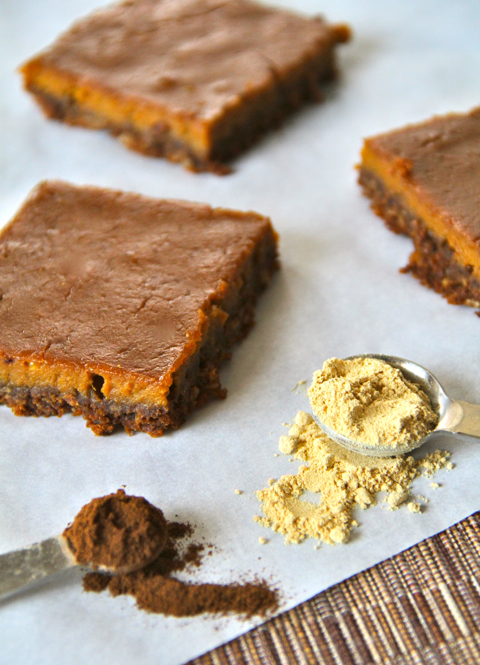 I have to admit that I haven't always been the biggest fan of gingerbread. Spices near my sweets?!? Not unless it was cinnamon, and even then, only as a subtle hint rather than a dominant flavour. When it came to Christmas cookies, I would always opt for the sugared Christmas trees over gingerbread men, and it wasn't until I had some of the most amazingly chewy gingerbread cookies last year that I changed my tune… to the point where I actually find myself craving molasses on occasion.
Well, yesterday just so happened to be one of those occasions, which is why these beauties were born.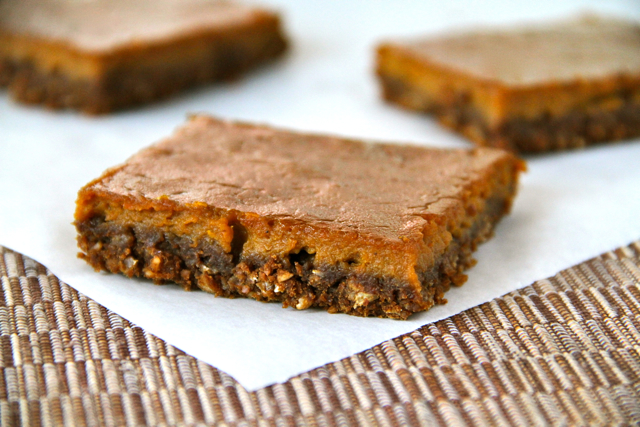 I'd love to know if you make this (or any!) recipe! Tag @runwithspoons on Instagram and Twitter, and be sure to subscribe to our mailing list to receive more healthy and delicious recipes straight to your inbox!
Print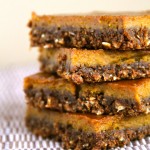 Gingerbread Pumpkin Bars
---
Author:

Total Time:

45 mins

Yield:

12

bars

1

x
For the crust:
1 cup

oat flour (or oats ground in a food processor)

1/2 cup

old-fashioned oats

1/2 tsp

. baking powder

1/4 tsp

. salt

2 Tbsp

. coconut oil, melted

1/4 cup

applesauce

3 Tbsp

. molasses
For the filling:
1

egg, lightly beaten

1 cup

canned pumpkin puree (NOT pumpkin pie filling)

1 tsp

. vanilla extract

1/3 cup

brown sugar

1 1/2 tsp

. ground ginger

1/4 tsp

. ground cloves

1/4 tsp

. ground nutmeg
---
Instructions
Preheat oven to 350ºF and line an 8×8 baking pan with a sheet of aluminum foil, leaving a few inches of overhang on the sides to allow for easy removal. Set aside.
Make the crust. In a large mixing bowl, combine oat flour, oats, baking powder, and salt. Stir until fully combined. Add in coconut oil, applesauce, and molasses. Mix well and set aside.
Make the filling. In a small mixing bowl, lightly beat the egg. Add pumpkin, vanilla, sugar, vanilla, and spices. Mix until fully incorporated and set aside.
Using a spatula or your fingers, firmly press the dough mixture into the bottom of your square pan, making sure it is evenly distributed. Pour the pumpkin filling over the crust, spreading evenly.
Bake for 30 minutes, or until pumpkin has set.
Remove from oven and let cool completely before cutting into bars.
Prep Time:

15 mins

Cook Time:

30 mins
Keywords: baking, Fall, gingerbread bars, gingerbread pumpkin bars, healthy snack, pumpkin bars, winter