Happy Wednesday, friends!
I'm sitting out this week's WIAW party in favour of a slightly more personal post (read: I haven't even had the time to think about food, much less photograph it), so I'm sorry if you came here expecting pictures of delicious eats.
But let me explain!
A couple of days ago, I got hit with some news — news that left me scatterbrained and sleep-deprived. J is coming to visit me… today. In fact, he may already be here by the time you read this post. It's good news — fantastic news — but it's news for which I definitely wasn't prepared.
I like being prepared. I like having a general idea of how my day/week/month is going to pan out. I like being ready for things so I can accommodate my routine accordingly. I can handle small unforeseen circumstances that pop up, but this? Not that small, and therefore, not that easy to handle.
You're looking at me like I'm crazy… My guy, who I haven't seen in over 4 months, surprises me with a visit, and my first reaction when he told me was one of panic and irritation rather than joy. Panic and irritation. Panic over whether or not I was going to be able to get ready in time; irritation over the fact that he didn't tell me sooner and give me more time to adjust to the changes that I'd have to make to my routine. Never mind that the poor guy had to bend over backwards to be able to get away and spend a week with me — I was upset that it threw a wrench into my regular routine. I mean, how messed up is that?
Answer: very… and I can see that now that I've had a bit more time to process everything, but that's what it took — time. Well, time and a few days of running around like a headless chicken, trying to get ahead with school, work, and blogging so that I wouldn't have to worry about those things as much when J was here. I'm clearly a winner when it comes to the whole spontaneity thing 🙄 But I'm getting better (I think)! It just takes a little more work when it comes to the bigger things.

So that's that. I'll be picking J up from the airport in a couple of hours, and he'll be staying with me until next Wednesday. I managed to get most of my posts written up over the past couple of days, so I won't be disappearing on you guys like I did the last time he was here. I can't promise that I'll be as active around the blog world for the next week or so, but I have a feeling you'll forgive me for that one 😉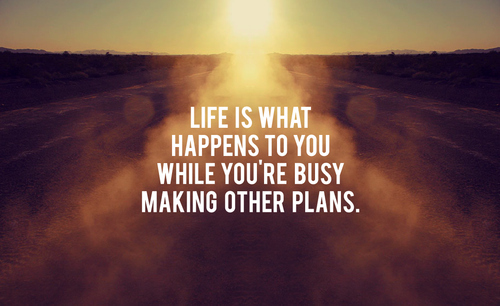 Would you say you're a spontaneous person?
How do you deal with big changes to your plans/routine?