Hi friends! 😀
Aaaah you guys are wonderful. Thank you for being so sweet and supporting my survey addiction by playing along and sharing your own answers. What would I do without ya?
As for the hush-hush info that I was going to share with you, the news is that… well, that there is no news 🙁 I thought that I had found a new place to call home, but after some careful consideration, it turns out that it wasn't exactly what I wanted, so I decided to pass.
Unfortunately, that means that there'll be more running around like a headless chicken in my immediate future, which means that a lot of my meals/snacks will continue to be eaten in this manner: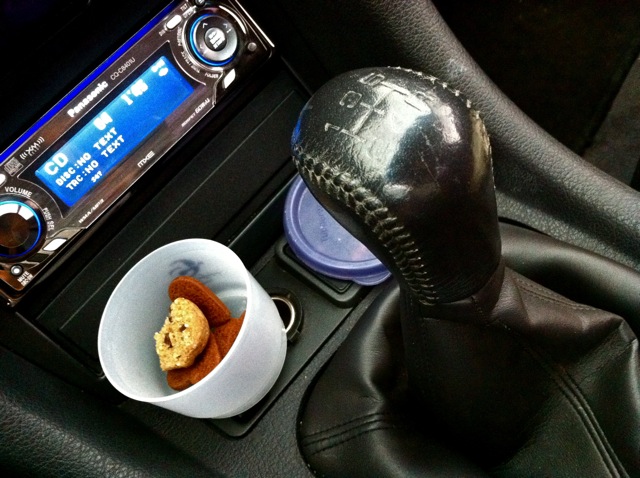 Love it. Except not really.
I'm the kind of person that likes to sit down and enjoy a meal, like so: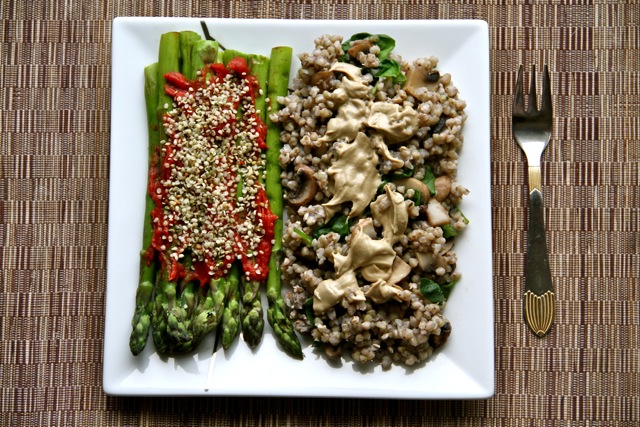 [buckwheat kasha with sautéed mushrooms, onions, and spinach, topped with sunflower seed butter; roasted asparagus coated in olive oil and garlic, topped with marinara sauce and hemp seeds]
Even though I rarely ever actually sit down at the table to eat (hello desk, couch, bed, etc.), I still like to be able to enjoy my food in a leisurely manner – I hate feeling like I have to rush through a meal.
Why?
Well, because I eat slow, for one thing. Ever since I was little, I was always the last one to get up from the table; it's just how I work. And for another thing, eating too quickly makes me enjoy what I'm eating a lot less. I like to savor my meals, to make the act of eating an experience as opposed to a mere necessity.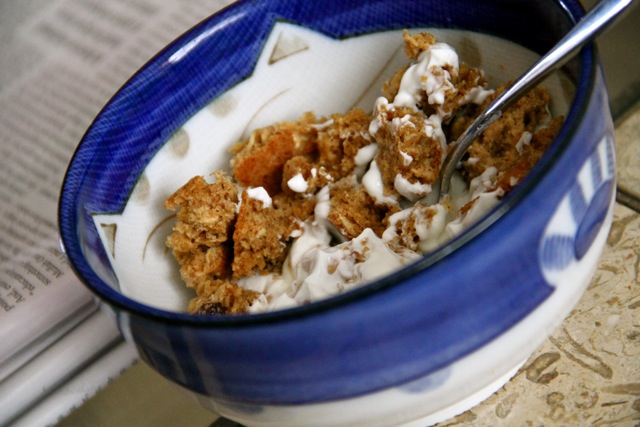 [Greek yogurt with a muffie salvaged from the depths of my freezer]
Unfortunately, that's not always possible. School. Work. Obligations. Errands. Life shows up and gets in the way. You can't always eat when you want. You can't always eat where you want. And you can't always eat what you want. Le boo.
I used to have a big problem with this. When I was recovering from my eating disorder, I basically lived to eat. My whole day revolved around my scheduled meal times, as I would have to be at home at certain times so that I could eat certain things. Grabbing something while I was out was out of the question, and packing snacks? To be honest, most of the time I would rather pass on whatever it was that required me to be out for extended periods of time, and choose to stay home instead. Home, where I could eat whatever it is that I wanted in peace and quiet.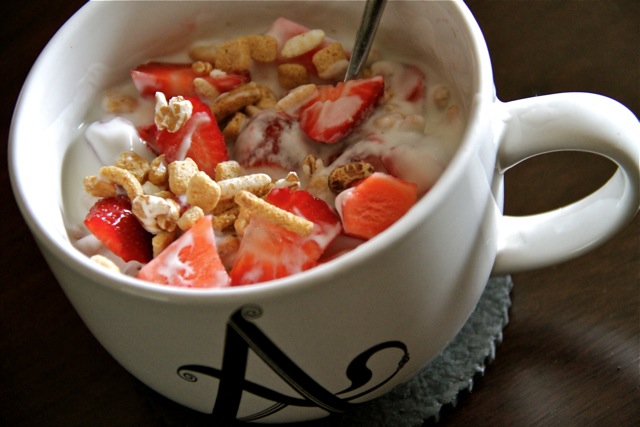 [Greek yogurt, fresh strawberries, Kashi GoLean]
Obviously, that's neither a very practical or realistic approach to life. There's nothing wrong with wanting to savor and enjoy a meal, but there is something wrong when that's all that you want.
Food isn't simply fuel, but neither is it life. I don't believe that we should only "eat to live", but neither do I believe that we should "live to eat". A balance needs to be struck, and I'm still working on finding mine.
My days no longer revolve around scheduled meal times, but they do tend to be influenced by them. If I have a lot of errands to run, I usually try to take care of them in a way that will allow me to come home for lunch/dinner. If I want to exercise, I usually try to do it after I'm able to eat a snack. Sometimes things work out the way I want them to, and sometimes they don't. The difference is that now I'm actually able to adapt to situations where I can't have my way, whereas before I would simply pass on them. Snacking in the car and packing lunches may not be my favorite thing to do, but that's life…
Suck it up, smile, and enjoy 😀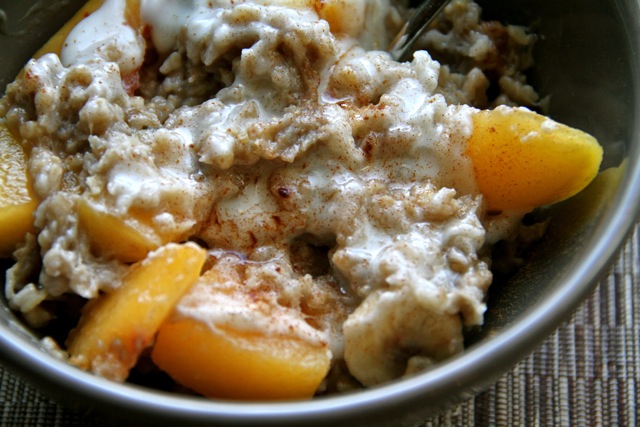 [eggy bananfied steel cut oats, a fresh peach, melted coconut butter, cinnamon]
. – . – . – .
What's your take on the whole "eat to live" vs. "live to eat" issue? Should food simply be seen as fuel, or is it something more? And how do you balance the two?
Do you eat more of your meals/snacks at home, or while you're out? Which do you prefer?