This Double Chocolate Zucchini Banana Bread is made without any butter or oil, but so soft and tender that you'd never be able to tell it's healthy! Greek yogurt, bananas, and shredded zucchini keep it extra moist, while a double dose of chocolate makes it taste super decadent.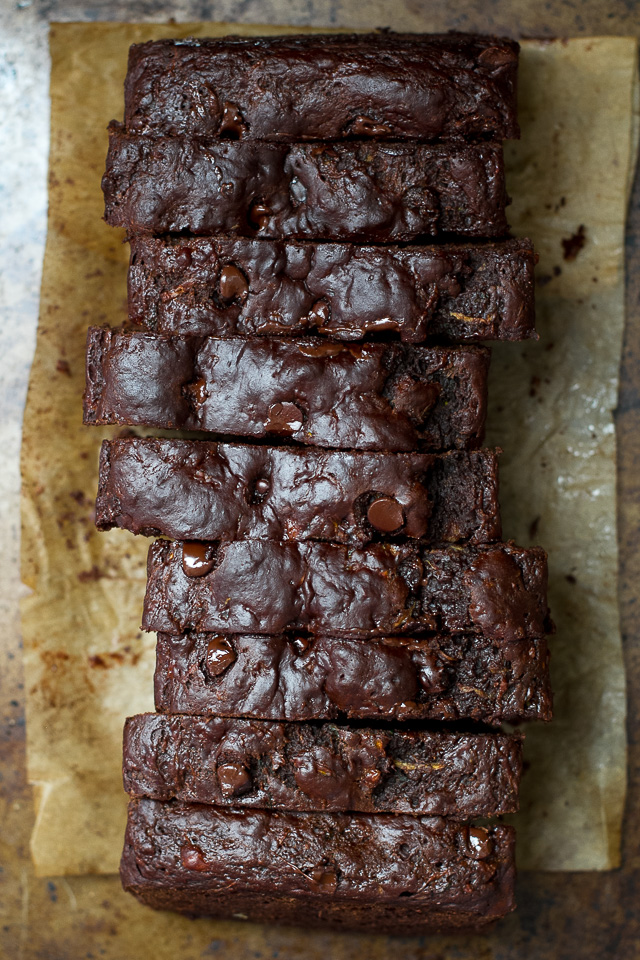 I asked my mom the other day if she ever snuck veggies into my food without telling me, and she said "no" so fast that I couldn't help but raise an eyebrow. The right one… the left one doesn't go up by itself.
But seeing how picky I was and how big on healthy food my mom was, I had a hard time believing that she wouldn't resort to devious measures to get me to eat my veggies. And then the truth came out…
I mean… I don't really remember but I guess it's possible. I know I really wanted you to eat fish so one time I told you it was chicken. That didn't go over too well.
No it didn't! And thanks, Mom. Thanks a lot. I almost forgot about that one. But that was the one and only time in my life that I ate fish, and I don't see myself ever trying it again because… reasons. Let's just say I'm not a fan and leave it at that.
I'm not really a fan of zucchini either, but I can turn a blind eye when chocolate and banana bread is involved.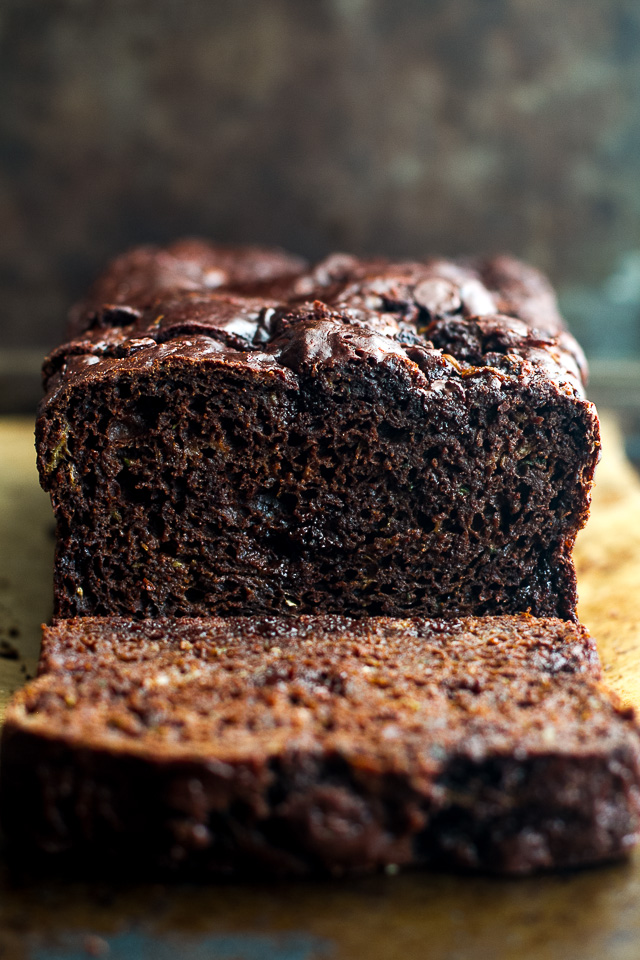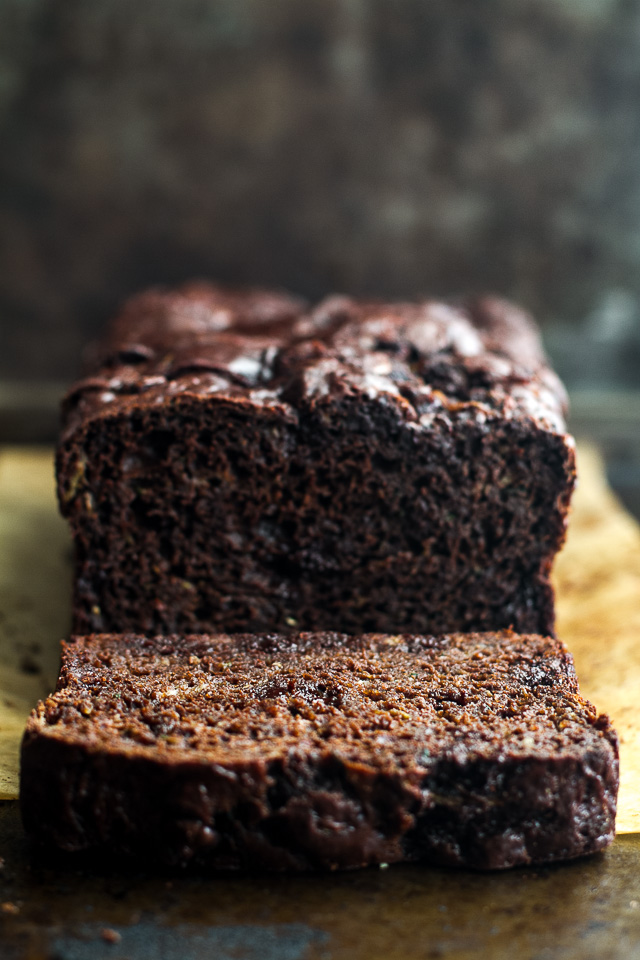 Ohhhhh, double chocolate zucchini banana bread… why you gotta go and make me soft towards the squishy squash?! I went so many years without wavering, and just like that, your chocolate-covered ways weakened my resolve.
I'll never like fish, though. And I haven't seen anyone put eggplant into baked goods yet, so I'll probably never come around to that either. But I digress.
The point is, zucchini is kind of a miracle worker in baked goods. It doesn't affect the flavour at all, and it adds a tonne of moisture without the need for any extra oil… Bananas and Greek yogurt do the same thing, so combining the three makes for one ridiculously tender loaf that also happens to be pretty low in fat…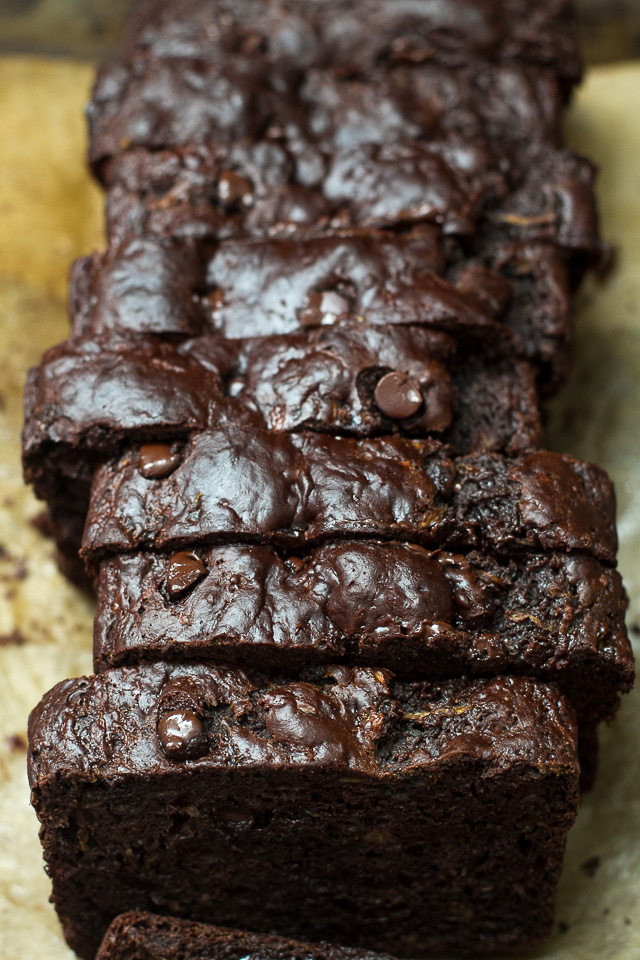 Then there's the…
…
…
Sorry, lost my train of thought there. I'm writing this while watching the Stanley Cup finals, and the Pens just scored to secure a 2-goal lead. What was I saying??… Oh yeah!
Then there's the whole double chocolate thing. 1/2 cup of cocoa goes into the batter to give it a deep chocolate flavour, and another 1/2 cup of chocolate chips sweeten the deal. This makes the loaf perfect straight from the oven when the chocolate is all melty (just wait a handful of minutes so that it's not -molten-), and just as perfect over the next few days as it gets better and better the way banana breads tend to do.
It's a win-win all around!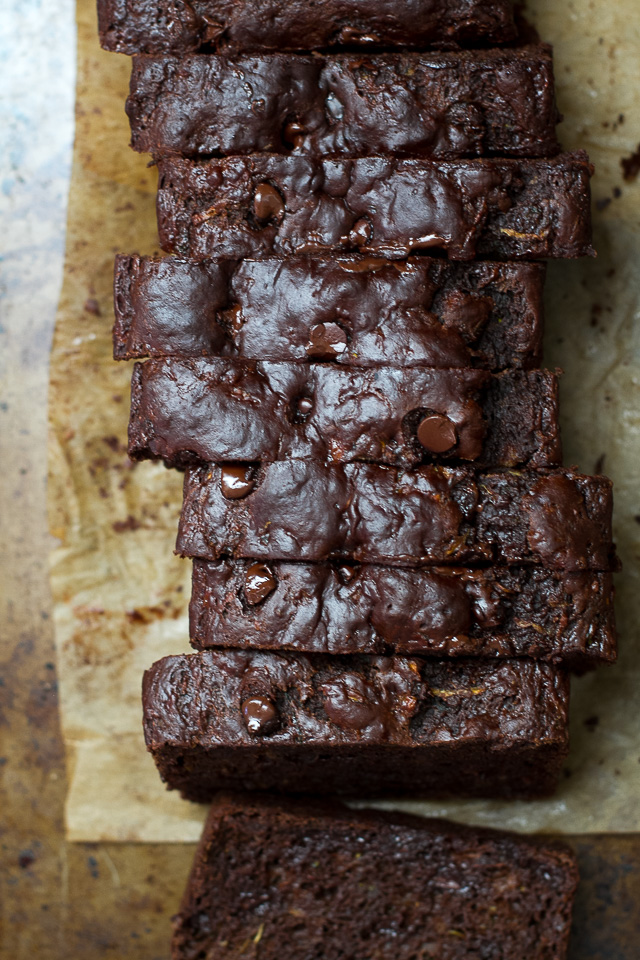 I'd love to know if you make this recipe! Leave a comment and rating down below to let me know what you think, and subscribe to our mailing list to receive new recipes in your inbox!
Print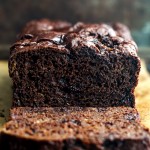 Double Chocolate Zucchini Banana Bread
---
Author:

Total Time:

1 hour 5 mins

Yield:

1

loaf, 12 slices

1

x
1 1/4 cup

(

150 g

) whole wheat pastry flour*

1/2 cup

(

40 g

) unsweetened cocoa powder

1 tsp

baking powder

1/2 tsp

baking soda

1/2 tsp

sea salt

2

large eggs

2

medium-size ripe bananas, mashed (

200 g

or

1 cup

)

1/2 cup

(

115 g

) plain or vanilla Greek yogurt

1/2 cup

(

100 g

) coconut palm sugar**

2 tsp

vanilla extract

1 cup

(

115 g

) shredded zucchini, lightly squeezed of excess liquid***

½ cup

(

85 g

) semisweet chocolate chips
---
Instructions
Preheat your oven to 350ºF (176ºC), and lightly grease a 9×5 (23x13cm) loaf pan with oil or cooking spray. Set aside.
In a large mixing bowl, combine the flour, cocoa, baking powder, baking soda, and salt. Mix until well combined and set aside.
Lightly beat the eggs in a medium sized mixing bowl. Add the mashed bananas, Greek yogurt, coconut sugar, and vanilla, mixing until smooth. Gently fold in the shredded zucchini and chocolate chips.
Slowly add the dry ingredients to the wet ingredients, mixing them together gently. Be careful not to overmix.
Pour the batter into the prepared loaf pan, using a spatula to spread it out evenly and smooth out the top. Sprinkle with additional chocolate chips, if desired.
Bake for 60 minutes, or until a toothpick inserted into the centre comes out clean. After 45 minutes, you may wish to cover with a sheet of tin foil to prevent the top from burning.
Remove the loaf from oven and let it cool in the pan for about 15 minutes before transferring it to a cooling rack to cool completely.
Notes
* You could also make this with all purpose flour or use a mix of 1/2 cup (60 g) whole wheat and 1/2 cup (60 g) all purpose. ** You can sub this with regular brown sugar. *** I like to place a handful of shredded zucchini between two paper towels and lightly squeeze it over the sink to get some of the liquid out. You don't want to get it all out, but you don't want it to be wet and soggy either.
Prep Time:

15 mins

Cook Time:

50 mins
Keywords: banana bread, chocolate, chocolate banana bread, chocolate zucchini banana bread, chocolate zucchini bread, fat-free, Greek yogurt, Greek yogurt banana bread, healthy, quick bread, recipe, zucchini bread

Looking for more healthy banana bread recipes? Try one of these!
Greek Yogurt Banana Bread
Double Chocolate Greek Yogurt Banana Bread
Flourless Chocolate Chip Banana Bread
Flourless Chocolate Banana Bread
Grain Free Banana Bread Bars