This super creamy green smoothie is so tasty it'll have you saying "it doesn't taste green at all!" Packed with protein and healthy fat, it makes a nutritious and delicious breakfast or snack. Plus it's gluten-free and vegan so everyone can enjoy!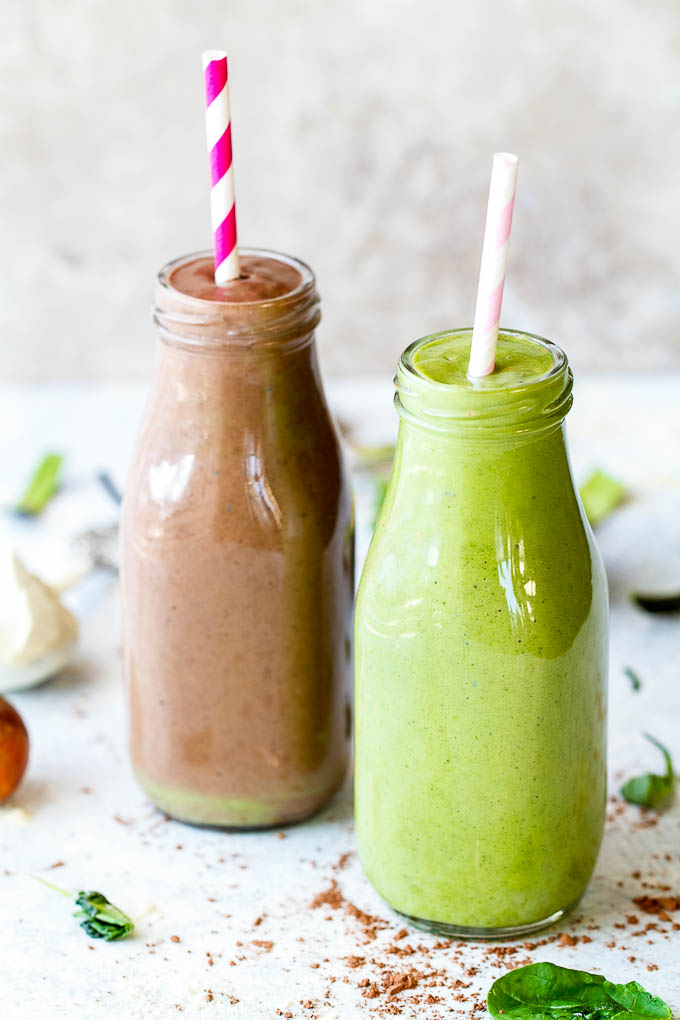 I know what you're thinking… and I promise you there's a good explanation for the title of this recipe. Trust.
Because while guzzling green smoothies might be commonplace for those of us in the health/fitness world, not everyone is sold on the idea of "drinking a salad." And that's the problem!
Green smoothies don't taste like a salad. And if they do, you're doing it wrong. Unless, of course, you're literally blending up nothing but vegetables and intending for it to taste that way. And I get it. I totally do. Manually chewing through a salad is time consuming and tiring. But then that's literally a blended salad. Or vegetable juice + tonnes of pulp, which is… nice. I guess.
A green smoothie, on the other hand, is actually sweet. And creamy. And smooth. And refreshing. And energizing. And just straight up delicious.
And believe me… I was shocked too.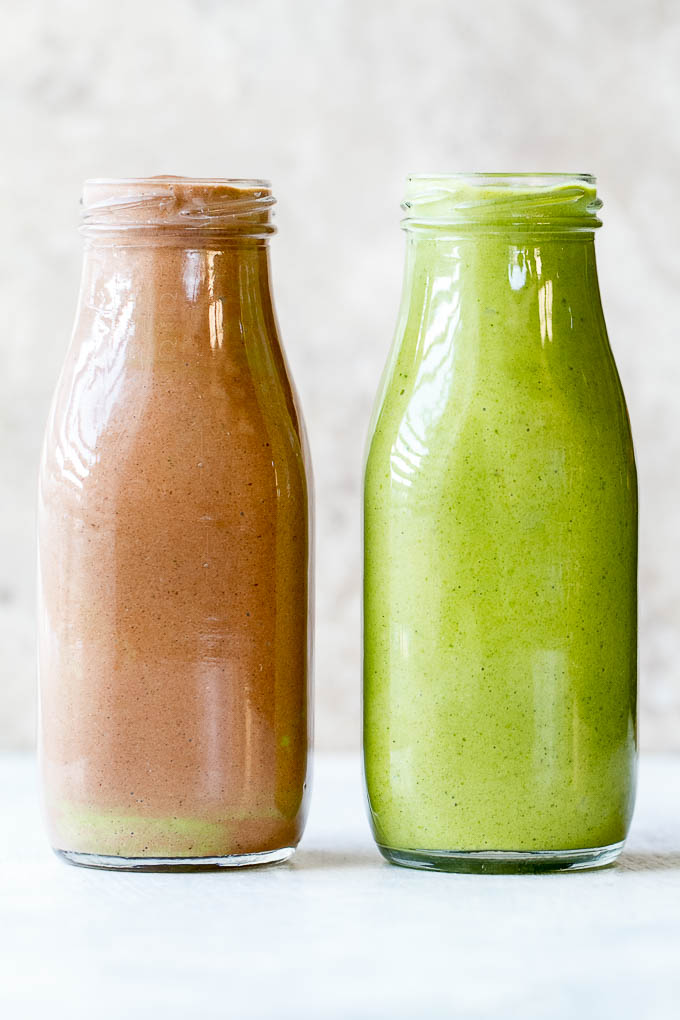 I think I had my first green smoothie around 10 years ago.
This was back when I was just starting to get into the whole healthy eating thing, and my idea of an acceptable salad was a small bowl of iceberg lettuce with a few slices of tomato. Drenched in ranch dressing, obviously. Veggies and I didn't exactly get along at that time, so I was more than a little skeptical of putting green things in my smoothie. But we did it, fam, and I vividly remember not being able to believe that it didn't taste like a salad. Or grass. Or swamp water. It was basically a green fruit smoothie
The key is to use a mild green when you're starting off. Baby spinach is perfect for this, since it doesn't have a strong flavour and it's pretty easy to blend up. I remember trying to add kale to a smoothie once (again, around 10 years ago), and… I think maybe my blender just wasn't powerful enough because there ended up being huge globs of kale in my smoothie, and it traumatized me so much that I still won't touch it to this day. Spicy arugula is another one I don't like. But that's neither here nor there.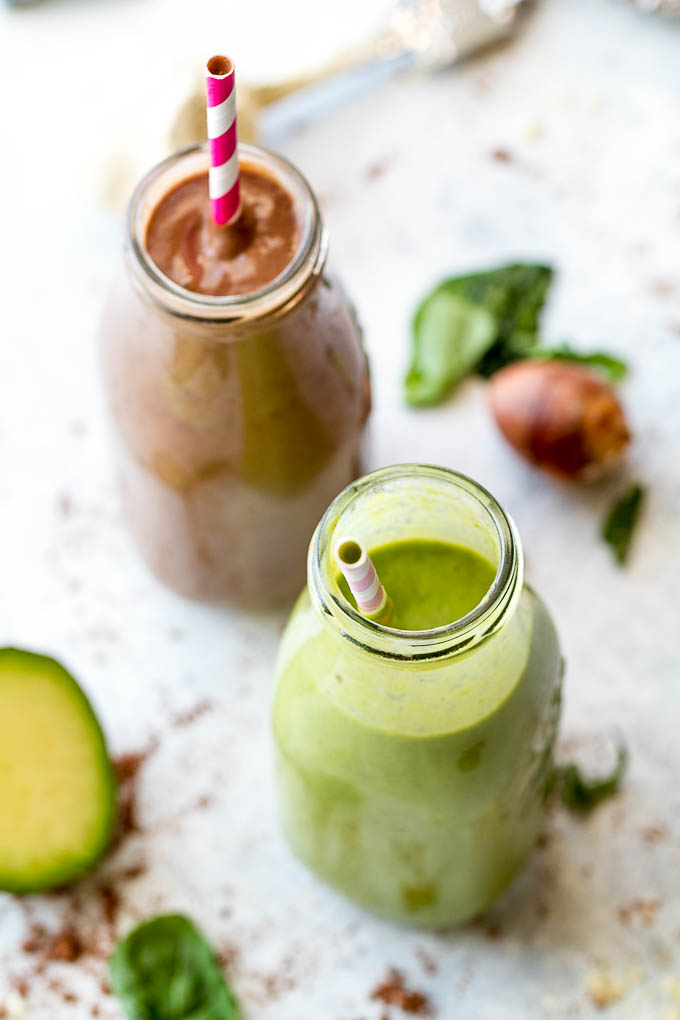 So that's the story behind the name! I couldn't believe it didn't taste green, and neither can anyone else that I convince to start adding leafy things (read: spinach) to their smoothies. You get the nutritional benefit without the "this tastes way too healthy" feeling, so it's basically a win-win.
That being said, this "It Doesn't Taste Green" Green Smoothie is a seriously spruced up version of the one I had all those years ago. I think that one was basically just a banana + a handful of spinach + some almond milk to get things going, which doesn't exactly make for the most interesting recipe to share.
SO! I added some avocado. Not only do these guys come with a nice dose of healthy fats and vitamin E, but they give smoothies this light, pillowy creaminess that feels almost mousse-y. It's magical. And I promise you can't taste these either. Then, a scoop of protein powder to add a little bit of extra nutrition and help thicken things up. I usually opt for plant-based powders, and the ones from Vega* and PlantFusion* are the brands I turn to most.
After that, all that's really left is the fruit. I usually reach for frozen bananas, but things like mango, pineapple, or blueberries work really well too. You can also add a few spoons of cocoa powder if you wanna mask the greenie-ness even more, which I'd imagine works especially well for kids.
Happy Eating!!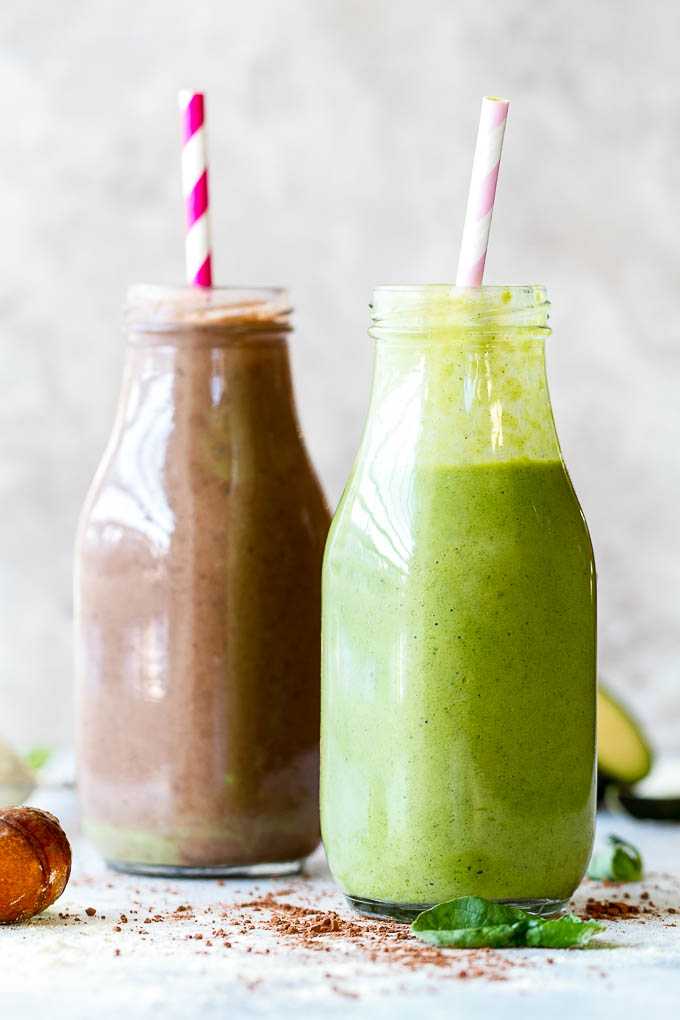 I'd love to know if you make this recipe! Leave a comment and rating down below to let me know what you think, and subscribe to our mailing list to receive new recipes in your inbox!
Print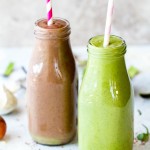 The "It Doesn't Taste Green!" Green Smoothie
---
Author:

Total Time:

5 mins

Yield:

1

serving

1

x
3/4

–

1

cup (

180

–

240

ml) unsweetened vanilla almond milk

1

ripe, medium-sized (

100 g

) banana, frozen*

1/4

of a ripe avocado (~

30 g

)

1

scoop or 1/4 cup (

20 g

) vanilla protein powder**

1 cup

(

30 g

) baby spinach
(optional) 2 Tbsp (10 g) unsweetened cocoa powder
---
Instructions
Place all ingredients into any standard blender in the order listed and blend on high until smooth. Transfer to a glass, top with any additional toppings of choice, and enjoy immediately. This smoothie can also be made the night before and left in the fridge. It will not separate.
Notes
* You can swap out the banana for 1 cup of a different frozen fruit, like mango, pineapple, or blueberries. ** I really like Vega and PlantFusion.
Keywords: breakfast, gluten-free, green smoothie, healthy, post workout, protein, recipe, snack, vegan

Looking for more healthy smoothie recipes? Try one of these!
Blueberry Avocado Smoothie
Brownie Batter Protein Pudding
Banana Oat Breakfast Smoothie
Creamy Mango Avocado Smoothie
Hot Chocolate Smoothie Bowl

*Disclosure: Some of the links included in this post may be affiliate links, meaning I'll earn a small commission if you purchase through them, at no additional cost to you. I only recommend products I personally use and believe will add value to my readers. Thank you so much for helping support Spoons!