For some reason, I really wanted to start this post by saying "Happy November!" I know November has technically been around for a good handful of days, but the first Monday of a new month always feels more legit, no?… No?!? Fiiiiiine 😛 In any case, happy Monday and happy November! And what better way to kick off the beginning of a new month than with a look of life as I currently know it…
. – . – . – .
Current books: A Dance With Dragons by George R.R. Martin. I read this book when it first came out a few years ago but I didn't want to buy the hardcover version because it wouldn't match the rest of my collection (OCD problems). Thankfully, the paperback was finally released last week, so I snatched it up and started refreshing my memory. I love this series, but daaaaaamn… I forgot how meticulous Martin is about every.single.detail :shock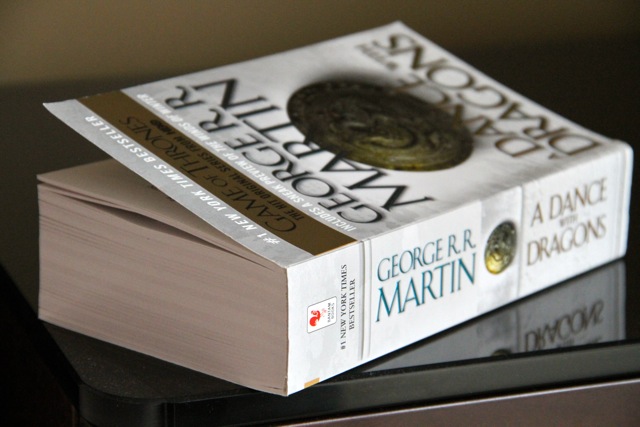 Current music: Royals by Lorde. I should probably mention that I don't like this song, but it is constantly getting stuck in my head.  The worst part about it is that I don't even know the lyrics, so I just end up absentmindedly humming the melody.
[youtube="http://www.youtube.com/watch?v=nlcIKh6sBtc&w=560&h=315″]
Current guilty pleasure: Rereading old books that I used to read when I was in middle school. We all have those books that take us back to our early teen years, right? Sometimes when I'm feeling stressed out or funky, I'll pull those out and start reading. Works every time.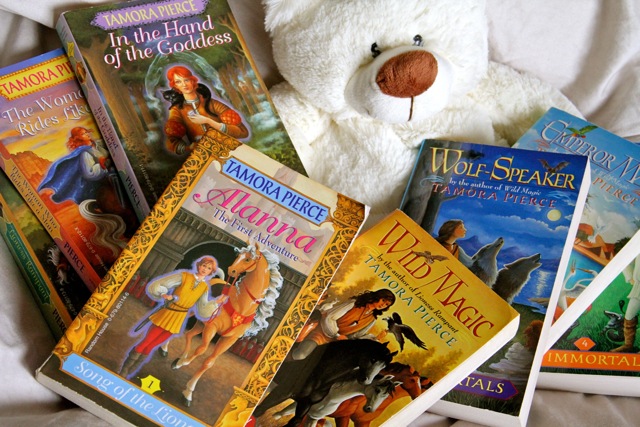 Current nail colour: Seeing as it's a new month and all, I decided to retire my staples from October and try out something new… Opi's Sprung.
Current drink: Teeccino. I love coffee and would happily drink it all day long, but I have a feeling that both my stomach and nerves would hate me if I did. Enter Teeccino, a herbal coffee alternative. It brews like coffee and tastes [pretty much] like coffee, but there's no coffee in it, and therefore, no caffeine. Instead, it's made from roasted barley, carob, chicory, dates, and almonds. I've been enjoying a cup or two of this when I'm craving something warm and slightly more comforting than tea, and yeah… it's good stuff.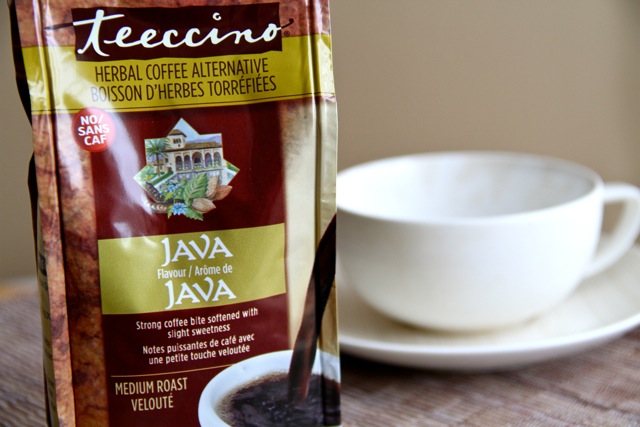 Current food: Barney Butter's Chocolate Coconut Almond Butter 😯 😯 I'm pretty sure this one doesn't need an explanation beyond these three words: chocolate… coconut… almond butter. All day, every way. Please and thank you.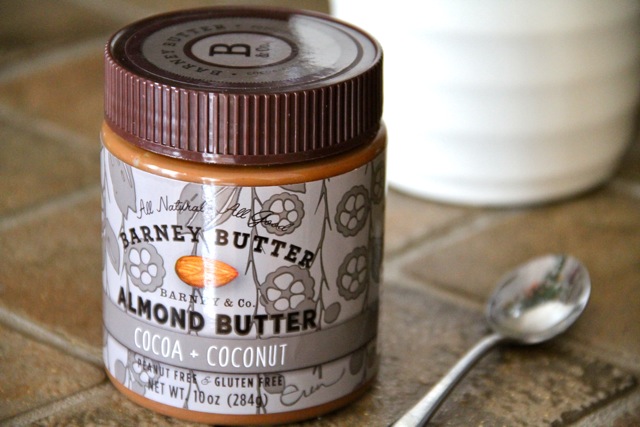 Current favorite show: I'm seriously going to have to just get rid of this question because, again and again, I don't have one.
Current wish list: The holiday gift sets from Sephora. I'm trying really hard to refrain from buying these before Christmas, but… ugh… my resolve is slowly crumbling. So much gorgeous makeup at such good prices. Ahhhhh 😥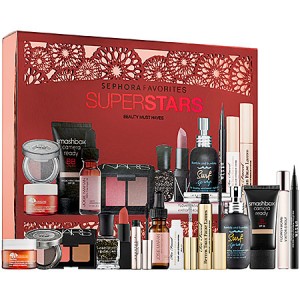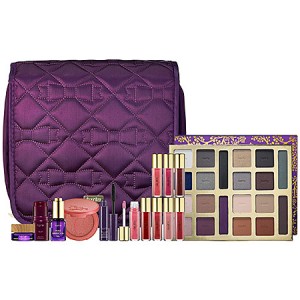 Sephora Favourites – Superstars // Tarte's The Tarte of Giving Collector Set
Current needs: This makeup-filled advent calendar from Benefit. Okay, so I don't exactly need it need it in the traditional sense of the word, but I want.it.very.badly, which is basically the same thing, right?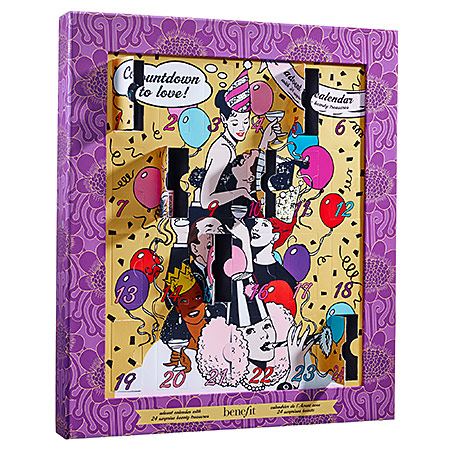 Current triumphs: Showing enormous restraint and not buying any of the aforementioned products. Although, I'm not going to lie… the Advent calendar has a good chance of happening. Maybe.
Current bane of my existence: Long dark mornings. Daylight Savings helped a bit, but the sun still takes forever to rise. Why is this a problem? Two reasons. First, it makes taking [good] pictures of breakfast a big challenge #foodbloggerprobs. Second, it means I have to wait forever to go for a run when I want to go now #runnerprobs (never thought I'd be saying that)
Current celebrity crush: Another question I should probably just get rid of…
Current indulgence: A new snowboard. Remember how I mentioned that I was kinda, sorta, maybe shopping around for one? Well, I finally found her this weekend. Squee!!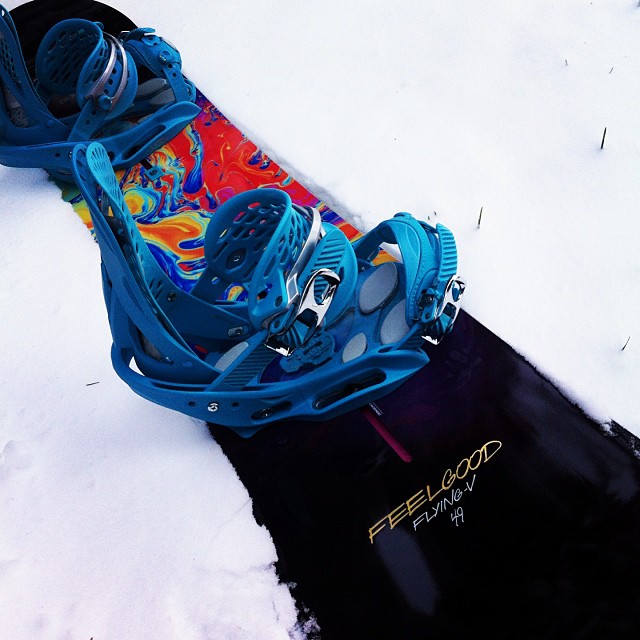 Burton Feelgood Flying V board with Burton Escapades bindings.
Current slang: Zut alors! Also known as: darn, dang, shucks, oh dear, and/or good heavens!
Current blessing: Life in general — it's been treating me pretty darn well lately.
Current outfit: Boots, skinnies, scarves, and jackets. Comfy and cozy is the name of the game.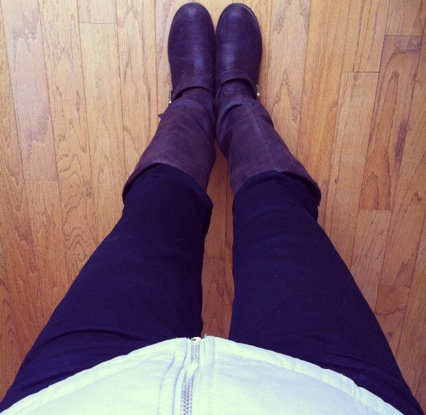 Current excitement: I want to say the fact that winter's coming because it means I'll be able to start snowboarding soon, buuuuut I'm pretty sure that answer would get me more than a few stank eyes, so instead I'll go with… a healthy donut recipe that I'll be sharing with you guys tomorrow.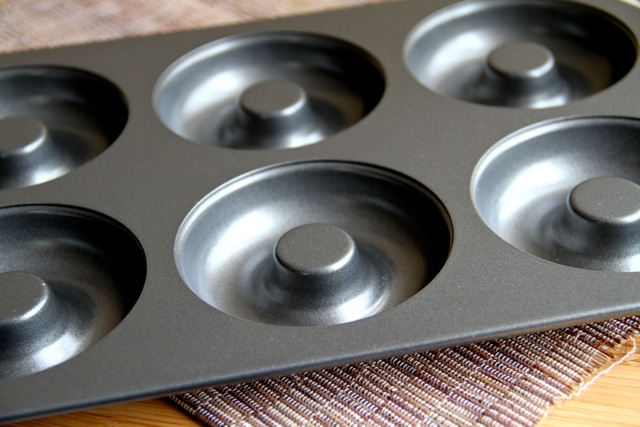 Current mood: Hyper. Why? Taste-testing, naturally 😉
Current link: Sephora.com. Don't give me that look! I'm writing my Christmas list…

. – . – . – .
Happy, happy Monday, friends! Kick some a** this week 😀
Am I the only one who doesn't have a celebrity crush or favourite TV show?
What are some of your favourite books from your youth? Do you ever reread them?
What are you currently (in general)…
1) … reading?
2) … wanting?
3) … eating/drinking?