This Coffee Crisp Smoothie tastes so much like the candy bar, you'd never believe it was made with 4 simple and healthy ingredients! Enjoy this vegan and refined-sugar-free subtly coffee-flavoured smoothie as a delicious breakfast or snack.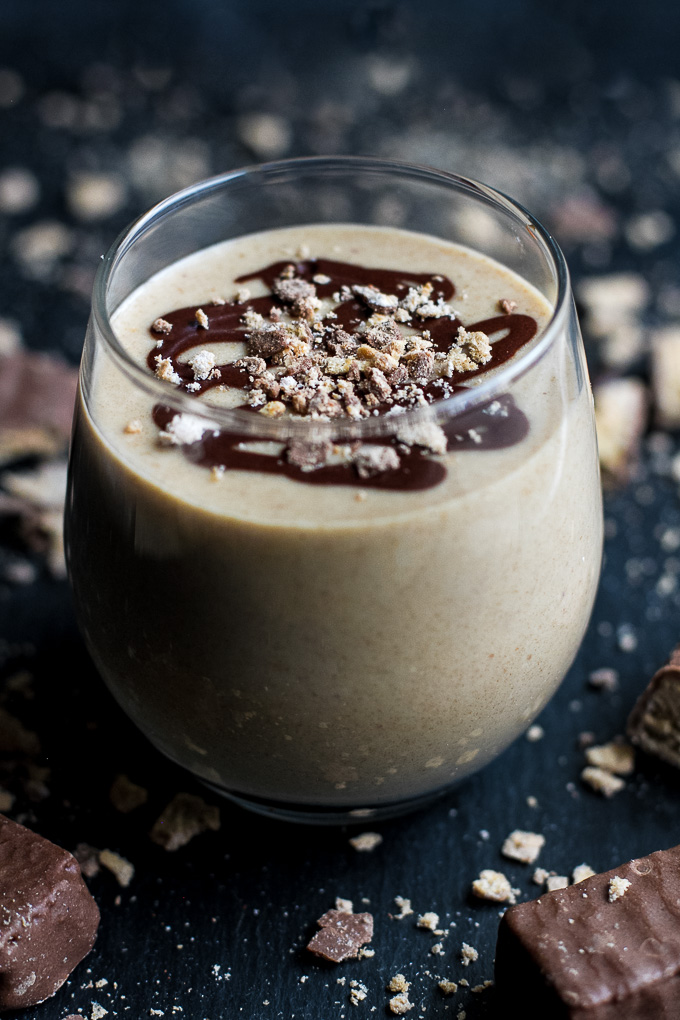 I know what you're thinking – what the heck is coffee crisp? Is it:
a) crystallized coffee,
b) coffee with crisps thrown in,
c) coffee-flavoured crisps,
d) a chocolate bar with layers of crispy vanilla wafers and foamed coffee soft candy with a milk chocolate coating
If you said D then I'm going to go ahead and guess that you're either Canadian or a candy connoisseur. OR you're just really good at taking multiple choice tests and know that if there's three short options and one long one, then the right answer is probably the long one because otherwise why would the teacher go through all the trouble of thinking up a super long answer if it didn't need to be there.
But don't quote me on that one. Study hard and know you stuff because teachers are tricksy.
Anyways! Coffee Crisp is indeed a chocolate bar that we have up here in Canada, and to be completely honest, I feel pretty bad for anyone who's never had a chance to experience it's awesomeness because it.is.GOOD. It's actually tied for the coveted #1 spot as far as my favourite chocolate bars go, with the other one being KitKat. Can you tell I have a thing for chocolate bars that have crispy wafers layered with cream and chocolate? Mmm mmm good.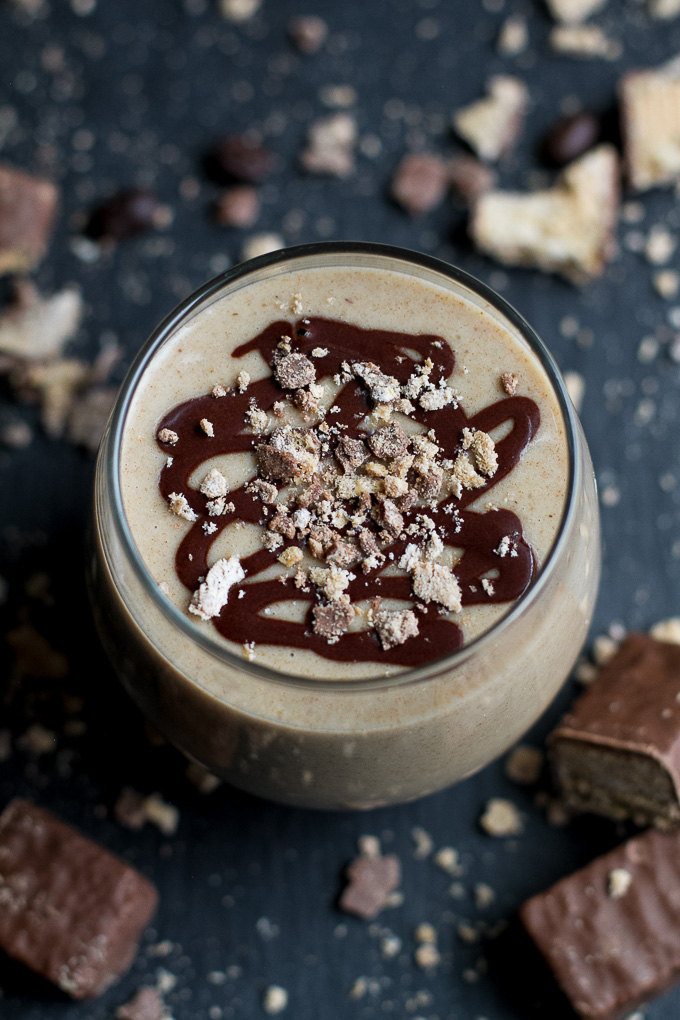 That's another thing!
Apparently calling it a "chocolate bar" is a Canadian thing too, since almost everyone I've talked to that lives outside of Canada calls it a "candy bar." This goes hand in hand with the whole "pop" vs. "soda" debate. And "toque" vs. "beanie."
Funny story. The first time I heard someone say "beanie," I thought they were talking about beanie babies. You remember those, right? The stuffed toys that the world went crazy over in the 90's? I'll admit that I got totally caught up in that craze, and there are probably still boxes and boxes of beanie babies sitting in my parents' basement. All with their tags perfectly in tact, of course. Oh man. Good times.
But no more tangents! Let's get to the good stuff.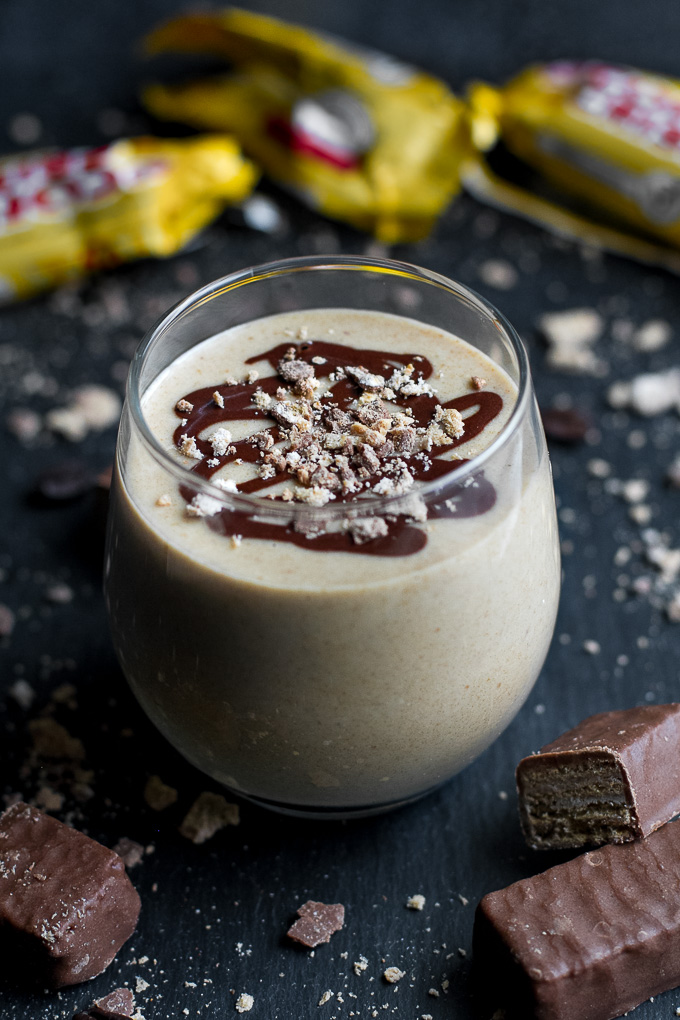 So I promise the whole Coffee Crisp shpeel had a point. And that point was to open the door for this coffee crisp smoothie that you see before your eyeballs.
There are no actual Coffee Crisps in it, but I feel like I got the flavours down so.freaking.close, that it's basically like a drinkable candy bar, only way healthier… which is great for Coffee Crisp lovers, people who never got to experience the amazingness that is Coffee Crisp, or anyone who likes delicious smoothies.
The base is made up of dates* and oats*. That's it! So simple, so good for you, and so ridiculously close to cookie dough or candy in flavour, that you'd never believe it was refined-sugar-free and actually healthy.
It's also great for breakfast given the whole caffeine thing. I wouldn't say the coffee flavour is overly strong since it's pretty subtle in the chocolate bar (more like a sweet mild latte), but you can always add more coffee if you want something with a little more kick. I used this instant espresso powder,* which I've been loving on hardcore, but you can also use instant coffee or a mix of strong brewed coffee and almond milk.
Happy eating!
I'd love to know if you make this recipe! Leave a comment and rating down below to let me know what you think, and subscribe to our mailing list to receive new recipes in your inbox!
Print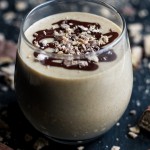 Coffee Crisp Smoothie
---
Author:

Total Time:

5 mins

Yield:

1

serving

1

x
---
Instructions
Place all the ingredients into the bowl of a high-speed blender and blend until smooth and creamy. This smoothie can be made in advance and stored in the fridge for extra thickness and creaminess!
For the chocolate "coating," I just mixed a little bit of unsweetened cocoa powder with maple syrup until I got the consistency I wanted (maybe 1/2 tsp cocoa with 1 tsp syrup?). Drizzle that on top of the smoothie, and then sprinkle on some crunchies (cereal, bits of a cookie or candy bar, etc.).
Notes
* If you don't have instant coffee, use 1/2 cup (120 ml) of strong brewed coffee with 1/4 cup (60 ml) of almond milk.
Keywords: breakfast, coffee, Coffee Crisp, gluten-free, healthy, recipe, smoothie, snack, vegan

Looking for more healthy candy inspired recipes? Try one of these!
Chunky Monkey Greek Yogurt Pancakes
Almond Joy Oatmeal Cookies
Chunky Monkey Stuffed Sweet Potatoes

*Disclosure: Some of the links included in this post may be affiliate links, meaning I'll earn a small commission if you purchase through them, at no additional cost to you. I only recommend products I personally use and believe will add value to my readers. Thank you so much for helping support Spoons!