These light and fluffy Cinnamon Roll Greek Yogurt Pancakes are sure to keep you satisfied all morning with over 20g of whole food protein! They're gluten-free thanks to the oats, whipped up in the blender in under 5 minutes, and taste JUST like a warm cinnamon roll!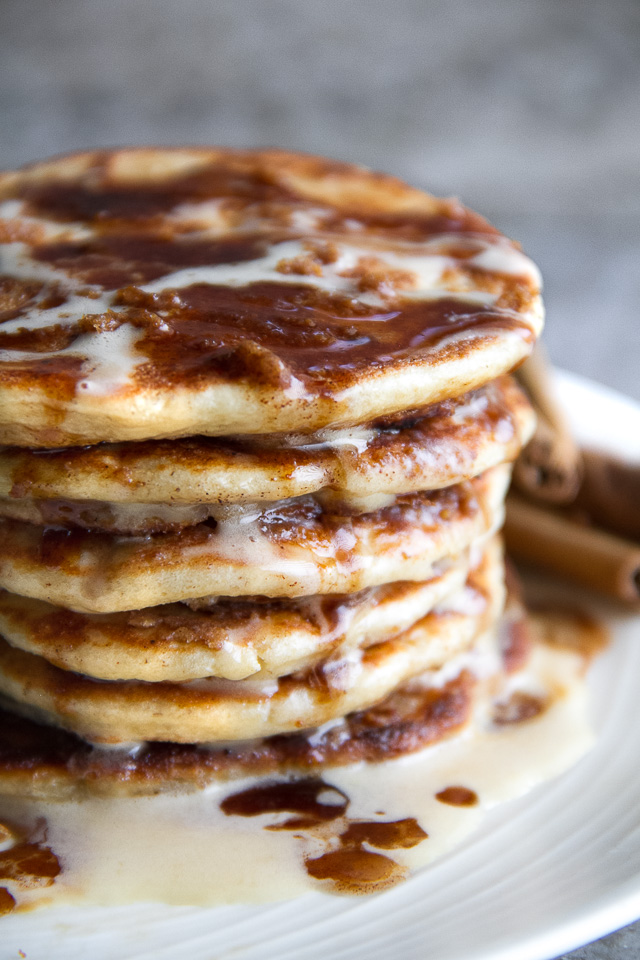 I have a very big appreciation for breakfast food today.
I mean, I have a very big appreciation for breakfast food every day, but even more so today seeing as that's pretty much the only thing that got me through the past couple of days. Well, that and ginger ale.
You can totally see where this is going, eh? Yeeeeep. My stomach got hit by something on Saturday night, and I say "something" because I honestly have no idea what it is/was. I woke up at 3am on Saturday night with the worst stomach pains/cramps/bloating, which eventually subsided only to morph in to… err… other.things.
But the weird thing is that I don't have any other symptoms. No aches, no fever, no fatigue, no sore throat… I feel perfectly normal aside from a super tender stomach and… err… other.things 😳 I thought maybe it was food poisoning, but I didn't eat anything out of the norm, soooooo I'm kind of stumped.
And hungry.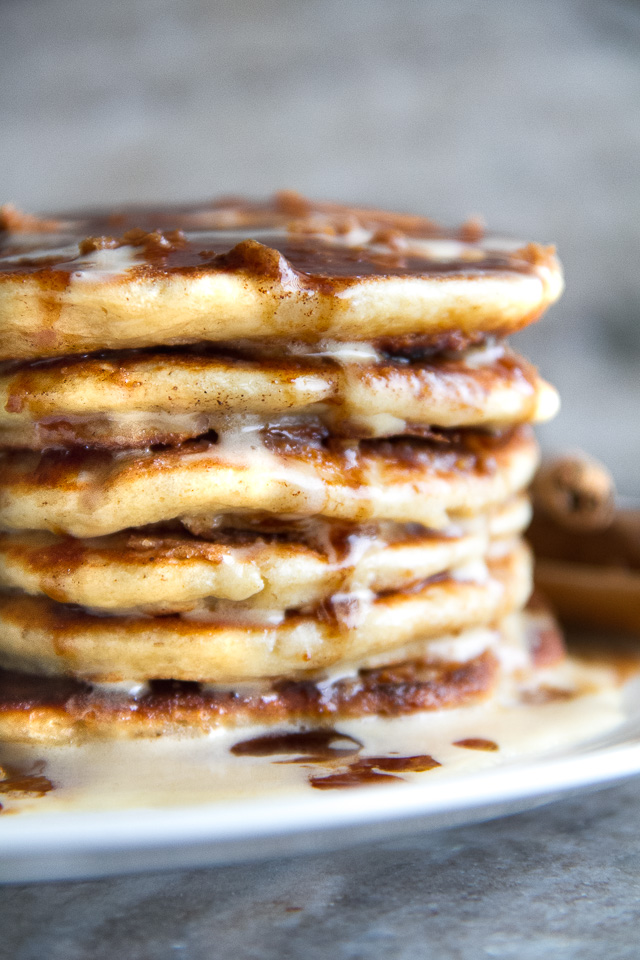 I made these cinnamon roll Greek yogurt pancakes earlier last week, and I'm kind of lusting over them hardcore seeing as the only things I've eaten over the past 48 hours have been: soupy oats, bananas, applesauce, and pretzels. Oh, and rice cakes, but I probably won't touch those again for a few years after how sick I felt after eating them. I know, right? Totally random.
So can you do me a favour? Can you enjoy a stack of these pancakes for me while I sit here with my oat mush and wait out whatever it is that's plaguing my stomach?
They're light and fluffy and taste nice and cinnamon roll-y thanks to a deeee-licious cinnamon sugar stuffing and protein packed vanilla frosting…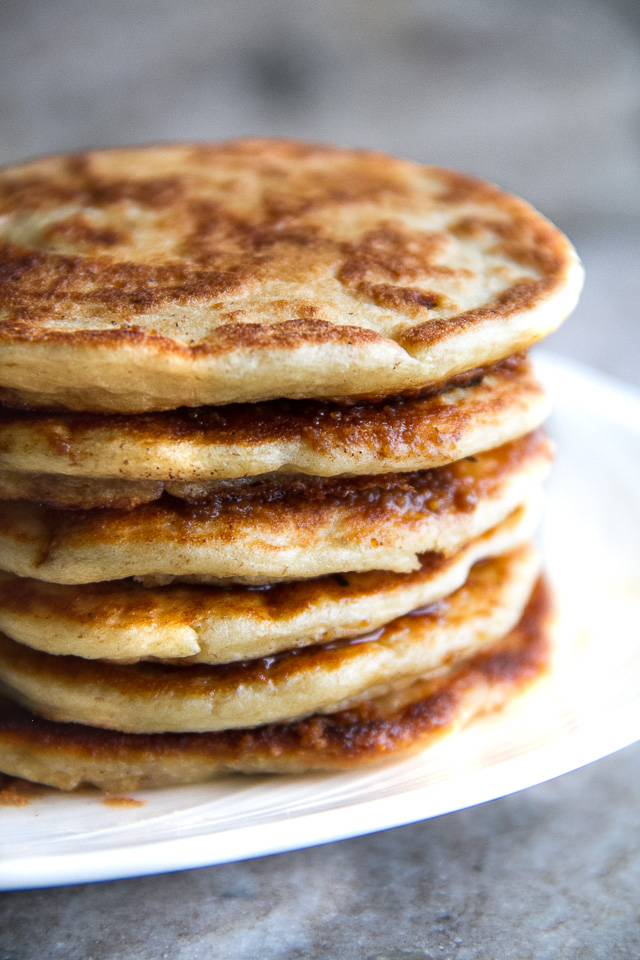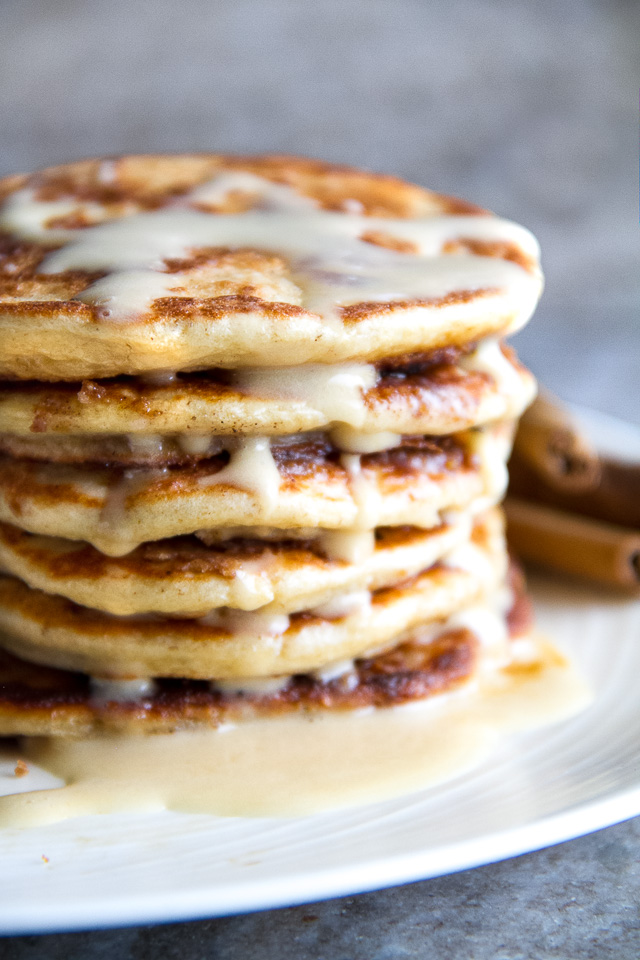 The first time I made these, I tried cooking a cinnamon swirl right into the pancakes, buuuuuut that worked way better in theory than it did in execution. They still tasted great, but the cinnamon swirl ended up melting right out of the pancakes as soon as I flipped them over and the whole thing was way more hassle than it was worth, so… stuffing it was!
AND! the entire recipe is a single-serving that clocks in at just over 20g of whole food protein (more if you use protein powder in the frosting), meaning you can eat the whole stack of 6-8 pancakes yourself and feel nice and satisfied all morning. Or evening if you're like me and enjoy breakfast for dinner a few times a week.
Now if you'll excuse me, I'm off to enjoy my third bowl of soupy oatmeal for the day the day. Maybe tomorrow I'll get a little crazy and try eating some white rice… #prayforspoons.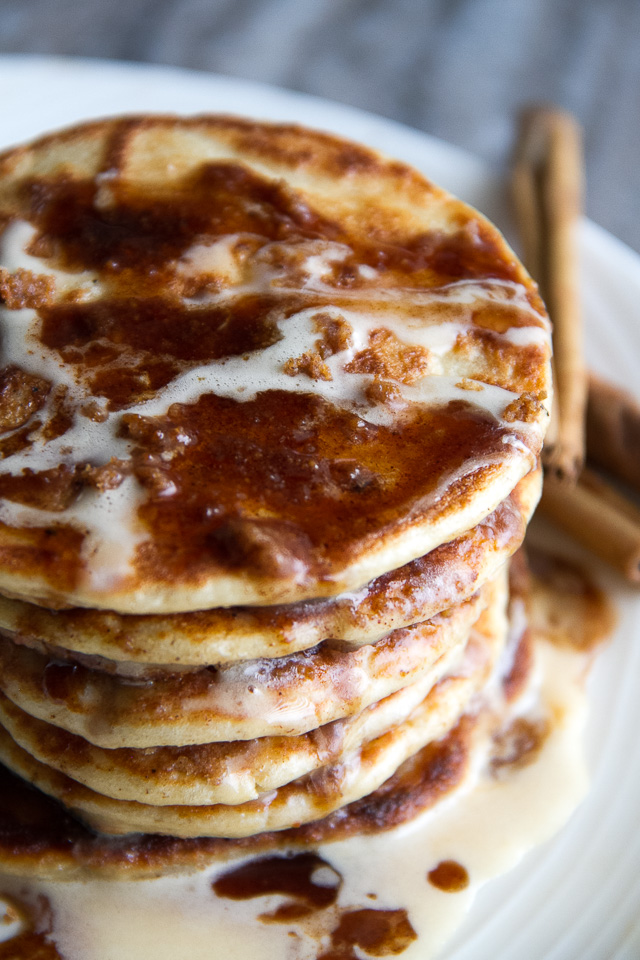 I'd love to know if you make this recipe! Leave a comment and rating down below to let me know what you think, and subscribe to our mailing list to receive new recipes in your inbox!
Print
Cinnamon Roll Greek Yogurt Pancakes
---
Author:

Total Time:

20 mins

Yield:

1

serving, about

6

–

8

pancakes

1

x
For the pancakes:
1/4 cup

(

60 g

) plain Greek yogurt

1/2 cup

(

40 g

) rolled oats*

1/2 tsp

baking powder

2

large egg whites OR 1 large egg

1

–

2

Tbsp (

15

–

30

ml) unsweetened almond milk**

1/2 tsp

vanilla extract
For the cinnamon sugar filling:
1 Tbsp

(

15

ml) coconut oil, melted***

1 tbsp

(

12 g

) coconut palm sugar****

1/2 tsp

ground cinnamon
For the vanilla frosting:
1 Tbsp

(

7 g

) vanilla protein powder
small amount of unsweetened almond milk (I used about 1/2 Tbsp)
---
Instructions
Preheat a skillet over medium heat and generously coat it with cooking spray or oil. You want to make sure that it's nice and hot before you start cooking your pancakes.
Add all the pancake ingredients to a blender in the order listed and blend on high until oats are fully broken down and batter is smooth and frothy. Allow the batter to sit for a few minutes so that it has a chance to thicken up while you make the cinnamon swirl – simply mix all the ingredients together in a small bowl and place it beside the stove.
Pour the batter straight from the blender onto the skillet until desired size of pancakes is reached. Cook the pancakes until the edges have set and bubbles begin to form on the tops. Using a spatula, flip and cook for another 1-2 minutes.***** Repeat until all the batter is gone, making sure to coat your skillet again with oil between each batch.
To assemble, spread a small amount of cinnamon sugar filling on one of the pancakes before placing another pancake on top. Spread that one with more of the filling, and repeat the process until all the pancakes are stacked. To make the frosting, mix the protein powder with enough almond milk to get it to the consistency you want. Pour it over the pancake stack and enjoy!
Notes
* make sure to use certified gluten-free oats if you need these to be gluten-free. ** start with 1 Tbsp (15 ml) of almond milk and only add a second if you feel the batter is too thick. *** you can also use melted butter. **** you can also use brown sugar. ***** if you find that you're having a hard time getting the insides of the pancakes to fully cook, cover your skillet with a lid while they cook.
Prep Time:

10 mins

Cook Time:

10 mins
Keywords: breakfast, cinnamon roll, gluten-free, Greek yogurt, healthy, oatmeal pancakes, pancakes, recipe

Looking for more healthy Greek yogurt pancake recipes? Try one of these!
Chunky Monkey Greek Yogurt Pancakes
Blueberry Banana Greek Yogurt Pancakes
Banana Oat Greek Yogurt Pancakes
Pumpkin Spice Greek Yogurt Pancakes
Apple Oat Greek Yogurt Pancakes