Loaded with banana, chocolate, and nuts, these chunky monkey snack bites are a nutritious and delicious way to satisfy that sweet tooth, no matter what time it might hit.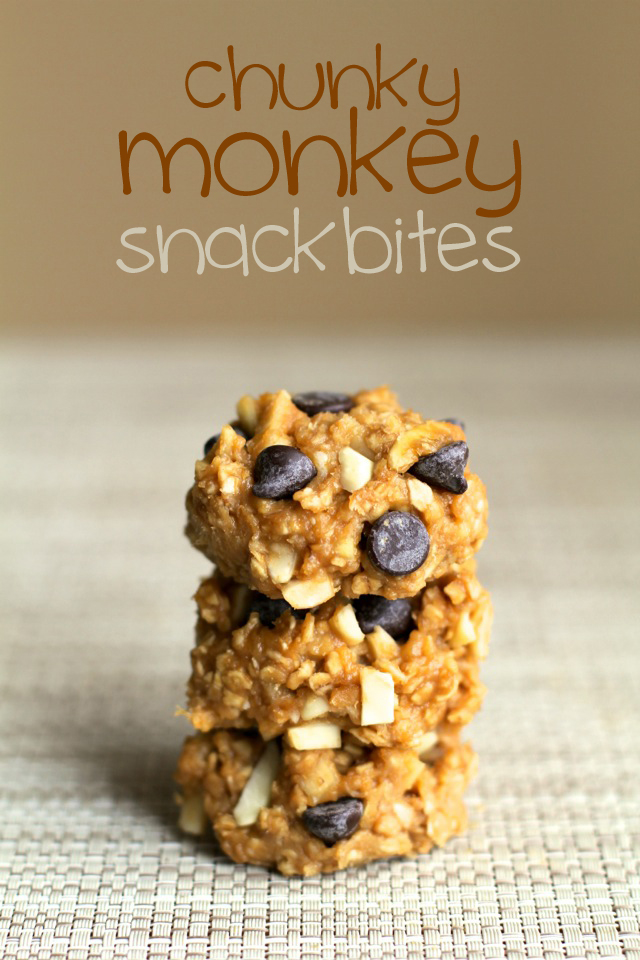 Can you believe it's been almost a month since I posted a recipe? These applesauce oatmeal muffins were the last things to come out of my kitchen… and that was way back at the end of February. Oops.
But let me explain! First, time is going by way too quickly — weren't we just ringing in the new year? And now it's almost time to celebrate Easter? Whaaaaaat?!? One good thing about this warp speediness is the fact that winter is moving along at the same speedy pace. Maybe it's just me, but the cold didn't feel like it was dragging quite so badly this year.
Second, I was without a kitchen! Maybe not for the entire 3 weeks, but between prepping for my trip, travelling, and feeling like a zombie recovering from jet lag, I didn't really find a good moment to fit in any recipe making. But I'm back, baby! I want to get back into posting at least two recipes per week, so let's kick things off with these little guys right here…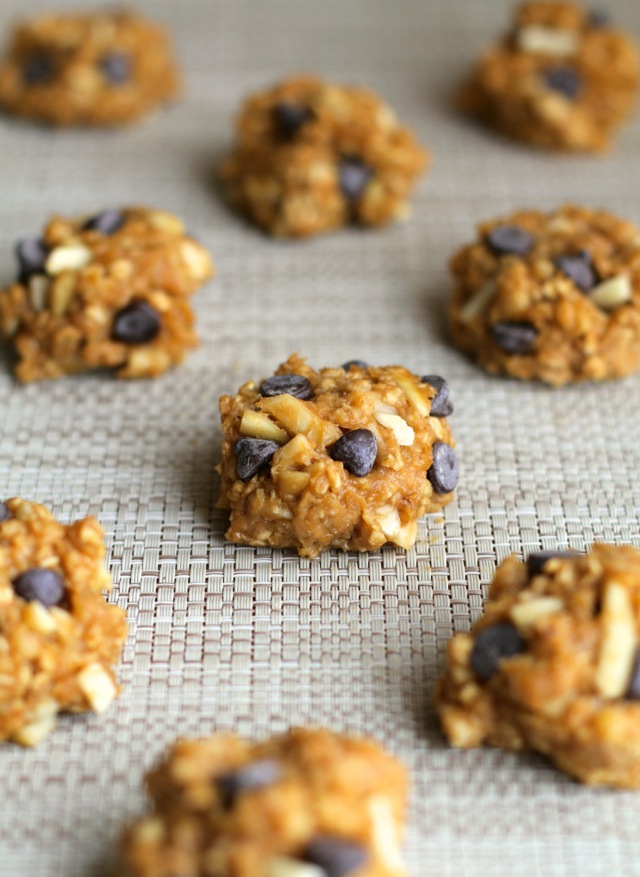 Chunky Monkey Snack Bites. Whether you like to call them balls, bites, or little pieces of heaven, one fact remains — these kind of snacks are all sorts of magical. Not only are they a breeze to whip up, but they're a great way to satisfy that sweet tooth, even when it hits you at 9 AM… not that I speak from experience or anything 😯
Oh, and in the interest of full disclosure I should probably admit that, while I slapped the chunky monkey label on these guys, I honestly have no idea how chunky monkey they really are. My allergies prevent me from eating the Ben & Jerry's ice cream flavour (which is apparently where the chunky monkey name comes from — and yes, I Googled it), so I'm kind of grasping at straws here. All I know is that these bites are chunky thanks to the nuts and chocolate, and monkey thanks to the banana.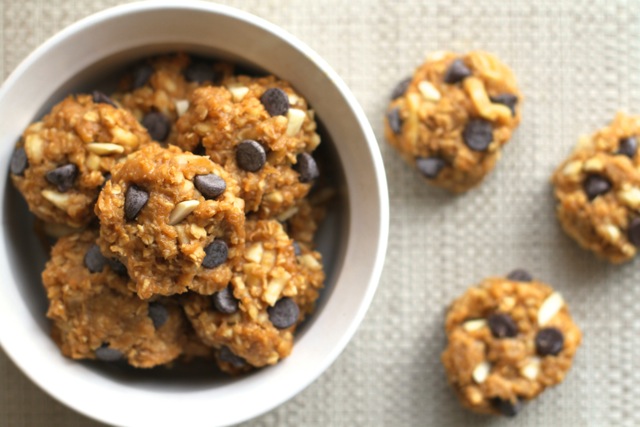 They're gluten-free, refined sugar-free, vegan, and probably a few other healthy labels that I can't think of right now. You don't need an oven to make them, but you do need a stove… and a freezer. A stove to heat up the nut butter, banana, and honey, and a freezer to help the bites set. Heating up the ingredients also makes the oats release some of their goopiness (adding to the cookie dough texture), and freezing the bites gives them the most addicting texture.
Oh, and I realize that there's nothing green or Irish about this recipe, but Happy St. Patrick's Day anyway!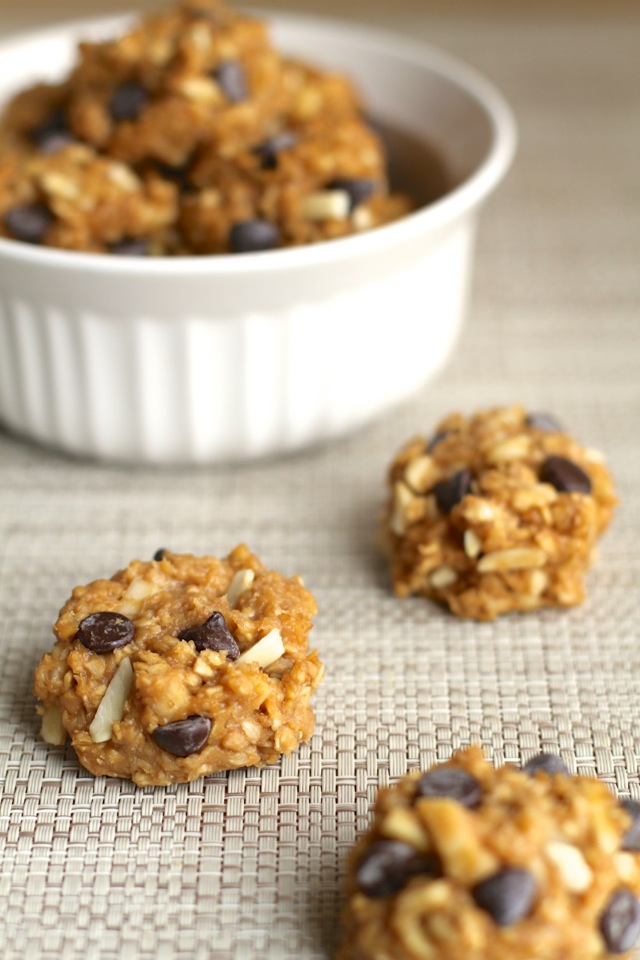 I'd love to know if you make this (or any!) recipe! Tag @runwithspoons on Instagram and Twitter, and be sure to subscribe to our mailing list to receive more healthy and delicious recipes straight to your inbox!
Print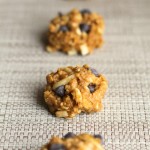 Chunky Monkey Snack Bites
---
Author:

Total Time:

15 mins

Yield:

12

bites

1

x
1/4 cup

almond butter (or other nut/seed butter)

1

ripe banana, mashed

2 Tbsp

. honey

1 tsp

. vanilla extract

1 cup

quick oats

1/2 cup

chopped nuts (almonds, peanuts, walnuts, etc.)

1/4 cup

chocolate chips
---
Instructions
Line a baking sheet with parchment paper and set aside.
In a small pan over medium-high heat, add the almond butter, mashed banana, honey, and vanilla extract, stirring until smooth and fully combined. Bring the mixture to a boil before removing from heat. Stir in oats and chopped nuts, mixing well. Set aside and allow the mixture to cool before adding the chocolate chips.
Drop dough onto your prepared baking sheet by the heaping tablespoonful, studding the tops with more chocolate chips and/or nuts if desired.
Place baking pan into freezer and allow to cool for ~30 minutes until bites have set. Store in an airtight container in the fridge for up to a week, or in the freezer for up to a month.
Keywords: almonds, banana, chocolate, chunky monkey, gluten-free, no-bake dessert, recipe, snack bites, vegan