It's Friday! 😀
That alone is reason enough to smile, especially since I spent the last two days thinking it was already Friday. I know, right? Trying to shorten the week even thought it was already a shorter week. Oi. But it's been a little bit of a crazy one, so I guess I'm looking forward to the weekend more than I thought. But I digress.
I usually like to post recipes on Mondays to kind of help start the week off on a good note, but I promised to have a recipe for you guys by the end of the week, so we're going to end things on a good note this time around. Besides, these are just too good to withhold for another couple of days, and maybe you can even give 'em a try if you find yourself with a little bit of downtime this weekend. So what exactly are these? These…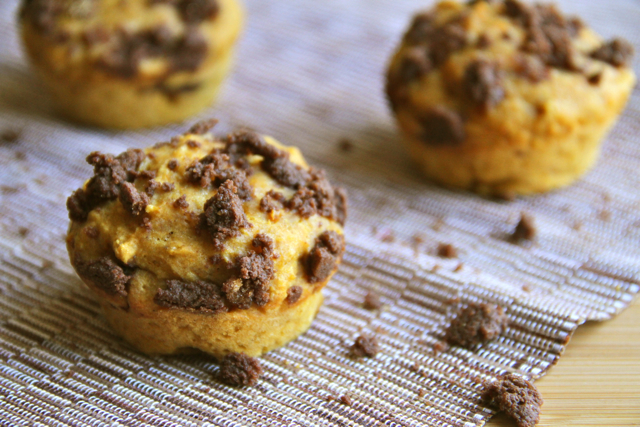 Spiced pumpkin muffins topped with a decadent chocolate streusel…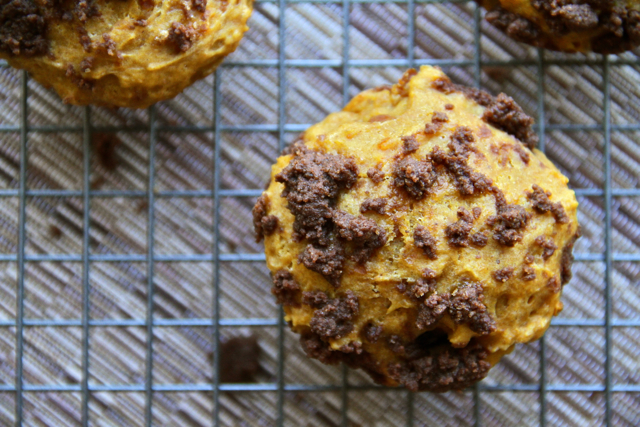 … and filled with a creamy chocolate fudge…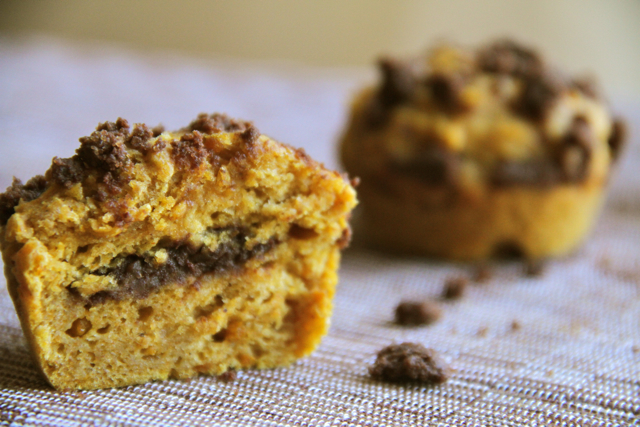 But not just any chocolate fudge – healthy chocolate fudge. I was originally going to go with a maple cream cheese filling, but I didn't have any on hand. Then I thought about just tossing in some chocolate chips, but I feel like that's been done to death. Finally, I decided on chocolate fudge – which may also have been done to death, but I'm doing it myyyyyyyyy way (name that song)… with dates, cocoa powder, and milk. Yup, that's all.
And the conglomeration of these three elements? Out.of.this.world. Think a pillowy soft, warmly spiced pumpkin muffin surrounding a creamy chocolate interior. The muffin itself is moist, light, and subtly sweet – a picture of innocence just begging to have a little fun. Enter a deviant chocolate streusel topping that not only adds an extra hint of sweetness and flavour, but a slight crunch that's a delight for the senses. You can, of course, choose to leave out the chocolate filling or streusel and still be left with a delicious muffin, but I wouldn't recommend it…
I'd love to know if you make this (or any!) recipe! Tag @runwithspoons on Instagram and Twitter, and be sure to subscribe to our mailing list to receive more healthy and delicious recipes straight to your inbox!
Print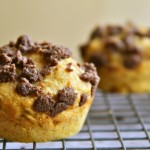 Chocolate Filled Pumpkin Spice Muffins
---
Total Time:

40 minutes

Yield:

12

muffins

1

x
For the chocolate filling:
1/3 cup

pitted dates

2 Tbsp

. milk (any kind will do)

1 Tbsp

cocoa powder
For the streusel topping:
2 Tbsp

. flour

1 Tbsp

. cocoa powder

3 Tbsp

. brown sugar

1.5 Tbsp

. butter, melted
For the muffins:
1 1/2 cups

all purpose flour

1 1/2 tsp

. baking powder

1/2 tsp

. salt

1 tsp

. ground cinnamon

1/2 tsp

. ground nutmeg

1/4 tsp

. ground ginger

1/2 cup

milk (any kind will do)

1/2 cup

brown sugar

1

egg

2 Tbsp

. butter, melted

1 tsp

. vanilla extract

1 cup

canned pumpkin
---
Instructions
For the chocolate filling:
Place all ingredients into a blender and blend until smooth. Tip: it helps if you soak your dates beforehand to make them easier to blend.
For the streusel topping:
Combine flour, cocoa powder, and brown sugar. Add melted butter and mix until crumbly.
For the muffins:
Preheat oven to 350ºF and lightly oil a muffin tray, or line it with 12 paper/silicone liners.
In a large bowl, combine flour, baking powder, salt, cinnamon, nutmeg, and ginger. Set aside.
In a medium sized bowl, whisk together the milk and sugar. Add the egg, butter, and vanilla. Stir in canned pumpkin and mix well until fully combined.
Pour wet ingredients into dry and stir gently until just combined. Do not overmix.
With a spoon, spoon batter into muffin tins until about 1/3 way full. Add 1 tsp. chocolate filling to each tin, and cover with more muffin batter until tins are about 2/3 full. Finish by sprinkling a generous amount of streusel topping onto each tin.
Bake muffins for 20 minutes, or until a toothpick inserted into the center comes out clean. When finished, allow to cool for about 5 minutes before removing them from the muffin tin and allowing to cool completely on a wire rack.
Prep Time:

20 minutes

Cook Time:

20 minutes
Keywords: chocolate, chocolate filled pumpkin muffins, chocolate streusel, pumpkin, pumpkin muffins, recipe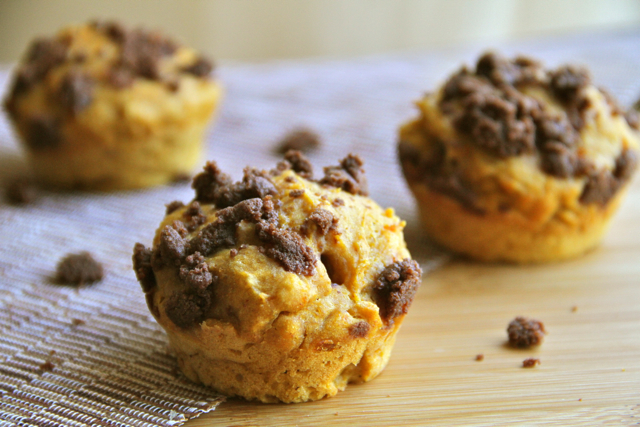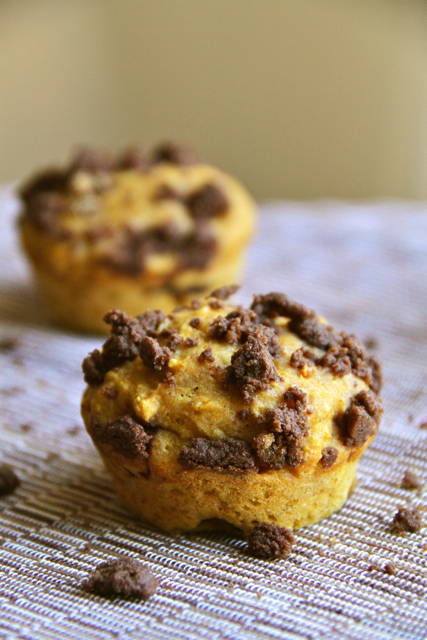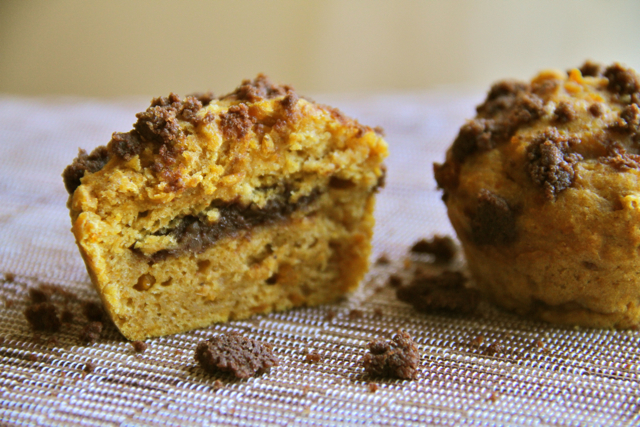 Confession… Two of these muffins didn't survive the photoshoot. I could blame a hectic day, the fact that I was hungry and putting off dinner so that I would have enough natural light to shoot in, or the fact that I needed to free up some space in my work area because my photos were looking a little crowded, but the truth of the matter is that these muffins are just plain delicious.
As an added bonus they're also pretty healthy. If you leave out the streusel, you're only dealing with 1/2 cup of sugar and 2 Tbsp. of butter for the entire recipe. And the best part? You'd never be able to tell. But do yourself a favour and don't leave it out… It's Friday and we all deserve to have a little fun 😀