Packed with protein and easily made gluten-free or vegan, now you can enjoy the taste of your favourite cereal in this thick and creamy cereal milk protein smoothie!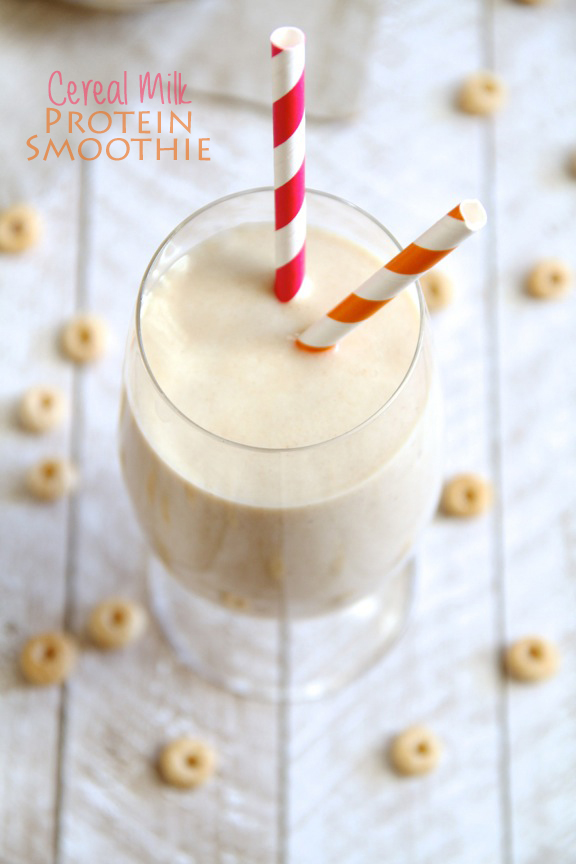 You know you're a smoothie addict when you seriously consider taking your blender on a weekend trip to the mountains because you can't fathom don't enjoy the thought of going without one of your favourite meals/snacks/life forces for 2.whole.days.
Don't laugh — I was honestly thinking about it while packing my suitcase on Friday night Saturday morning. But in the end, the blender stayed at home (sitting in it's honorary spot on the kitchen counter) because: a) I didn't think my roommates would have appreciated being woken up by the soothing sound of a high-speed motor at 5:30 AM, and b) it was either the blender or my toiletries, and I figured that a lack of personal hygiene was probably worse than a lack of smoothies. But it was a close call.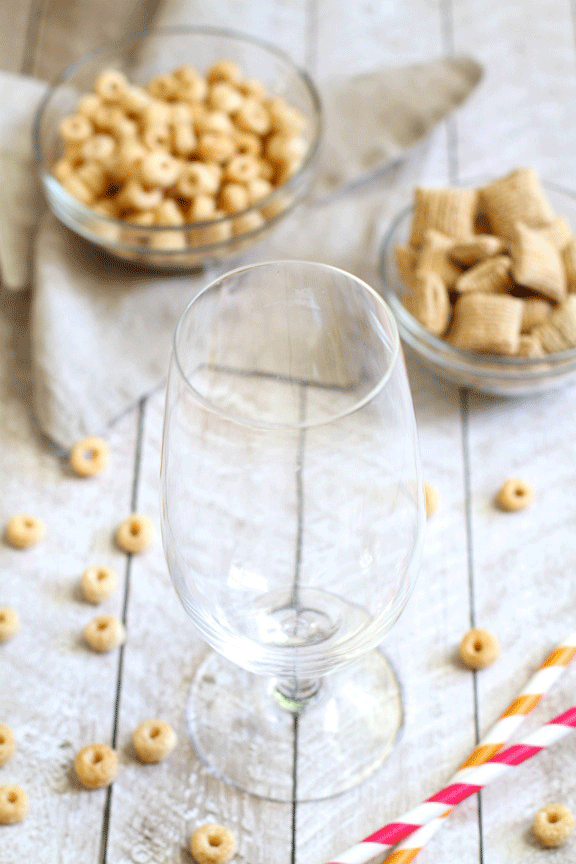 It's no secret that I'm smitten with smoothies, and it's seriously getting to the point where I can't help but look at a lot of foods and automatically start wondering how I can possibly incorporate them into a smoothie, dip, sauce, soup, spread, or blended concoction of some sort.
That's why I'm crazy excited to be sharing this recipe with you guys today. Not only because it gives me a chance to spread the smoothie love, but because it involves another one of my biggest obsessions — cereal.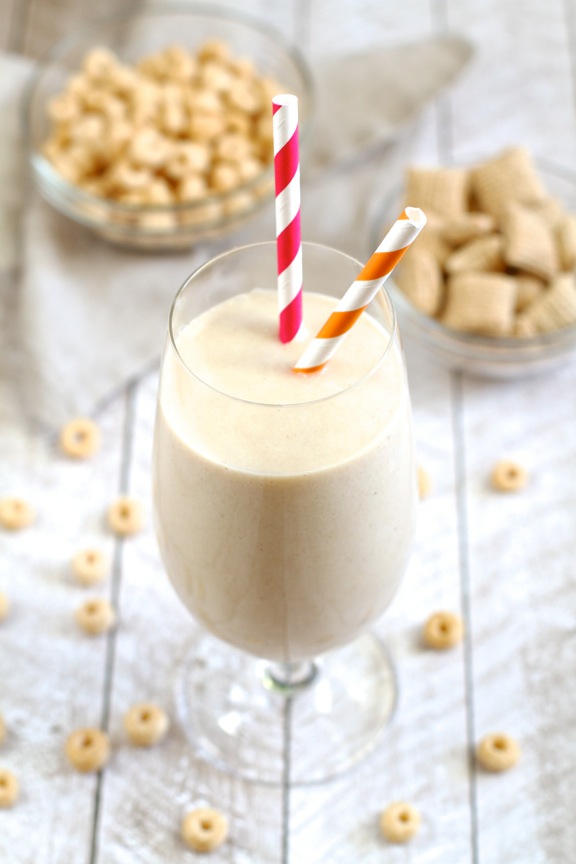 Me and cereal go way back. I remember waking up early on Saturday mornings and watching cartoons in my PJs with a bowl (or three) of cereal in tow. Why all the good cartoons were on so early in the morning, I'll never know, but I do know that the weekend wasn't complete without my beloved bowl (or three) of cereal.
Cinnamon Toast Crunch and Rugrats. Corn Pops and Duck Tales. Captain Crunch and The Flinstones. Ahhhhh the good old days. I'm not even sure if they still have Saturday morning cartoon marathons on TV these days, but you better believe that I'm still holding fast to the belief that [life] isn't complete without cereal… even if the way I eat it has changed a little over the years…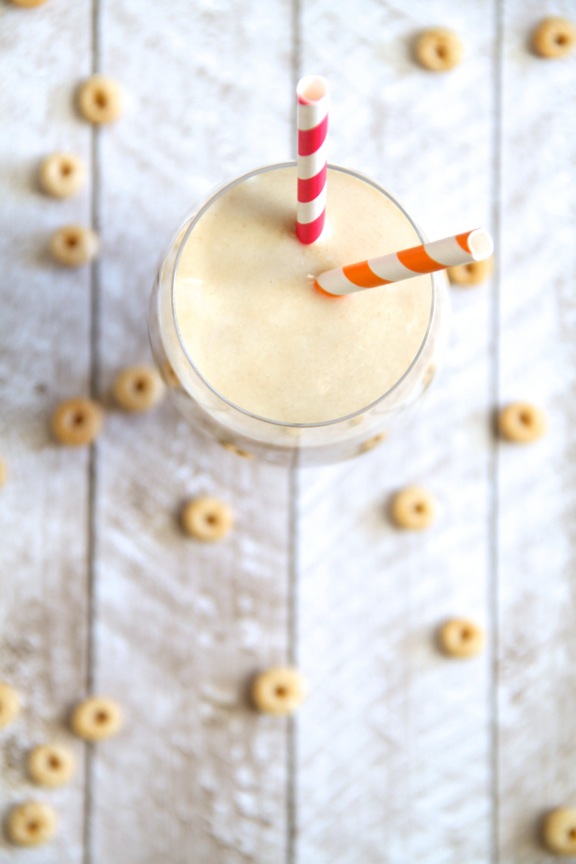 I'm no stranger to sprinkling cereal on top of a smoothie to add a little crunch factor, but it wasn't until a few weeks ago that I decided to try using cereal in a smoothie. That "blend ALL the things" mentality I mentioned earlier? Very much a factor in how this came about. And let me just be the first to say that my mind.is.BLOWN.
Picture a ridiculously thick and creamy smoothie that tastes just like your favourite bowl of cereal. Heck, it basically is your favourite bowl of cereal — just blended to perfection so that all the flavours have a chance to come together in a harmonious blend of orgasmic joy. Sorry. Got a little carried away there. But it's hard not to when you're dealing with something this good.
I've tried this smoothie with a variety of different cereals (Cinnamon Toast Crunch, crispy rice, Power O's, Puffins, Oat Squares, Weetabix, Cinnamon Harvest), and they all work really well… with the exception of granola, which was just a little too heavy. I included a scoop of protein powder in the ingredients list if you need a smoothie with a little more oomph, but it's just as delicious and satisfying without it. It's also vegan as long as you use a non-dairy milk and plant-based protein powder, and gluten-free as long as you use a certified GF cereal.
So jump into your PJs, turn on some Teletoon Retro, and enjoy a cereal milk smoothie. It'll be just like the good old days… with a fun new twist.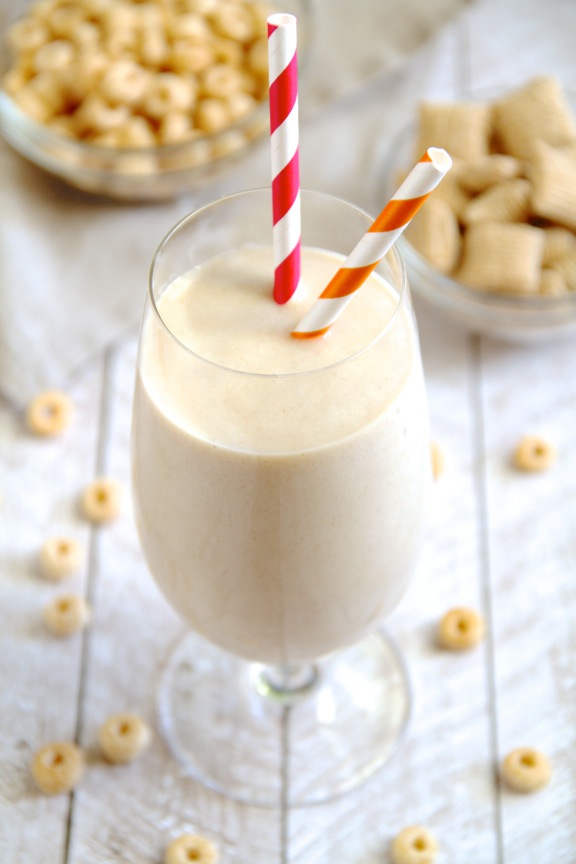 I'd love to know if you make this (or any!) recipe! Tag @runwithspoons on Instagram and Twitter, and be sure to subscribe to our mailing list to receive more healthy and delicious recipes straight to your inbox!
Print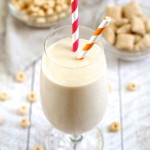 Cereal Milk Protein Smoothie
---
Author:

Total Time:

5 mins

Yield:

1

serving

1

x
1

–

1.5

cup unsweetened vanilla almond milk*

1

ripe banana, frozen

1 cup

of your favourite cereal**

1

scoop vanilla protein powder
---
Instructions
Place all ingredients into your blender in the order listed and blend until smooth. This smoothie can be made in advance and stored in the fridge for extra thickness and creaminess!
Notes
* Start with 1 cup of milk and add more as needed.
** I've found that most cereals do well in this smoothie. I don't recommend granola, however, since it tends to be a little too heavy and dense.
Keywords: cereal, cereal milk, cereal milk protein smoothie, healthy smoothie, protein smoothie, recipe, vegan protein smoothie
Looking for more healthy smoothie recipes? Try one of these!
Apple Pie Protein Smoothie
Peaches and Cream Protein Smoothie
Healthy Chocolate Mousse Smoothie