This healthy funfetti cake batter breakfast bake is a great way to celebrate the day or just add a little bit of fun to your morning! It's vegan, gluten-free, and absolutely perfect for anyone who loves eating dessert for breakfast!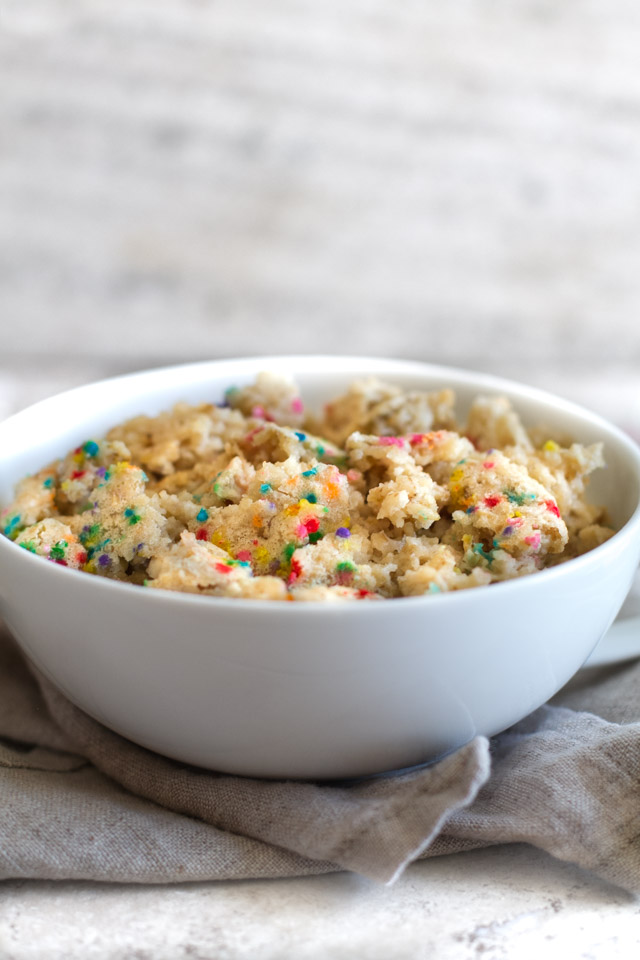 Hands up if you've ever eaten leftover birthday cake for breakfast. Come on. Hands up. I know you've done it – even if it was just a bite or two. You open the fridge with every intention of just grabbing some [almond] milk for your coffee, see the cake looking all delicious out of the corner of your eye, and before you know it, you're one sliver, two slivers, one slice into it.
Yeah? Me too. Every.single.year. But what about the day of? What's for breakfast then?
To be perfectly honest, mine isn't usually all that different. I might stick a candle in my oatmeal just so I can take a picture for the blog, but that's about as far as it goes. And if you're in that same sad little boat, I have a brilliantly simple solution for the both of us -> just add sprinkles and frosting!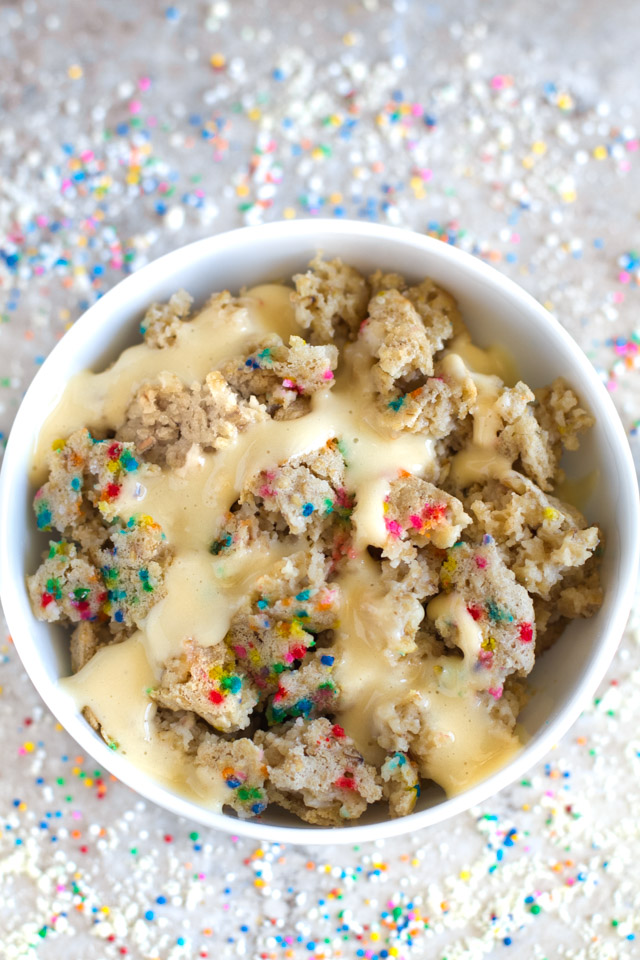 See? Instant party vibes.
And it doesn't even have to be your birthday! It can be because it's Friday and you want to celebrate. It can be because it's Monday and you need some cheering up. It can be because it's someone else's birthday (which is everyday, by the way) and you want to join in on the fun. Whatever the reason, sprinkles are never a bad idea… unless, of course, you drop an open container on the floor while taking pictures for the blog. Not that I would know, or anything 😳
But I do know that wishing people a happy birthday [when it's their birthday] isn't a bad idea either, which is why now would be a good time to send out a huge Happy Birthday to the one and only Papa Spoons, who just so happens to be turning one year wiser today.
Papa, this funfetti cake batter breakfast bake is for you…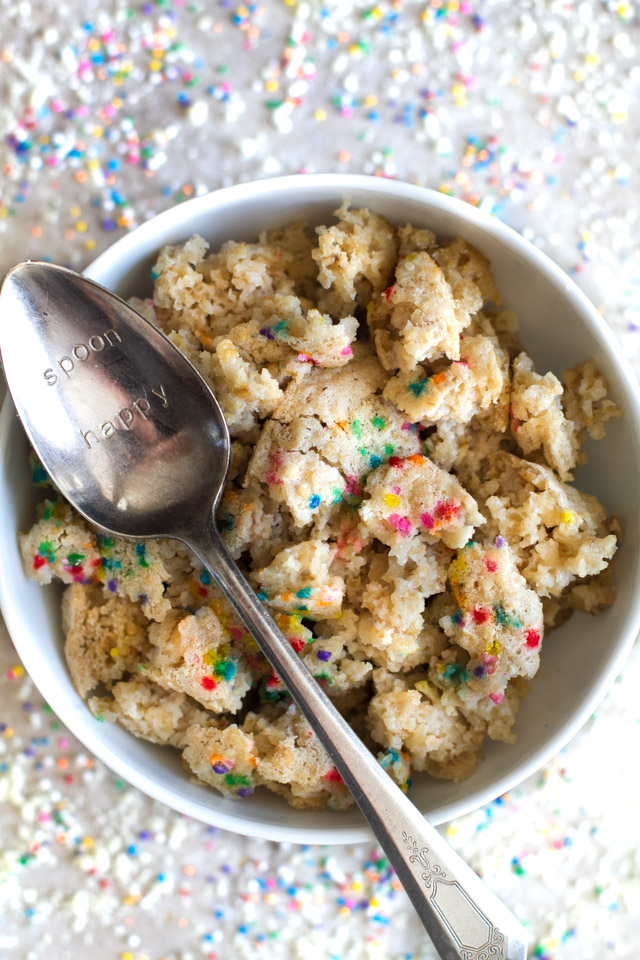 … sort of.
I mean, the whole cake batter theme is definitely inspired by his birthday and all, but to be perfectly honest, my dad isn't exactly an oatmeal kind of guy… at least not under his own volition. He'll certainly eat it if you doctor (read: sweeten) it up and put it in front of him, but for the most part he sticks to savoury stuff like sandwiches, eggs, dinner leftovers, and the like. Sometimes I can't believe I'm his daughter. But I digress.
This breakfast bake will make a believer (read: an oatmeal lover) out of even the biggest critic… mostly because it has the fluffy and moist texture of a cake/muffin rather than the gloopy and wet (mmmm) texture that's usually associated with oatmeal…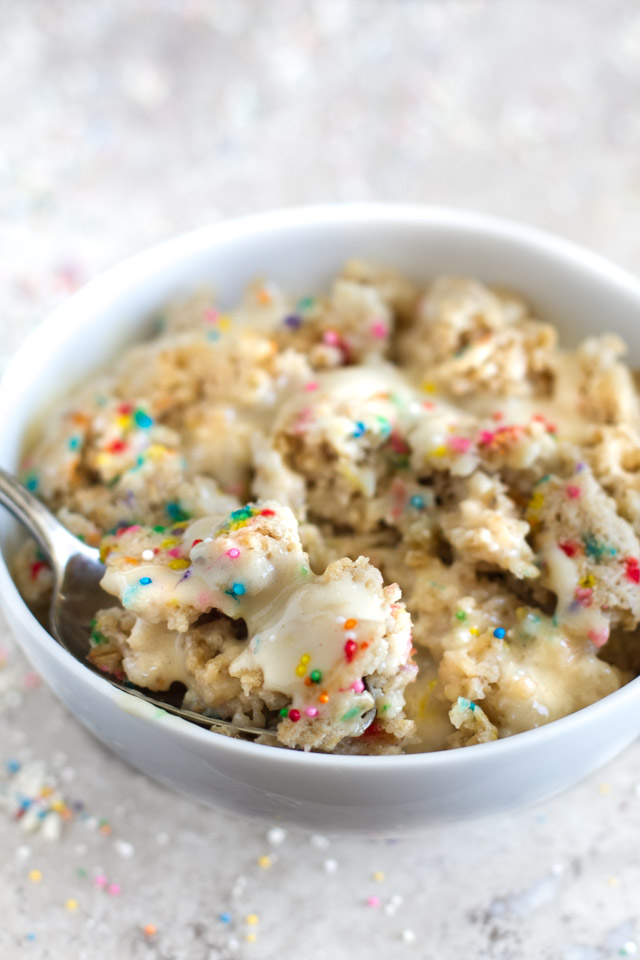 Side note: if your oatmeal is gloopy, you're doing it wrong. Just sayin'.
Anyways, to make this breakfast bake taste more cake batter-y and less oat-y, I took the standard recipe I use in most of my breakfast bakes and replaced all the flour with almond flour. Not only does this add extra moisture and fluffiness, but it also adds a delightful buttery taste without the need for actual butter.
For the frosting, I adapted a recipe I came across on Bodybuilding.com that uses yogurt and protein powder. I tested it with both traditional and vegan products, and both work just fine. It all depends on your dietary preferences!
Other than that, the only thing left to say is that this funfetti cake batter breakfast bake is also vegan, gluten-free, refined-sugar-free, extra fun (hello, sprinkles!), and super delicious. You guys know the drill 😉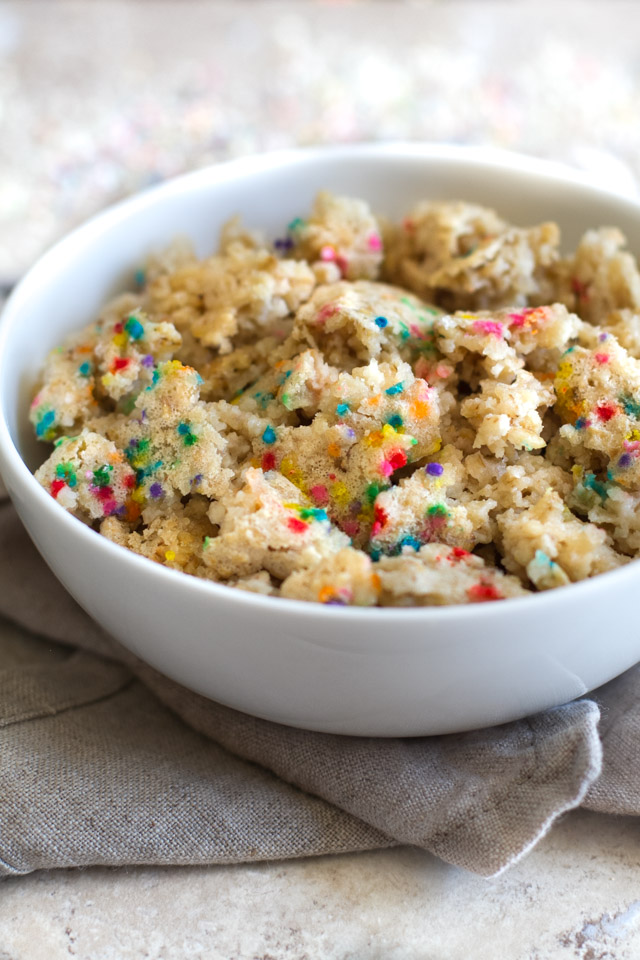 I'd love to know if you make this recipe! Leave a comment and rating down below to let me know what you think, and subscribe to our mailing list to receive new recipes in your inbox!
Print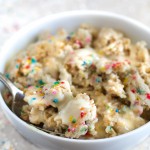 Funfetti Cake Batter Breakfast Bake
---
Author:

Total Time:

30 mins

Yield:

1

serving

1

x
For the bake:
1/4 cup

(

20 g

) quick oats

2 Tbsp

(

14 g

) almond flour

2 tsp

(

8 g

) cane sugar*

2 tsp

(

5 g

) arrowroot powder**

1/2 tsp

baking powder

1/4 cup

(

60

ml) unsweetened vanilla almond milk

1/2 tsp

vanilla extract
rainbow sprinkles
For the frosting:
~ 2 Tbsp (30 g) of your favourite yogurt
~ 2 Tbsp (10 g) of your favourite protein powder
---
Instructions
Preheat your oven to 350°F (176°C) and lightly spray an individual sized (~16oz./500 ml) ramekin or oven-safe dish with cooking spray or grease it with cooking oil.
Combine the oats, almond flour, sugar, arrowroot powder, and baking powder in the baking dish. Add the almond milk and vanilla, and mix until everything is well combined before gently sprinkling the sprinkles on top. You don't want to mix them in, as the colour will end up bleeding.
Bake for 25-30 minutes, until the centre has set and the bake has reached your desired consistency.
Meanwhile, make the frosting by adding the yogurt to a small mixing bowl and continuing to add protein powder until you reach the consistency that you want. Different yogurts and powders will behave differently, so it's hard to give exact measurements. You really can't go wrong, though, so just keep tinkering!
When the bake is done, remove it from the oven, break it up into smaller pieces, top with frosting, and enjoy!
Notes
* You can pretty much sub this with any sugar you have on hand, or use 1-2 tsp of maple syrup, agave, or brown rice syrup. ** You can easily sub this for cornstarch.
Prep Time:

5 mins

Cook Time:

25 mins
Keywords: breakfast, breakfast bake, cake batter, cake batter breakfast bake, funfetti, gluten-free, healthy, oats, recipe, vegan

Looking for more healthy breakfast bake recipes? Try one of these!
Oatmeal Cookie Dough Breakfast Bake
Chunky Monkey Breakfast Bake
Deep Dish Double Chocolate Breakfast Cookies
Brownie Batter Breakfast Bake
Cinnamon Bun Breakfast Bake