And just like that, things are back to normal around these parts. Yesterday I was insatiable, today I'm quite content. Or at least I was after I got some breakfast in me…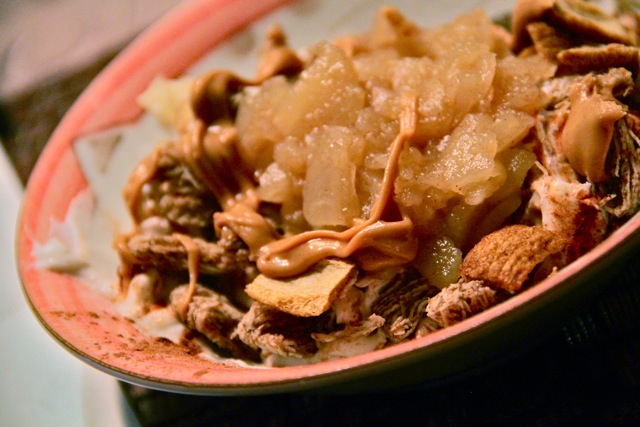 Plain Greek yogurt – banana – homemade applesauce – Kashi Cinnamon Harvest – Puffins – Barney Butter
I wouldn't say that I ever really wake up starving, but hunger definitely starts to kick in about half an hour after I get out of bed; and then once more in the late afternoon…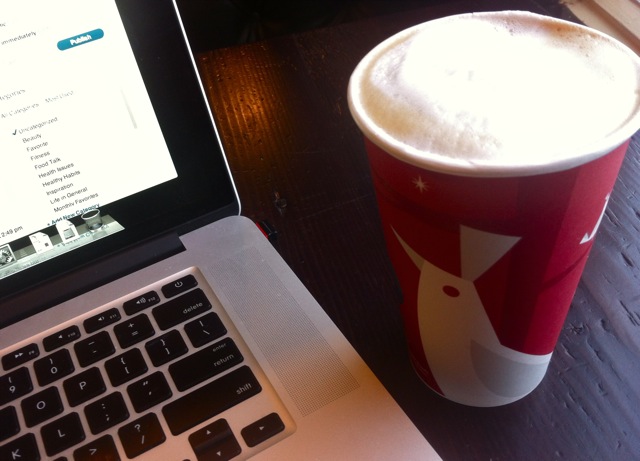 Starbucks Cappuccino.
… aaaaaand again after dinner…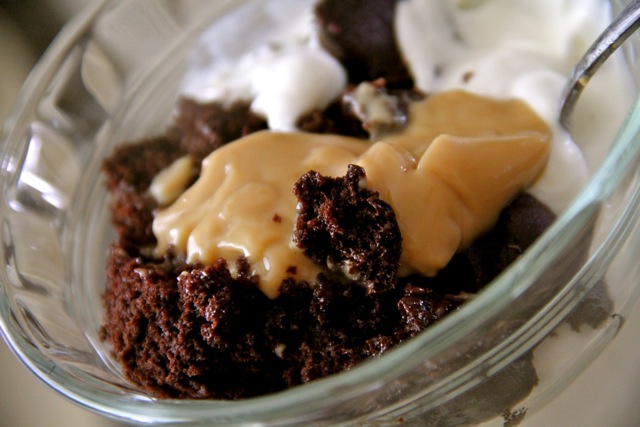 Chocolate Vitamuffin – Greek yogurt – caramel pudding
Okay, so I'm basically always ready and willing to eat, but unlike yesterday, today I wasn't ready and willing to gnaw my limbs off as well. See? It all balances out in the end. Super hungry one day, eat more, less hungry the next. Voila! And can I just say thank goodness for that – being constantly hungry makes me feel like I'm doing something wrong.
If you guys recall, a while back I mentioned that I don't keep track of my macros or calories – it was an obsession that consumed my life for far too many years and the freedom I gained from it isn't something I'm willing to give up. BUT… and this is a big but… lately I've been wondering if I shouldn't start paying a little more attention to my eating habits. I've become a little too carefree with my eats, to the point where I can't help but wonder if I don't end up accidentally under eating on some days.
But that's life, right? One day you under eat, the next day you make up for it – hence the occasional insatiable appetite. As long as I'm honoring my hunger, there's no reason to worry, right? (please say right) I mean, tracking my calories was a good way for me to make sure that I ate enough everyday, but at the same time… the obsession, the control, the fear… ugh – not something I'm willing to risk falling back into again. And it's a slippery slope, isn't it? You say you do it to be healthier. You say you're in control. You say you can stop anytime. Yeaaaaah, I've heard that one before – five years and one ED later and I can't tell you how many times I've wished that I'd just saved myself the trouble and never bothered trying to get 'healthier' in the first place.
No. No, I think I'll keep doing what I'm doing. Even if I do make mistakes (and I do), I learn from them. I may not be completely in tune when it comes to my body and what it wants/needs, but there's one thing I do know – I'm not ever willing to go back down that road again. You know the road I'm talking about. Been there, done that, got the t-shirt. It sucked. Even if I sometimes feel like I'm forging on ahead blindly with absolutely no idea as to what I'm doing, at least I know that I'm going in the right direction… and that's good enough for me 😀
. – . – . – .
How long after you wake up do have breakfast?
What time of the day are you usually the hungriest?
Did you enjoy a tasty treat today?