Made with no flour or oil, these Banana Oat Greek Yogurt Muffins make for a deliciously healthy breakfast or snack!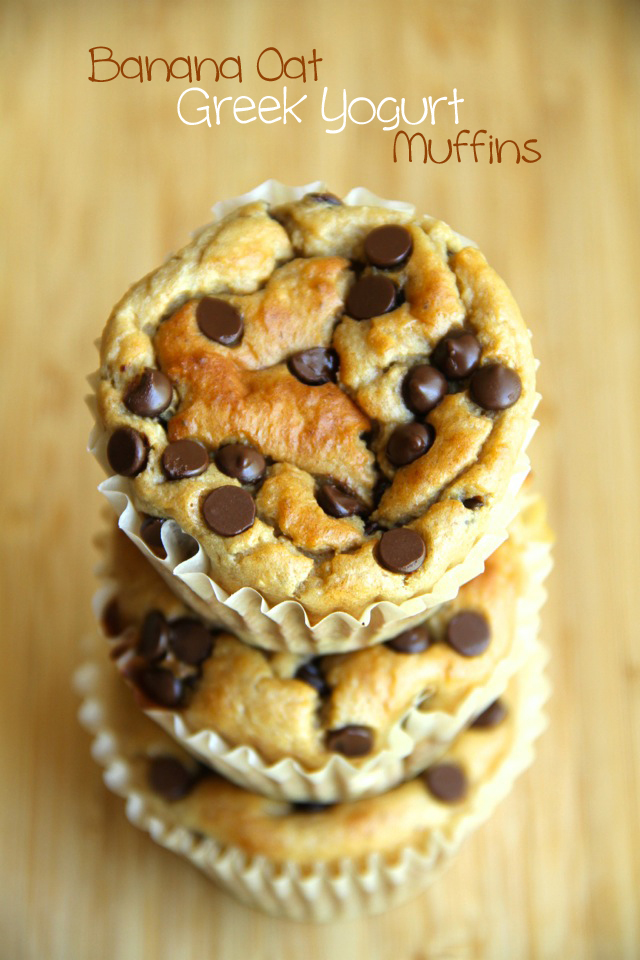 I used to be a meticulous planner. Lists. Schedules. Spreadsheets. Flow charts… The whole nine yards. Planning was my security blanket and helped keep the control freak in me from causing too much of a fuss. But no matter how carefully I planned things out, time and time again I realized that life takes one look at your carefully made plans and pretty much laughs in your face. Things have a way of happening whether you want them to or not.
Case in point… I was hoping to visit Jo this past weekend to cheer her on while she ran the Banff marathon — that was the plan. Needless to say, I wasn't in Banff this past weekend. The how or why isn't all that important or interesting (*cough*rescheduled.appointments*cough*) — what matters is that it's good to remember to be flexible and learn to make the most of things even if they don't go your way… which is why I used the extra time at home to make muffins…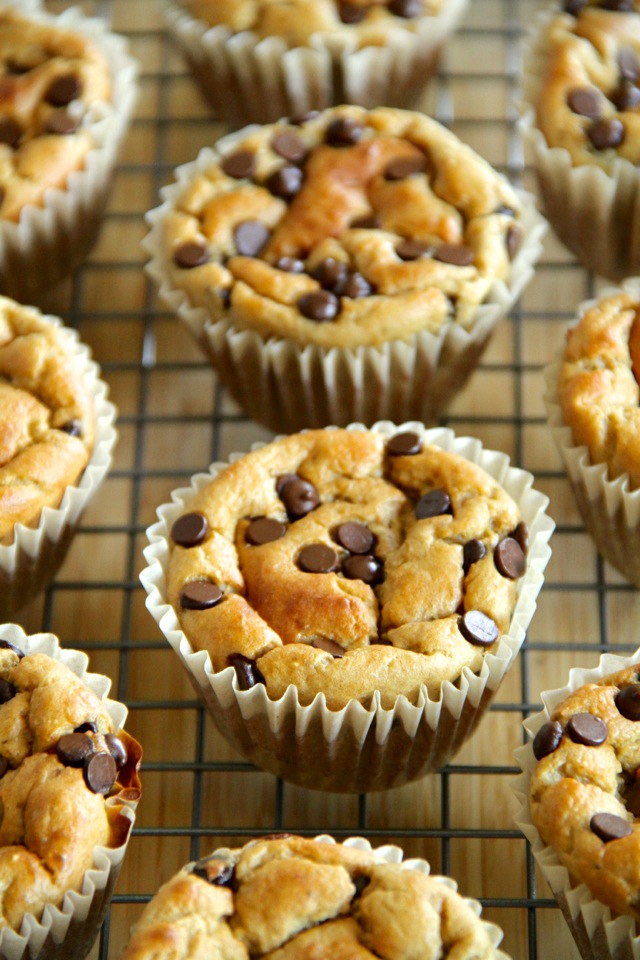 Oh, and while we're on the topic of broken plans and muffins, I'm totally blaming these guys for the fact that I didn't manage to get my body image post up yesterday like I planned — they took up all my spare time. Or not.
What really happened is that I sat down to write it on a few occasions, but the words just wouldn't come. I probably could have forced something out, but it's a topic that's near and dear to my heart, so I wanted to make sure I said everything I wanted to say. It's coming. I want to say tomorrow, but again… I don't want to make and break plans. Instead, I want to talk about these muffins…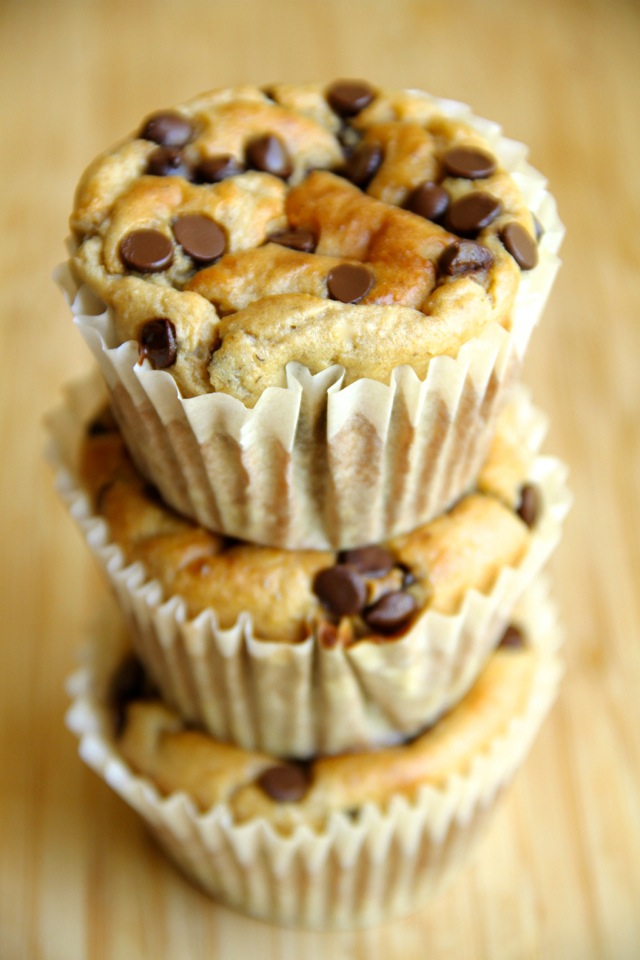 They're Banana Oat Greek Yogurt Muffins, and if that combo sounds familiar, it's because I based them off a banana oat Greek yogurt pancake recipe that I posted a while back and that you guys really seemed to enjoy. The combo is definitely a keeper, though… It's also not almond butter, oats, and honey, making this the second recipe in a row that I made without turning to my favourite combo ever, so I hope you're proud of me. I also hope you're hungry [and in the mood for muffins]…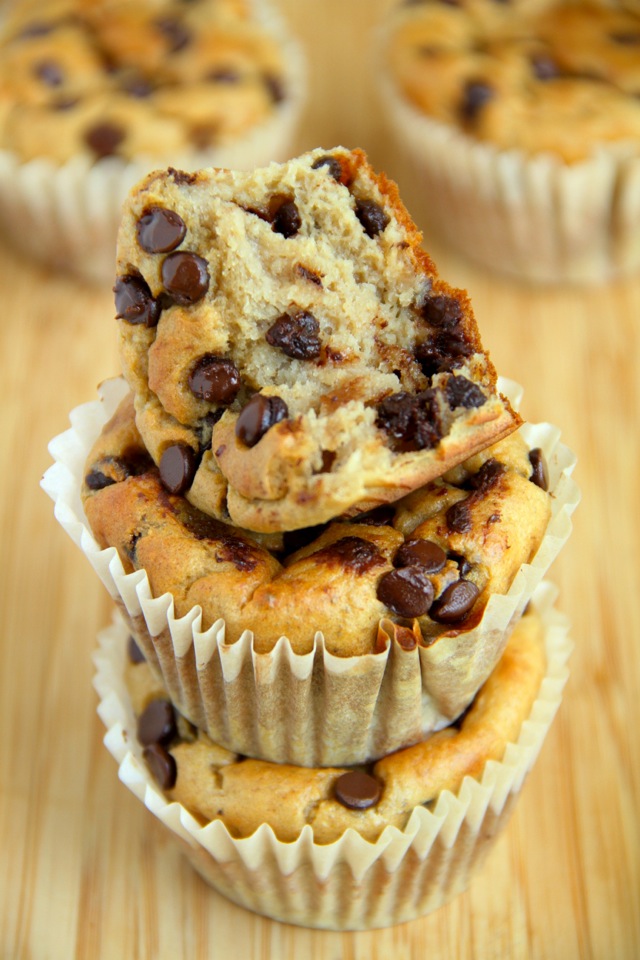 So let's talk deets. These muffins aren't your average muffins… mostly because they're made without flour or oil. Instead, they have oats to give them shape, and yogurt to keep them moist. This results in a muffin that's a little on the denser side, yet is still incredibly soft and pillowy (see above). Also… there's chocolate… a healthy amount of it. This is necessary to balance out the fact that the actual muffin itself is incredibly healthy — like "healthy enough to eat for breakfast" healthy. I suppose you could go ahead and replace the chocolate with something like blueberries or walnuts, but this girl needs her cocoa fix or things start to get ugly. Either way, these guys are keepers.
Happy eating!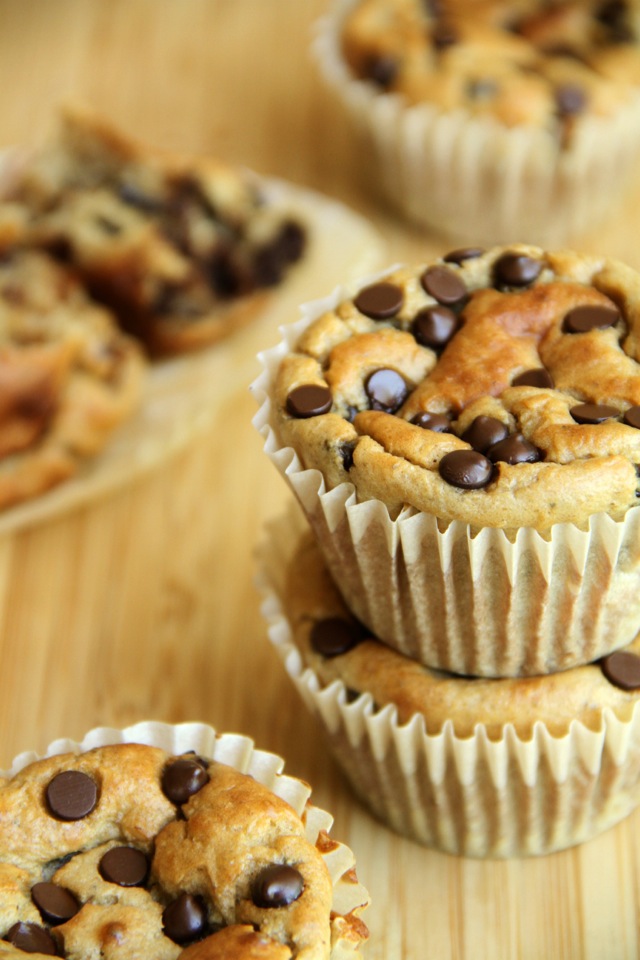 I'd love to know if you make this (or any!) recipe! Tag @runwithspoons on Instagram and Twitter, and be sure to subscribe to our mailing list to receive more healthy and delicious recipes straight to your inbox!
Print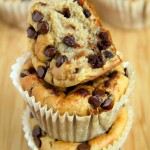 Banana Oat Greek Yogurt Muffins
---
Author:

Total Time:

20 mins

Yield:

12

muffins

1

x
1 cup

(

225 g

) plain Greek yogurt

2

medium ripe bananas (

200 g

or

1 cup

mashed)

2

large eggs

2 cups

(

160 g

) rolled oats (old fashioned or quick)

1/4 cup

(

50 g

) brown sugar

1 1/2 tsp

baking powder

1/2 tsp

baking soda

1/2 cup

(

85 g

) chocolate chips, mini or regular
---
Instructions
Preheat oven to 400F (204C) and prepare a muffin pan by spraying the cavities with cooking spray or lining them with paper liners**. Set aside.
Add all the ingredients except for the chocolate chips to a blender or food processor and process on high until the oats are broken down and batter is smooth and creamy. Stir in chocolate chips by hand.
Pour batter into prepared muffin pan, filling each cavity until it is about 3/4 full. Optional: sprinkle a few chocolate chips over the top of each muffin.
Bake for 15-20 minutes, until the tops of your muffins are set and a toothpick inserted into the middle comes out clean. Allow muffins to cool in pan for ~10 minutes before removing. Store in an air-tight container for up to a week.
Notes
** If using paper liners, you'll want to spray them with cooking spray as well, since the lack of oil in these muffins could make them stick to the liners after baking.
Prep Time:

5 mins

Cook Time:

15 mins
Keywords: banana muffins, flourless muffins, gluten-free muffins, Greek yogurt muffins, healthy banana muffins, healthy muffins, oatmeal muffins

Looking for more Greek yogurt muffin recipes? Try one of these!
Double Chocolate Greek Yogurt Muffins
Apple Oat Greek Yogurt Muffins
Blueberry Oat Greek Yogurt Muffins

*Disclosure: Some of the links included in this post may be affiliate links, meaning I'll earn a small commission if you purchase through them, at no additional cost to you. I only recommend products I personally use and believe will add value to my readers. Thank you so much for helping support Spoons!