This Banana Oat Breakfast Smoothie is guaranteed to keep you satisfied all morning with 20 grams of whole food protein and a good balance of healthy carbs and fats!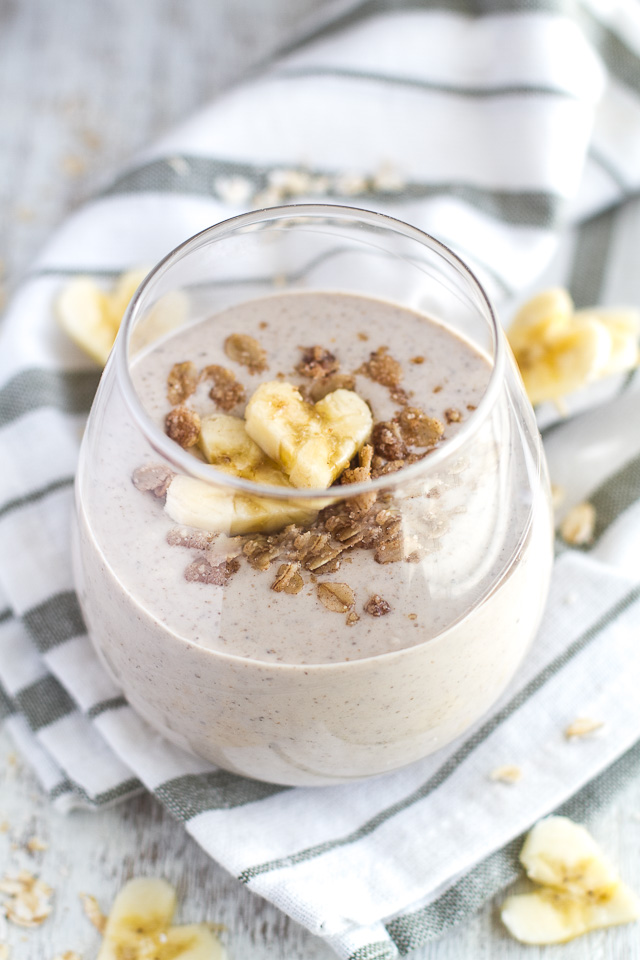 I'm in love with trail riding. On a bike; not a horse.
I mean, I love the whole horseback thing too, but seeing as I have 2 bikes and 0 horses, it's a lot easier for me to jump on the former than it is to hop in a car and drive out of the city to seek out the latter.
That being said, I did come across a random field of horses while exploring a new-to-me part of the river valley the other day. I have no idea where I ended up, but imagine my surprise when I went down a huge hill, crossed a big ol' bridge, rode through a woodsy field, and came face to face with horses right in the middle of the city.
I mean, I know we have an equine centre here, but I have a pretty decent sense of direction and I don't think I was anywhere near it. Take that with a grain of salt, though, because when I say I legit have no idea where I was, I mean I legit have no idea where I was. Like… I wouldn't be able to find my way there with a car if I tried.
And if you're wondering why I'm talking horses and trail rides while showing you pictures of smoothies, I'm getting there. Promise.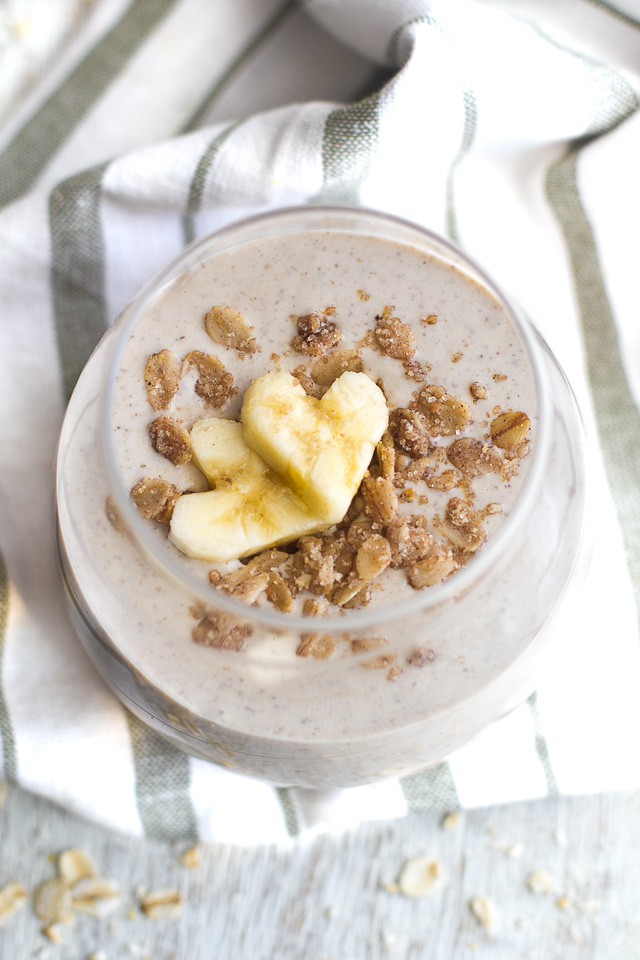 So as you can probably imagine, my long rides leave me pretty hungry. And thirsty. And sore.
I'm normally okay the day of since I go in the evening and my stomach doesn't really have enough time to start pestering me, but the day after? Whoaaaaaaa Nelly. Let's just say second, third, and sometimes even fourth breakfasts have become a thing.
If you need me, I'll be hanging out in Hobbiton eating these, these, and these…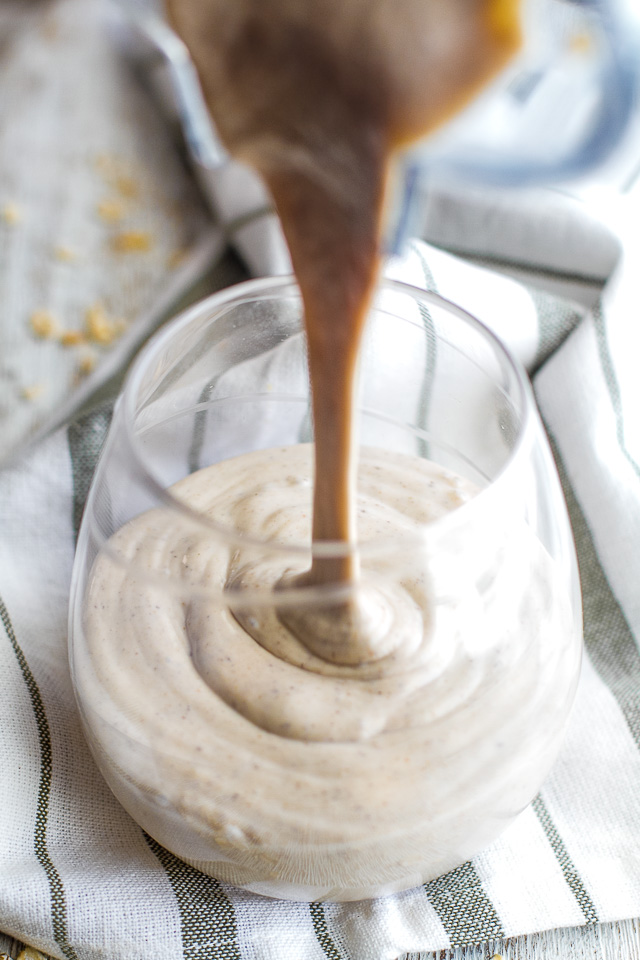 You know what I love most about smoothies? Well, maybe not most, but one of the things I love about them? They satisfy both hunger and thirst in one go. And they're packed with nutrition. And then taste amazing.
This banana oat breakfast smoothie? It's check, check, and check on all those fine points. You guys know how obsessed I am with the banana, oat, Greek yogurt combo, and this here is the perfect answer for when I don't have the time or patience to be putting it into muffin, bar, or pancake form.
You can easily make it vegan by using a non-dairy yogurt (I do this a lot since too much diary makes my eczema flare up), and it's gluten-free so long as you use certified GF oats. But the best part? It's loaded with 20 grams of whole food protein and a nice balance of carbs and healthy fats that's guaranteed to tide you over 'till lunch.
Tried, tested, and true'd.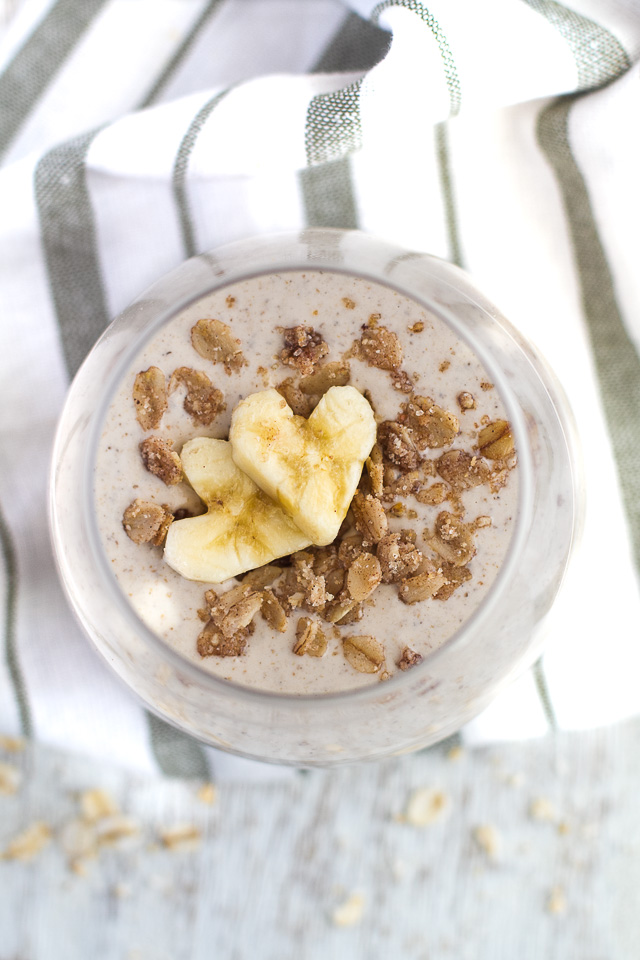 I'd love to know if you make this recipe! Leave a comment and rating down below to let me know what you think, and subscribe to our mailing list to receive new recipes in your inbox!
Print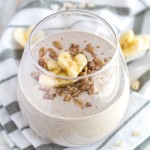 Banana Oat Breakfast Smoothie
---
Author:

Total Time:

5 mins

Yield:

1

serving

1

x
1/2 cup

(

115 g

) yogurt or non-dairy yogurt of choice

1

medium-size (100 g) ripe banana, frozen

1/4 cup

(

60

ml) unsweetened almond milk

1/3 cup

(

30 g

) rolled oats*

1 Tbsp

(

7g

) chia seeds**

½ tsp

vanilla extract
pinch of salt (optional but recommended)

1

–

2

tsp maple syrup or honey (optional, to taste)
---
Instructions
Add all the ingredients to a high-speed blender in the order listed, and blend on high until a smooth and creamy consistency is reached. You want to make sure to keep blending until the chia seeds have broken down to achieve the smoothest and creamiest texture.
This smoothie can be made the night before and left to thicken in the fridge overnight. It gets quite pudding-y, so feel free to stir in a splash of milk to achieve desired consistency.
Notes
* Be sure to use certified gluten-free oats if you need this to be gluten-free. ** If you don't have or like chia seeds, you can sub them with a tablespoon of ground flax or nut butter.
Keywords: breakfast, gluten-free, Greek yogurt, healthy, oats, recipe, smoothie, vegan

Looking for more banana oat breakfast recipes? Try one of these!
Banana Oat Greek Yogurt Muffins
Banana Oat Greek Yogurt Pancakes
Greek Yogurt Banana Oatmeal Bars
Chocolate Banana Oat Smoothie Bowl
Blueberry Banana Oat Bars