Enjoy ice cream for breakfast with this deliciously healthy and customizable banana ice cream breakfast parfait! It's gluten-free, vegan, refined-sugar-free, and straight up tastes like dessert.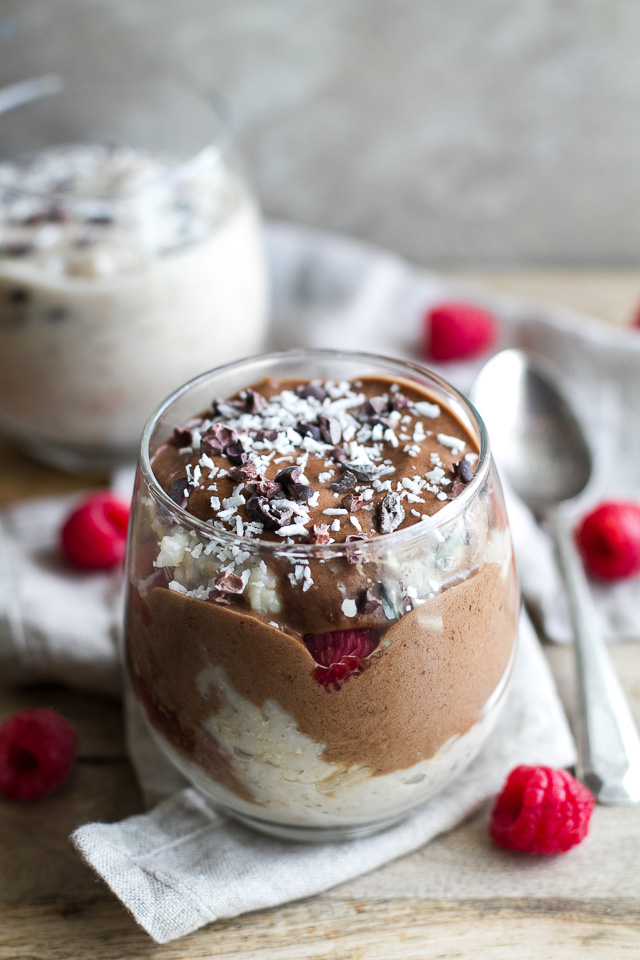 I know what you're thinking. How many different ways can this girl eat bananas and oats?!?
And the answer to that very legit question, my friends, is: a lot. A whoooooole lot of ways. In fact, I've made it my goal in life (one of them, anyway) to incorporate the banana oat combo into as many recipes as humanely possible, and I'm super excited to be sharing one of my current favourites with you today…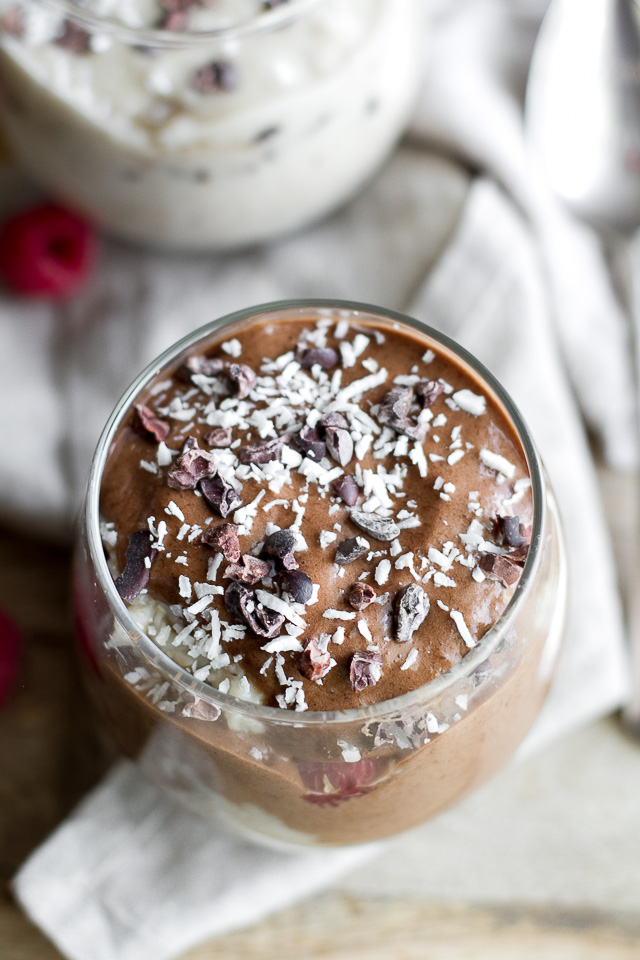 Granted, I don't normally dress mine up all nice and fancy, but the idea is basically the same.
Cool and creamy banana ice cream paired with warm (or cold) oats… only instead of throwing it all in a bowl and calling it breakfast, we've layered it in a glass to make a banana ice cream breakfast parfait, because everybody loves parfaits!!
So let's look a little closer at those layers, shall we?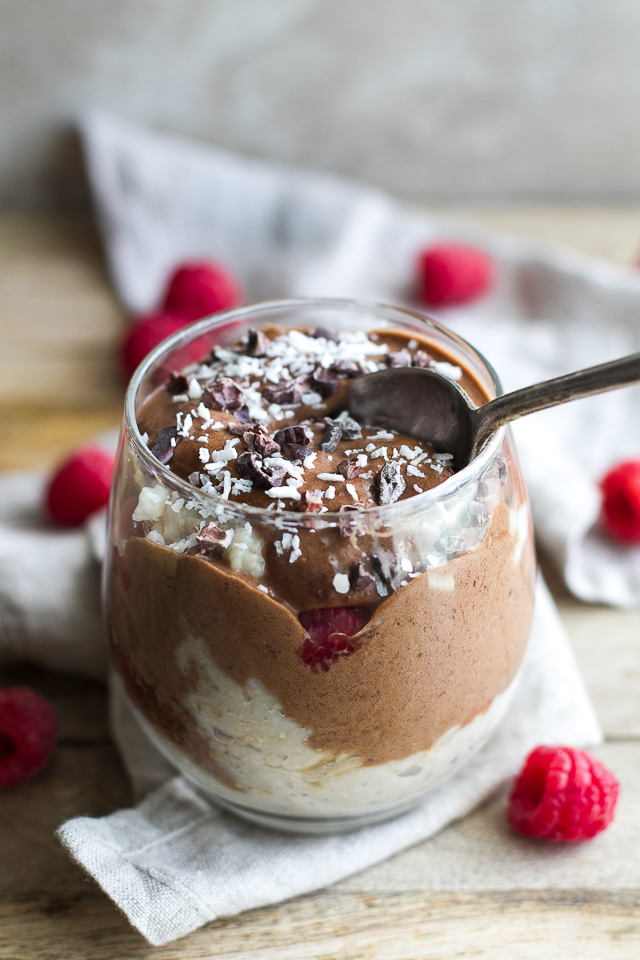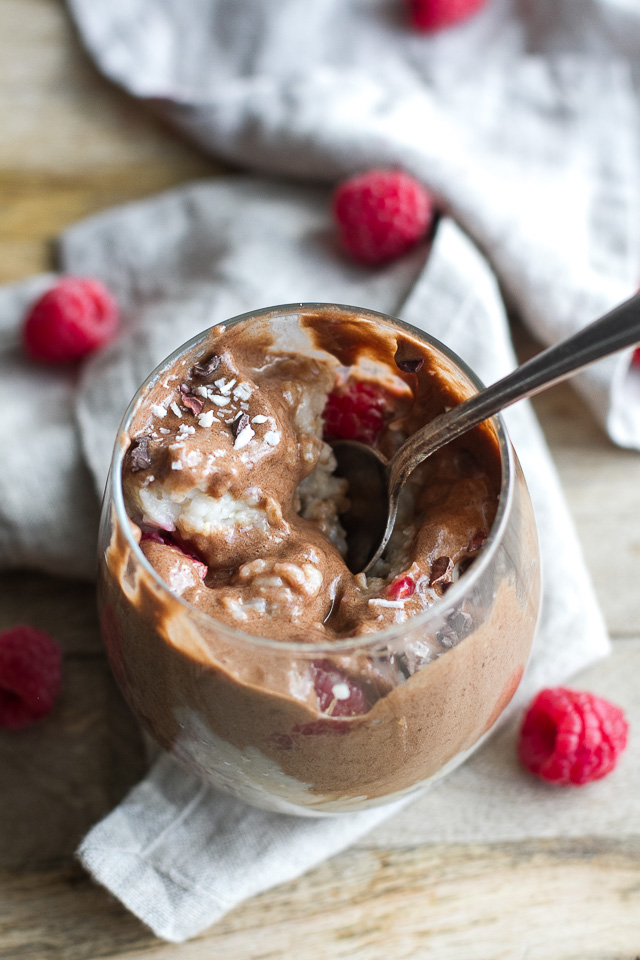 Layers 1 & 4 – oats. Nothing too fancy here; pretty much just your standard run-of-the-mill batch of cooked oatmeal. The only thing worth noting is that you can either cook the oats the night before and let them sit in the fridge overnight so that you can have 'em cooled, doughy, and ready to go in the morning, OR you can cook them in the morning and only cool them slightly so that they make the ice cream all melty. It's your call! I personally prefer the overnight method, but that's mostly because I don't like warm food. I know.
Layers 2 & 5 – banana ice cream. Here's where things get good! I mean, a bunch of blended bananas obviously won't taste exactly like ice cream in the traditional sense, but we call them that anyways because the texture is surprisingly similar. And ice cream sells.
It's super easy to make, too. All you need is one medium-ripe frozen banana and a high-speed blender or food processor. Yes, you can make it in a regular blender, but there's definitely a noticeable difference and you probably won't end up with the same fluffy creaminess. I know high-speed blenders are a bit of an investment, but I've had mine for almost 10 years and it still works perfectly after all that daily use. There are certain things I'll never skimp on, and toilet paper and blenders are among those things.
But back to the banana ice cream!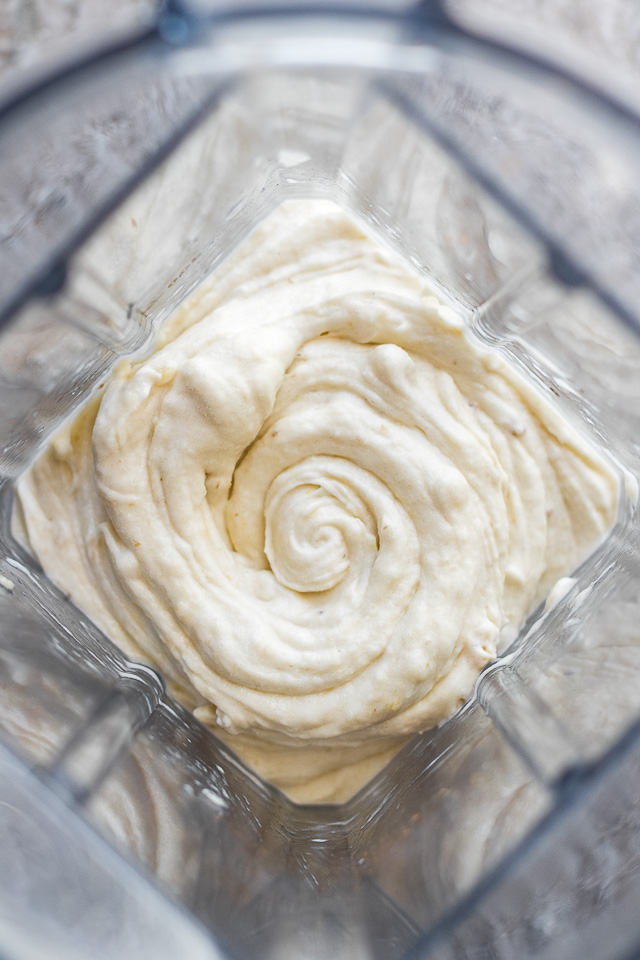 Aside from a high speed blender, you really want to make sure you freeze your bananas at the right time.
They shouldn't have any green on them (or your ice cream won't be very sweet), but they shouldn't be too mushy with too many brown spots either. Freckles are good, but you do eventually reach the point of no return where the banana becomes too ripe and you end up with runny ice cream that tastes like sugar alcohols… and no one wants that.
What you do want is a creamy, fluffy ice cream that you can flavour any way you want. A spoonful of cocoa, a few strawberries, a glob of nut butter… or just keep things simple and let the bananas do their thing. Then, when you've got your oats and ice cream ready to go, all that's left is layering them in a glass or jar along with some tasty add-ins like berries, cacao nibs, coconut flakes, granola, etc. (Layer 3), and voila! You've got yourself a healthy and delicious banana ice cream breakfast parfait.
Oh! And in case you're wondering, I definitely recommend the chocolate raspberry combo.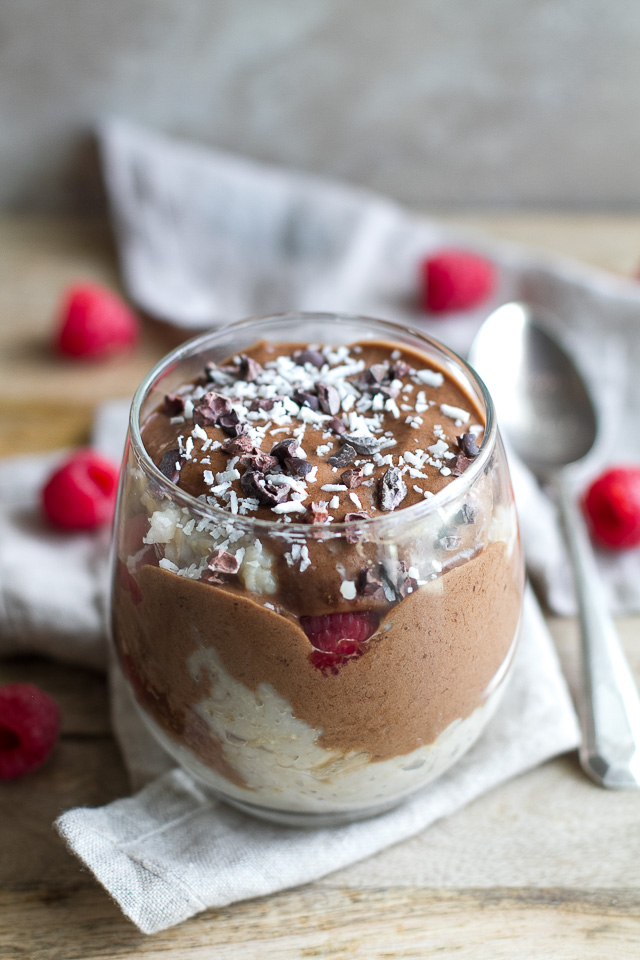 I'd love to know if you make this recipe! Leave a comment and rating down below to let me know what you think, and subscribe to our mailing list to receive new recipes in your inbox!
Print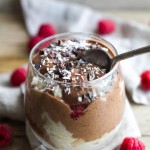 Banana Ice Cream Breakfast Parfait
---
Author:

Total Time:

15 mins

Yield:

1

serving

1

x
For the oats:
1/2 cup

(

40 g

) old-fashioned rolled oats*

1 cup

(

240

ml) liquid (water, milk, juice, etc.)
pinch of salt
For the banana ice cream:
1

medium-size (100 g) ripe banana, frozen
optional flavour add-ins, see notes**
For the parfait:
a small handful of additional add-ins like berries, chocolate chips, cacao nibs, shredded coconut, etc.
---
Instructions
For the oats: Prepare the oats according to package instructions. If you're making them the night before, allow them to cool slightly before covering and placing in the fridge to sit overnight. If they're too thick when you take them out in the morning, gradually add milk or water until you reach your desired consistency.
For the ice cream: Add the banana (and any flavour mix-ins) to your blender or food processor and process on high until it breaks down into a smooth and creamy consistency, stopping to scrape down the sides of your blender, as necessary.
To assemble: Spoon half of the oats into the bottom of a glass or jar. Top that with half of the banana ice cream plus any additional mix-ins you want to add (berries, chocolate chips, shredded coconut, etc.). Add the remaining oats and ice cream, sprinkle on any additional toppings, and enjoy!
Notes
* Feel free to use more or less oats according to your appetite. I put 1/2 cup in the recipe because that's the standard serving size, but I normally use 1 cup (80 g). Also, be sure to use certified gluten-free oats if needed. ** Some of my favourite add-ins include: 1 tbsp unsweetened cocoa powder OR 2-3 strawberries OR 1 tbsp nut butter OR 1/2 tsp ground cinnamon OR 1/4 tsp almond extract.
Prep Time:

5 mins

Cook Time:

10 mins
Keywords: banana, banana ice cream, banana oat, breakfast parfait, gluten-free, healthy, nice cream, oatmeal, recipe, vegan

Looking for more healthy breakfast recipes? Try one of these!
Banana Oat Baked French Toast
Chunky Monkey Breakfast Bake
Banana Oat Greek Yogurt Muffins
Banana Oat Greek Yogurt Pancakes
Blueberry Muffin Breakfast Smoothie