Is it just me, or did July seem really long to anyone else?
I feel like I'm always saying how quickly the month went by in these monthly recap posts, but July felt like the complete opposite — it draaaaaaagged. That trip I took out to Vegas at the beginning of the month? Yeah. Feels like it happened at least a few months ago.
Slow or not, though, July was still a pretty awesome month. And because it's coming to a close, it's time to take a look back at some blog and life highlights…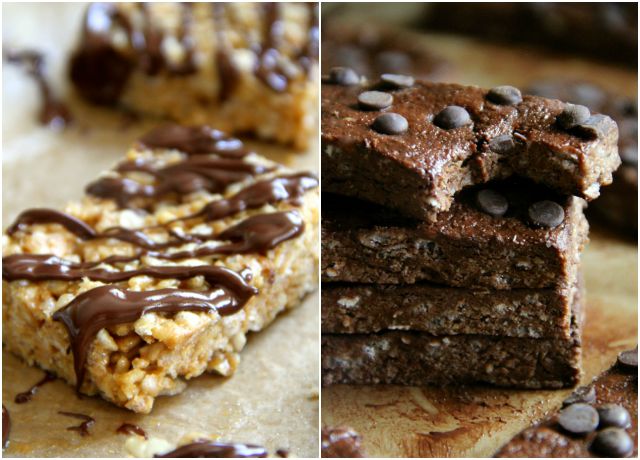 No-Bake Double Chocolate Fudge Protein Bars
Lemon Blueberry Greek Yogurt Muffins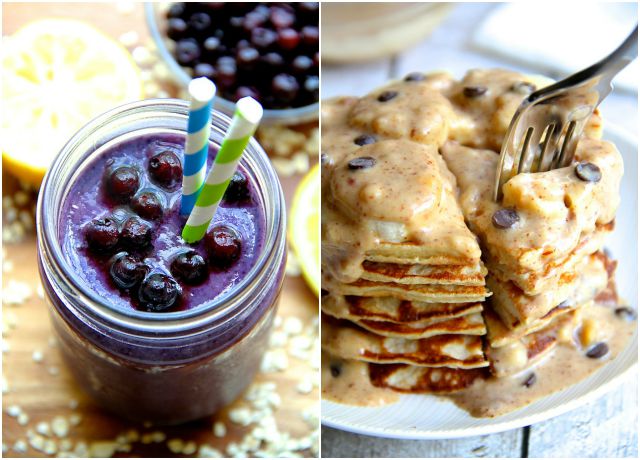 Lemon Blueberry Muffin Smoothie
Chunky Monkey Greek Yogurt Pancakes
. – . – . – .


So.much.LOVE for all the sites that showed Spoons some love this past month. July was pretty freaking epic in terms of blog features, and I'm kind of blown away by all the exposure…
And it's funny because I was actually expecting things to slow down a little since I decided to cut back to posting 4 days a week instead of 5. I used to feel like I had to post every.single.day to keep my numbers up, and while part of me enjoyed being so present in the blogging world, other areas of my life definitely started to suffer for it. And so did my overall well-being. Taking an extra day off [from posting] has been a godsend. And I say [from posting] because even though I'm not putting up anything new, I'm still doing plenty behind-the-scenes.
Part of that time is spent networking and promoting old content. Whenever someone asks me what the best way to grow a blog is, my number 1 answer is always creating quality, sharable content… which for me has been my recipes. Personal posts and random Thinking Out Loud posts tend to get lost in the archives, but my recipes keep bringing in traffic long after they've been published.

Case in point: my most popular post every.single.day is my Banana Oat Greek Yogurt Muffins, which just hit over 800,000 shares (oh.em.geeeee). After that it's usually a handful of other recipes that have been seeing some love on Pinterest (lately the Flourless Chocolate Zucchini Muffins and Greek Yogurt Banana Bread), with any post I put up that day usually way further down the list. That means that even on days I don't post, those older posts are still working for me…
. – . – . – .


Remember how I went to Vegas at the beginning of the month? Yeahhh… I pretty much forgot too. It feels like it happened a couple months back, hence the whole "July felt super long" thing. But Vegas was tonnes of fun (and super hot!), and I even got to spend the 4th of July down in the States for what was probably the first time ever… even though I kind of missed Canada Day as a result 😆
Other than that, it's been a whole lot of the same old, same old, — work, blog, and school, repeating. Coaching has been keeping me super busy, which is actually the main reason that I haven't introduced an online branch to Spoons just yet, for those who've been asking. I'd like to finish up with some of my current clients before taking on any new ones… but it's coming!
And the extra day off from blogging has been super nice. Things tends to slow down a little in the summer anyways, so I've been using it to spend more time outside and hang with some new face. That's what summers are for, right? 🙂
. – . – . – .

For once, I actually have no idea! More recipes, more randomness, and more Spoons in general. I was actually thinking about putting together a little reader survey to see what you guys want to see more of, but that's still in the works. So until then, we're just flying by the seat of our pants.

Tell me at least one awesome thing that happened in July!
Anything exciting coming up in August?

More places to find me!
E-mail — [email protected]
Twitter — runwithspoons
Facebook — runningwithspoons
Pinterest — runwithspoons
Instagram — runwithspoons
Bloglovin — runningwithspoons