No bake almond crisp snack bites that are super easy to make and loaded with healthy ingredients!!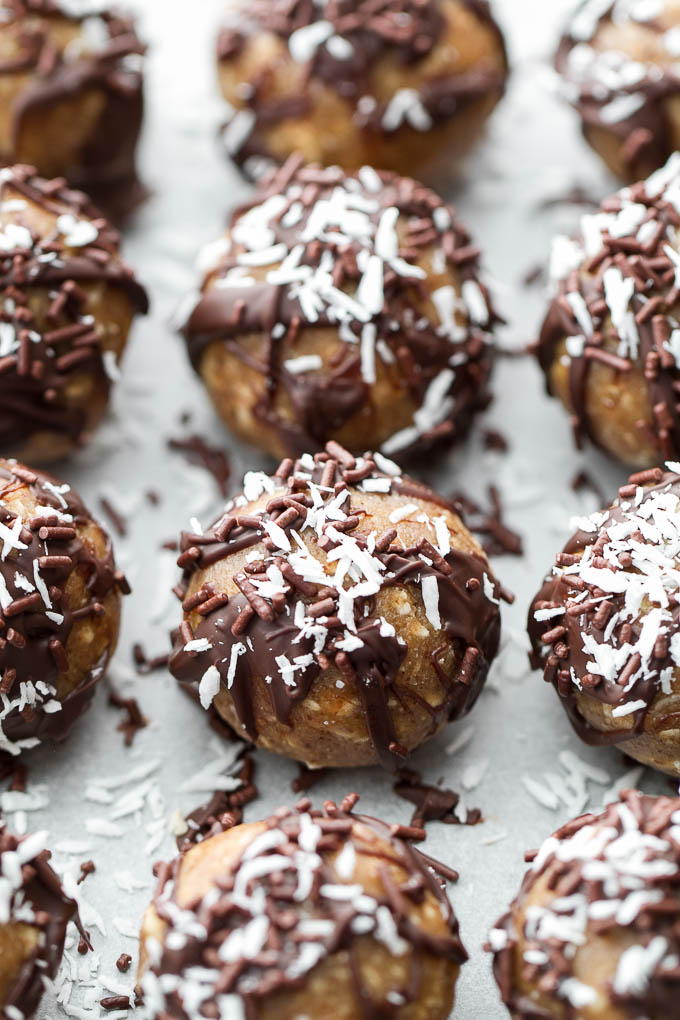 Hi, hello from 37,000 feet in the air!
I mean… I'll be back on the ground by the time you guys read this, but for the moment I'm up in the air headed to Mexico for a week of rest and relaxation. And I'm really looking forward to the rest part of that because I'm currently running on about 3 hours of sleep and borderline delirious… so apologies in advance for any spelling errors, run-on sentences, and/or general nonsense that might come through in this post. I probably should have gone to sleep before midnight when I knew I had to be up at 3am, but… reasons and things.
I tried taking a nap early on in the flight, but sleeping on planes has never been my forte, and I'm pretty sure the grande Americano I chugged at the airport didn't help matters much either. So after wiggling in my seat for 1.5 hours trying to find a comfortable sleeping position, I gave up and figured I'd knock out this post since I've still got four hours to kill and not much else to do. Not that I wouldn't want to talk to you guys if I did have something else to do, but… you get what I'm saying. Before we go on, though, I need to give a huge shoutout to Spellcheck for working overtime and basically correcting every third word I type.
I mentioned the sleep deprivation thing? No worries. We got this, fam.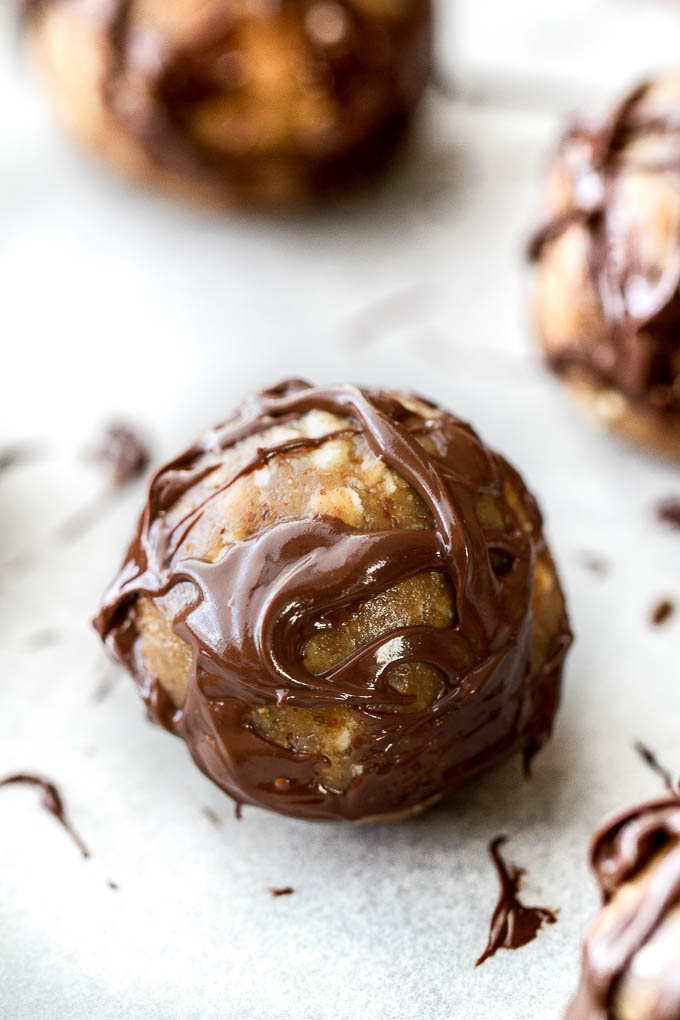 At least I think we got this…
I just need to go back and reread what I wrote every so often because I start to lose my train of thought in the middle of sentences and… where was I going with this? Kidding. Kind of. It's not all that terrible, but I am hungry. I ate breakfast at around 4am, and it's currently 10 so I'm more than ready for lunch. Let me just put you guys down for a sec so I can contort myself and dig something out of my backpack. One sec.
. . .
. . .
Aaaand we're back. With almond crisp snack bites.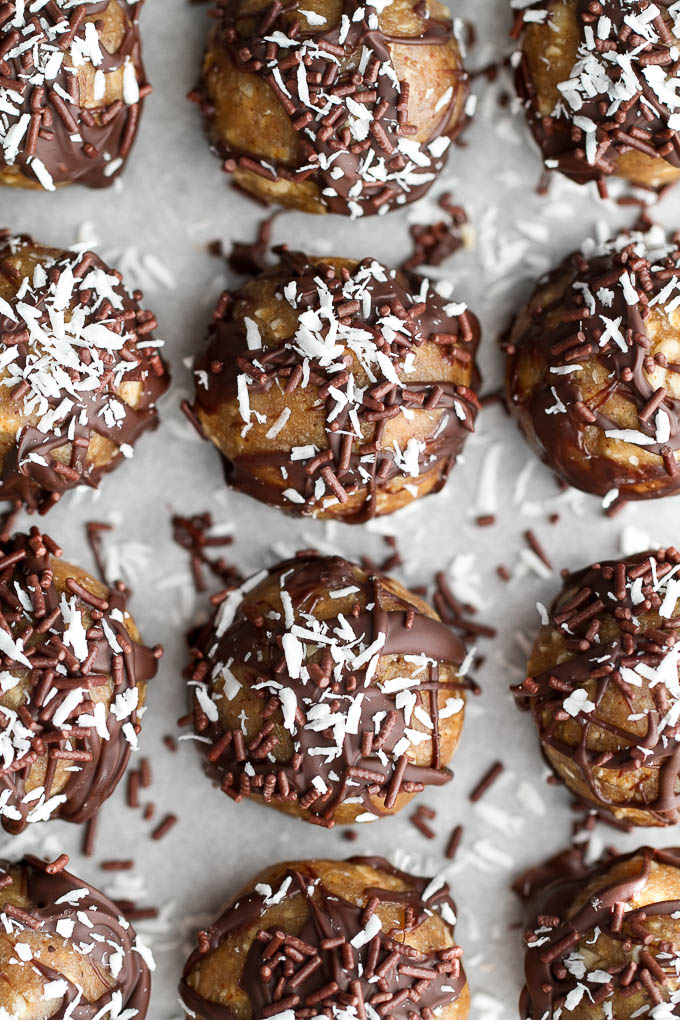 Oh you better believe I brought these with me! I actually planned it out so that all the recipes I posted around my trip were ones that I could make for Spoons and take with me… hence the granola bars and now snack bites. I just needed something quick, easy, and nutritious to help with all the pre-travel craziness. And then the actual travel craziness. And then the trip itself. This is why I'm only borderline delirious instead of full-blown delirious. Well, that and the grande Americano I chugged at the airport.
But healthy, nutrient-dense snacks always help! And these bites are definitely that.
The base is a combination of almond butter, oats, coconut flour, and crispy rice cereal… and let me just say that the cereal is KEY to these bites. That's what adds the most wonderful little crispiness, which makes for an awesome texture when combined with the oats, hardened chocolate drizzle, and any toppings you sprinkle on (chocolate sprinkles and shredded coconut for me).
If you need these to be nut-free, just swap out the almond butter with some soy nut butter and use a soy or rice milk instead of the almond. Easy peasy! They're naturally sweetened with brown rice syrup, but you could easily use honey if you didn't need these to be vegan. I just like the syrup because it has this malty taste to it that I enjoy. I also recommend keeping them in the fridge, because while they're perfectly portable and won't melt or fall apart, they're especially good straight from the fridge.
Happy eating!!!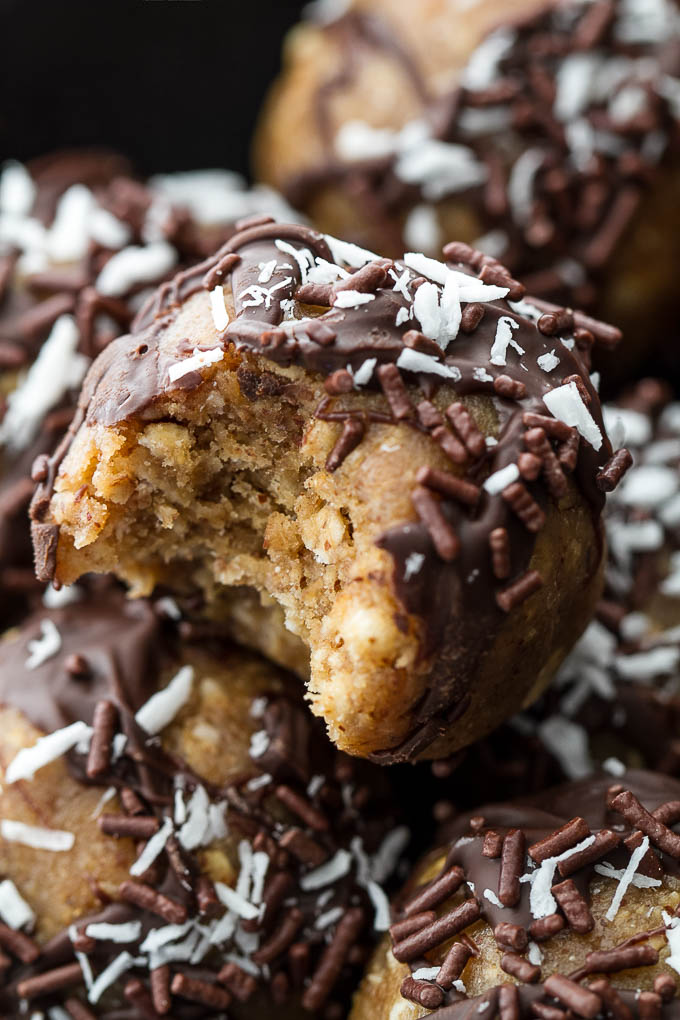 I'd love to know if you make this recipe! Leave a comment and rating down below to let me know what you think, and subscribe to our mailing list to receive new recipes in your inbox!
Print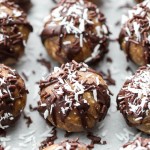 Almond Crisp Snack Bites
---
Author:

Total Time:

15 mins

Yield:

16

bites

1

x
---
Instructions
Add the almond butter and brown rice syrup to a small bowl and stir until combined. Set aside.
Combine the oat flour, coconut flour, quick oats, and crispy rice cereal in a large mixing bowl, stirring until well combined. Pour the wet ingredients into the dry ingredients and mix until fully incorporated. The mix might seem a little dry and tough to work with at first, but continue mixing until the ingredients start to incorporate, adding 1-2 tbsp (15-30 ml) of almond milk to soften it up, if needed.
Using a heaping tablespoon, roll the dough between your hands to form individual balls. Set them aside on a large baking sheet lined with parchment paper, and repeat with the remaining dough.
To prepare the chocolate drizzle, melt the chocolate chips in the microwave or over a double broiler, stirring periodically to ensure no clumps remain. Use a spoon to drizzle the chocolate over each ball, and sprinkle with any desired toppings.
Refrigerate for ~15 minutes, or until the chocolate has set. Store the bites in an airtight container in the fridge for up to 2 weeks.
Notes
* You can use any nut butter you have on hand, or use a soy nut butter to make these nut-free. ** You can use honey if you don't need these to be vegan. *** To make your own oat flour, add the oats to a high speed blender or food process and process on high until the oats resemble a fine flour.
Keywords: almond, bites, easy, gluten-free, healthy, no bake, recipe, snack, vegan

Looking for more no bake snack bite recipes? Try one of these!
No Bake Brownie Batter Truffles
Healthy Chocolate Fudge Bites
No Bake Carrot Cake Energy Bites
No Bake Sweet and Salty Trail Mix Bites
No Bake Double Chocolate Fudge Protein Bites

*Disclosure: Some of the links included in this post may be affiliate links, meaning I'll earn a small commission if you purchase through them, at no additional cost to you. I only recommend products I personally use and believe will add value to my readers. Thank you so much for helping support Spoons!