Hello, hello my friendly faces!
Firstly and formostly, thank you so much for all of the sweet comments, tweets, texts, e-mails, and messages that you sent me for my birthday. You guys really know how to treat a girl right 😉
I was originally going to write a "30 things about my 30th birthday" recap like I did for 29 and 28, but I just wasn't feeling it this year. I was feeling a little more serious and reflective, so I hope you don't mind a more personal post. I also meant to get this post up yesterday, but I needed an extra day to "digest" the big 3-0.

Truth be told, I'm still wrapping my head around the fact, but hopefully getting my thoughts out onto [digital] paper will help me make sense of the nonsense swirling around in my head. So here we go…
I should probably start by saying that I'm not normally one to make a big fuss over birthdays (I think 21 was the last year I really took notice of one?), but I will admit that 30 hit me pretty hard. Logically, I knew I wasn't going to become a different person as soon as the clock struck 12 and the date changed from the 3rd to the 4th, but there was something about 30 that made it feel like a big deal. Maybe I went through the same kind of thing transitioning from my teens to my twenties — I can't remember.
In any case, the feeling first hit me around 8 PM on the night before the big day. It was this nervous anticipation mixed with a sort of panicked dread. On the one hand, I was really looking forward to turning 30… especially since I kept hearing so many people say that their 30's have been some of their best years. On the other hand, I only had 4 more hours left in my 20's before that chapter of my life would be closed for good. Like… what?!?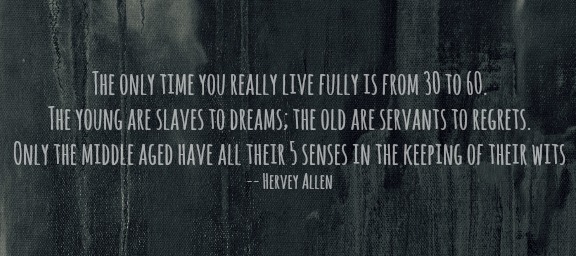 Another thing bothering me, I think, was the fact that I didn't really have anything big planned for my birthday… and I guess I kind of felt like I should since 30 seemed like a big deal? I was actually considering organizing something fancier for a while there, but then I realized that I would only be doing it because I felt like I should — not because I genuinely wanted to.
If I'm being completely honest here, I'm pretty much all celebrated out at this time of the year. Between all the craziness of Christmas and New Year's, my introverted self is just looking for a dark corner to hide in some peace and quiet, and a return to my normal routine. And that's okay.
One of the things I love most about getting older is the fact that I feel so much more comfortable with who I really am. I spent a good chunk of my 20's hiding my quirks and constantly trying to reconcile the person I was with the person I thought I should be. It was exhausting. But the older I get, the more I love and embrace those odd aspects of myself. I realize they may not appeal to everyone, but I no longer care. That's not to say that I'm trying to become some loud-and-proud menace to society, but that I can finally truly see the futility in trying to impress anyone who can't like me for who I am — quirks and all.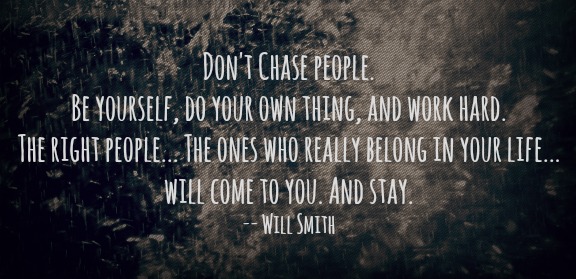 So I had a blissfully quiet 30th birthday with family, a few close friends, and a surprise visit from a very good friend that I hadn't seen in years. There was good food, chocolate cake, a shopping spree, and conversations had into odd hours of the night. It was really nice.
But that's not to say that the day was without its hiccups. To be honest, there were a few moments where I really wished I was wearing waterproof mascara… and not because I was crying happy tears. See, despite all the things I have to be grateful for (and I -am- grateful for them… don't get me wrong), I can't help but feel like there's still something missing — like I'm not exactly where I'm supposed to be at this point in my life. I genuinely thought I would be married and have kids by now, and — needless to say — that's not the case.
And this is where I admit that I have no idea what to make of that. On the one hand, it would be stupid of me to complain about the life I have right now. I have my own growing business. A lovely home. My health. People who care about me. Financial freedom. Independence… But on the other hand, there's still.something.missing. I put so much time and energy into building up the independent/financial side of my life, that the social/familial side suffered as a result. Some of the expectations I had in my early 20's weren't met… but can I honestly say I'm in a bad place right now? Or that there isn't a side of me that doesn't love it? No. I can't.
So turning 30 had its ups and downs, just like life has its ups and downs. My plan is to keep taking things as they come and making the most of whatever situation I'm given to work with. I've come to realize that things have a way of happening when it's time for them to happen, and that while we may not be able to control the circumstances, we can damn well control the attitude we approach them with. I have a feeling this next decade is going to be a good one — because I've chosen it to be that way. Does that mean I'll never throw myself the occasional pity party? No. But I'll be sure to wear waterproof mascara (or none at all) because… ouch.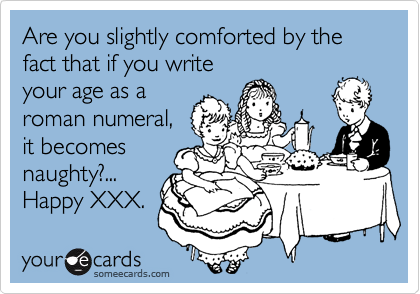 [ source ]

Can you relate to not being in a place you expected to be at at a certain age?
When's your birthday?!

More places to find me!
E-mail — [email protected]
Twitter — runwithspoons
Facebook — runningwithspoons
Pinterest — runwithspoons
Instagram — runwithspoons
Bloglovin — runningwithspoons