I woke up the other morning feeling fluffy.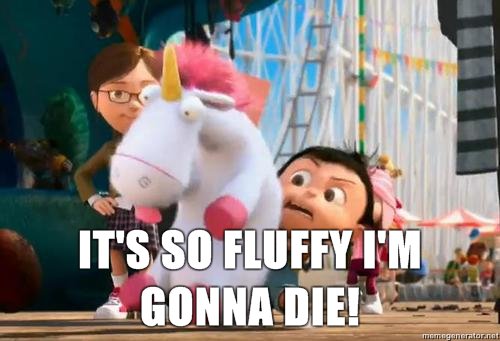 You know what I'm talking about. You get out of bed and the first thing you notice is that some of your body parts (never the right ones, mind you) are battling for your attention by moving around more than they do on other days. Hello Thigh, yes, I acknowledge you – no need to yell… Don't fuss, Butt Cheek, there's enough attention to go around – you'll get your turn. Don't start with me, Stomach, I'm already busy dealing with the other two. 
Yep, one of those days.
Too much salt. That time of the month. Not enough sleep. Allergies. Stress… Whatever you choose to attribute it to doesn't change the fact that those days plain suck, and the worst part is that they seem to be inevitable. Skinny, curvy, happy, moody… "fat days" happen to us all. In varying frequencies, maybe, but no one is immune to them. And if you are… well then… I blow raspberries in your general direction.
So yeah… Yesterday just happened to be one of those days for me, and while they're nowhere near as common or crippling as they used to be, I wouldn't exactly call them pleasant either. Luckily, I've managed to pick up a few tips over the years that make those days easier to deal with…
. – . – . – .
5 Ways to Deal With "Fat Days"
1. Identify the Source of the Problem.
More often than not, fat days have nothing to do with how we physically look — as cliche as it sounds, most of it really is in our heads. Sure, there might be some water retention or bloat going on, but more often than not, we're dealing with some kind of emotional weight and projecting those feelings of inadequacy, fear, stress, frustration, guilt, etc. onto something we can see and deal with more directly, i.e.: our physical bodies. Looming deadlines. Drama at work/school. Fights with friends/family. Important decisions to make… All those things can add a good handful of pounds to what we see when we look in the mirror. If that's the case, we need to spend some time digging through the mess in our heads so that we can a) identify the true cause, and b) deal with THAT issue directly. I know it's easier said than done, but spending some time journaling, meditating, or even talking to someone can really shed some light on the situation and help us get to the root of the problem.
2. Eat, Drink, and be Merrier.
The absolute worst thing you can do on days where you're struggling with body image is try and overcompensate by starving yourself. Think about it — how is being hungry going to help improve your mood? It's not — it'll only make you feel worse. I don't know about you, but I'm absolutely miserable when I don't have enough food in my system. Not only do I become irritable and moody, but I have a much harder time dealing with stress and anxiety as well. This is not helpful. What is helpful is drinking lots of water (to beat any potential bloat), eating balanced meals (none of this veggies and egg whites nonsense), taking in an adequate amount of calories, and treating yourself to something delicious. That's not to say you should give in to hopelessness and go drown your sorrows in cookies and ice cream, but treating your body to good food that you enjoy reinforces the idea that you're worth taking care of,which goes a long way in shaking off those blues.
3. Move.
… and I don't mean by killing yourself at the gym in hopes of losing some weight — that kind of punishment-based mentality will only cause you more trouble in the long run. No. What I am suggesting is to resist the urge to curl up in bed and sulk. Again, not helpful. Instead, pull yourself together, throw on a cute outfit, and get out of the house. Go shopping. Meet up with a friend. Go for a walk. Grab a coffee. Get distracted. As tempting as it may be, don't hide from the world and wallow in self-pity — be proactive and do something. A good sweat session can be extremely beneficial thanks to the adrenaline and endorphins, but again, try to avoid the punishment/compensation mentality and instead look at it a doing something good for your body. If all else fails, put on a favourite song and dance around in your room — you'd be surprised how much it helps.
4. Strut your stuff.
We all have that one emergency outfit… The baggy sweatpants that don't touch us in any of the wrong places. The oversized sweater that effectively hides our imagined pooch. The clothes that look horrible but feel oh so good… Leave them buried in the closet — they'll kill your self-confidence and only make it that much harder to feel good in your own skin. Instead, hop in the shower, put on some lotion, spend a little extra time on your hair and makeup, throw on a killer outfit, dab on your favourite perfume, put on a pair of heels, grab your favourite piece of jewelry, and own.that.sh*t. Your mind is trying to tell you that you don't look good — fight back and show it that you do.
5. Get over it.
It sounds harsh, but at the end of the day, we need to leave the pity party behind and realize that there are more important things out there than weight… especially seeing as fat days are mostly in our heads. And even if there is some slight bloat going on, it's nowhere near noticeable. I mean, come on… do you honestly notice if your friend gains/loses a pound or two? If you say yes then you either have superhuman powers of observation, or you're a lying liar who lies. And even if you do notice, do you like them less for it? No, you don't. You might not like that they suddenly become mopey, insecure, and don't want to do anything fun, but you still love 'em for the qualities that actually matter — friendliness, humour, trustworthiness, loyalty, etc.
Fat days tend to come as mysteriously as they go and have more to do with what's going on in our heads than anything else. I remember struggling with them on a much more regular basis when I was in the depths of my ED, which should tell you something about how accurate those thoughts are. If I was feeling fat when I literally had none on me, well then… something else is going on. So don't take those days lying down and do something about 'em. Remember — your actions reinforce your thoughts. If you give in to fat days, you're only validating those thoughts and making it easier for them to continue plaguing you.
Do you ever experience "fat days?"
How do you deal with them?