Healthy one banana muffins to help you use up that last overripe banana! These tender oil-free muffins are made with just 7 ingredients and make a healthy breakfast or snack!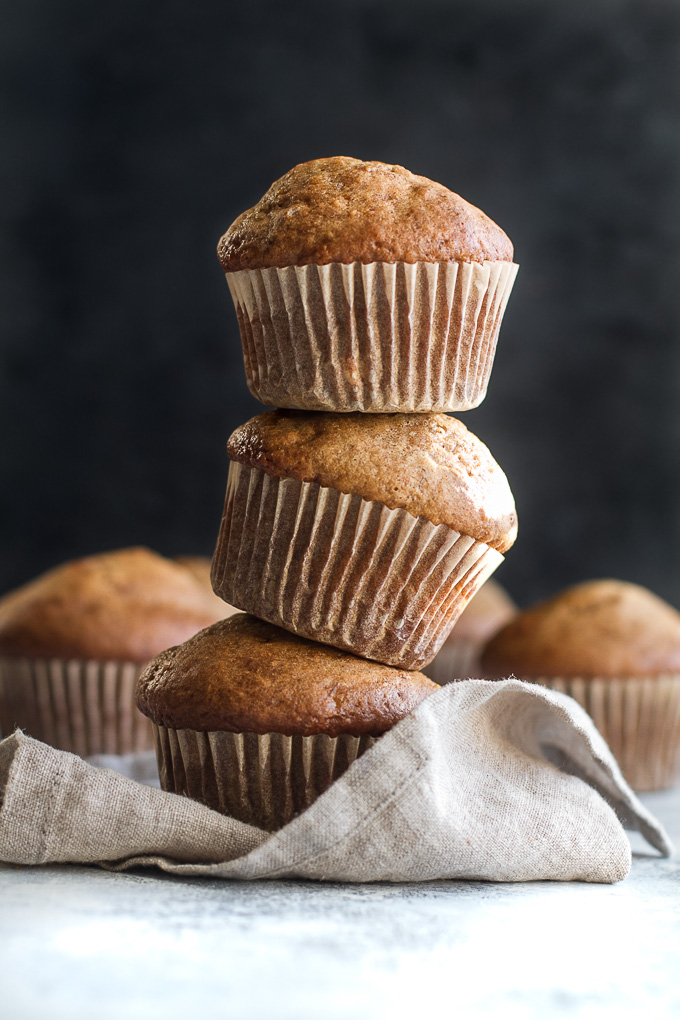 So I spent a lot of time thinking about what my first recipe of 2017 should be, and by thinking I mean planning, stressing, and Type-A-ing my way through the last couple of weeks. I mean, not only does the first recipe set the tone for the rest of the year (not really kind of), but it's going up on my birthday so I felt like it had to be birthday-themed.
Yup! Today is the big day! And I have a good feeling about this year because my age ends in an even number. And I know that sounds all sorts of crazy, but I also know there are a tonne of you out there who know exactly what I'm talking about. 2 > 1 in more ways than one.
Anyways! I can't even tell you how long I spent mulling over what kind of recipe to post on my birthday. I was originally going to go with chocolate cake, but Spoons is a place for healthy, quick, and easy recipes, and cakes don't exactly fit any of those bills. Beside, my birthday is the one day of the year where I can convince someone else to do the baking for me, so I wasn't overly keen on the idea of making my own cake… especially when I really wanted muffins.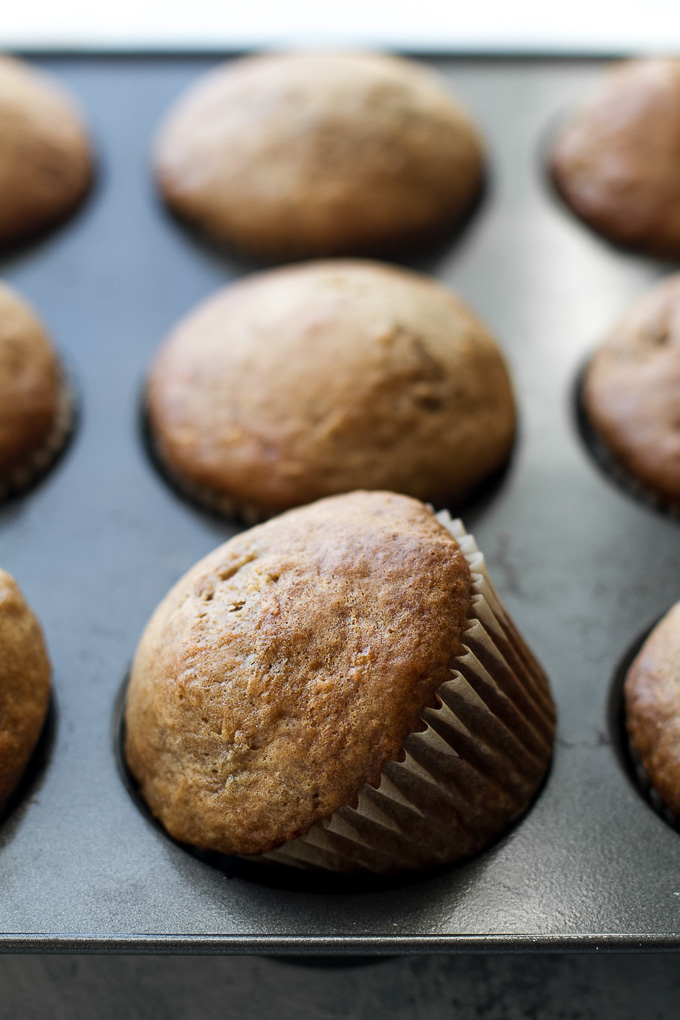 I know, I know. That sounds like a snooze fest compared to a chocolate cake, but there'll still be chocolate cake here – I just won't be the one making it and therefore won't have a recipe to share with you guys
Besides, no one is looking for chocolate cake in January. That is, unless you happen to have the misfortune of being a January baby, in which case… I sympathize. My birthday is close enough to New Year's that I can kind of pull off celebrating then, but other than that it's a whole lot of post-Christmas slumping and grumpy people going back to work/school.
That's why I figured that January would be a good time for something easy, healthy, and practical… which is how these healthy one banana muffins happened.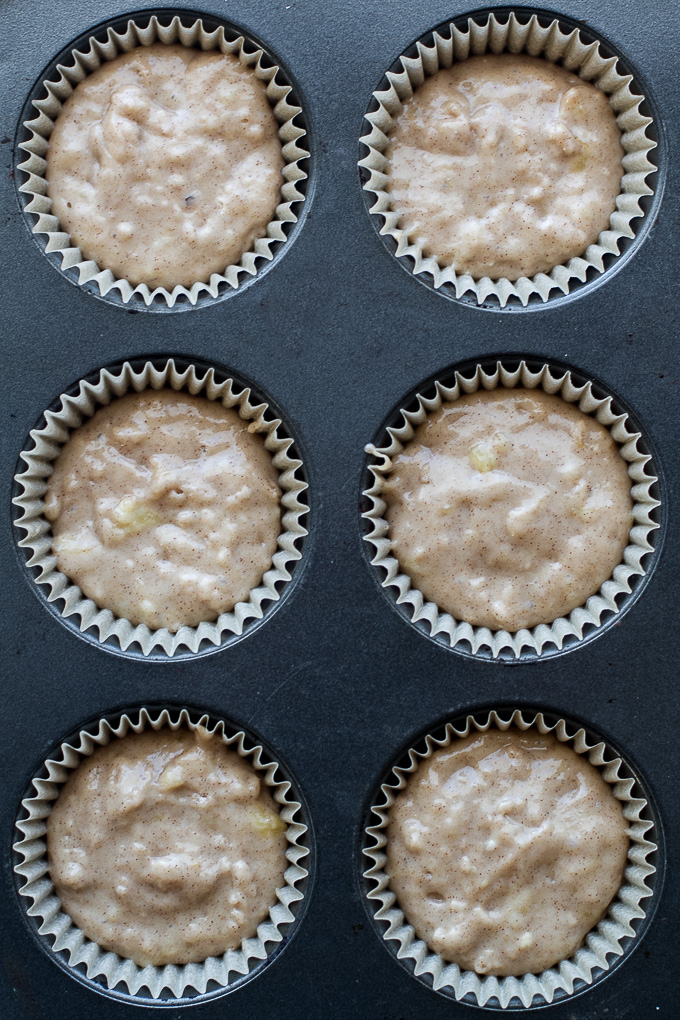 Yup, ONE banana muffins.
I mean, I know I just said that 2 > 1, but I also know that I can't be the only one who sometimes finds herself with only ONE overripe banana on hand and no idea what to do with it. Can't make most banana breads/muffins, can't eat it, can't throw it away…
So these muffins are basically an answer to that problem. The recipe only calls for that one last banana, but the finished muffins have so much banana flavour and moisture that you'd really never know they weren't made with the standard two.
It's wins all around… especially with how easy they are to throw together.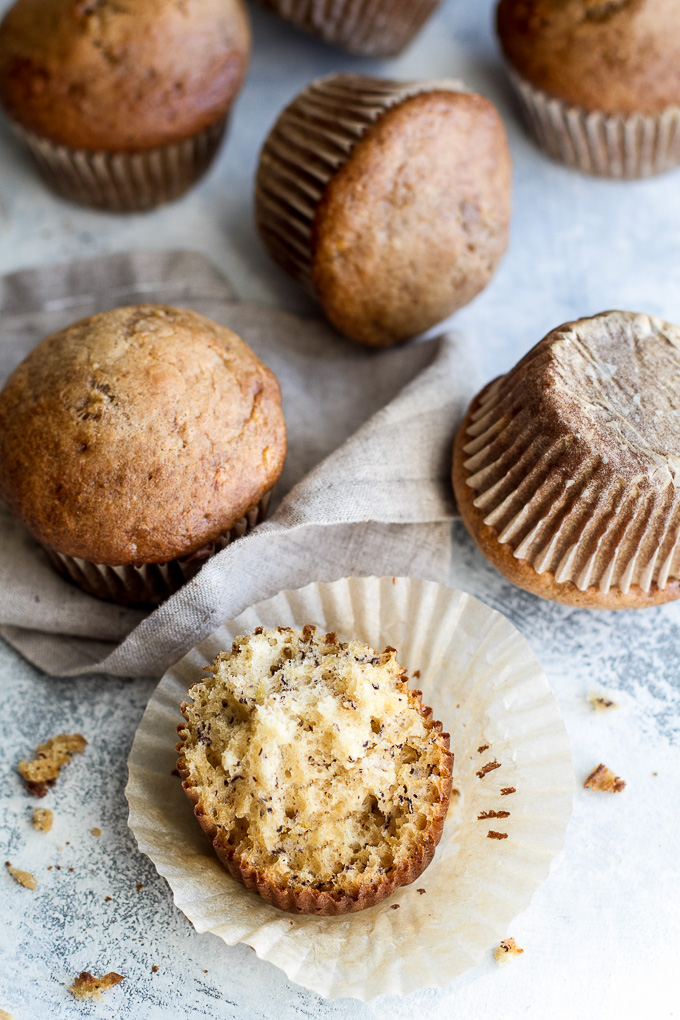 These muffins are made with just one bowl and 7 simple ingredients. That's it!
I mean, I guess you could make it 8 or 9 ingredients if you felt like tossing in some add-ins, but I like my banana breads and muffins free of any conflicting flavours so I can taste all the banana goodness.
They're light, fluffy, tender, and oil-free thanks to the Greek yogurt, and I found them to be plenty sweet, so you could probably cut back on the sugar to 6 Tbsp… or maybe even 1/4 cup if you were adding something sweet like chocolate chips or dried fruit. I made this batch with regular wheat flour so I can't say for sure how subbing in a GF flour would go, but I've had several readers inform me that similar recipes work fine with an all-purpose GF mix if you need them to be gluten-free. Either way, I hope you like them!
Happy eating!!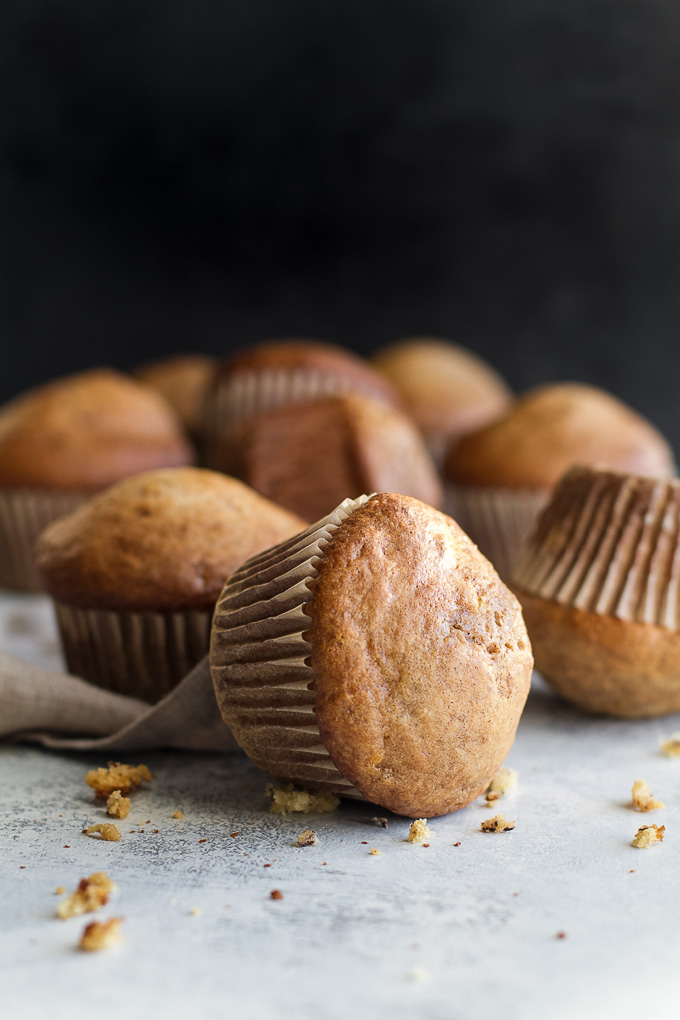 I'd love to know if you make this recipe! Leave a comment and rating down below to let me know what you think, and subscribe to our mailing list to receive new recipes in your inbox!
Print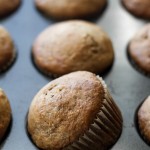 Healthy One Banana Muffins
---
Author:

Total Time:

30 mins

Yield:

9

muffins

1

x
2

large eggs

1/2 cup

(

110 g

) plain 2% Greek yogurt

1

medium-size ripe banana, mashed (

100 g

or

1/2 cup

)

1/2 cup

(

100 g

) coconut palm sugar*

1 tsp

vanilla extract

1 tsp

baking soda

1 1/4 cup

(

150 g

) whole wheat pastry flour**
---
Instructions
Preheat your oven to 350ºF (176ºC), and prepare a muffin pan by spraying the cavities with cooking spray or lining them with parchment paper liners. Set aside.
In a large mixing bowl, lightly beat the eggs just until the yolks break apart. Whisk in the Greek yogurt, banana, sugar, vanilla, and baking soda, mixing until smooth.
Slowly spoon in the flour and gently stir it in until just combined. Fold in any add-ins, if using.
Divide the batter evenly among the 9 muffin cups, filling them 3/4 full.
Bake for 20 – 22 minutes, or until a toothpick inserted into the center comes out clean. Allow the muffins to cool in the pan for ~10 minutes before transferring them to a wire rack to cool completely. Store them in an airtight container at room temperature for up to 5 days, or freeze for up to 3 months.
Notes
* You can also use brown sugar or cane sugar. ** You can also use all-purpose flour, or use a mix of all-purpose and whole wheat. I'd probably go 3/4 cup (90 g) all-purpose and 1/2 cup (60 g) whole wheat. I've also had readers say that an all-purpose gluten-free mix works as well.
Prep Time:

10 mins

Cook Time:

20 mins
Keywords: banana muffins, breakfast, Greek yogurt, healthy, muffins, oil-free, one banana, recipe, snack