Hello, hello!
Things are finally starting to settle down around these parts, and can I just say thank goodness for that. Don't get me wrong, I adore travelling and my trip was awesome, but the craziness of Vegas mixed with airports, taxis, and luggage is definitely not a lifestyle I could maintain for any extended period of time. Let's just say that my consumption of coffee pretty much tripled during my short stay, and I was still operating on a borderline zombie level of consciousness. Good times; but I'm happy to be home…
For one, it's almost impossible to get into the Christmas spirit in Vegas. I know I complain about the insane amount of snow that gets dumped on us up here in Edmonton, but it really does make a huge difference in how Christmassy things feel. Despite the abundance of holiday decorations and music in Vegas, I pretty much forgot that Christmas was right around the corner while I was there, and it wasn't until I came back home that it really hit me that Christmas is less than a week away. Seriously? Eep!
That being the case, I really need to play catch up with Jenny's 25 Days of Blogging Christmas challenge, soooo I'll be doing that while tossing in random pictures of  Vegas in Christmas mode. Deal? Deal. Oh, and click here if you missed part 1. Oh! And I also picked the giveaway winner, so scroll to the bottom to see if it was you.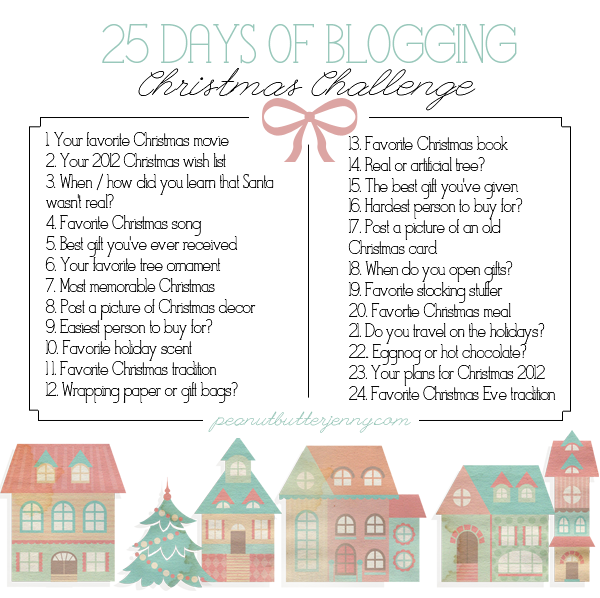 10. Favorite holiday scent. This one is a tie between peppermint and evergreen. I wouldn't say they're some of my favorite scents ever, but they're definitely the ones that remind me the most of this time of year.
11. Favorite Christmas tradition. Wigilia, which is a traditional Polish celebration of Christmas Eve. It starts with a meatless dinner made up of traditional Polish dishes, moves on to the opening of presents, and finishes off with going to midnight mass. My family celebrates the 24th more so than the 25th – Christmas Day is usually pretty quiet and only really involves a dinner in the evening.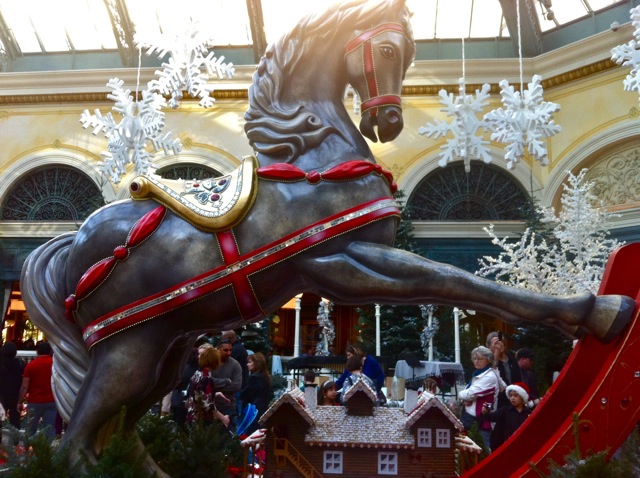 12. Wrapping paper or gift bags. Paper! Don't even get me started on people who put gifts into bags. Yes, I know it's convenient and probably more environmentally friendly, but since when has convenience been fun? Unless you're going all out and wildly ripping bags into smithereens while tossing the pieces into the air to watch them rain down like colourful snow, the excitement of tearing into Christmas presents is entirely lost! Paper all the way – especially because bags make it all the more tempting/easy to peek 😉
13. Favorite Christmas book. The Velveteen Rabbit. I got it for Christmas when I was really young, and it remains one of my favorite children's stories to this day.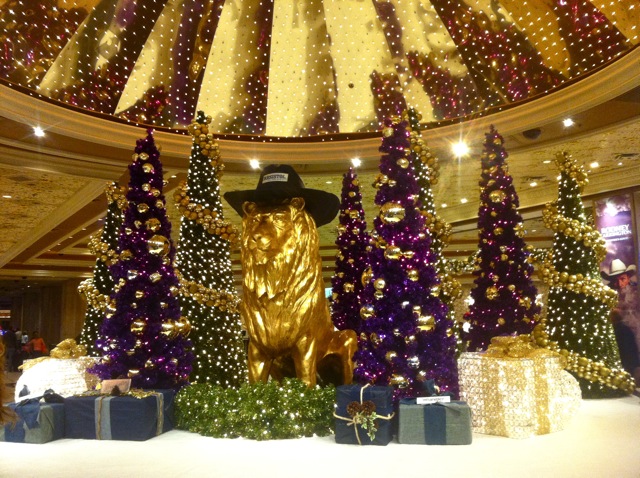 The famous MGM lion all decked out in Christmas cheer… aaaand a cowboy hat. The reason for the hat is that the National Finals Rodeo was taking place while we were there, so there were a lot of cowboy boots and hats scattered throughout the city. Yeehaw!
14. Real or artificial tree. Artificial. I may be going against the grain here, but as much as I like the smell and idea of a real tree, I prefer the convenience and cleanliness of a fake one. We've only had a real tree on a few occasions while I was growing up, and it was always a pain in the butt. Not only is the pickup and transport a painful and cold process, but the needles end up everywhere. No. Fake tree with an evergreen candle for me.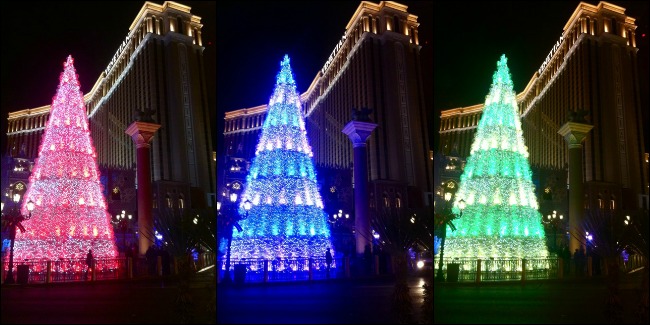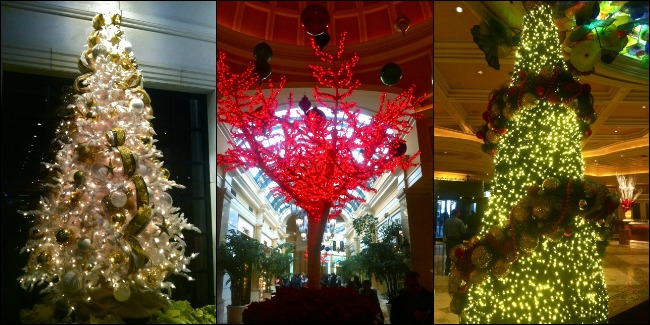 15. The best gift you've given. Hmm. I don't know! I try to put a lot of thought into every gift that I give, so it's hard to pick just one. Uhm. OH! Ok. I'm a big fan of personalized and meaningful gifts, so one year I made a photo album for my parents that was packed with pictures and stories of all our Christmases together since I was born. There wasn't a dry eye in the house by the time we were finished looking through it…
16. Hardest person to buy for. This title would normally go to my dad, but this year? The boy. I mean, men are hard to shop for in general, but what are you supposed to get someone that you just started seeing? Help!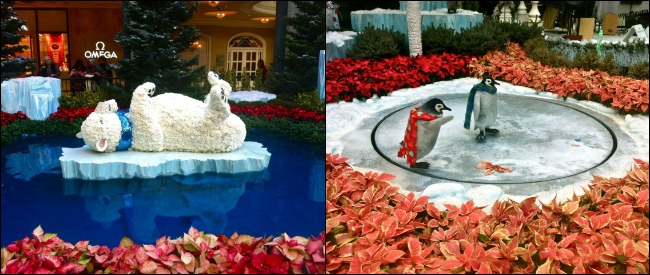 17. Post a picture of an old Christmas card. If you insist…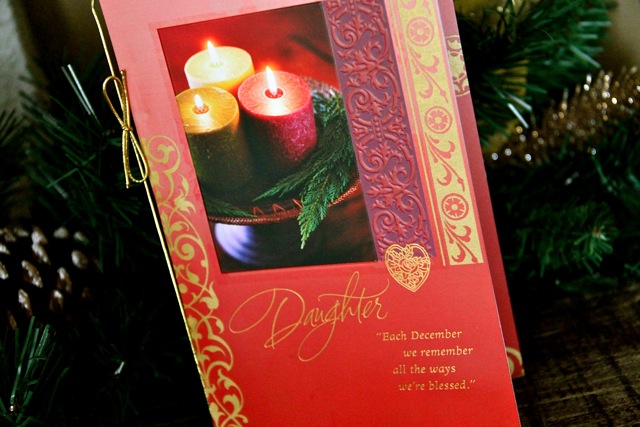 I keep pretty much every card that I've ever gotten, but the majority of them are still at my parents' house. This card is special because it's the one that my parents got me for my first Christmas in my new place. Gush.
18. When do you open gifts? Christmas Eve, with a stocking from "Santa" on Christmas morning.
. – . – . – .
Oh geez! I almost forgot to announce the winner of the giveaway…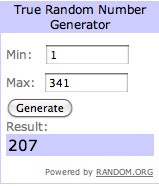 Congrats to Lisa! I also wanted to thank everyone who entered… I wish I could send things to all of you, buuuuut between the goodies and shipping, I would probably end up going broke in no time. There'll be other giveaways in the future, though, so keep your eyes open for those 😀
See you guys tomorrow for WIAW!
. – . – . – .
Are you a present peeker? I used to be notoriously bad for this when I was little. My mom actually wouldn't put presents under the tree until it was almost time to open them because of how clever I got with figuring out what was in them. Nowadays it's not so bad, buuuut I can't deny that the temptation is still there 😉
Favorite Christmas tradition?
Any advice on that to get the boy?!