Ask and ye shall receive!
Quite a few people left comments on my last post saying that they'd love for me to highlight some of my favourite WordPress plugins, and since I know how big of a pain in the butt it can be to try and figure those things out, I'm more than happy to oblige and share what I know. This list is nowhere near exhaustive, as there are a crazy amount of plugins out there that do basically everything, but I try to keep the number of plugins I run pretty minimal so they don't bog down the loading time of my blog, and these are the ones I consider pretty much necessary.
A few things to note. First, you need to be running a self-hosted blog on WordPress.org, not WordPress.com. You won't be able to download and install plugins on WordPress.com, which was definitely the biggest motivating factor for me when it came to deciding whether or not I should switch over to self-hosted. You also need to be working with the WordPress platform, so sorry to all my Blogger friends!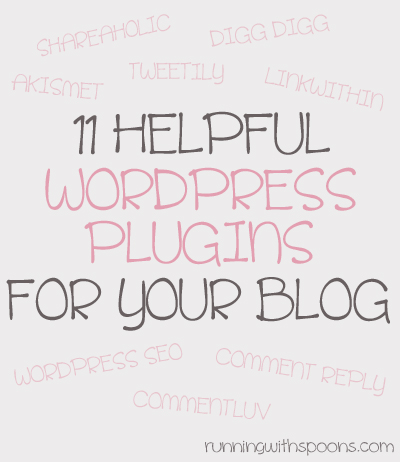 This plugin is a must, in my opinion. It goes through all the comments left on your blog and filters out the spammers so they never appear in your posts and you don't have to go about removing them manually. It's not 100% foolproof and has been known to let a few spammers slip through the cracks while labelling 'real' people as spam, but these instances are rare and easy to fix.

This plugin is an awesome way to encourage readers to leave a comment on your posts and reward them for doing so. It checks their site while they type up their comment and automatically puts up a link to their latest post at the end. It's a great way to discover new blogs and encourage engagement.

This plugin was one of the main reasons I wanted to go self-hosted. I don't know about you guys, but I rarely ever go back to a blog to check if the author replied to my comment — I read too many and I don't have that kind of time. CRN automatically sends an e-mail to your commenters when you reply to their comments so that they'll know you replied without having to check back. This is great because it helps you make connections with your readers and encourages further discussion & engagement in your comments section.
The newest plugin I added to my site, and one I'm already in love with. Making it easy for your readers to share your posts on various forms of social media is a great way to get more exposure and attract more people to your blog, but not every reader is reading with a sharing mindset and often doesn't think about Tweeting, Liking, Pinning, or Stumbling a post. Digg Digg's floating bar is like a gentle nudge reminding them to do so — it's not obnoxious, yet the scrolling movement is enough to attract attention and encourage a share.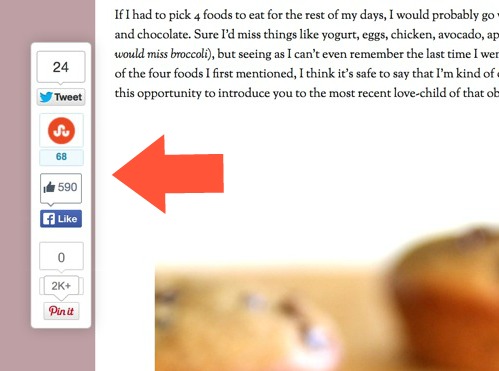 Google Analytics is basically the gold standard when it comes to tracking your site stats, which are extremely important when you're trying to connect with companies for campaigns or even just figuring out who your audience is. This plugin makes it possible to easily study your stats in your WordPress dashboard and track things like page views, unique visitors, duration of stay, pages per visit, and what kind of device your readers are using, as well as where they're from.
This plugin is an awesome way to give your older posts more attention by including a handful of related posts with thumbnails at the bottom of each of your blog posts. You want your readers to stick around and explore a little bit before leaving your page, and presenting them with some related content they might be interested in is a great way to do that. This plugin helps reduce bounce rate and increase overall page views — it's definitely a sizeable source of traffic for me.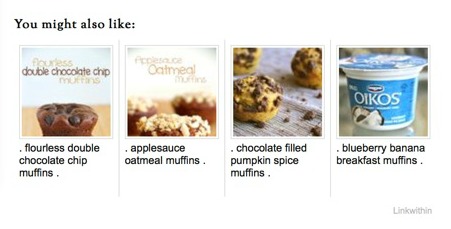 Pinterest is becoming one of the best ways to attract traffic to your blog and this plugin makes it easier for your readers to share your content on Pinterest by adding a small link button to the corner of whichever image they hover over with their mouse.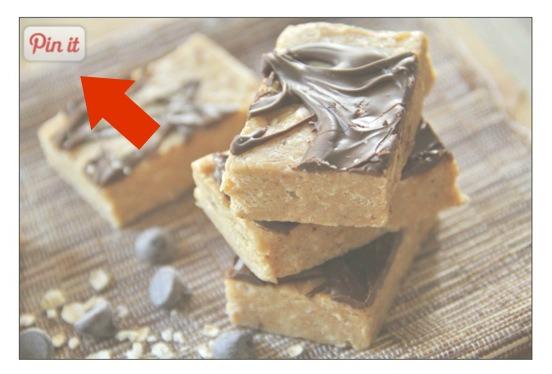 The plugin that I use to publish my recipes. It has built-in search engine optimization that increases your chances of ranking higher in Google, as well as including a thumbnail of your recipe in the snipper. It also has options for readers to easily save and print your recipes. It's incredibly easy to use and infinitely customizable. Definitely my favourite of any of the recipe plugins that I've come across, both visually and functionally.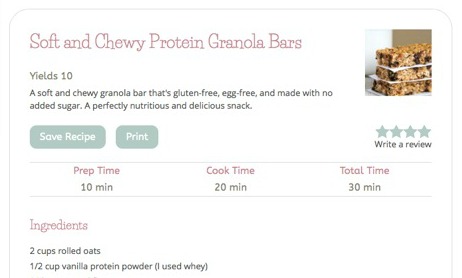 Sharing is caring! I feel like I'm starting to sound like a broken record here, but encouraging readers to share your posts on various social media platforms is a great way to give your blog some more exposure and attract new readers. Shareaholic makes it easy by adding a bar to the bottom of each of your posts which includes buttons to various social media platforms. You can customize which buttons you want to show up, as well as include the option to convert your posts to a printer friendly format in case a reader wants to print them out.

This is another great way to give some of your older posts more exposure. Tweetily will randomly go through your older posts and automatically tweet links to them throughout the day. You pick how many times per day you want it to do this, as well as what you want it to say before the link. It won't always choose the most amazing posts, but sometimes you'll get lucky with a gem that you can direct newer followers towards.

Optimizing your posts for search engines makes it more likely that they'll rank higher in Google, which makes it more likely that people will find your blog when they do web searches. This plugin analyzes your post to make sure your SEO is good by helping you focus on keywords and allowing you to change your post title and snippet. SEO can be a real hassle to learn, but it also makes a huge difference in the amount of organic traffic that you can get to your blog.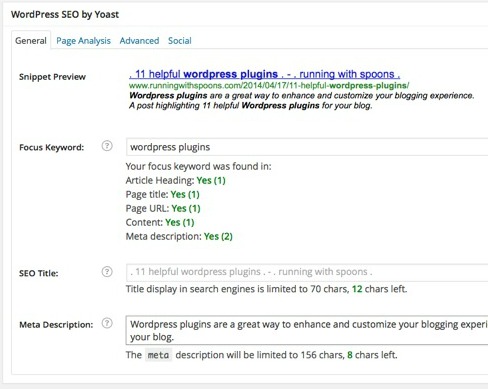 Bloggers: What are your favourite plugins? Did I miss any?
Non-bloggers: Don't be shy and say Hi! I love hearing from you 😀 Are you enjoying a day off today?
More places to find me!
E-mail — [email protected]
Twitter — runwithspoons
Facebook — runningwithspoons
Pinterest — runwithspoons
Instagram — runwithspoons
Bloglovin — runningwithspoons