These light and fluffy Carrot Cake Greek Yogurt Pancakes are sure to keep you satisfied all morning with over 20g of whole food protein! They're gluten-free thanks to the oats and whipped up in the blender in under 5 minutes!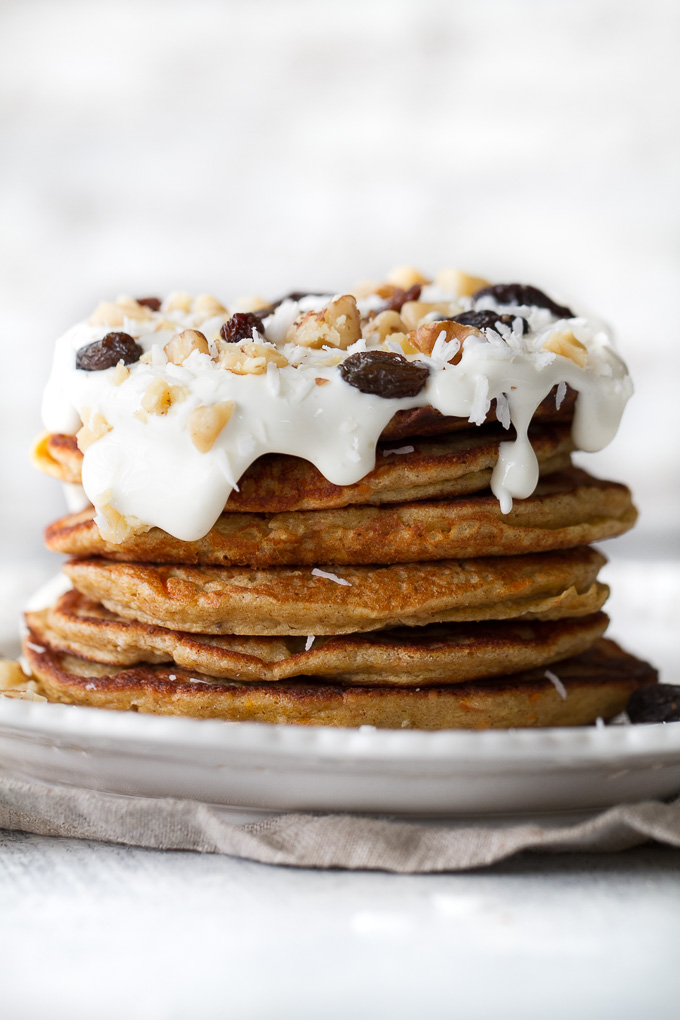 Carrot cake for breakfast!!!
Well, kind of. It's more like carrot cake PANcakes if you want to get super technical about it, but in what world does that sound like a bad alternative? Definitely not in mine. Especially since… well… as much as I like cake, I'm not overly keen on the idea of eating it for breakfast. Ya know? Not unless it's the day after my birthday – then I'm having a full-fledged chocolate cake breakfast fiesta.
But in general? I like something a little more hearty and not-so-sweet to start my day. Don't get me wrong – you guys know I love my sweet breakfasts – but there's sweet and then there's too sweet, and cake with frosting tends to fall under the latter. For breakfast, at least.
Besides! With these? I get to enjoy a hearty breakfast and my favourite thing about carrot cake (read: the frosting).
It's basically frosted heartiness at its finest…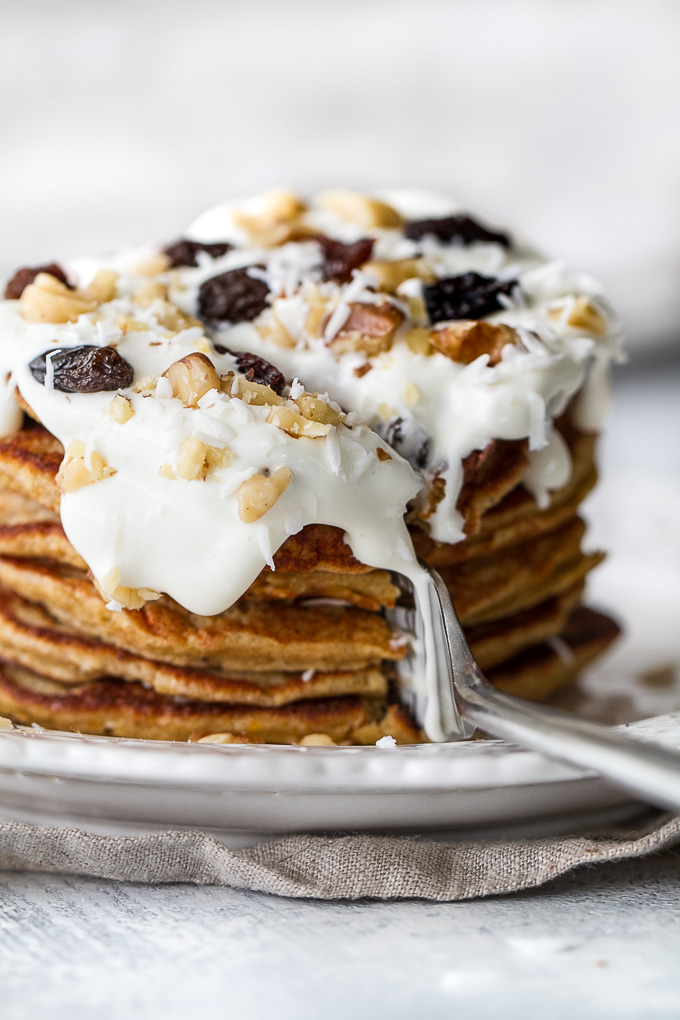 So let's talk deets.
These light and fluffy carrot cake Greek yogurt pancakes are two things… well, besides light and fluffy. They're easy and they're nutritious.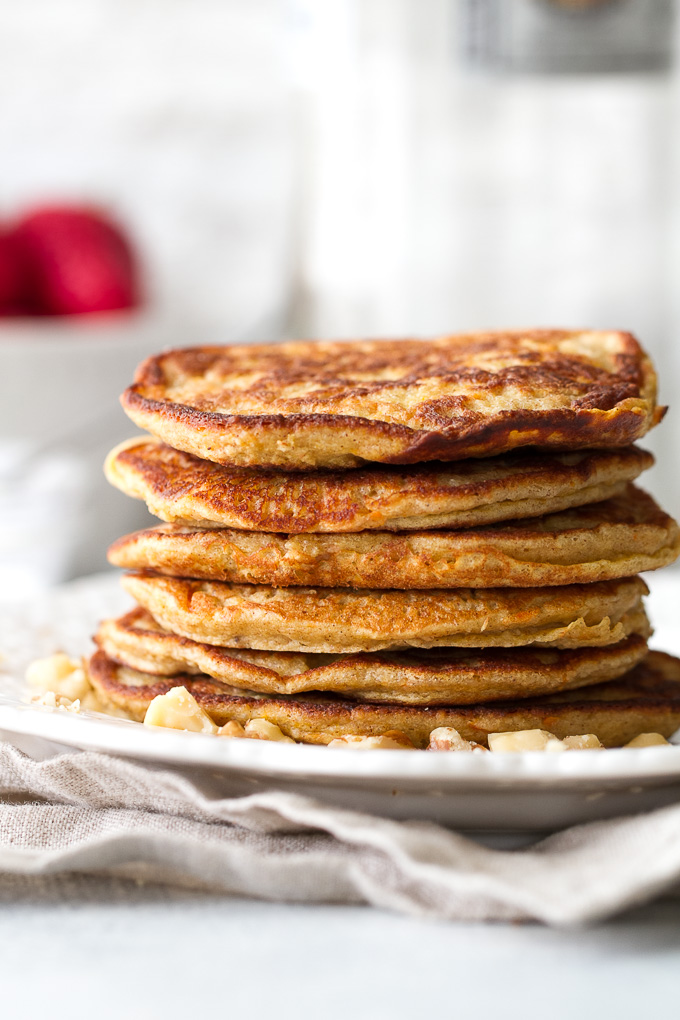 They take all of about 5 minutes to whip up, and all you have to do is toss everything into a blender and let it do all the work for you. Oh, and you don't need any fancy blenders either – I just use my Magic Bullet* since it's perfect for single servings and super easy to clean up.
The entire recipe (6 – 7 palm-sized pancakes) is a single serving and boasts almost 20g of whole food protein at just under 300 calories (minus toppings). For toppings, I suggest whipping up a cream cheese "frosting" by combining cream cheese with either maple syrup or icing sugar until you get the sweetness and consistency you want, and then sprinkling everything with crushed walnuts, raisins, and maybe an additional drizzle of maple syrup.
Happy eating!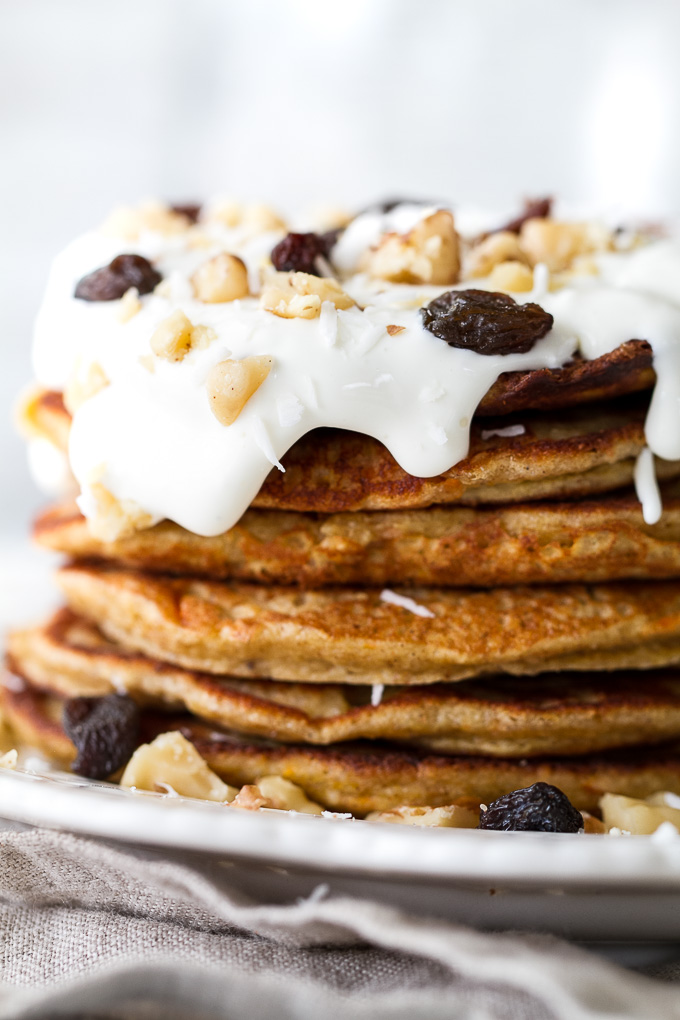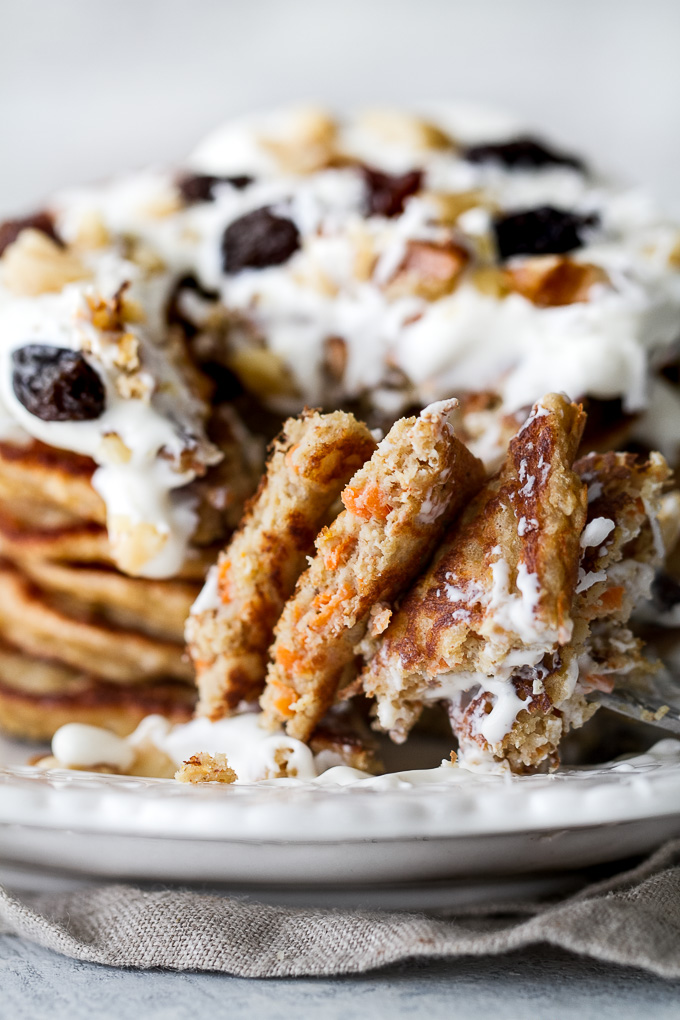 I'd love to know if you make this (or any!) recipe! Tag @runwithspoons on Instagram and Twitter, and be sure to subscribe to our mailing list to receive more healthy and delicious recipes straight to your inbox!
Carrot Cake Greek Yogurt Pancakes
Author:
Amanda @ Running with Spoons
Yields:
1 serving, 6-7 pancakes
Ingredients
1/4 cup (55 g) plain Greek yogurt
1/2 medium, ripe banana (50 g or 1/4 cup [60 ml] mashed)
1/2 cup (40 g) rolled oats
2 large egg whites OR 1 large egg
1/2 tsp baking powder
1/4 tsp ground cinnamon
1/4 tsp ground ginger
pinch of nutmeg
1/2 tsp vanilla extract
1/4 cup (33 g) grated carrot
Directions
Preheat a skillet over medium heat and coat it with cooking spray or oil. You want to make sure that it's very hot before you start cooking your pancakes.
Add all the ingredients except for carrot to a blender in the order listed and blend on high until the oats are fully broken down and the batter is smooth and frothy, about 30 seconds. Fold in the carrot by hand and allow the batter to sit for a few minutes so that it thickens up.
Pour the batter straight from blender onto skillet until desired size of pancakes is reached and cook until the edges have set and bubbles begin to form on the tops of the pancakes, about 3 minutes. Using a spatula, flip and cook for another 2 minutes. Repeat until all the batter is gone, making sure to coat your skillet again with oil between each batch. Top with desired toppings and enjoy!
Click here for nutrition facts

Looking for more greek yogurt pancake recipes? Try one of these!
Blueberry Banana Greek Yogurt Pancakes
Chunky Monkey Greek Yogurt Pancakes
Cinnamon Roll Greek Yogurt Pancakes
Apple Oat Greek Yogurt Pancakes
Banana Oat Greek Yogurt Pancakes

Let's chat!
What did you have for breakfast this morning?
More places to find me!
E-mail — [email protected]
Twitter — runwithspoons
Facebook — runningwithspoons
Pinterest — runwithspoons
Instagram — runwithspoons
Bloglovin — runningwithspoons
Snapchat — runningspoons