Sweet Potato Greek Yogurt Pancakes that are sure to keep you satisfied all morning with almost 20g of whole food protein! They're gluten-free thanks to the oats and whipped up in the blender in under 5 minutes. A healthy, easy, and delicious breakfast.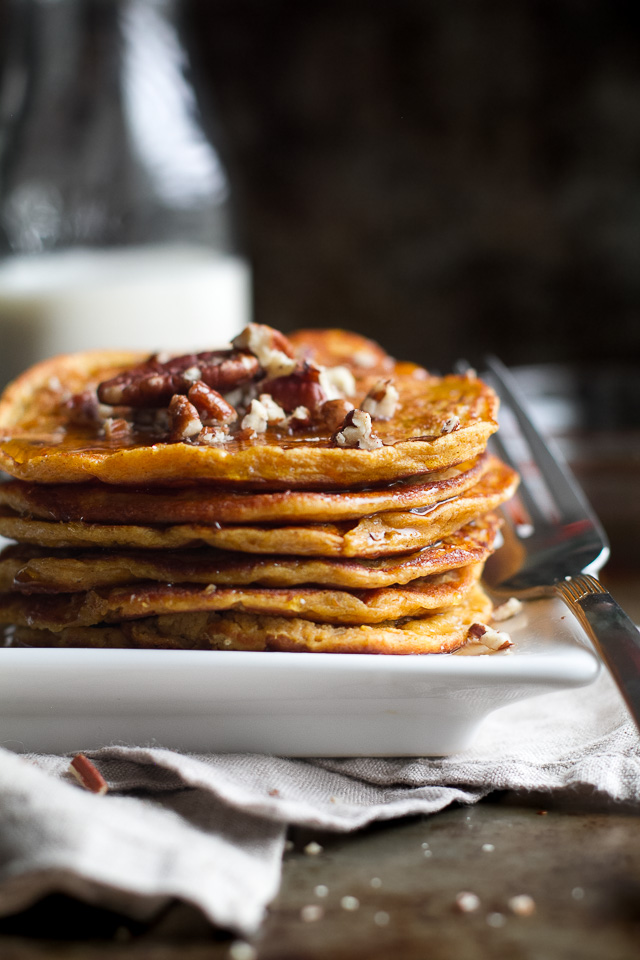 Oh man, you guys… I have had a WEEK.
You know the kind I mean. Where everything that can go wrong, does go wrong. Where you walk into so many door frames and stub your toe so many times that you find yourself thinking maybe you should just stay inside with all the windows and doors barred so you don't walk outside and accidentally get hit by a bus or struck by lighting on a sunny day?
Or maybe that's the issue. Maybe I've been spending too much time cooped up inside and not enough time out in the real world. Or maybe it's because I haven't been eating my vegetables (shhhh).
Who knows. But what I do know is that I've had more frustrations and fails this week than I care to admit, and that a good chunk of them have been recipe related.
Take these sweet potato Greek yogurt pancakes, for example…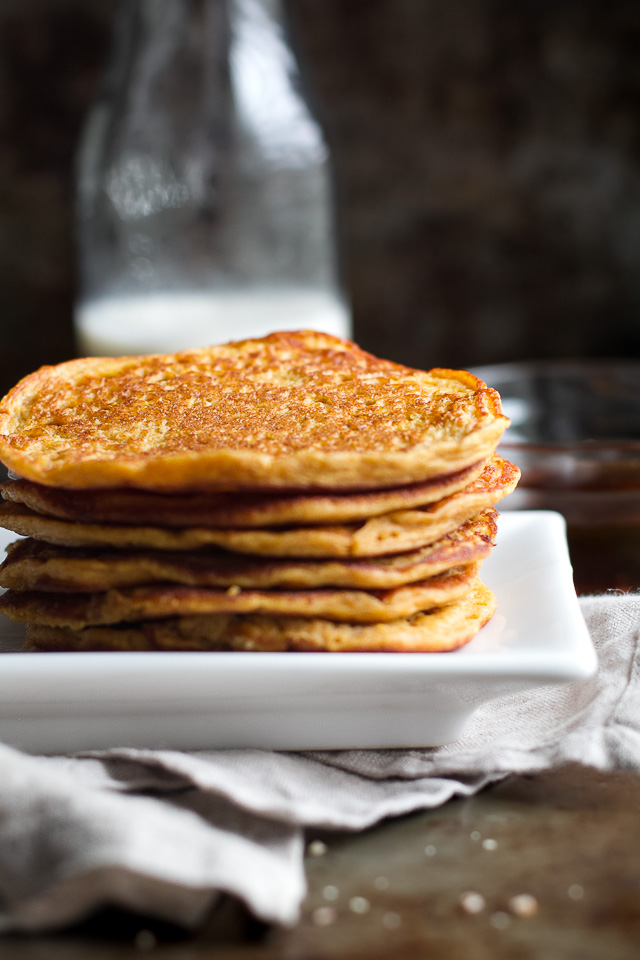 Sure they look all perfect and delicious now, but you should have seen the first batch I tested out. Or maybe it's better that you didn't. Let's just say that an off-week is not a good time to be experimenting with coconut flour pancakes when I can't even make them work on the best of days.
I really can't. I've tried on a few occasions, and I always end up with a gloopy mess that just won't set no matter how long I keep it on the skillet… which is exactly what happened with trial #1.
SO! after a mini breakdown that left me wondering what I did to deserve the cloud of bad juju that's been hanging over my head all week, I scrapped all plans to get fancy and went back to the tried & true…
Very important life lesson: if it ain't broke, stop trying to fix it.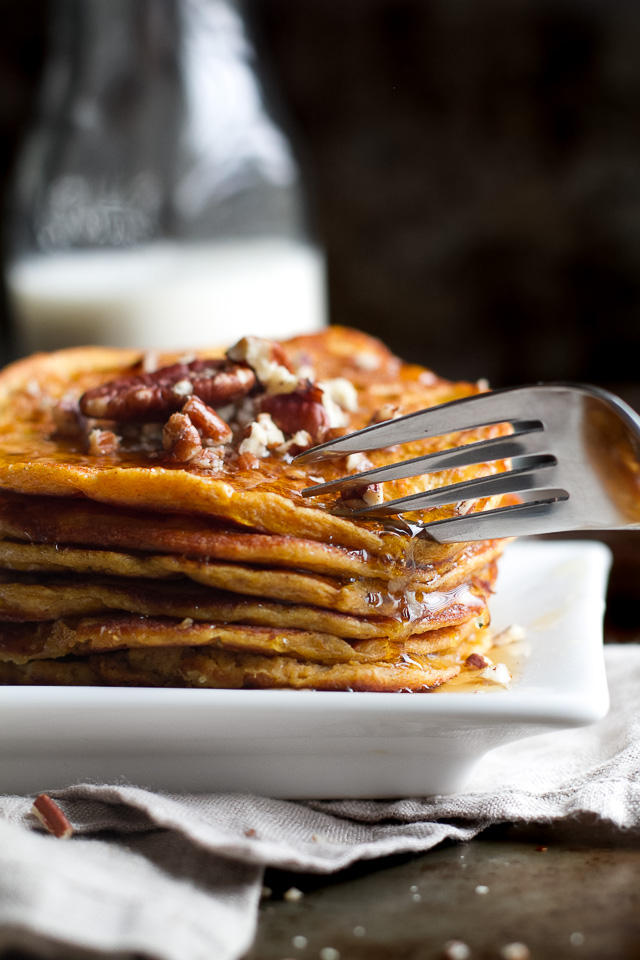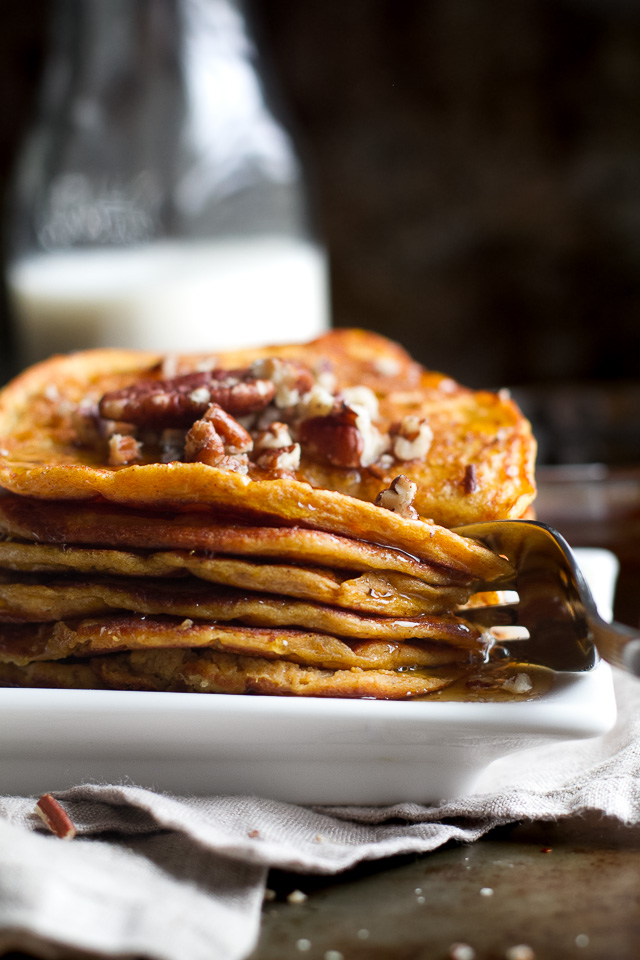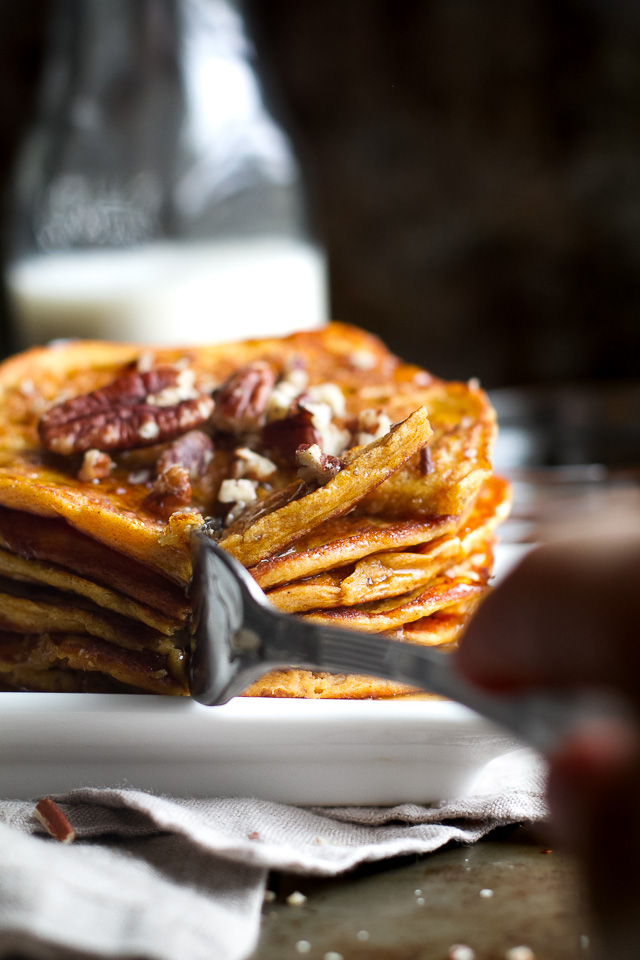 So this pancake recipe is based off of this pancake recipe, which is very much the "ain't broke" part of the equation.
I've made so many different flavour variations of that recipe over the years, and it has yet to come out tasting anything less than perfect… which is probably why my thoughts bee-lined to it while I was standing over the aforementioned gloopy mess on the verge of tears (not really, but it sounds extra dramatic, no?)
Not only is it foolproof, but it tastes amazing (the Greek yogurt does SO much for the flavour) and it's crazy easy to make – I'm talking into the blender* and onto the frying pan level easy. I mean, you do kind of need to have some cooked sweet potato on hand, but that's easy enough – just peel 'em, 'cube em, boil 'em, and the'll be soft and tender in a handful of minutes. OR! you can go the canned sweet potato* route (which I've totally done), OR even swap it out for some canned pumpkin*. You do you, boo.
Also, if you notice that there's only 6 pancakes on the plate when these recipes usually makes 7 or 8, it's because I totally butchered the first one when I tried to flip it. RIP pancake.
I told you it's been one of those weeks.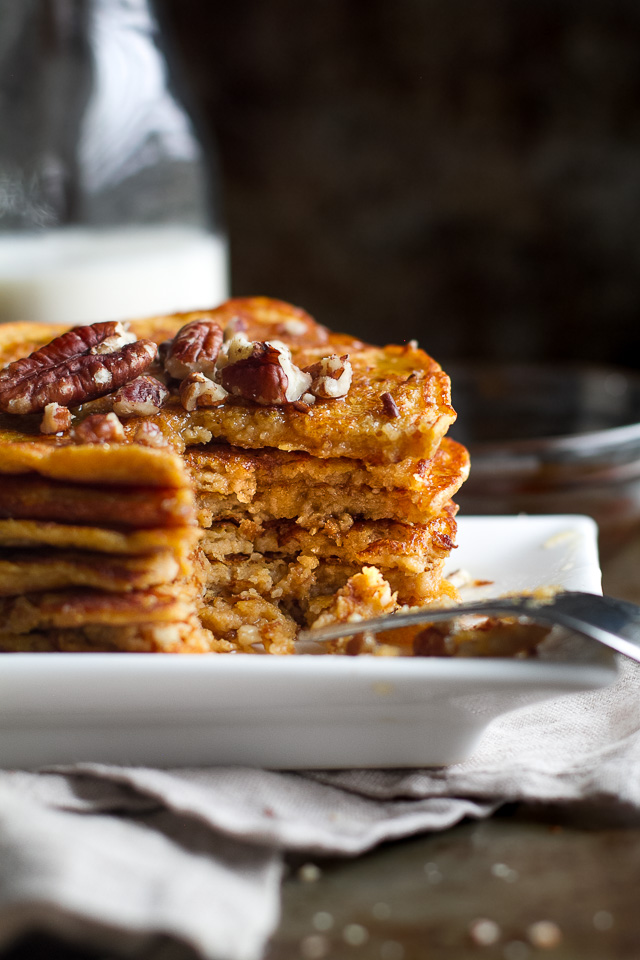 I'd love to know if you make this (or any!) recipe! Tag #runningwithspoons on Instagram and Twitter, and be sure to subscribe to our mailing list to receive more healthy and delicious recipes straight to your inbox!
Sweet Potato Greek Yogurt Pancakes
Author:
Amanda @ Running with Spoons
Yields:
1 serving, 7 - 8 pancakes
Ingredients
1/4 cup (60 g) plain Greek yogurt
1/2 cup (40 g) rolled oats*
1/4 cup (60 g) mashed sweet potato
2 egg whites 1 large egg
1-2 Tbsp (15-30 ml) unsweetened almond milk**
1 1/2 tsp maple syrup
1/2 tsp ground cinnamon
pinch of cloves, nutmeg, or allspice
1/2 tsp vanilla extract
1/2 tsp baking powder
Directions
Preheat a skillet over medium heat and coat it with cooking spray or oil. You want to make sure that both are very hot before you start cooking your pancakes.
Add the ingredients to a blender in the order listed and process until the oats are fully broken down and the batter is smooth and frothy.
Pour the batter straight from the blender onto your skillet until desired size of pancakes is reached.*** Cook them until the edges have set and bubbles begin to form on the tops, about 2 minutes. Using a spatula, flip and cook for another 2 minutes. Repeat until all the batter is gone, making sure to coat your skillet again with oil between each batch.
Notes
* Make sure to use certified gluten-free oats if you need these to be gluten-free.
** Start with 1 Tbsp (15 ml) of almond milk and only add a second if you feel the batter is too thick.
*** I try not to make mine too thick or I find they're more likely to burn on the outside without fully cooking on the inside. There should be enough batter to make 7-8 palm-sized pancakes.
Click here for nutrition facts
To make these Sweet Potato Greek Yogurt Pancakes, I recommend:

Looking for more healthy pancake recipes? Try one of these!
Chunky Monkey Greek Yogurt Pancakes
Healthy Whole Wheat Oatmeal Pancakes via Sally's Baking Addiction.
Blueberry Banana Greek Yogurt Pancakes
Fluffy Low Carb Chocolate Chip Pancakes via The Big Man's World.
Apple Oat Greek Yogurt Pancakes

Let's chat!
What's the best way to get out of a funk? Err… sleep it off?
Have you mastered the art of coconut flour pancakes? No. No I have not.
More places to find me!
E-mail — [email protected]
Twitter — runwithspoons
Facebook — runningwithspoons
Pinterest — runwithspoons
Instagram — runwithspoons
Bloglovin — runningwithspoons
Snapchat — runningspoons
*Disclosure: Some of the links included in this post may be affiliate links, meaning I'll earn a small commission if you purchase through them, at no additional cost to you. I only recommend products I personally use and believe will add value to my readers. Thank you so much for helping support Spoons!