A raspberry oat bar with a light buttery crust, a zesty fruit filling, and a drizzle of milk chocolate. These bars make a perfect spring time snack!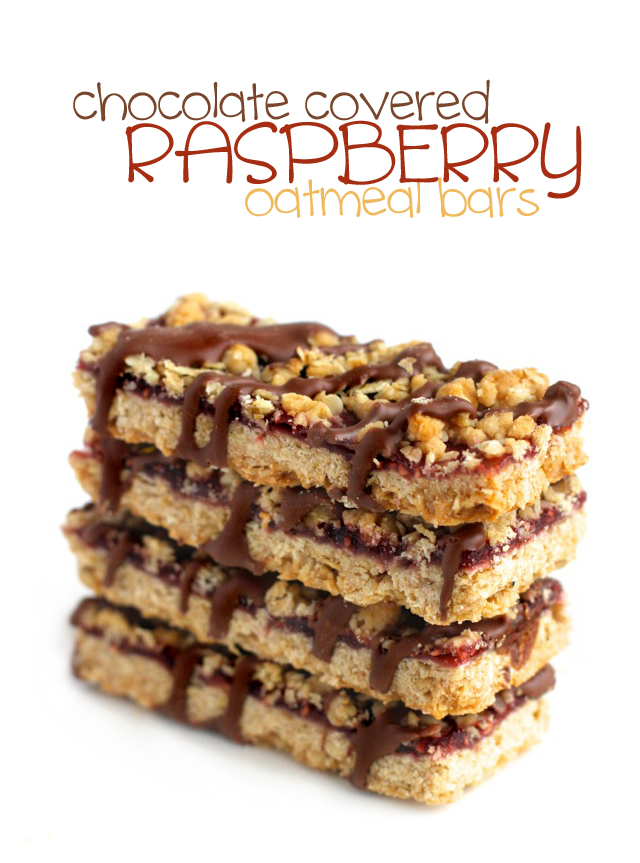 I want to say that spring has officially sprung — I really do. But instead I'm going to have to say that spring is officially bipolar. It'll be warm and sunny one day, only to start snowing the next… or it'll be snowing in the morning, only to be warm and sunny in the afternoon. I keep telling myself that it won't be too much longer until winter is gone for good, and I'm really hoping that's the case because I'm more than ready to stop hibernating and get back outside. Bike rides, trail runs, long walks in the river valley — can.not.wait.
This means I'll need snacks. I don't know about you guys, but being out in the fresh air revs my appetite like nothing else, and my favourite snacks to pack for those kind of excursions have always been homemade bars…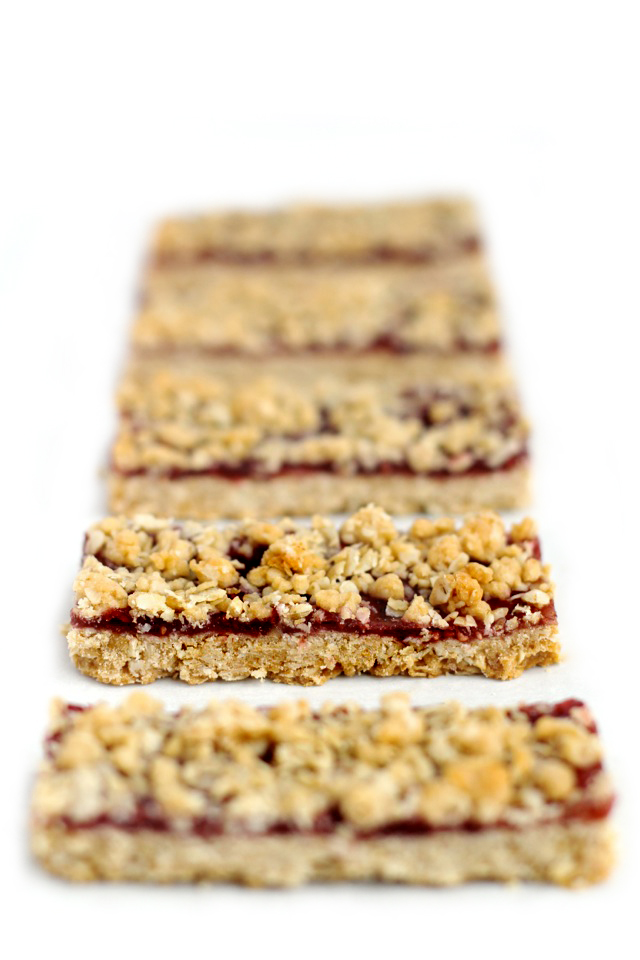 Bars are perfection. Not only are they easy to make and pack, but they're also the perfect way to sneak a little extra chocolate into your diet. In fact, they pretty much beg for it….
Much better, no? Adding chocolate to bars is pretty much a no-brainer, especially when it's delicious, high-quality chocolate like Green & Black's Organic. The only question becomes… which chocolate to add?!?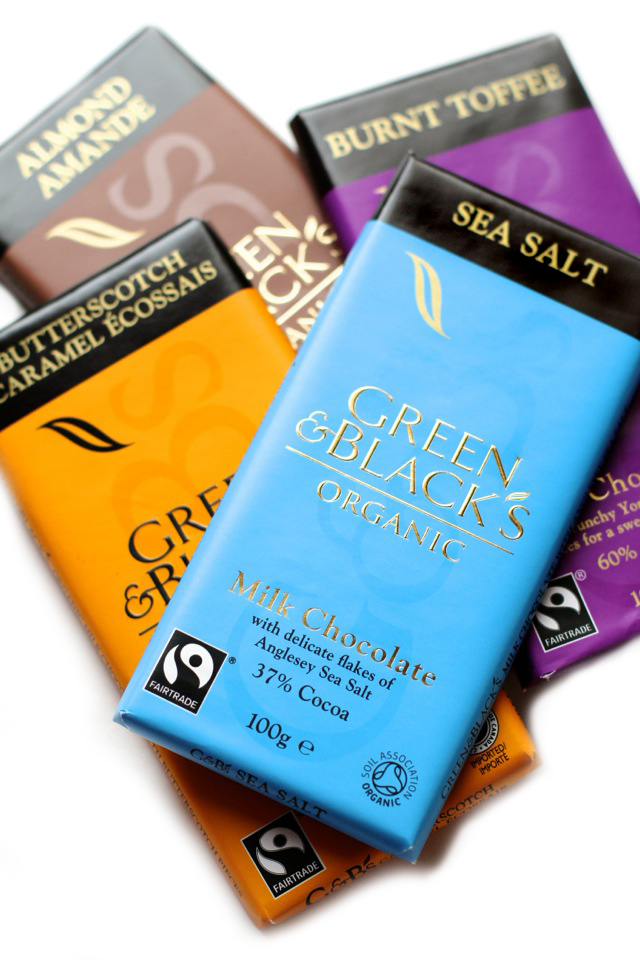 With flavours like almond, butterscotch, burnt toffee, and sea salt, you really can't go wrong no matter what you choose, but I needed something that would pair nicely with raspberry, since that was the route I decided to take with these bars…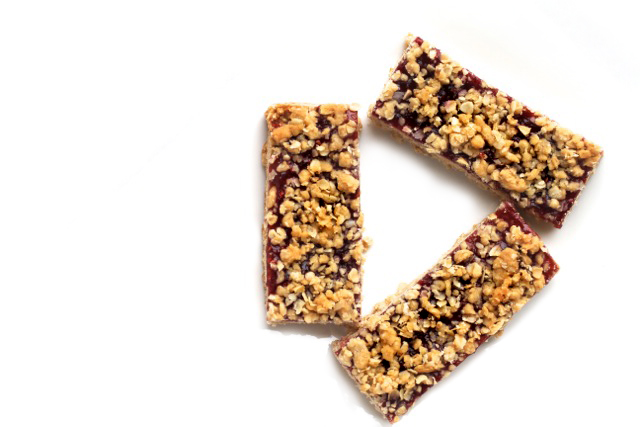 I'm normally not a huge fruity dessert/snack person (unless we're talking gummy bears or jelly beans), but spring definitely changes that and I find myself starting to crave fresh over comforting, and fruity over warming. My cravings for chocolate, though, always manage to stand the test of time and transcend the seasons.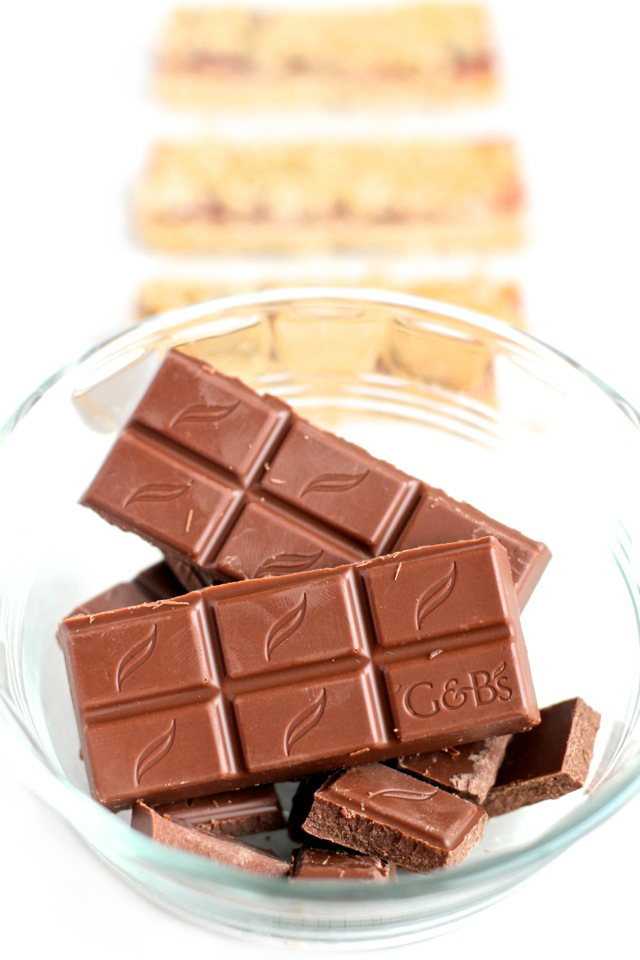 In the end, I decided to go with the Green & Black's Organic Sea Salt bar for a few reasons. First, it's milk chocolate, which is sweeter than dark chocolate and helps add a little bit of extra sweetness to bars that otherwise aren't overly sugary to begin with. Second, the touch of sea salt enhances that subtle sweetness and brings it out even more. It's the little things 🙂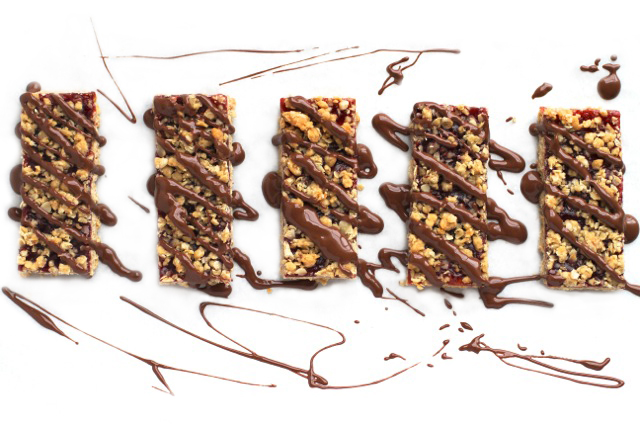 What you're left with is a chocolate covered raspberry oat bar that's perfect for spring. The dough is light and crumbly with a subtle buttery taste, and the addition of lemon zest to the raspberry jam adds a lovely hint of freshness in addition to fruitiness.
I decided to go with store-bought jam as opposed to making my own fruit topping because:
a) berries aren't really in season yet,
b) jam doesn't have as high of a water content as berries do, so you don't have to worry about the bars getting soggy after a day or two, and
c) it was more convenient…
… and you guys know I love to take whatever shortcuts I can without sacrificing flavour when it comes to my baking. Either way, these raspberry oat bars make a perfect spring time snack… or a lovely distraction for when you're waiting for that snow to stop falling 😉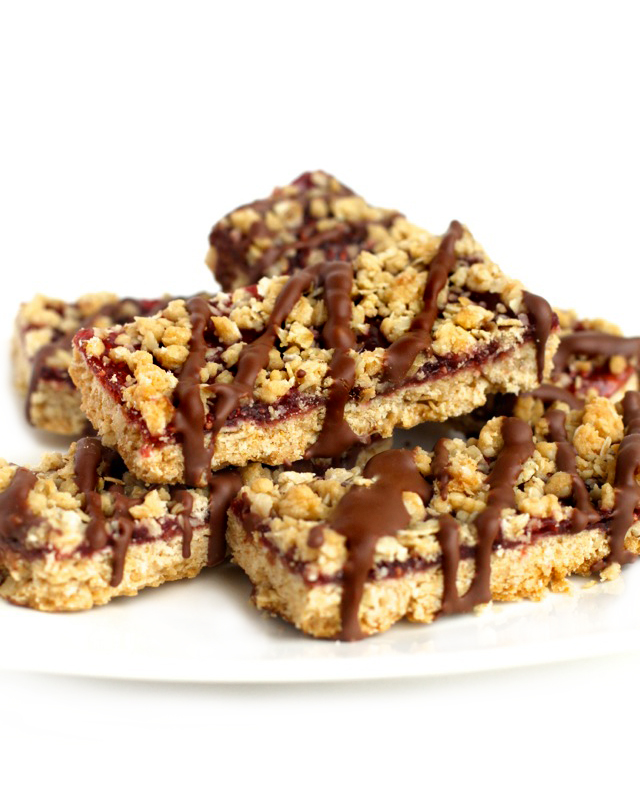 [yumprint-recipe id='27']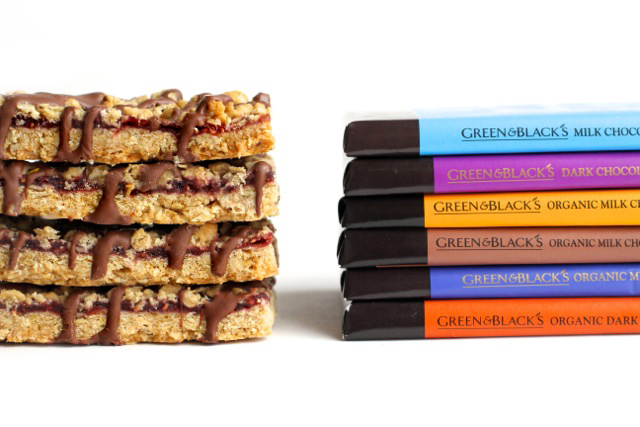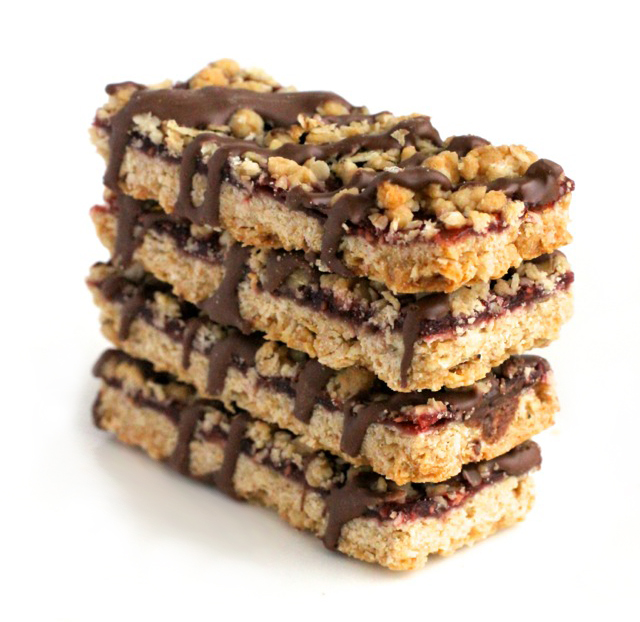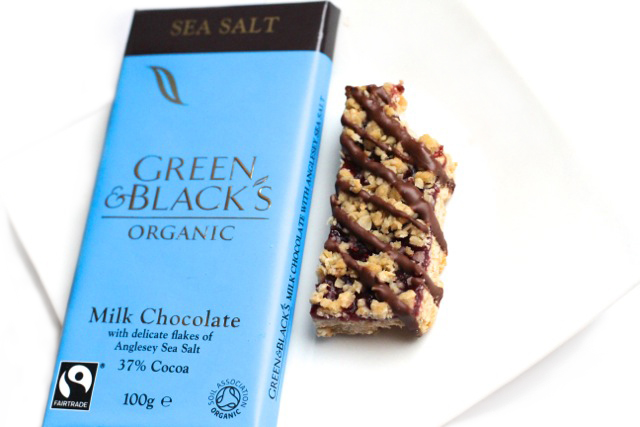 Disclaimer: This post was sponsored by Green & Black's Organic. I received free products and compensation for my time, but all opinions are 100% my own.


What's your favourite flavour of jam or jelly?
Do you prefer milk or dark chocolate? With or without add-ins?
What's your favourite gummy/fruity candy?
More places to find me!
E-mail — [email protected]
Twitter — runwithspoons
Facebook — runningwithspoons
Pinterest — runwithspoons
Instagram — runwithspoons
Bloglovin — runningwithspoons