Happy What I Ate Wednesday friendly faces! 😀
Every Wednesday, I give you guys a glimpse into what a day of eats looks like for me… and don't act like you don't enjoy it! We're all nosy; we all like to see what other people are eating; I get it — me too. There's just something oddly fascinating about seeing what other people eat… like it gives us a glimpse into their soul or something. Alright, maybe not, but humour me here… I'm just trying to get this intro out of the way so that I can start talking about the FOOD.
And in addition to the food, I'll also be sharing some of the thoughts that went through my head before/during/after I ate, because while my meals may not give you a glimpse into my soul, they still…. yeah okay I have no idea where I'm trying to go with this. Let's just get to the food…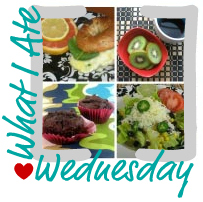 Breakfast… Where the heck is my appetite?!?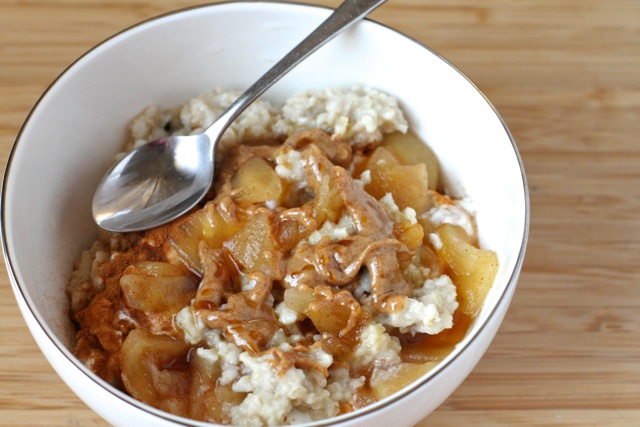 Eggy bananafied oats layered with plain Greek yogurt and then topped with roasted almond butter, homemade applesauce, honey, and cinnamon.
Thinking, thinking… I usually wake up more than ready to dig into breakfast, so the fact that I woke up without any hunger to speak of kind of threw me for a loop. Eat? Don't eat? What to do?!? I always try to eat according to my hunger cues, so I waited [1.5 hours 😯 ] until my stomach finally decided to start speaking up before digging in to my beloved bowl of oats. Ugh. Let's hope this doesn't become a regular thing… it throws off my whole day!
Morning snack… #foodbloggerproblems.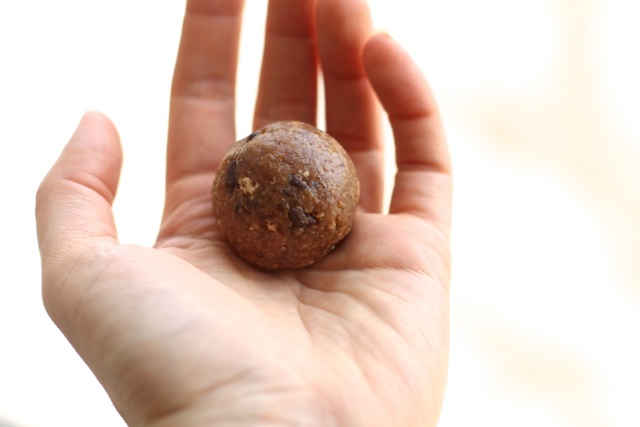 A chocolate chip oatmeal date ball.
Thinking, thinking… When you spend a lot of time in the kitchen testing out new recipes, you spend a lot of time eating the product of those recipes… especially when you don't have a husband or live-in-boyfriend to pawn that food onto. At least it's a pretty delicious problem to have…
Lunch… Some foods are just ugly.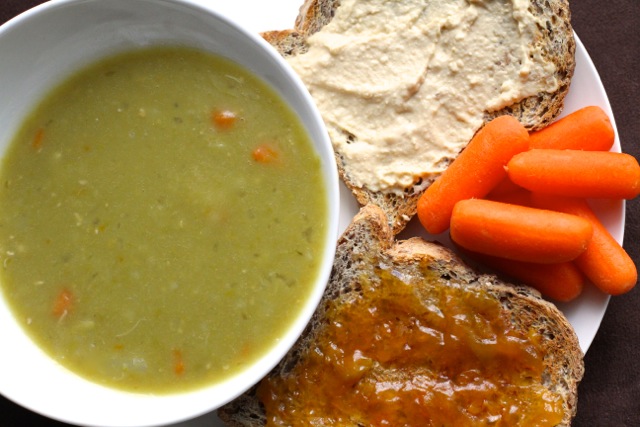 Split pea soup with two pieces of Mack's Flax toast from Silver Hills — one with hummus and one with apricot jam. Oh, and some baby carrots to add a bit of colour.
Thinking, thinking… There's no way to make split pea soup look good. Absolutly no way. If you've somehow managed it, then I tip my hat off to you because mine always ends up looking like someone… did something unpleasant… into a bowl. Good thing it looks a lot better than it tastes. Wait no, that's not right. Good thing it tastes better than it looks. There we go.
Afternoon snack… Ermagherddddddd.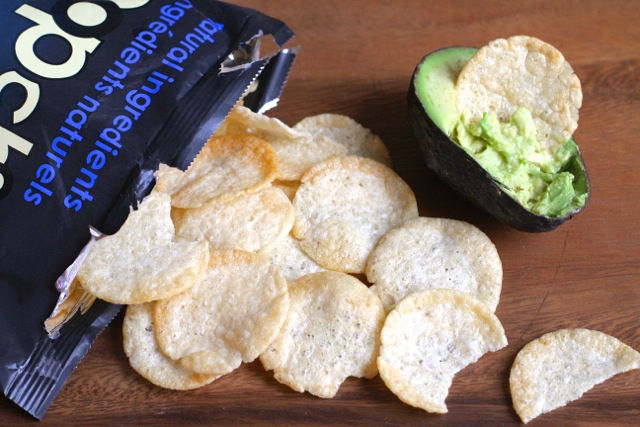 Plain Popchips with mashed avocado.
Thinking, thinking… Excuse me while I have a moment with my snack –[Insert clip of Meg Ryan in the diner scene from When Harry Met Sally]– You guysss… I'm obsessed with this combination; like ridiculously obsessed. I have one of the biggest sweet tooths (teeth?) known to man, so the fact that I'm choosing to go for a savoury snack time and time again means it has to be good. Then again, I've had a thing for chips and creamy dips for quite some time… this combo just happens to be a little healthier than my previous obsession with Lays and ranch dressing.
Dinner… Thank goodness for mothers and leftovers.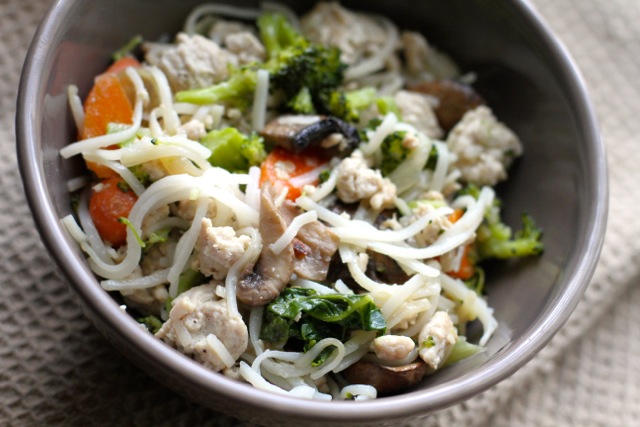 Mom's sesame chicken stir fry with random veggies and vermicelli noodles.
Thinking, thinking… I'm a big fan of any meal that I don't have to cook, which is why I don't complain when Mom uses noodles instead of rice in her stir fries. I don't really care much for noodles, but I've learned not to look a gift horse meal in the mouth because beggars moochers can't be choosers. Besides, I figure that I've already given my mom enough grief with how picky I was as a child… Back in the day I would either flat out refuse to eat what she made or I'd pick through my meal and end up tossing out half of it. Sorry Mom!
Evening snack… necessity is the mother of all invention.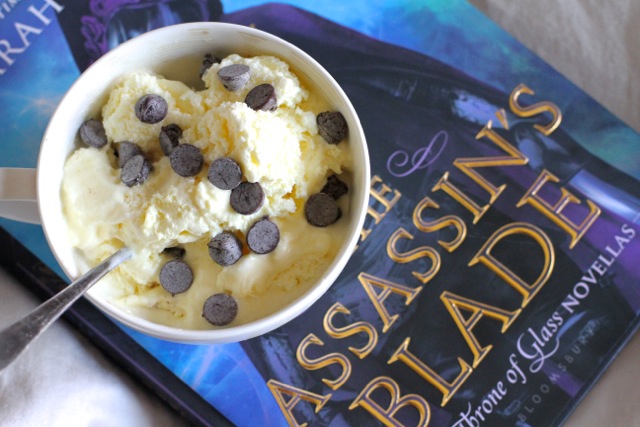 Chapman's French Vanilla ice cream with mint chocolate chips
Thinking, thinking… I really had my heart set on mint chocolate chip ice cream, but all I had in my freezer was vanilla. Womp, womp. So what's a girl to do when she would rather stay in bed and read than run out to the store to buy ice cream? Improvise by tossing some mint chocolate chips into aforementioned vanilla ice cream. Not quite the same, but not half bad either…
And that's a wrap! I'll see you guys tomorrow for Thinking Out Loud! 😀

Do you prefer noodles or rice?
Were you a picky eater as a child?
What did you have for an evening snack last night?
More places to find me!
E-mail — [email protected]
Twitter — runwithspoons
Facebook — runningwithspoons
Pinterest — runwithspoons
Instagram — runwithspoons
Bloglovin — runningwithspoons