Happy What I Ate Wednesday, friendly faces! 😀
I know — three weeks in a row?!? Craaaaaziness! But when I asked you guys last week if you wanted to see more WIAW posts, the answer was a resounding YES, so I figured I should probably follow through and deliver the goods. The only thing is that coming up with interesting themes can be a liiiiittle bit tricky sometimes, so you're going to have to bear with me. I mean, there are only so many ways of saying "this is what I ate today yesterday"… especially when you've been at it for a couple of years.
Luckily, the recent arrival of fall (aka the tastiest season of the year) gives me the perfect excuse to talk about some of my favourite fall foods… so let's go!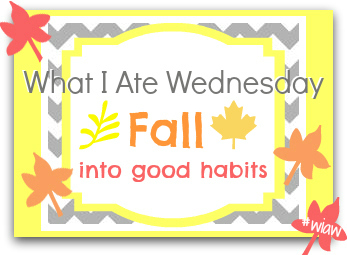 Pumpkin…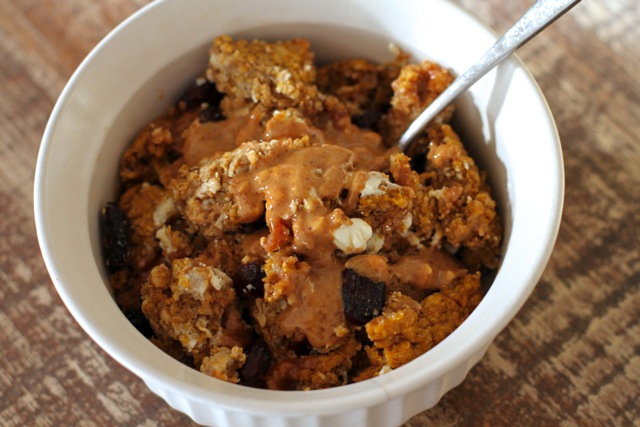 A pumpkin pie breakfast bake with dried cranberries, cream cheese, and almond butter.
I have the blog world to thank for this one because, before I started blogging, I had no idea that you could actually eat pumpkins — I thought they were just for decoration around Halloween. And don't ask me where I thought pumpkin pie came from — my parents never had that talk with me. Imagine my shock, then, when I learned that not only was pumpkin edible, but also pretty darn tasty… tasty to the point where I've been known to eat a spoonful or two straight from the can #noshame.
Dates…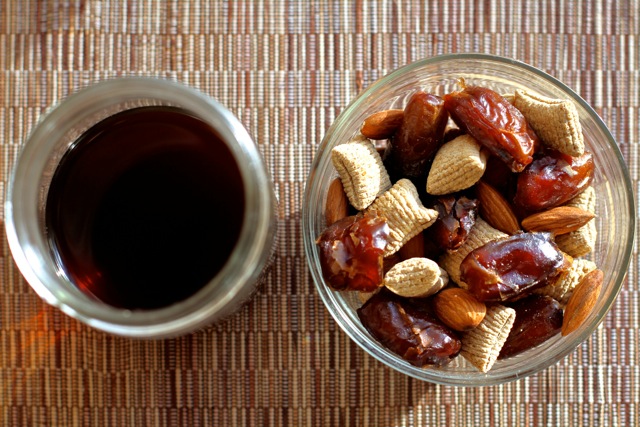 A bowl of dates, almonds, and Barbara's Morning Oat Crunch cereal… with black coffee.
This one might be a bit of a stretch since I'm not sure that dates are technically a fall food, but I associate all dried fruits with fall and winter since fresh fruits are no longer in season, and dried fruits just feel cozier in the colder months — if that makes sense. Either way, dates are currently at the top of my favourite dried fruit list thanks to their ooey, gooey caramelly-ness and their ability to make me fly. No joke — coffee and dates give me wings. Hands down the best food to eat before any kind of activity.
Kabocha…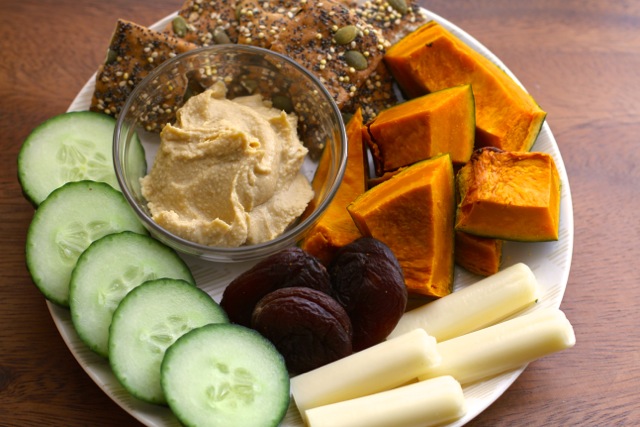 Snack plate LOVE! Sliced cucumber, Dr. Kracker crisps, roasted kabocha, cheesestrings, dried apricots, and Tribe hummus.
Similarly to pumpkin, I had no idea that the oddly shaped lumps that my mom decorated our house with in the fall time were actually edible, so another shoutout to the blog world for that one. Actually, I still remember trying to hack my way in to a squash for the first time — what a gong show 😆 Thankfully I managed to walk away with all my digits in tact, because I would have hated to have a bad experience get in the way of what has gone on to become a full-blown love affair… one that I'm lucky enough to indulge in all.year.long.
Maple…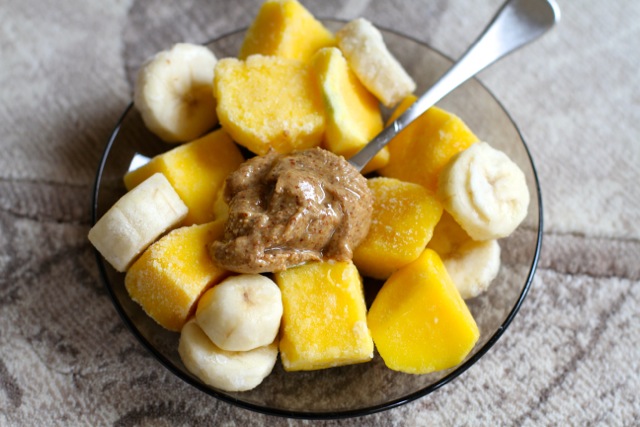 Justin's maple almond butter with frozen mangoes and banana slices.
Confession: I've actually been known to take a swig of maple syrup straight from the bottle, similarly to how I'd drink honey straight from the squeezy bear when I was a kid… except the former didn't end with my childhood years. Neither did the latter, really, except that now my honey comes in jars and requires the assistance of a spoon 😆
Anyways… You might say I have a slight thing for maple syrup and maple flavoured foods, which we're going to pretend has everything to do with the fact that it's delicious (because it is) and nothing to do with the fact that I'm stereotypically Canadian (because I am). We're also conveniently going to ignore the fact that I have a tendency to slip "eh?" into every conversation.
Red quinoa…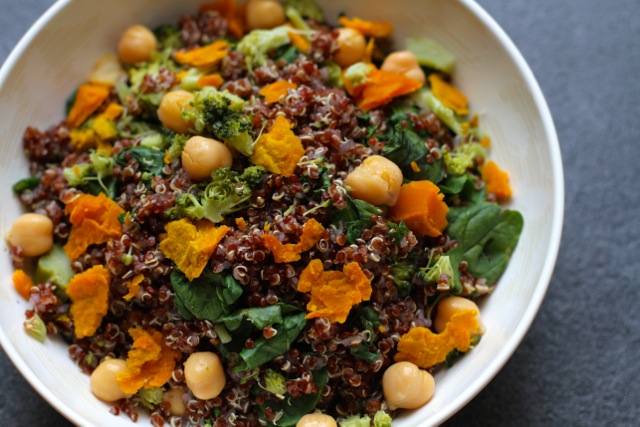 A bowl of red quinoa cooked in coconut milk with chickpeas, spinach, broccoli, and kabocha squash.
So I know quinoa isn't technically fall-ish, but it IS a big bowl of comfort, and that just screams cozy fall days. ALSO! since this quinoa is red, and leaves turn red in the fall… well… I rest my case. Welcome to the bizarre logic of my inner mind — feel free to point and laugh

In any case… I honestly can't say that I detect much of a difference between the two colours other than the fact that red quinoa takes slightly longer to cook. They both have that same earthy flavour and offer the same nutritional benefits. Mostly I just think that red quinoa looks gorgeous.
Butterscotch…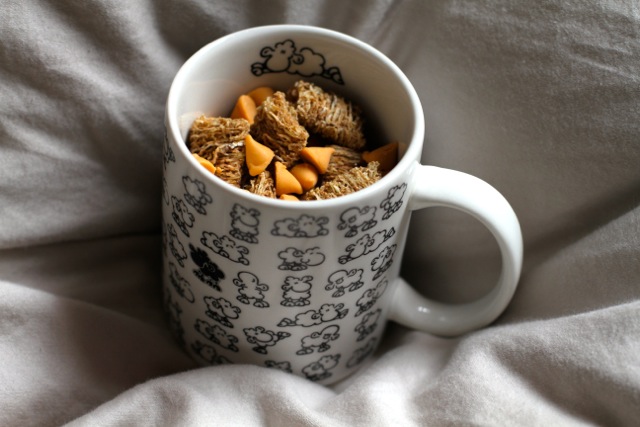 A mug of Kashi Cinnamon Harvest and butterscotch chips.
You guys… I've been cheating on chocolate — with butterscotch. But that's all the deets that I'm going to share with you about our steamy affair for now because I feel like this post is getting a leeeeeettle long.
See your lovely faces tomorrow for some Thinking Out Loud! 😀

What do you think is the tastiest season of the year?
What's one food you love that the blog world has introduced you to?
What extremes have you gone to to satisfy a sweet tooth? I've also been known to eat those sugar cubes that are meant for coffee 😆
More places to find me!
E-mail — [email protected]
Twitter — runwithspoons
Facebook — runningwithspoons
Pinterest — runwithspoons
Instagram — runwithspoons
Bloglovin — runningwithspoons