Happy What I Ate Wednesday, friends!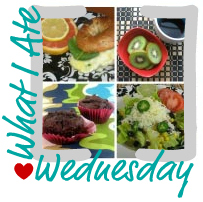 Keeping things rolling with NEDA week, I'm going to use today's WIAW to talk about some of the food-related freedoms that recovery has given me.
Please note… This is not me trying to boast or be all "Ra, ra, ra! Look at me and how awesome I'm doing!" No. This is simply me highlighting some of the positive aspects of recovery for anyone who may be struggling and thinking about giving up (don't do it!), as well as trying to provide a better understanding of the life/mind of someone with an eating disorder for those fortunate souls who've never struggled with one themselves.
And now that we've got that out of the way, I give you… some great things about recovery…
[ not being afraid to go back for more food if I'm still hungry ]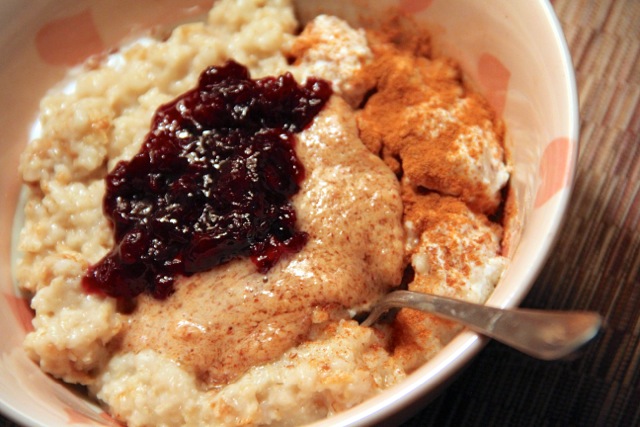 Breakfast: whipped banana oats layered with plain Greek yogurt and topped with ground flax, cinnamon, roasted almond butter, and blueberry jam.
There's nothing worse than finishing a meal and not feeling satisfied. Okay, there are worse things (terminal disease, Chinese water torture, being stuck in an elevator when you have to pee), but not quite filling up the tank enough is definitely up there.
This used to be the story of my life. I'd finish my last bite but still feel like I could use more. It was hard for me to wrap my head around the idea that I needed more food when I already felt like I was eating so much, so I wouldn't let myself grab anything else. It also probably didn't help that my meals were planned out to a tee, and there was no going over a certain amount of calories before a certain time of the day — hungry or not.
No more of that nonsense. I'm hungriest in the morning, and some days are worse than others. Yesterday was one of those days… which is why 20 minutes after breakfast, this happened…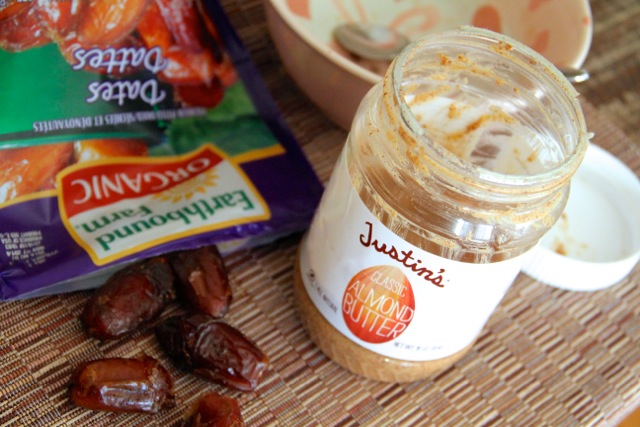 [ life not revolving around meal times ]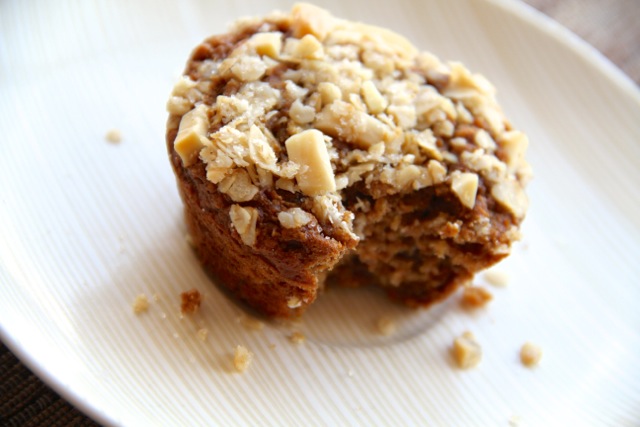 Morning snack: an applesauce oatmeal muffin [with MIA coffee]
My life used to revolve around my eating schedule. I ate every 2-3 hours, which meant that I lived my life in 2-3 hour increments… having to pass on anything that might take longer. I liked to be alone when I ate so that I could enjoy my food to the fullest without distractions. I picked classes in school that didn't interfere with lunch/snack times, and I passed on outings with friends if they meant having to stay out longer than 2 hours. Spontaneity was non-existent, and heaven forbid something came up that interfered with my schedule — instant panic attack.
[ not spending hours trying to plan 'perfect' meals ]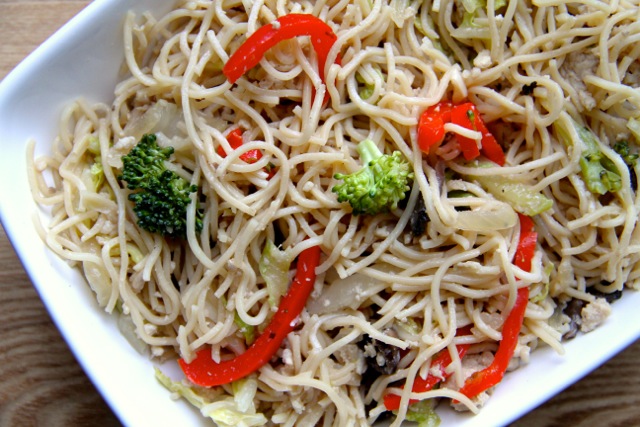 Lunch: leftover sesame chicken stir fry courtesy of Mom.
The amount of time I used to devote to trying to plan the "perfect" day of eats is kind of insane. Balancing macros, distributing calories, entering foods into online calculators, prepping/cooking meals… It's no wonder I was constantly stressing about not having enough time to do anything– I spent a good 2-3 hours on this stuff every.single.day. These days, I usually have no idea what I'm going to eat until I'm actually sitting at the table, and I'm lucky if I can work up the motivation to do something more complicated than pour cereal in a bowl and top it with milk. Leftovers from Sunday night family dinners are my favourite because they mean real food that I didn't have to make myself… and it makes me sad to think that those used to be 'forbidden' because I didn't know what kind of ingredients my mom would put in them.
[ not being a slave to the clock and constantly thinking about food ]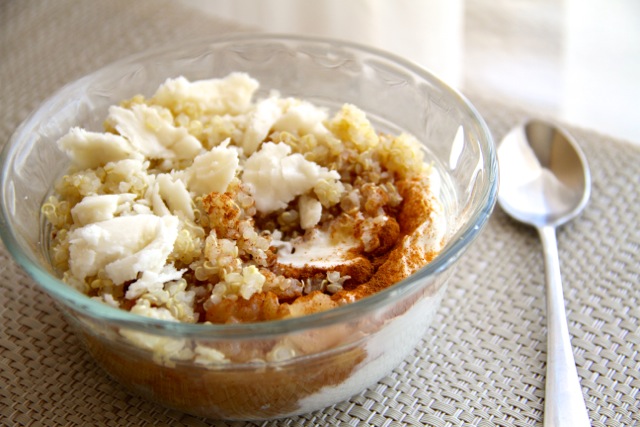 Afternoon snack: a bowl of quinoa cooked in coconut milk, topped with plain Greek yogurt, homemade applesauce, and coconut butter.
I used to live to eat. It was pretty much the only thing I looked forward to, which isn't all that surprising considering my body was starving and food was the only thing it was interested in. Any time I spent with food was euphoric, and any time I spent without it was dragged out torment. I remember finishing a meal/snack only to start thinking about the next one, and hungrily watching the minutes pass by in agonizing slowness, impatiently awaiting the arrival of the hour where I was "allowed" to eat again. Yeah. My days kind of sucked.
[ not being afraid to eat what I crave ]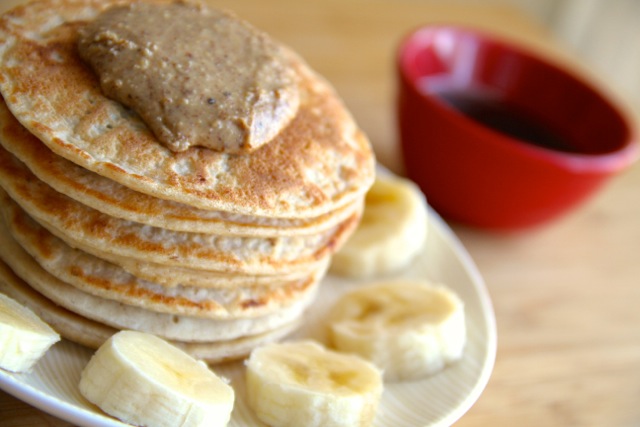 Dinner: banana oat Greek yogurt pancakes topped with almond butter…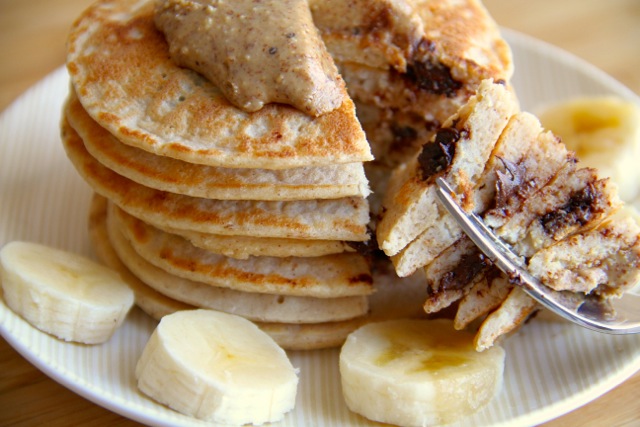 …. and some chocolate chips thrown in for good measure 😉
You guys know I'm a huge fan of breakfast for dinner, but there was a [sad, sad] time in my life where I wouldn't allow myself to have it. I had a certain picture in my head of what a proper dinner should look like, and I wouldn't deviate from that picture no matter how badly I wanted a bowl of oatmeal or a stack of pancakes instead of my plate of rice, chicken, and broccoli. I thought I was doing the right thing by eating balanced meals with plenty of veggies, but the only thing I was doing was forcing myself to leave the table less-than-satisfied-and-still-wanting-more. These days, brinner happens at least a few times a week, and I have to say that I feel much healthier as a result 😉
[ not going to bed hungry ]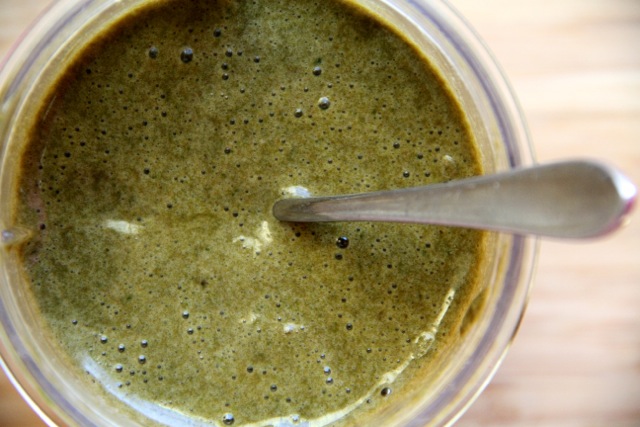 Evening snack: a thick and creamy chocolate smoothie (sans coffee, plus spinach… because my veggie consumption has been SLACKING lately)
Whoever came up with the idea that we shouldn't eat past a certain hour needs to be taken to a dark alley and beaten with a sack of potatoes. For real. I definitely fell victim to this diet myth, and I can't even tell you how many times I forced myself to go to sleep when I was hungry, only to be woken up in the middle of the night by the protests of my empty stomach… that is, if I was even able to fall asleep at all. Worst.feeling.ever. No more — bedtime snacks are my lullaby.
And that's all, folks! Of course there are plenty more amazing things about recovery, but I just wanted to outline a handful of them that had to do with food, seeing as it is WIAW and all. I should probably end it here, though, seeing as this post has already become epic in length 😯 I'll see you guys tomorrow for a body image / recovery themed Thinking Out Loud! I'd love it if you shared your own experiences with body image, food, and/or exercise struggles, but you're more than welcome to share regular random thoughts as well.

Talk to me about bad food habits. Do you have any that you'd like to overcome? Have you had any that you did overcome?
More places to find me!
E-mail — [email protected]
Twitter — runwithspoons
Facebook — runningwithspoons
Pinterest — runwithspoons
Instagram — runwithspoons
Bloglovin — runningwithspoons