A good-for-you muffin that's loaded with applesauce and oatmeal, and sprinkled with a sweet and crunchy almond topping.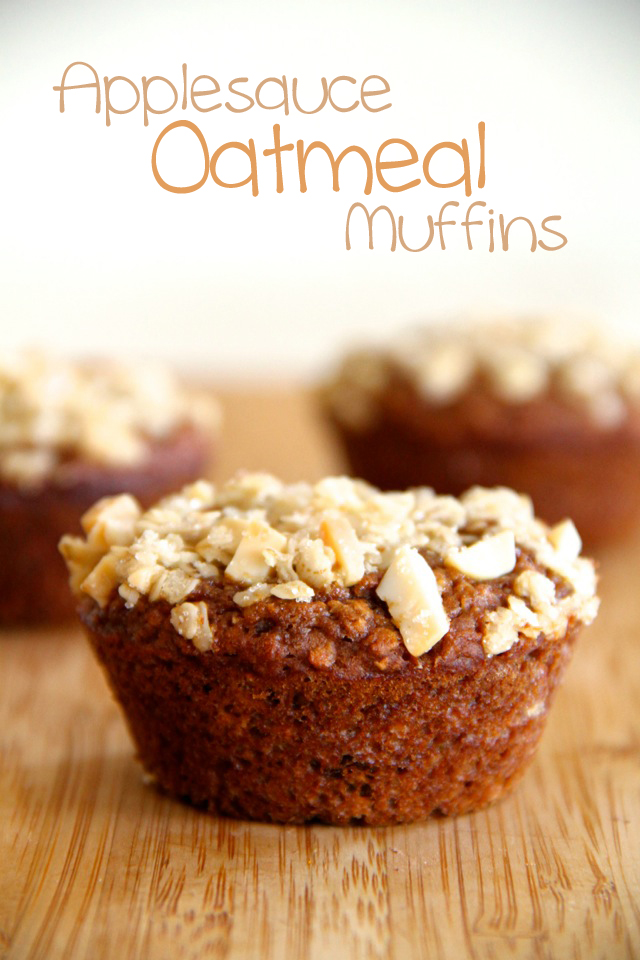 I have a recipe for you today. And if you're wondering how a recipe ties in with NEDA week and my promise to talk more about my ED/recovery, just sit tight and I'll tell ya.
I've always loved to bake. Always, always, always. I have so many fond childhood memories associated with baking… From whipping up countless batches of chocolate chip oatmeal cookies with my mom (my favourite), to successfully cracking my first egg (sans eggshell), to eventually coming up with my own recipes, baking has been a part of my life for as long as I can remember.
It relaxes me… being in a warm kitchen, carefully measuring out ingredients, enjoying the fruits (read: cookies, bars, muffins, breads) of my labour…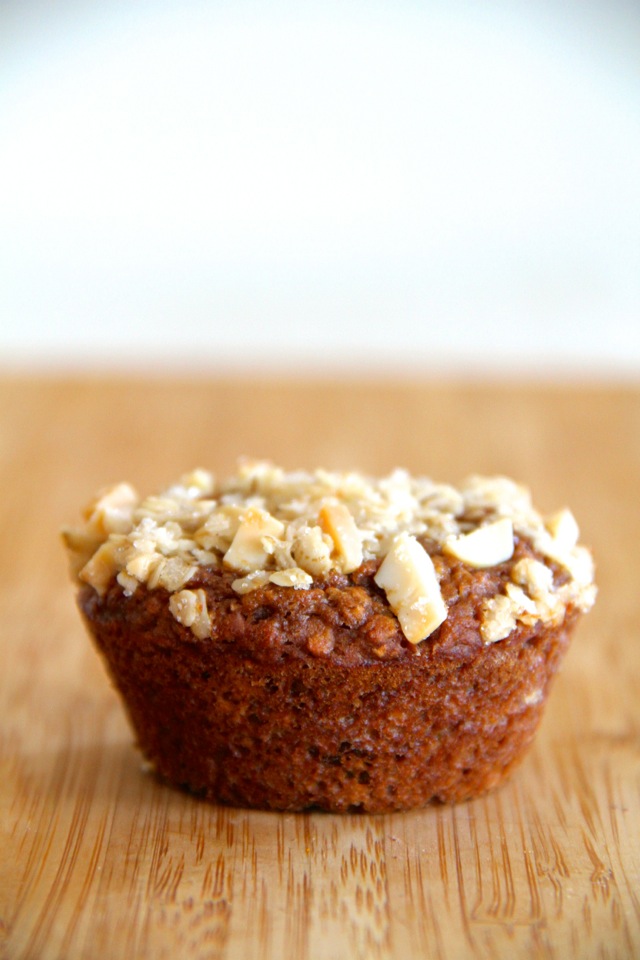 I think it's safe to say that it's easily one of my favourite things in the world. It's also one of the things that became lost to me when my eating disorder hit.
Anyone who's ever struggled with an ED, or even disordered eating habits, knows the fear that comes with eating something that has unknown calories in it. No nutritional label? No bueno. That and a fear of fats and sugars basically made all baked goods off-limits.
So I gave up baking… eventually. There was a period in my ED where I would bake indulgent desserts for my family and friends just so I could spend more time around food and indulge in the activity that I loved, but I had to stop because it became too hard to be surrounded by delicious food that I'd never actually allow myself to eat. It was basically torture…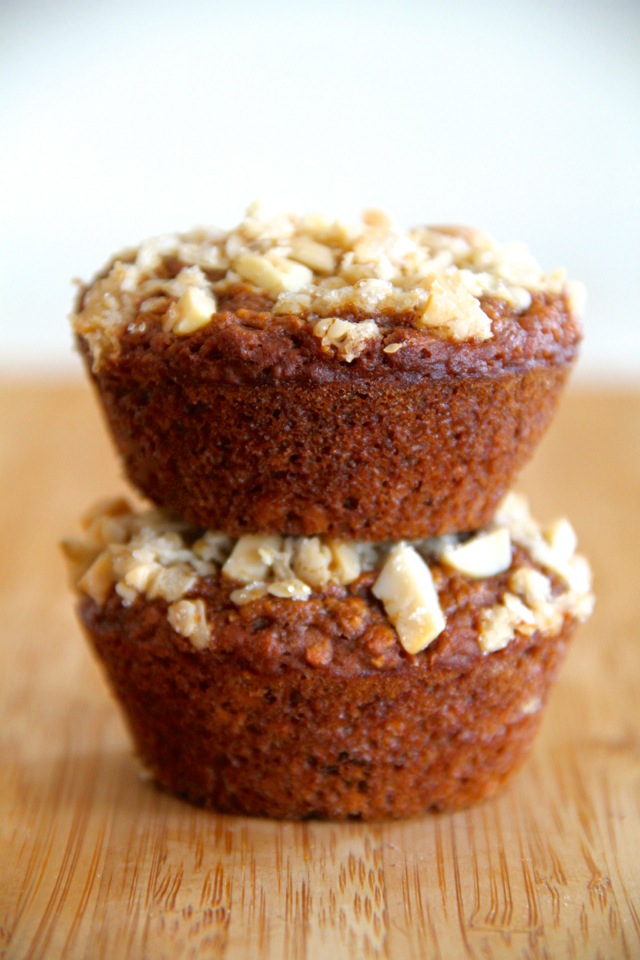 But enough doom and gloom, let's talk about the good stuff — let's talk about how baking actually helped me in recovery. Remember how I mentioned that it was basically one of my favourite things in the world? Well, I missed it after a while… enough to face my fears and whip out the cookie sheets and muffin pans again. It sounds a little crazy saying it now, but no one ever said EDs made any sense.
In any case… I started off small and safe — making healthy substitutions, avoiding too much fat or sugar, and ending up with "treats" that weren't really treats — but at least it was a start. It gave me a taste of what I'd been missing out on and sparked a craving for more. I slowly got bolder and my treats became sweeter (and edible)… and it was my passion and love for baking that really helped me every step of the way.
Moral of the story? Start small and build strength — baby steps will still get you to where you want to be. Use your passions to drive you. Oh, and make these muffins… they're delicious 😀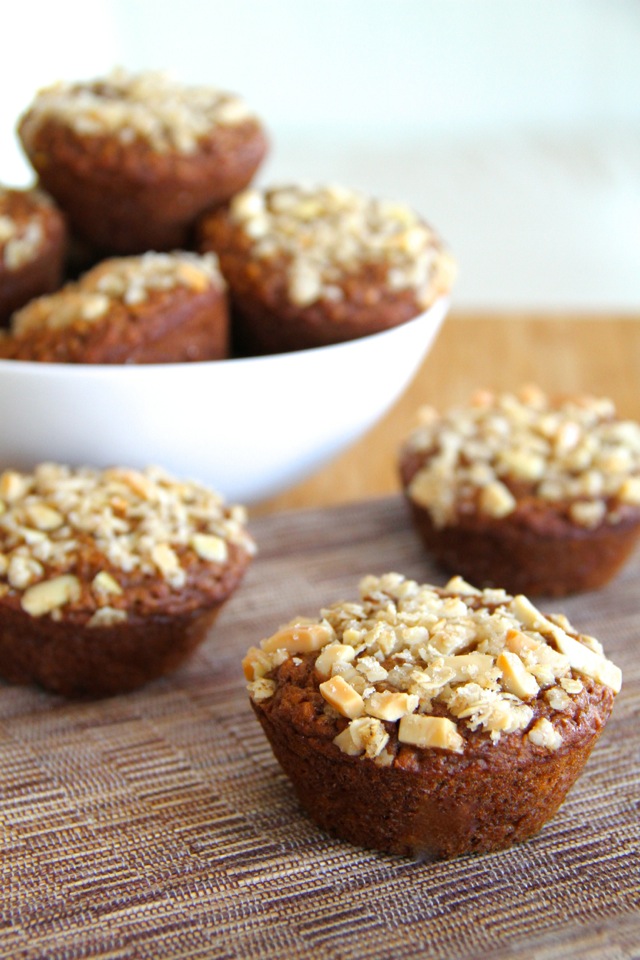 I'd love to know if you make this (or any!) recipe! Tag @runwithspoons on Instagram and Twitter, and be sure to subscribe to our mailing list to receive more healthy and delicious recipes straight to your inbox!
Print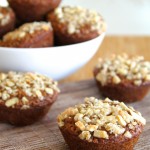 Applesauce Oatmeal Muffins
---
Author:

Total Time:

30 mins

Yield:

12

muffins

1

x
Muffins
3/4 cup

whole wheat flour

1 1/4 cup

quick-cooking oats

1 tsp

. baking powder

1/2 tsp

. baking soda

1/2 tsp

. salt

1 tsp

. ground cinnamon

1

large egg

1 cup

unsweetened applesauce

1/2 cup

unsweetened vanilla almond milk (or regular milk)

1/2 cup

brown sugar

2 Tbsp

. coconut oil, melted (or canola/vegetable oil)

1 tsp

. vanilla extract

1/2 cup

raisins
Topping
2 Tbsp

. quick-cooking oats

2 Tbsp

. sliced/slivered almonds

1 Tbsp

. brown sugar

1 Tbsp

. coconut oil, melted (or butter)
---
Instructions
Preheat oven to 400°F. Lightly oil a muffin tray, or line it with 12 paper/silicone muffin liners.
Prepare topping: In a small bowl, combine oats, almonds, and brown sugar. Add melted coconut oil and mix until well combined. Set aside.
In a large mixing bowl, combine flour, oats, baking powder, baking soda, salt, and cinnamon. Set aside. Beat egg in a medium mixing bowl. Whisk in applesauce, almond milk, brown sugar, coconut oil, and vanilla. Add wet ingredients to dry ingredients, mixing lightly until just combined. Fold in raisins.
Divide batter evenly among the 12 muffin cups. Using your fingers, sprinkle topping onto each muffin.
Bake muffins for 18-20 minutes, or until top is firm to the touch and toothpick inserted into the centre comes out clean. Allow muffins to cool in pan for ~10 minutes before transferring to a wire rack to cool completely.
Prep Time:

10 mins

Cook Time:

20 mins
Keywords: applesauce oatmeal muffins, baking in recovery, eating disorder recovery, muffins, recipe