What's up my fellow cereal lovers!  Happy Wednesday to ya! 😀
Before we start celebrating the deliciousness that is WIAW, I need to make one more brief cereal mention because, as of today, I have a new favorite to add to my list, all thanks to a package that I received this morning from the ever so sweet and generous L…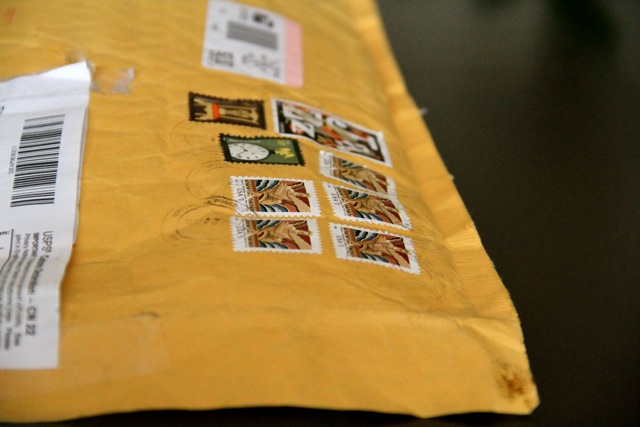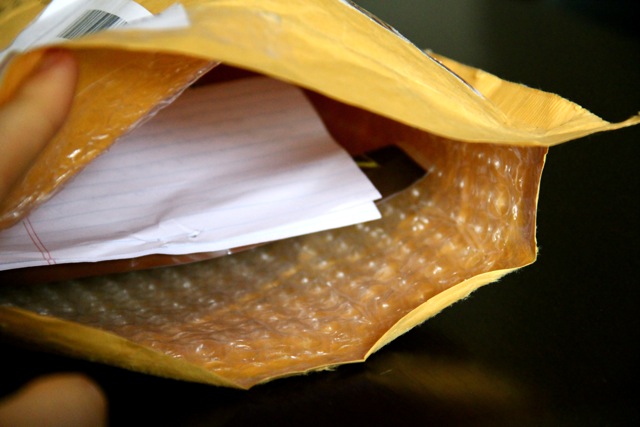 She surprised me with a baggie of my newest addiction after hearing me lament about the fact that I wasn't able to find it in any of the stores near me…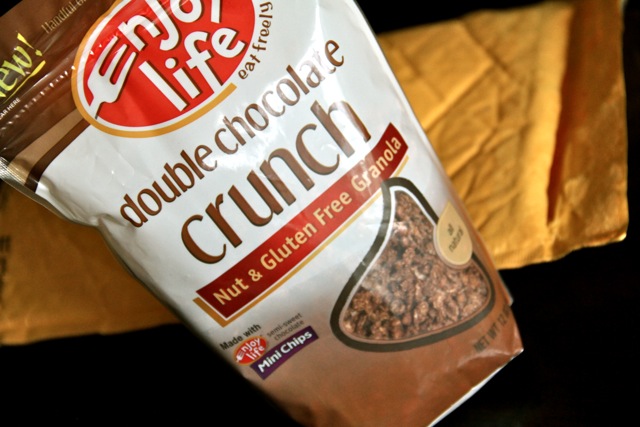 Obviously, I had to dig in stat…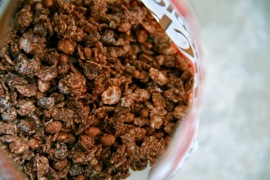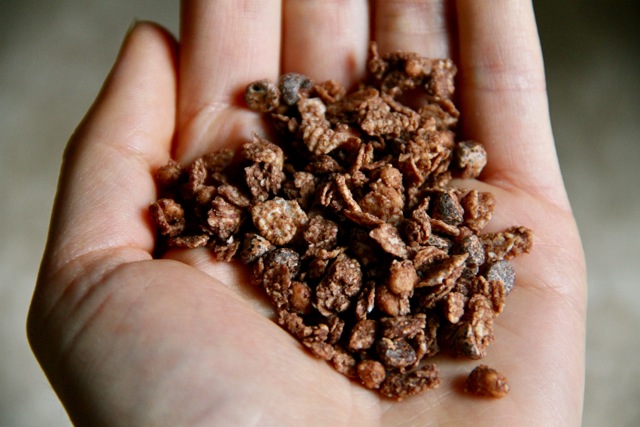 … and… Ohhhhh.mi.gosh. I'm in love. Both with L and Enjoy Life Double Chocolate Crunch granola. The chocolate. The crunch. The kindness. EeeeEEEEeee. I'm smitten…
… and now I'm ready to party…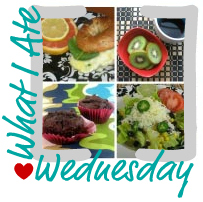 When it comes to extremely serious and life-altering cereal vs. oatmeal debate, most people tend to agree that oatmeal wins at breakfast time…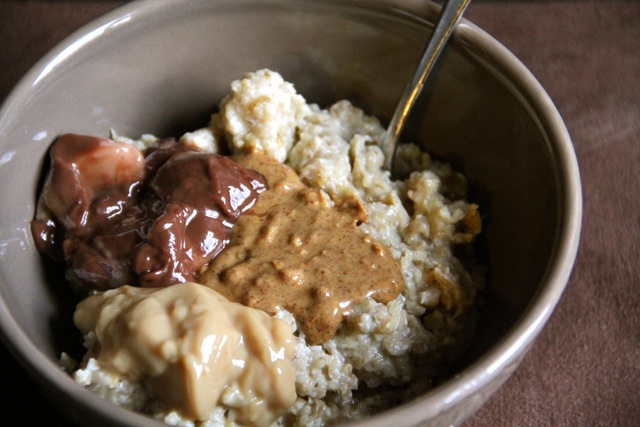 Eggy bananafied steel cut oats topped with almond butter and pudding.
While cereal wins at snack time…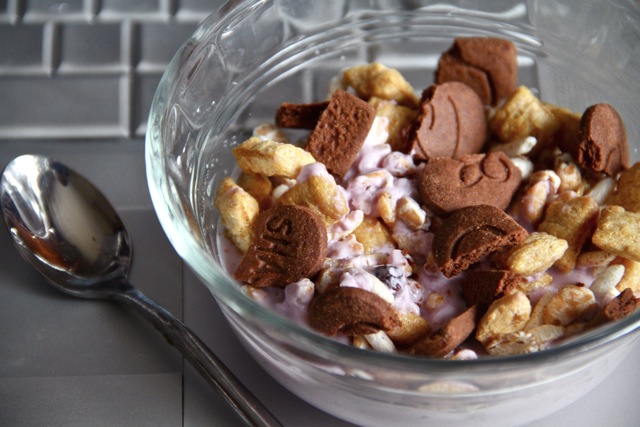 Blueberry Greek yogurt, Kashi Honey Sunshine, puffed wheat, cocoa ginger snaps.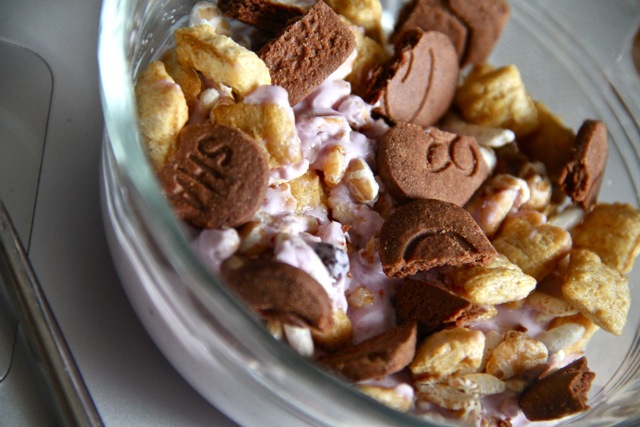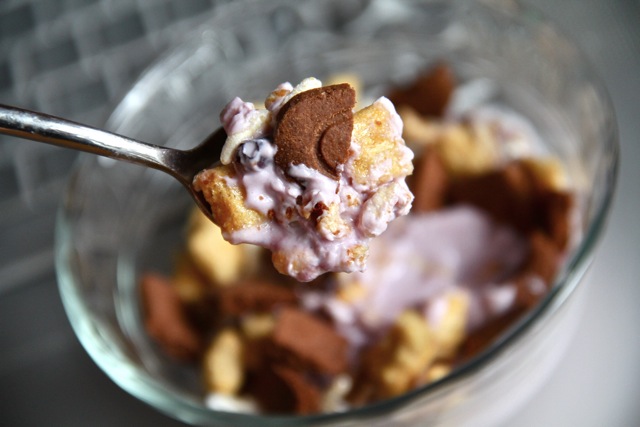 … and sometimes even at lunch time. But today, I was feeling a but more savory when the clock struck noon, so I decided to go with something that I haven't had in a while…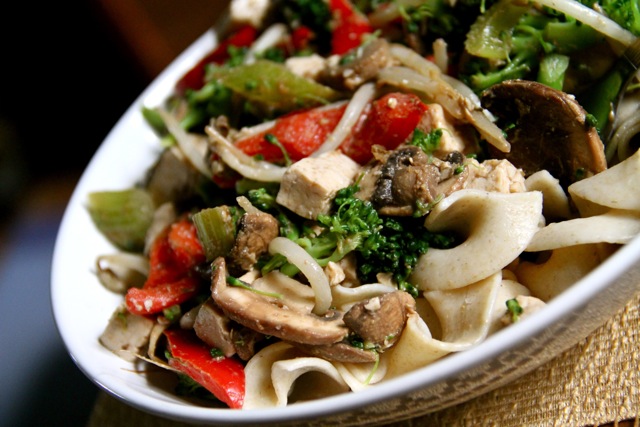 Tofu stir fry! 😀
All I did was saute some pressed tofu and veggies (bell pepper, celery, mushrooms, broccoli) in toasted sesame seed oil and soy sauce, add in a spoonful of sunflower seed butter (this is key) when it was done, and plopped the whole shebang over a bed of noodles. Speedy. Scrumptious. Satisfying.
After letting that digest for a while, and because I was busy with work this morning and couldn't get my workout in, I decided it was time to get my sweat on, so I headed to the gym for a full body weight session.
As of last week, I kind of gave up following the NROLFW lifting plan. It's not that I wasn't getting results, it's just that I found myself getting bored and not enjoying my workouts as much. So, I scrapped the plan and came up with my own routines based on whatever I felt like working that particular day.
I made it halfway through, though, which is pretty good considering my issues with commitment. One thing I have no problem committing to, however, is my beloved post-workout snack…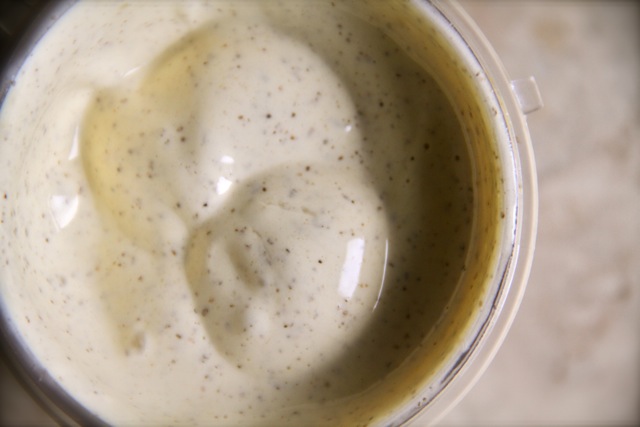 1 cup frozen mango, ½ cup almond milk, 1 scoop vanilla whey, 1 tsp. chia seeds.
Apparently, I also have no problem scrapping dinner and snacking the afternoon/evening away…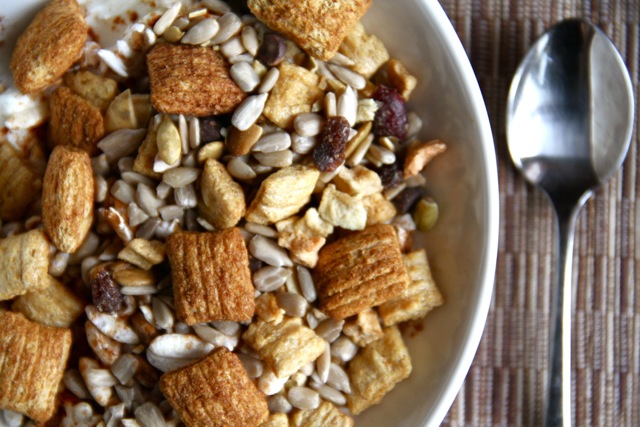 Greek yogurt, Kashi Honey Sunshine, puffed wheat, Cinnamon Puffins, trail mix.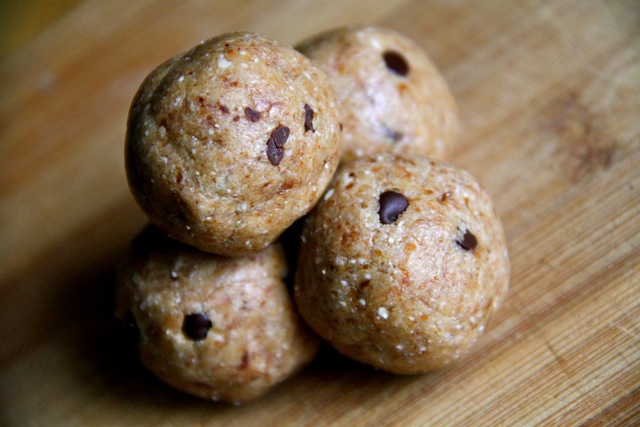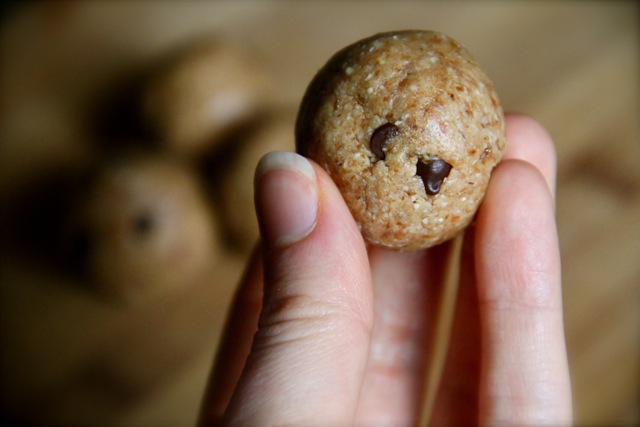 Chocolate chip cookie dough balls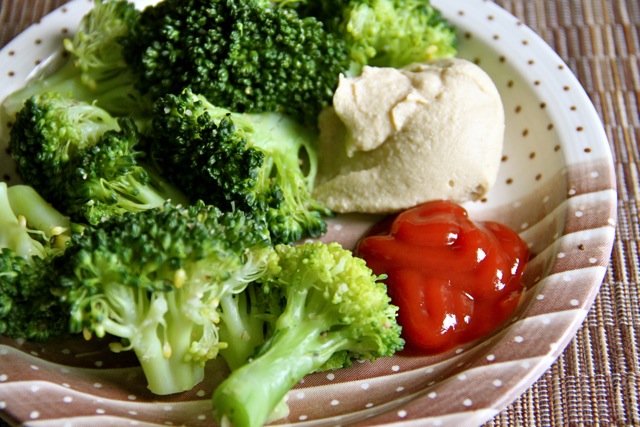 Random craving: steamed broccoli, hummus, ketchup 😯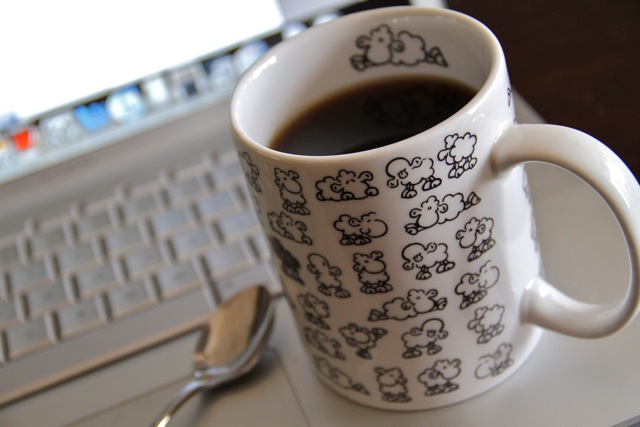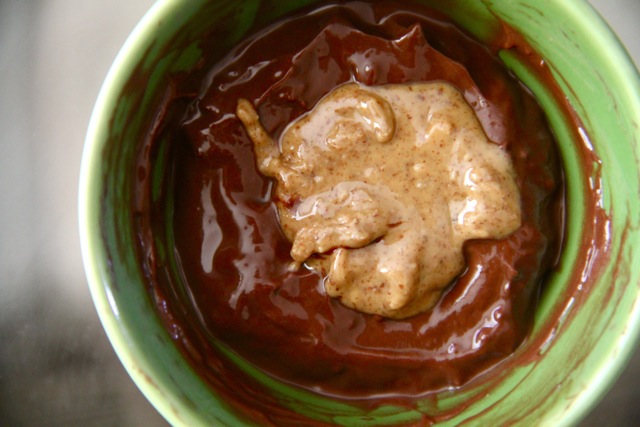 Teeccino. Chocolate pudding spiked with cocoa powder and almond butter.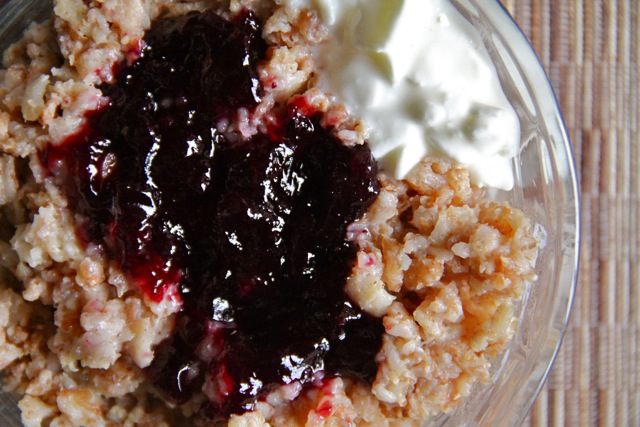 Eggified spelt flakes with cottage cheese and jam.
Yeah. I don't know either. Sometimes you just have to go with the flow and honor those cravings. Speaking of which, I'm feeling a banana&AB craving coming on, so I'll end the night on that note.
I hope you're all having a wonderful [insert whenever you're reading this], and I'll see you tomorrow with the giveaway winner! 😀
. – . – . – .
Do you always eat set meals for breakfast, lunch, and dinner? Or do you sometimes find yourself snacking the day away instead?
Do you ever experience some bizarre cravings? Some of the weirdest ones I get hit with are ketchup, salsa, mustard, and pickles.