Happy What I Ate Wednesday, friendly faces! 😀
It's been a while since I've shared a day of eats with you guys, and I figured that taking pictures of my meals would be good motivation for me to actually start plating them and sitting down to eat as opposed to eating straight from the pot or standing over the counter. Womp, womp. I've picked up some not-so-great habits over the past little while, and while I could blame them on being busy and constantly having something to attend to, they're still habits that I'd like to nip in the bud.
Side note: I totally had to Google that phrase to see if it was "nip it in the bud" or "nip it in the butt," because there was a point where I thought it was the latter… which sounds kind of wrong 😆 Either way, it's still a habit that I'd like to stop, so let's take a look at some sit-down meals! Plusssssss some unpictured snacking, because… hey… old habits die hard…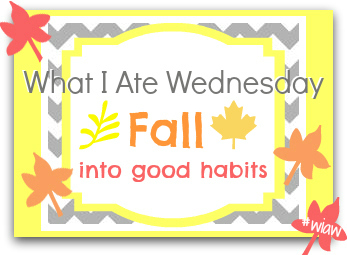 Breakfast… sitting down to eat… pancakes.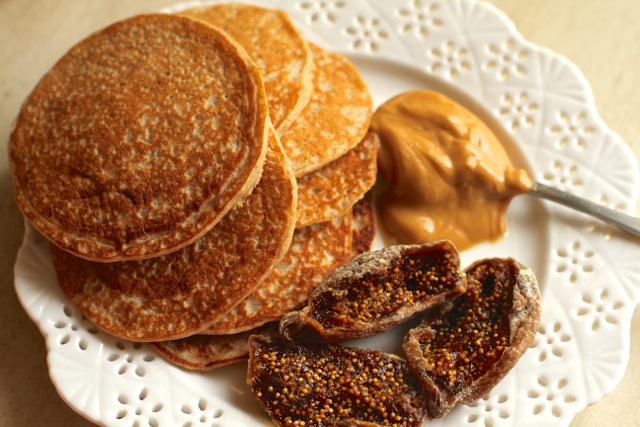 A stack of apple oat Greek yogurt pancakes (recipe soon!!) with dried figs and almond butter.
Your eyes are not playing tricks on you. Amanda, the girl who never eats pancakes for breakfast, had pancakes for breakfast. I'm going to stop referring to myself in the third person now and admit that the only reason this happened was because I had pancakes left over from the night before — otherwise I consider pancakes to involve too much manual labour for first thing in the morning. But testing out a new recipe idea means lots of pancakes in my kitchen, and lots of pancakes in my kitchen means someone's gotta eat them! I took about 3 bites before I had to go grab some maple syrup… #iamcanadian.
Morning snack… sitting down to eat… a protein bar.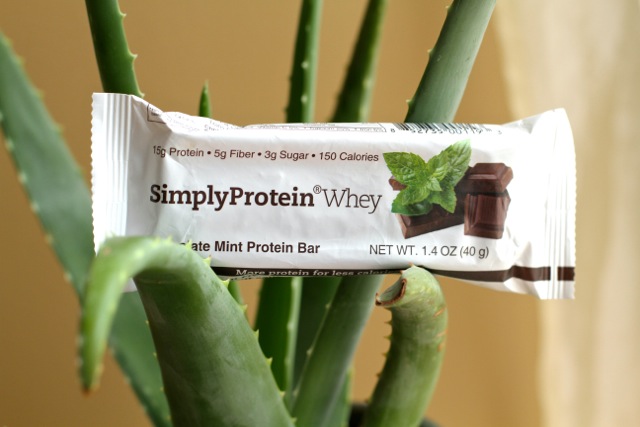 Simply Protein Whey Bar in chocolate mint.
Okay, so I didn't really sit down to eat this one since I was out running errands all morning, but I was sitting in my car so I'm totally counting it! I'm not really crazy about most store-bought protein bars and usually prefer to make my own, but I'll admit that they do come in handy when I'm feeling lazy, and this one actually tasted pretty good! It helped keep the hanger at bay while I was out and about in the world, anyways, so I'm happy about that! Also… please note that Spike is still alive 😉
Lunch… sitting down to eat… a snack plate.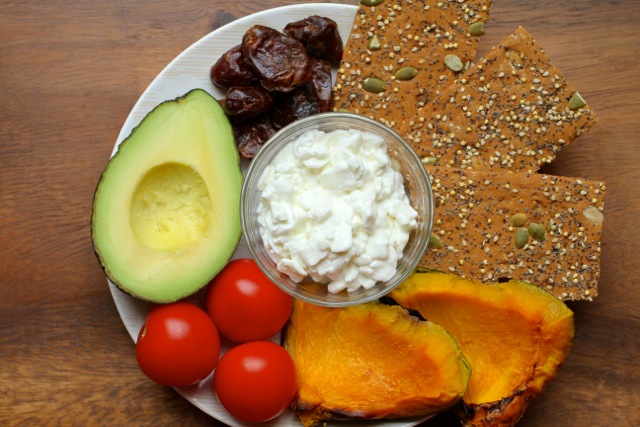 Half an avocado, dates, Dr. Kracker crispbreads, roasted kabocha, cherry tomatoes, and cottage cheese.
The return of the snack plate! Not that it ever really went away, but it sort of morphed from a snack plate into a "snack-while-standing-at-the-counter" type deal. I know, I know. But sometimes I'll just get into these moods where I'll have no idea what I want, so I'll stand in my kitchen and taste-test a bunch of different things until I figure the mysterious craving out… usually eating close to an entire meal in the process 😆 It's a habit I really need to fall out of.
Afternoon snack… sitting down to eat… chocolate.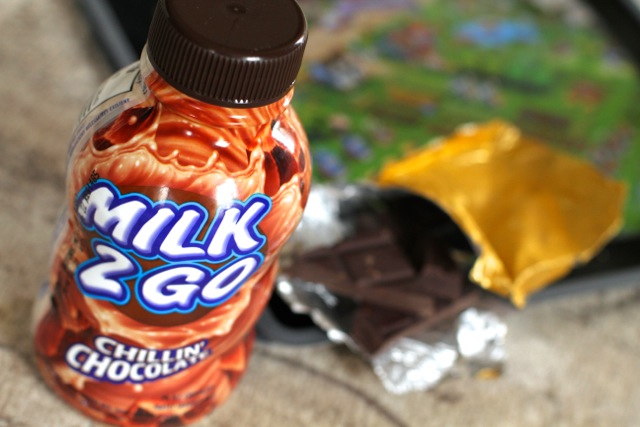 Milk 2 Go chocolate milk and Green & Black's dark chocolate.
I haven't had chocolate milk in… years. But I got a free bottle while I was over in Whistler and figured I should finish it before it expired in… December 😆 Don't even tell me what makes it last that long — I don't wanna know. It was tasty, though! And it, along with some dark chocolate, managed to squash the chocolate craving that always seems to hit me in the afternoon. Enjoyed with a side of Farmville.
Dinner… sitting down to eat… quinoa and chickpeas.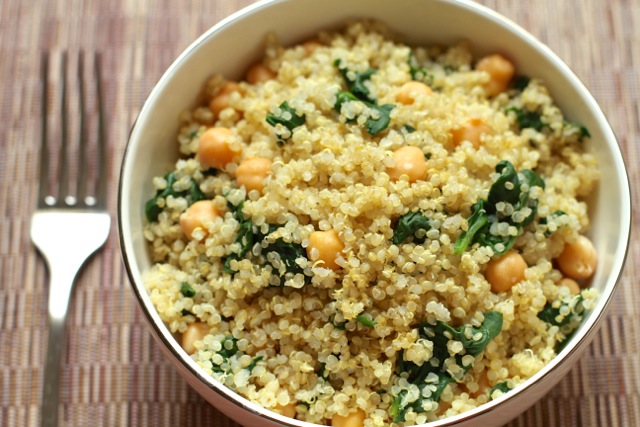 A bowl of quinoa cooked in coconut milk and nutritional yeast, with steamed spinach and canned chickpeas.
You can thank my recent obsession with quinoa and chickpeas for the fact that I've actually been making real dinners lately. Or, I suppose I should be the one saying thanks, since there've been a few too many "cereal for dinner" nights around these parts lately… and to be honest, I was kind of getting sick of it. It's not that I don't like to cook, but it can be hard to work up the motivation sometimes when I've had a busy day and I know that I'll be the only one eating it. Anyone wanna come over for dinner? 😀
Evening snack… sitting down to eat… cereal.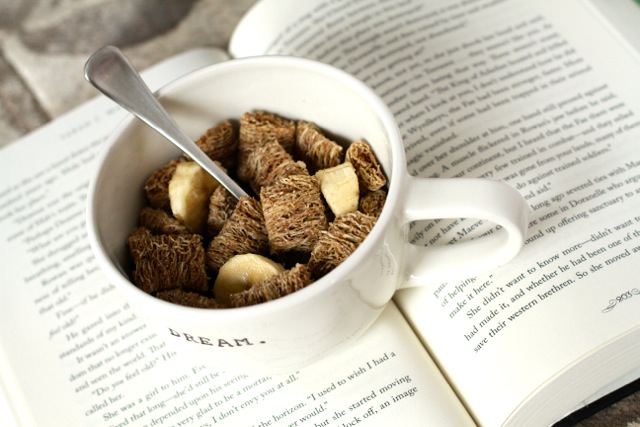 A mug of Kashi Cinnamon Harvest with banana slices and almond milk.
I may be tired of eating cereal for dinner, but that doesn't mean I can go an entire day without it! It's still one of my favourite late night snacks, and while I usually mix a few different kinds to make things interesting, I kept it simple this time around with the classic combo of shredded wheat, banana, and milk. Enjoyed alongside Heir of Fire before passing out for the night.
Hope you're having an awesome Wednesday! See you guys tomorrow for Thinking Out Loud! 😀

What did you have for breakfast today?
Do you have a habit of eating over the counter too?
More places to find me!
E-mail — [email protected]
Twitter — runwithspoons
Facebook — runningwithspoons
Pinterest — runwithspoons
Instagram — runwithspoons
Bloglovin — runningwithspoons