Hi friends! 😀
You guys had so many great thoughts on the scale. The general consensus? How you feel and how you treat your body is more important than the number you see between your toes. I loved hearing that so many of you don't let the scale control your lives or ruin your day, and I also loved seeing so many new faces popping up in the comments section. Welcome! You guys all make me smile real big 😀
(and yes, I'll be sharing the recipe for Snobby Joes sometime soon)
Another thing that makes me smile? Wednesdays! Mmm hmm. It's that time of the week again…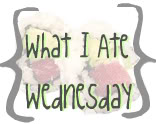 The day where I get to indulge my curiosity and have a peek at all the delicious things that everyone is eating; and to share my own delicious eats, of course. Although, I've gotta say that this morning definitely didn't start out on a tasty note. In fact, it was just downright dirty…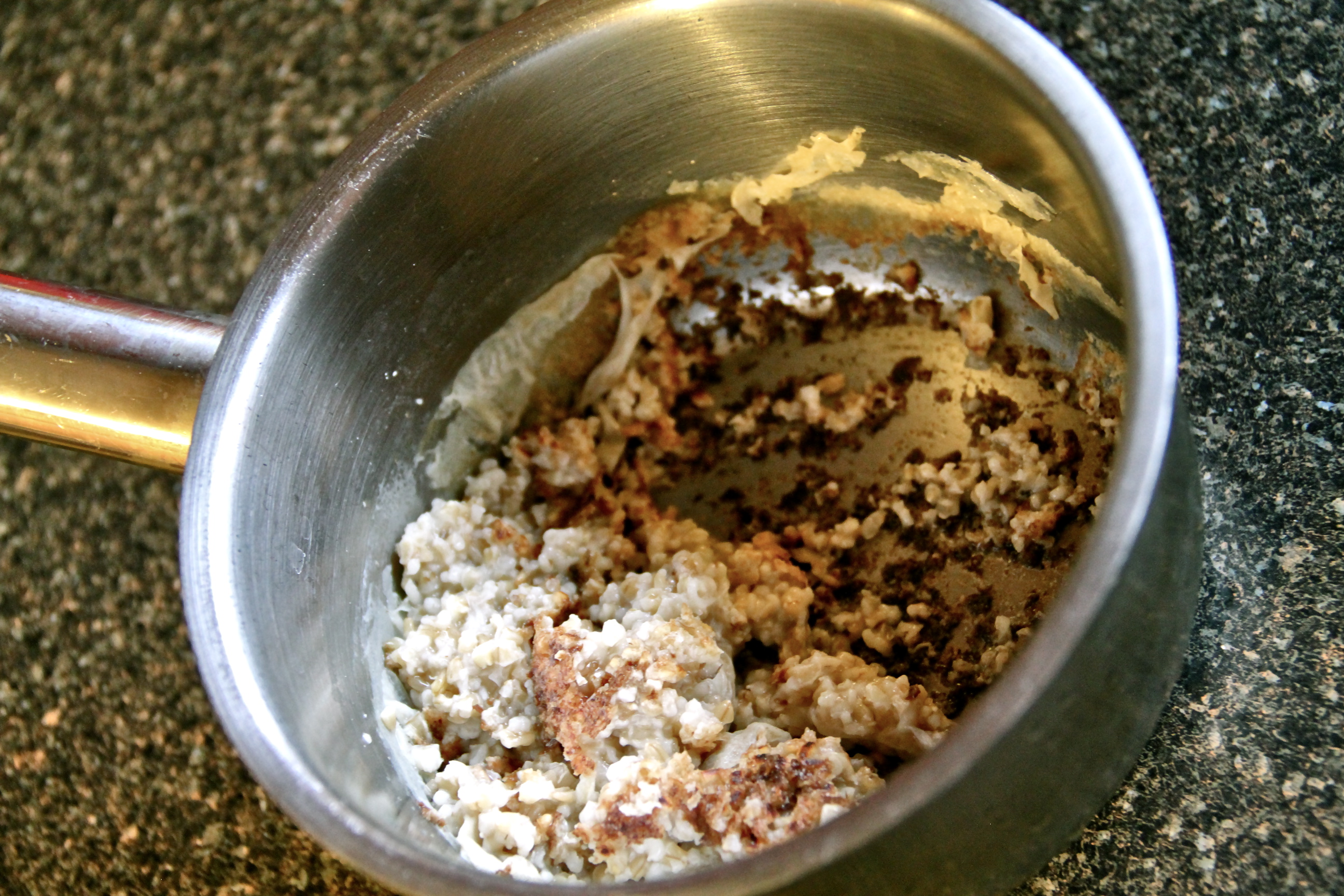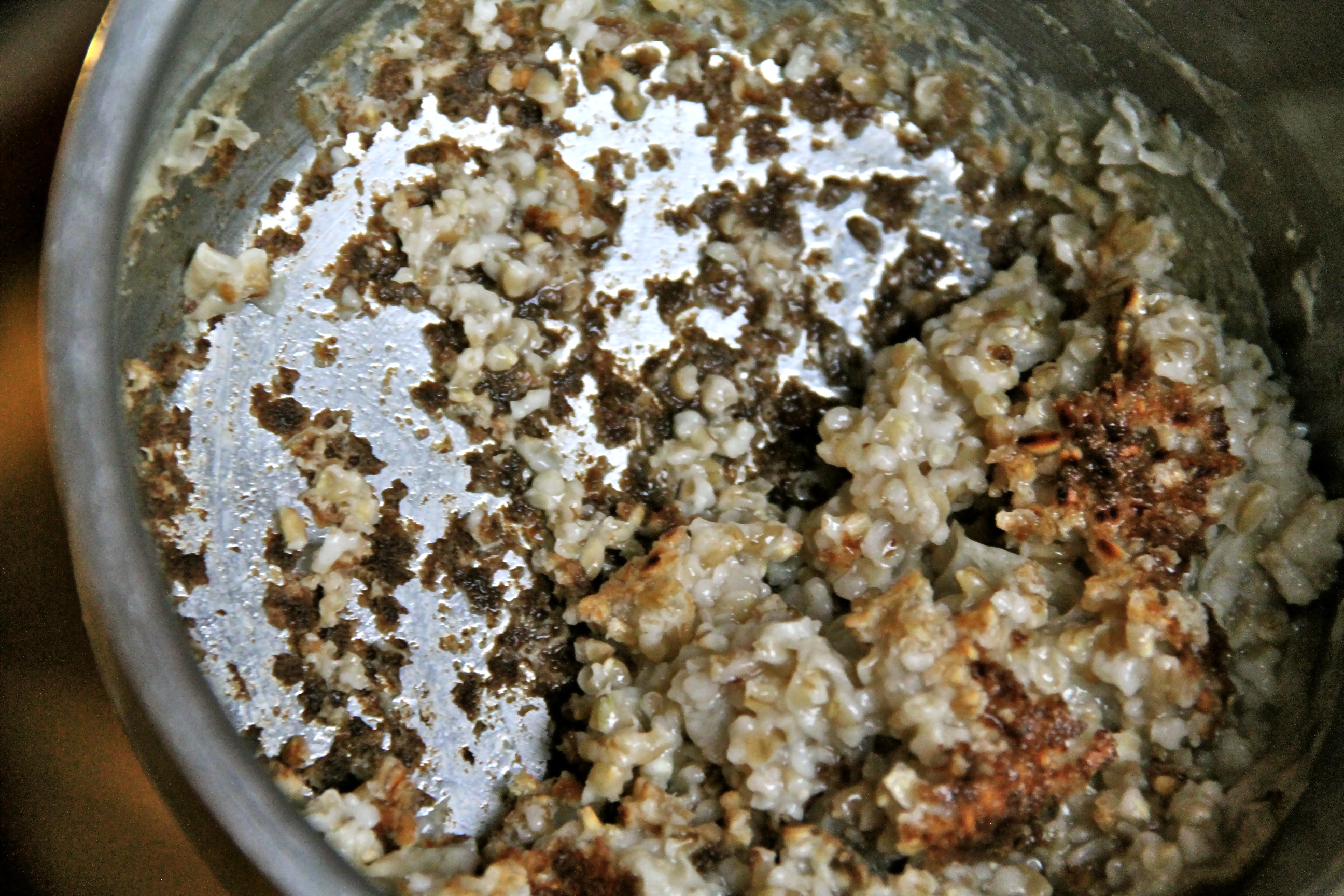 No, that's not chocolate in my oats – it's what happens when you leave breakfast bubbling away on the stove and go off to read some blogs [for longer than you should]. You come back to a kitchen that smells like crap and a pot of oatmeal that probably tastes like it too. Thankfully, round two was much improved.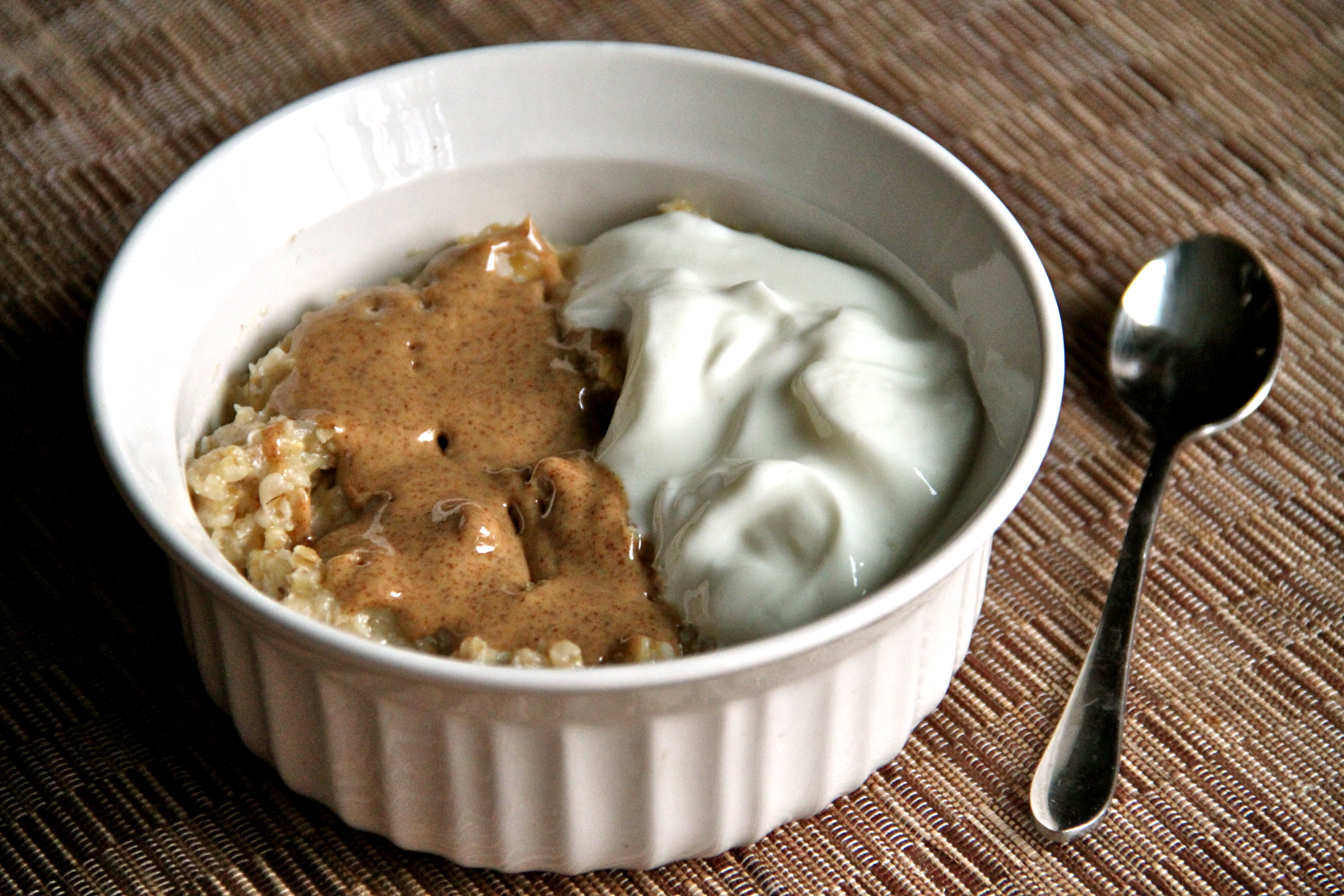 I had a serious craving for the tangy wonderful-ness of yogurt this morning, so I plopped some of the Greek stuff on top of my eggy banana oats along with some roasted almond butter, and sat down to catch up on blogs without having to worry about burning my house down.
Dee-lish.
It was then off to torture my legs, butt, and ego with a lower body strength routine that I swear almost made me cry. Oh lunges and squats, why oh why do you have to hurt so good? I've recently decreased the amount of running that I do and started to focus more on strength training because it doesn't bother my foot as much. So far I'm really loving it, although I might be singing a different tune when I wake up unable to walk up the stairs tomorrow morning.
Post workout noshings were very uncharacteristic considering the current state of the weather outside. It was another dreary day, but all I wanted was fresh summer fruit and a cold smoothie.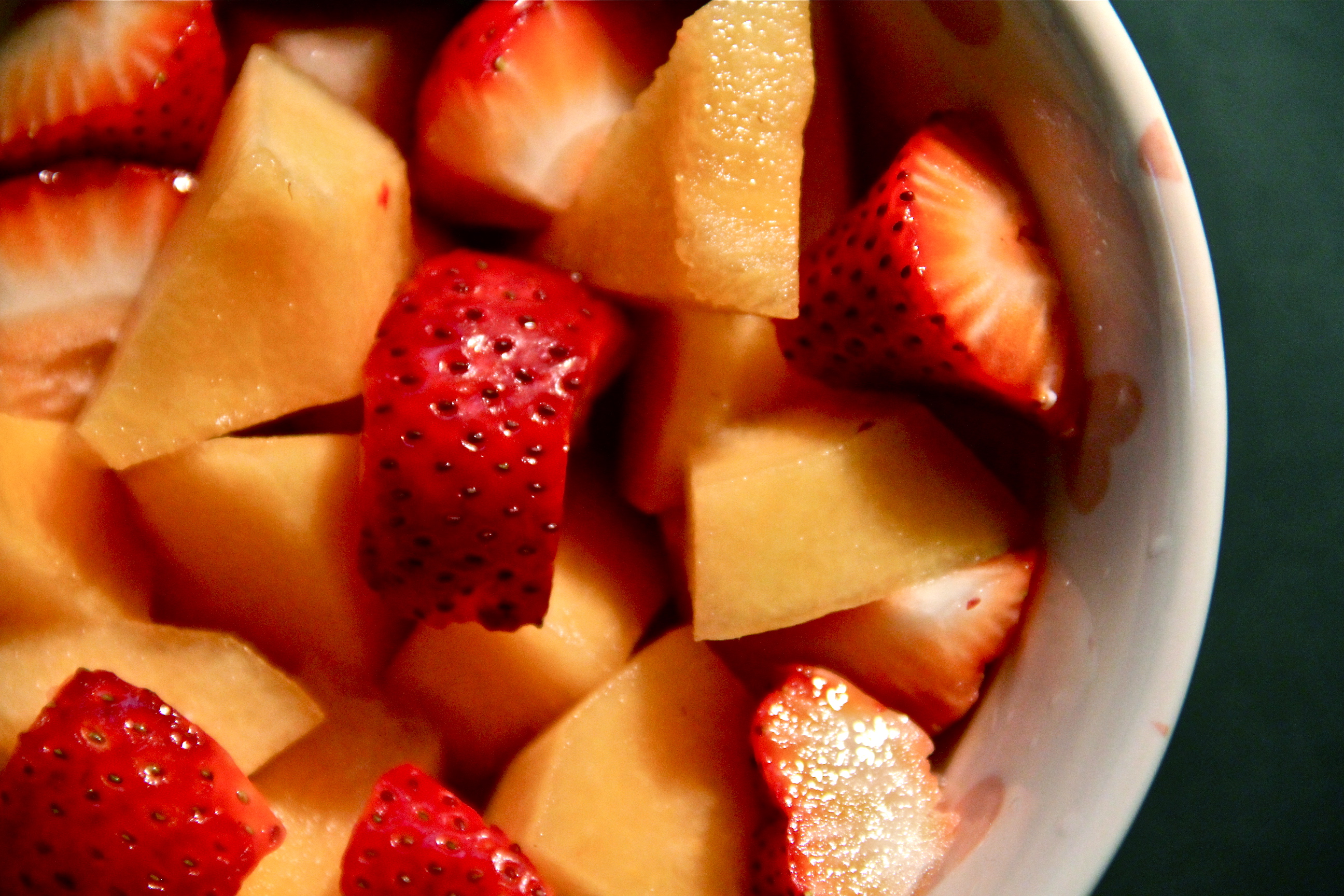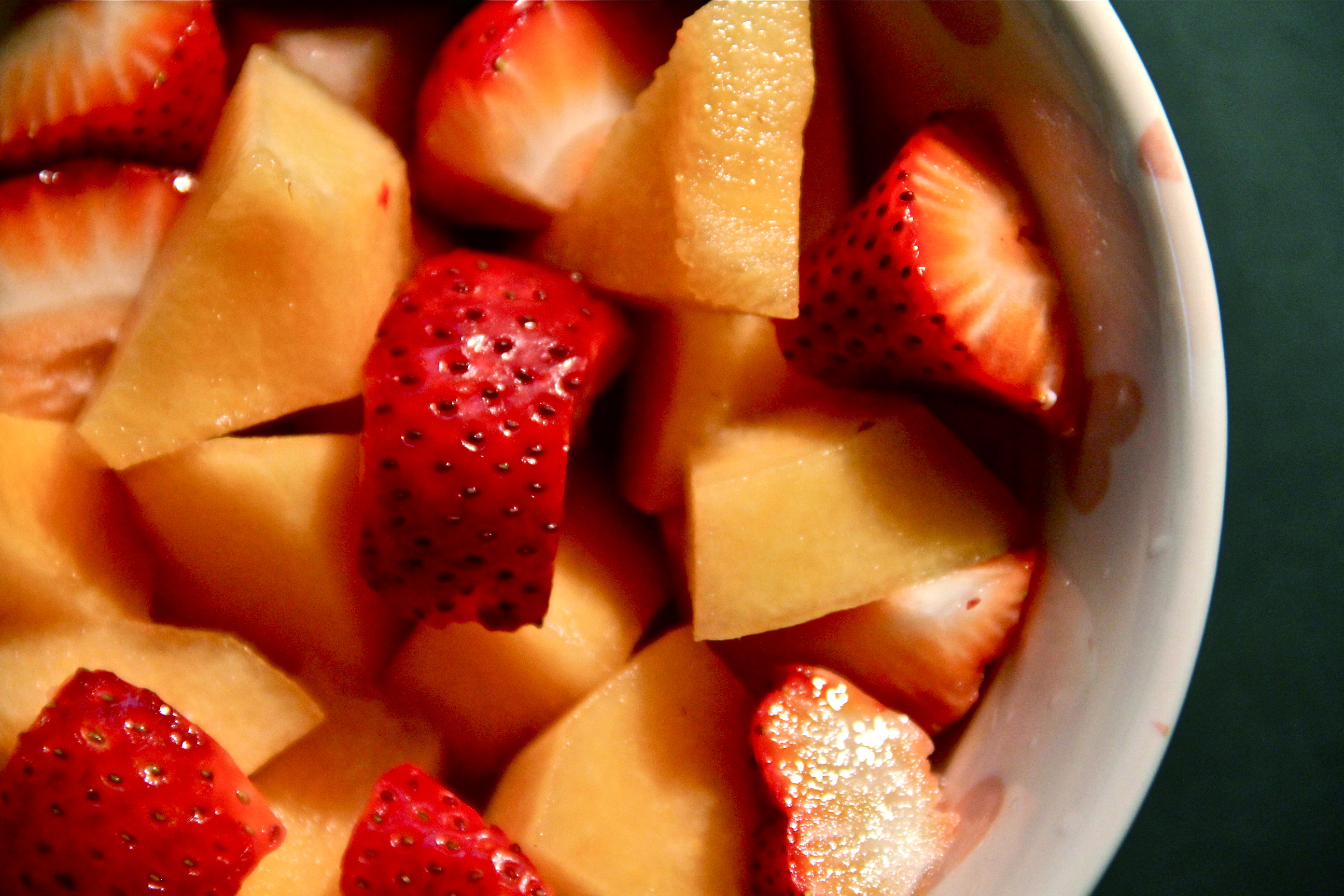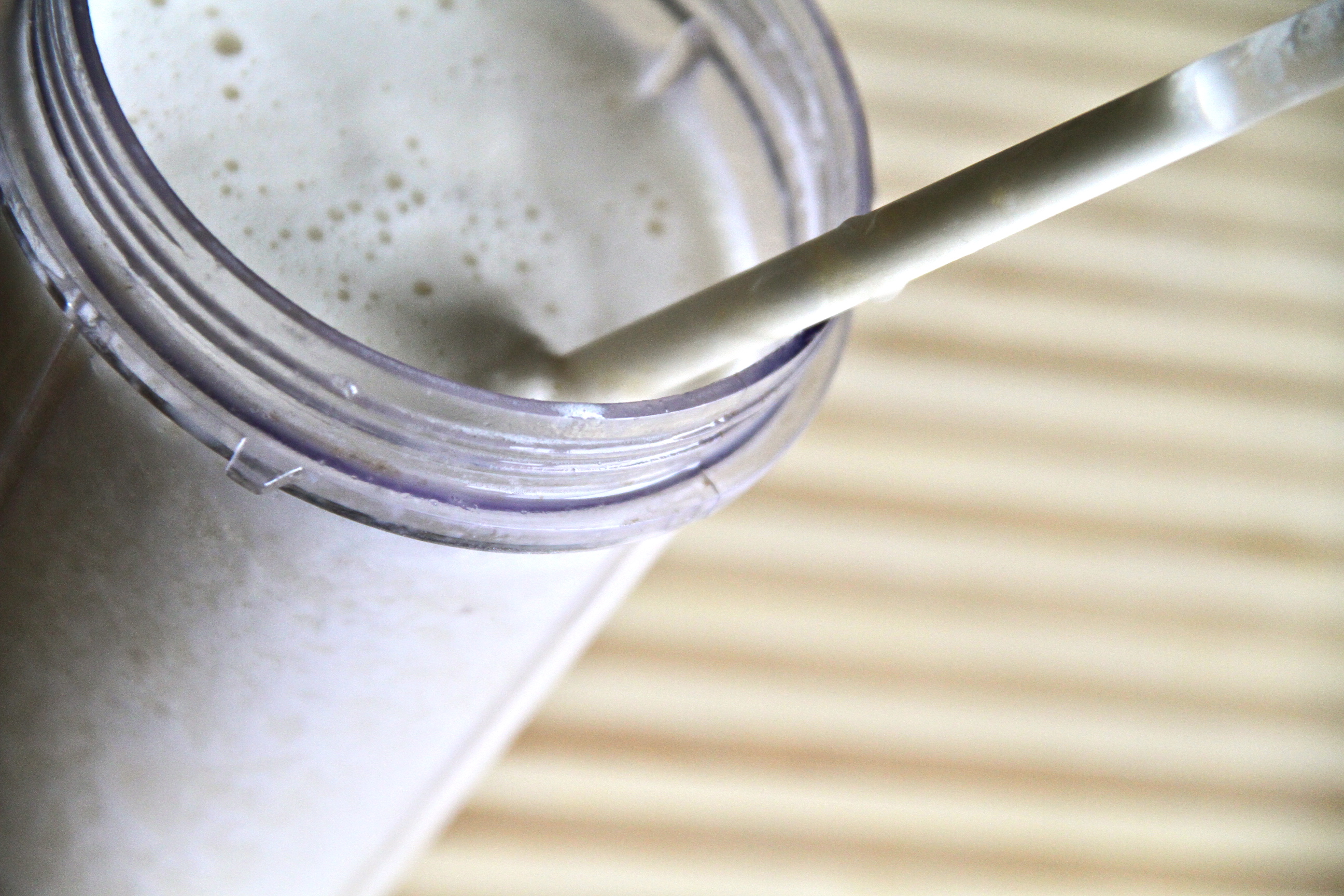 I've given up trying to figure out why I crave the things I do, which is probably a good thing because today's lunch would have left me scratching my head wondering where my "unique" cravings come from…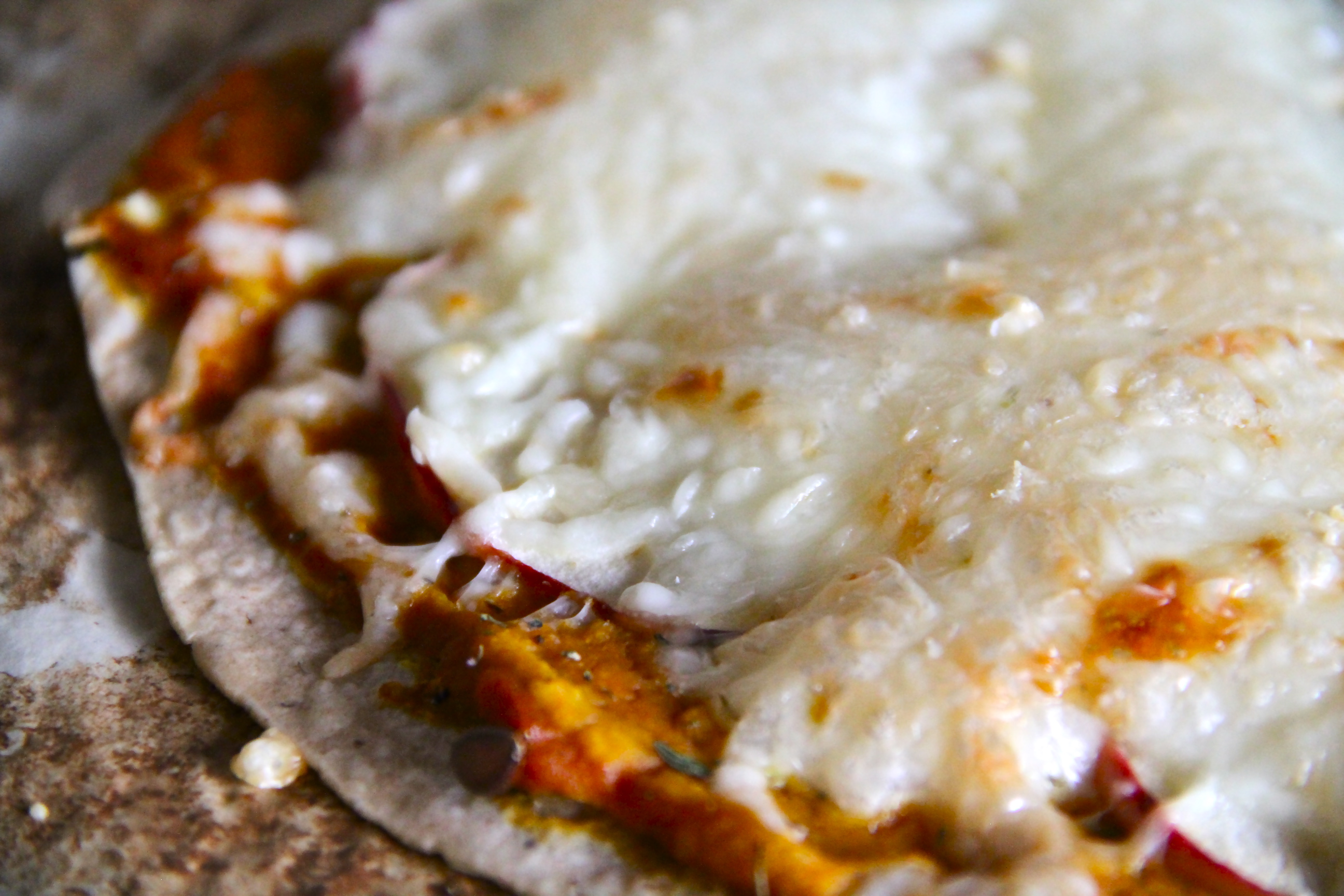 I was in the mood for one of my pumpkin hummus tortilla pizzas, but because I was also having a huge (unpictured) salad best, I wasn't really feeling the extra veggies… so I went with fruit instead – more specifically, apples. I spread a whole wheat wrap with a few spoonfuls of canned pumpkin, followed by a few spoonfuls of hummus. Then, I made a layer out of thinly sliced apples and topped the whole thing off with shredded mozza before popping it in the oven for about 20 minutes.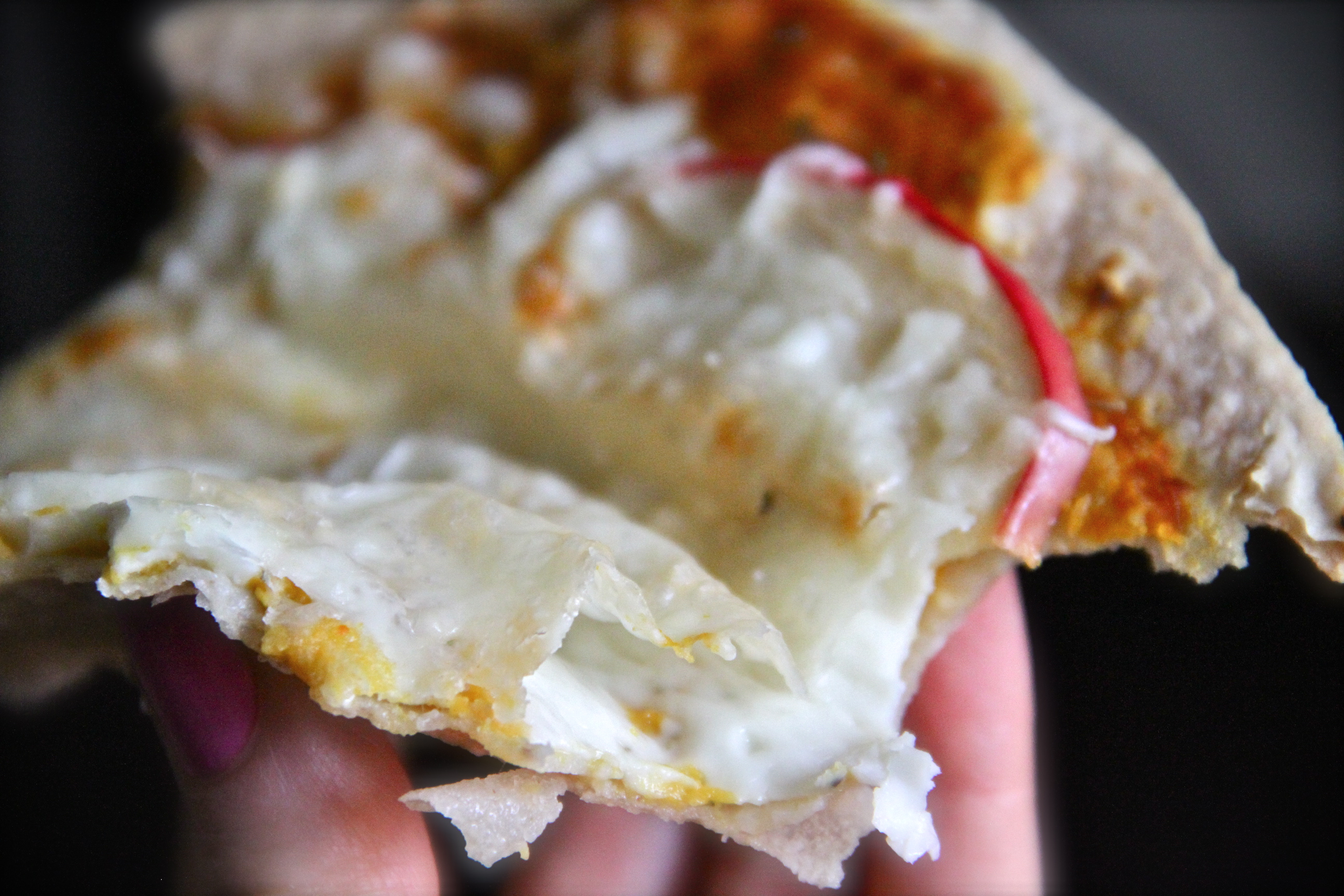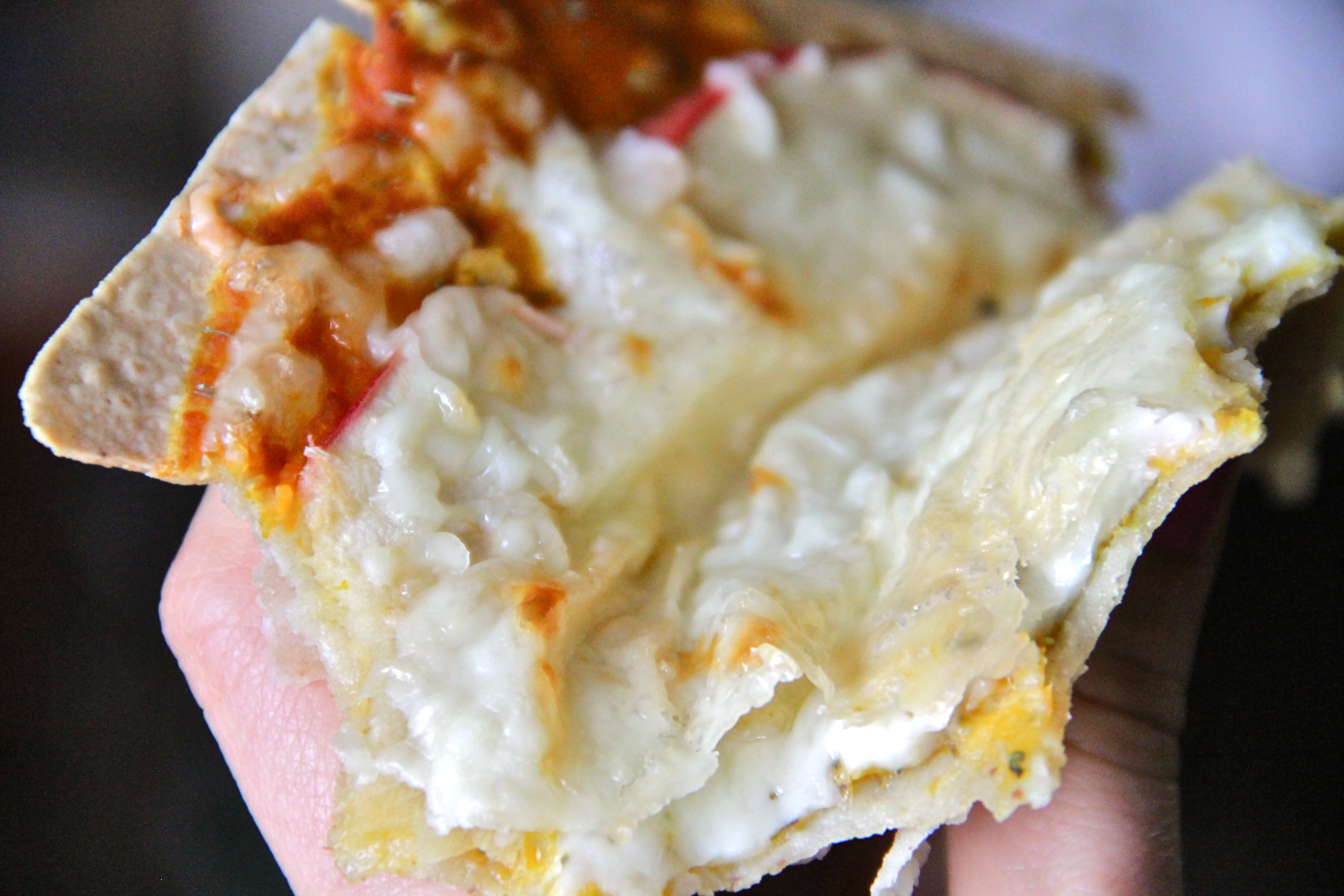 Oh. my. word.
I think I finished this meal in record time – it was just that good. The cheese remained gooey on the inside, while a slightly crispy crust formed on the top. And you know how I love my apple and hummus combo. This was just… I have no words. None, except: go make this now and thank me later.
. – .- . – .
Between the hours of lunch and dinner, my appetite becomes an insatiable beast. Still, I do my best to try and tame it, although sometimes my efforts are in vain. Today, however, I actually succeeded… kind of.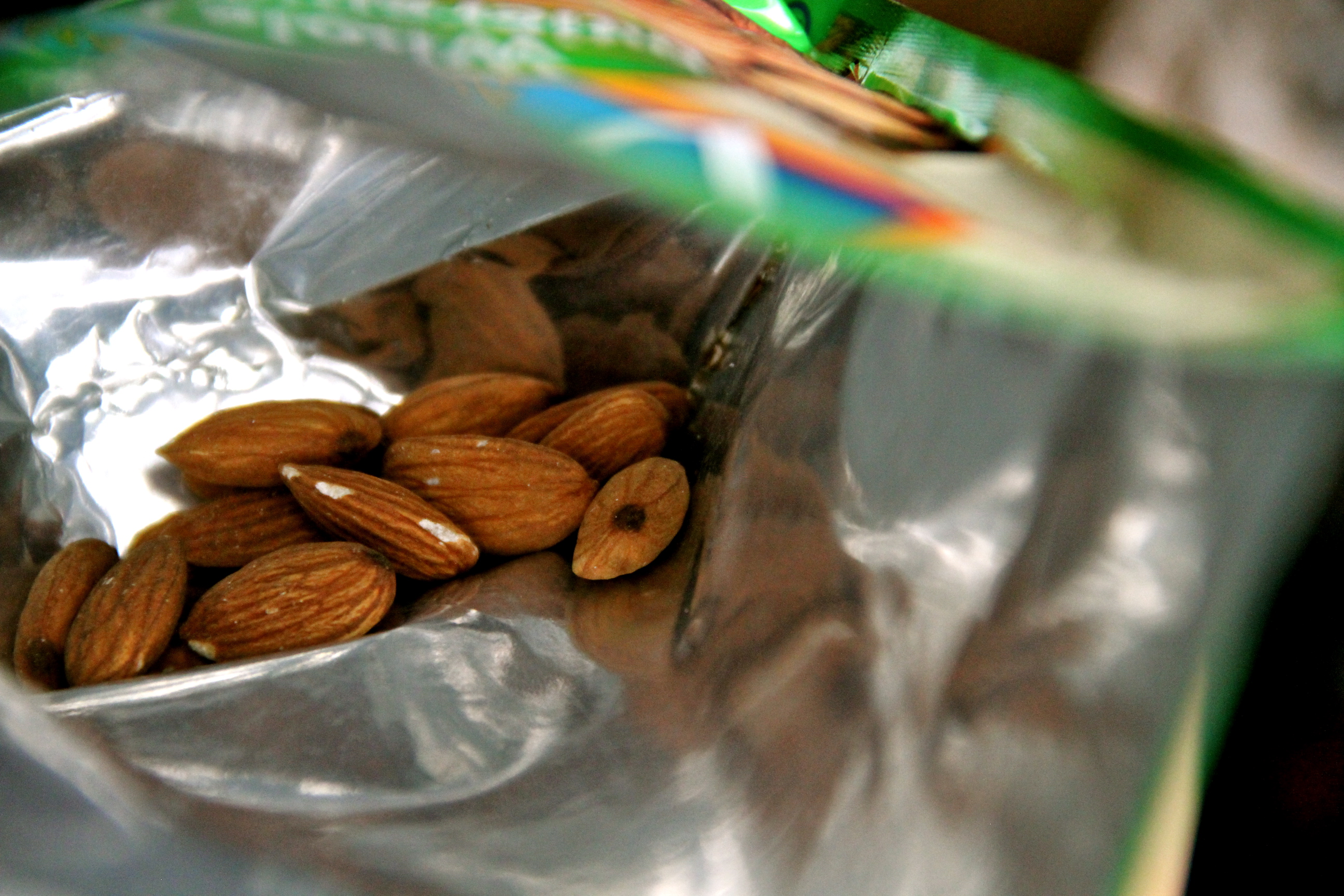 I randomly pick at almonds when I feel the munchies coming on, and now all I have left is an empty bag. Sad face. Good thing I managed to save enough to make a fresh batch of cookie dough balls…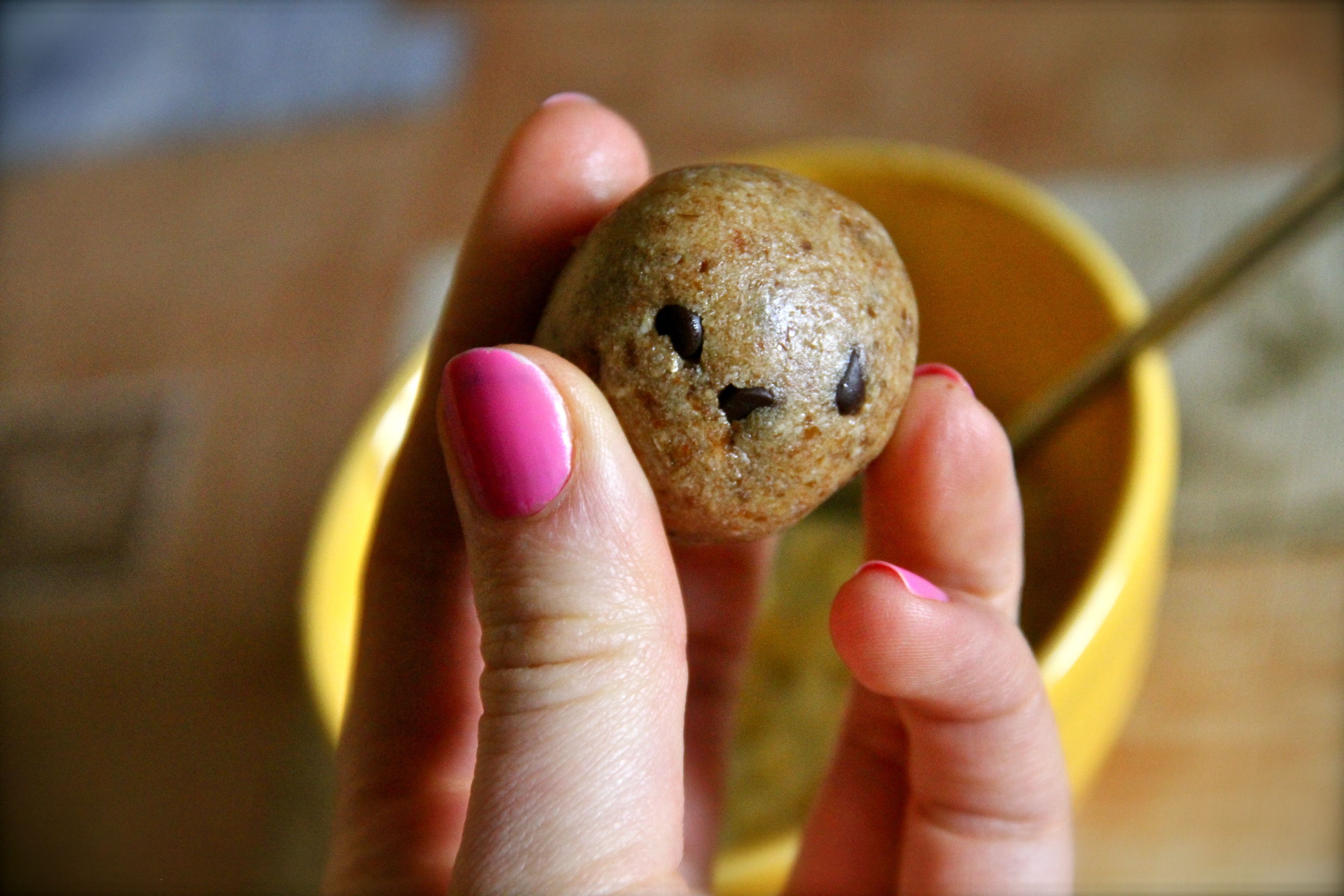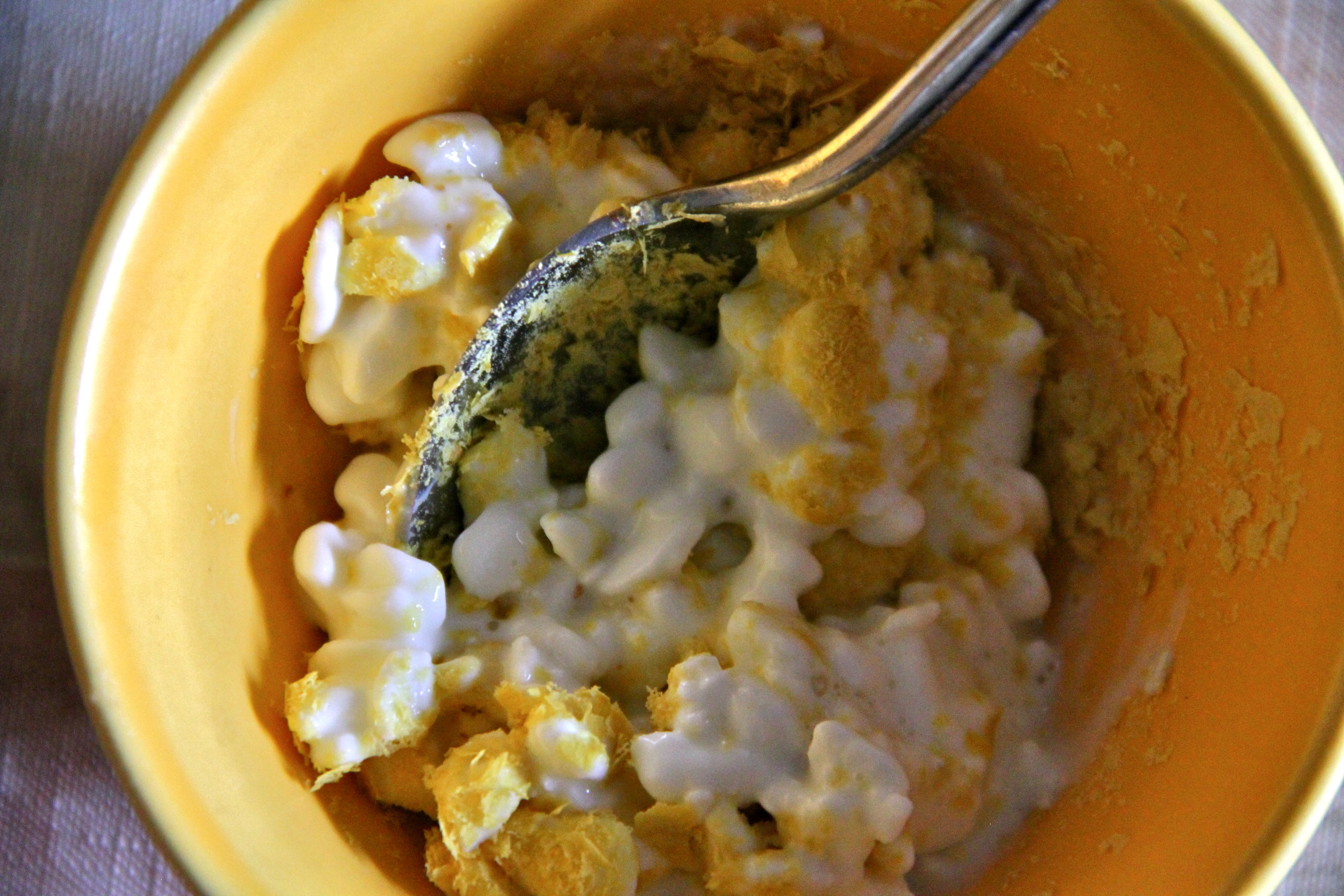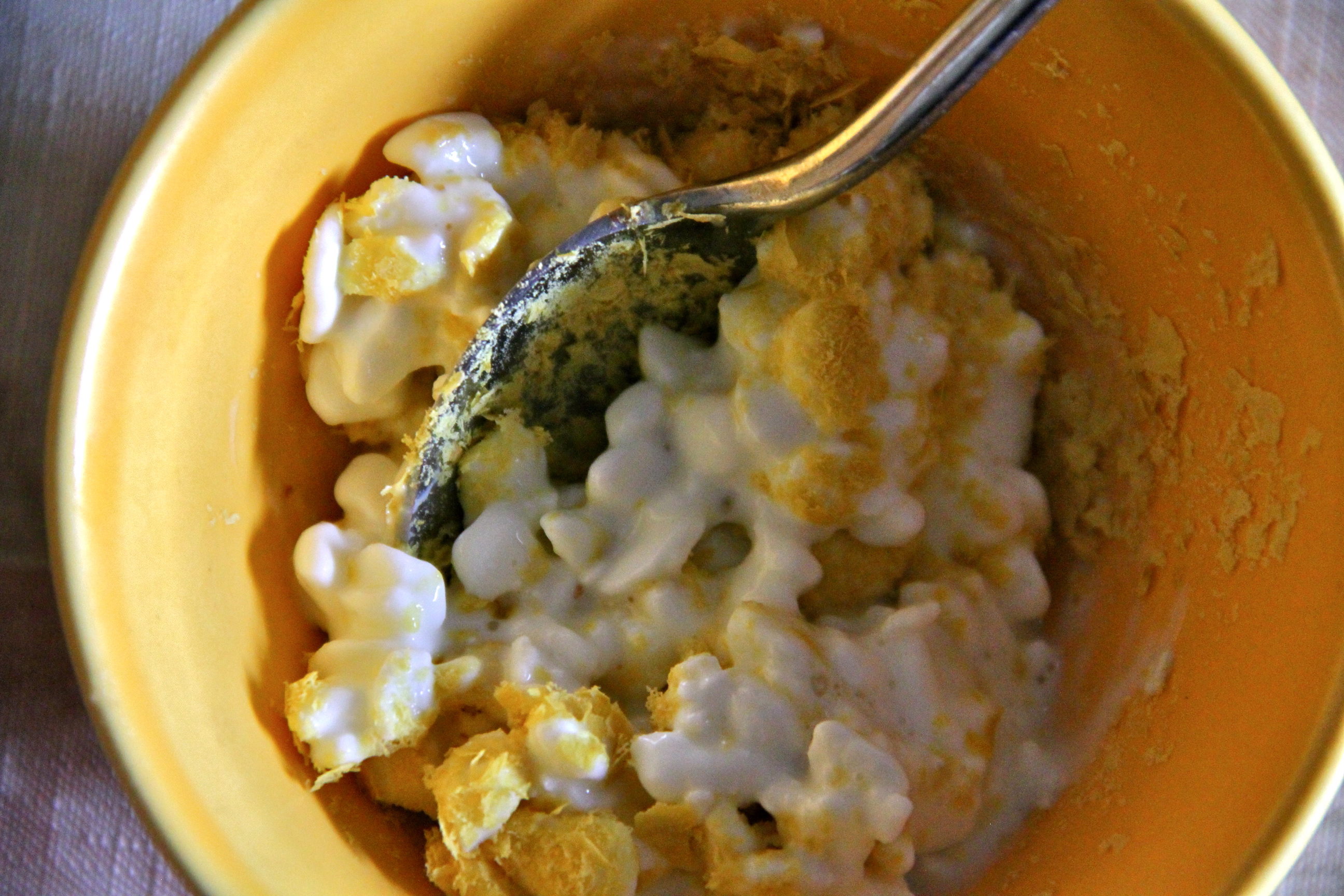 You didn't think I could go a day without one, did you? I had one of these babies alongside a bowl of cottage cheese mixed with nooch. Odd, yes, but I think we've already established that that's the way my cravings roll. This was the perfect combination of sweet and salty, and held me over nicely until dinner.
Dinner is always the hardest meal for me to come up with, probably because I just get tired of trying to be creative with food as the day goes on. I had a particularly difficult time trying to decide on tonight's meal, so I went with something that hasn't let me down thus far: oats… and cheese. Err… wha?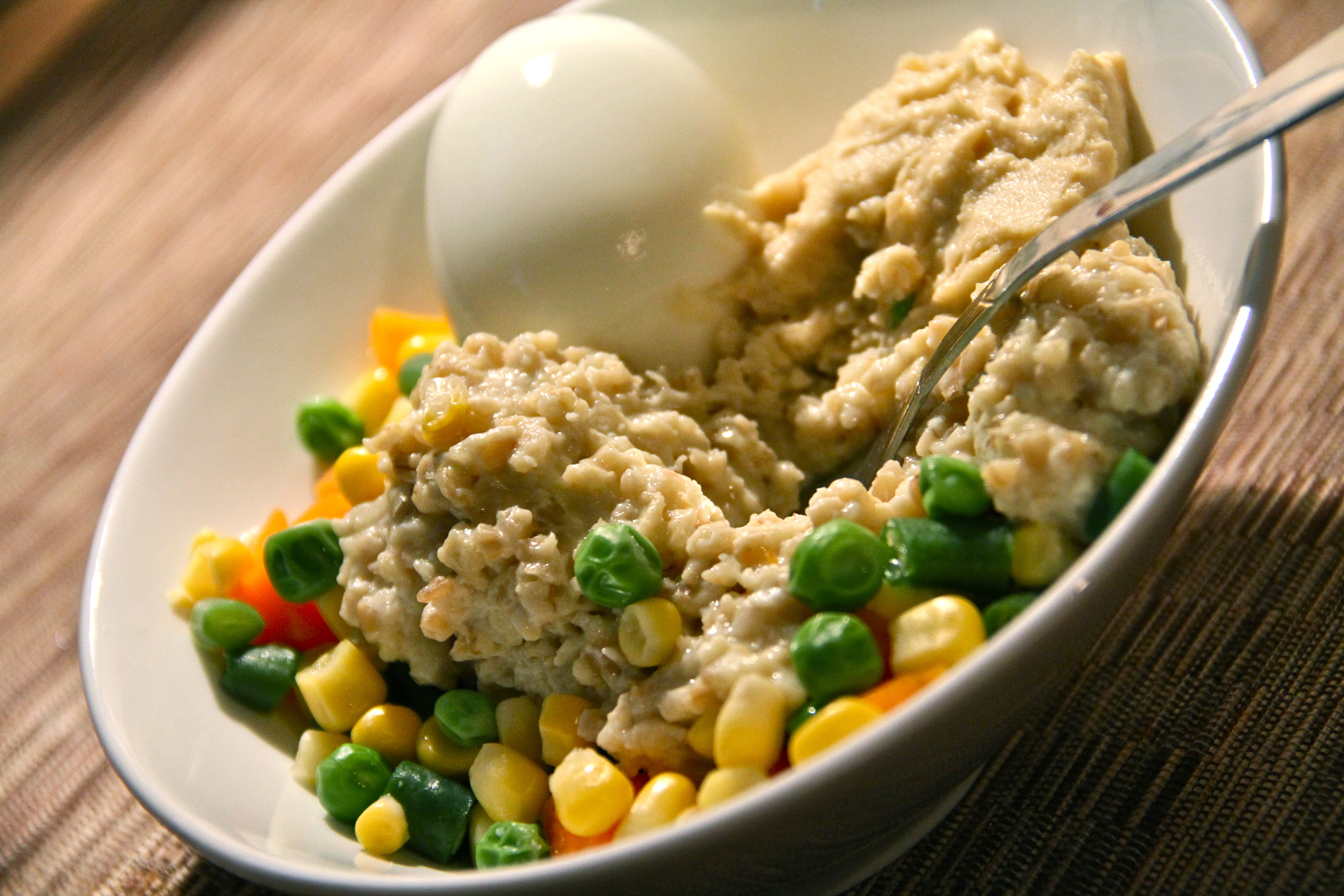 If you've never tried savory oats before, you need to change that. I know it sounds strange, but trust me on this one. Have I ever let you down before? I cooked a mix of Scottish and steel cut oats in veggie broth, added a heaping spoonful of nooch, an egg white, and a wedge of Laughing Cow, topped the whole thing with hummus, and added some mixed veggies and a softboiled egg to end up with a complete meal.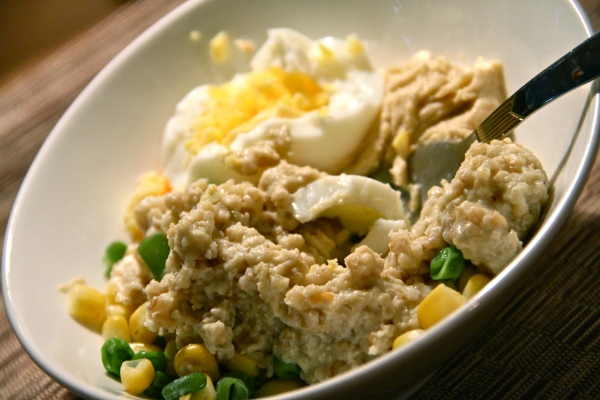 Dominated.
I always finish off the day with a snack before turning in for the night, but they rarely make it onto the blog because a) the lighting sucks for picture taking, and b) I'm usually relaxing and too lazy to whip out the DSLR. Lately, I've been putting in more of an effort to capture some of my nightly noshings because it's something I wanted to talk about, so expect a post on that in the near future.
Much love!
What time of the day do you usually find that hunger hits you the hardest?
What's your favorite go-to dinner?