You guys… I'm just going to go ahead and get this off my chest right from the get-go… I baked yet another batch of soft and chewy protein granola bars…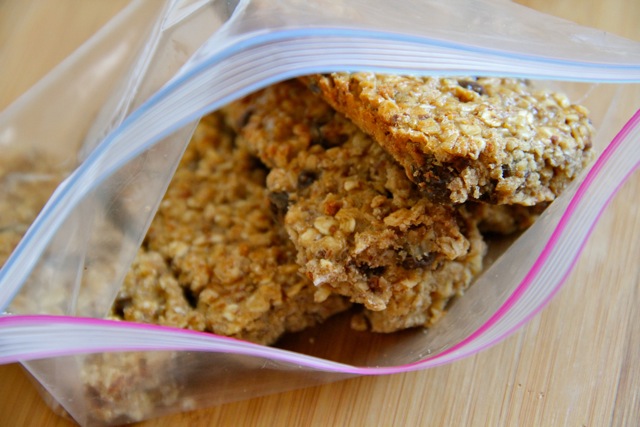 … which, if you're keeping track, brings my tally up to 4 batches. I would say I have a problem, but it's all in the name of experimentation — I swear! I received a few samples of Plant Fusion (expect a review + recipe soon), so I figured I'd test 'em out by seeing if my favourite bars could be veganized — and they can! I replaced the whey with a plant-based protein powder, and used a mix of chocolate chips and raisins instead of straight up chocolate chips. Gooooooood stuff.
But don't you worry your pretty little heads off… I've been enjoying plenty of food that doesn't come in bar form. And to prove it to you, let's take a look at What I Ate Wednesday Tuesday…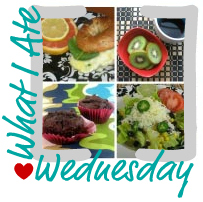 We're going to start with what I'm eating as I write this [on Tuesday night], since it's the easiest to bring to mind. Behond! The nighttime snack…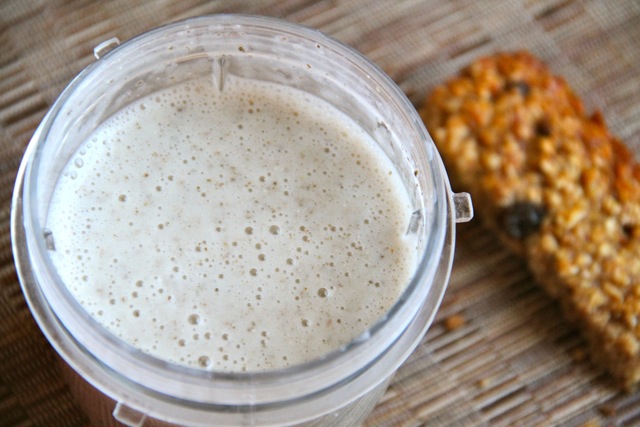 Banana milkshake and a granola bar.
Err… I just realized that starting things off by highlighting a meal with a granola bar probably isn't the best way to convince you that I eat things other than granola bars — I clearly didn't think that one through. But it's late, I just got back from snowboarding not too long ago, and the majority of my brain juices are working at keeping my basic functions functioning — there's not much left over for coherent thought. Bear with me.
Okay. So I've recently started increasing my nighttime snacks because boarding kicks my butt and waking up at 2 AM to the loud crescendo coming from my general stomach region is not my idea of a night well spent. What is my idea of a night well spent? I'll leave that to the workings of your imagination.
In non granola bar news, we have breakfast…
… which actually contains a lot of the same ingredients as my granola bars, now that I think about it. You've got your oats, your almond butter, your honey… I guess I have a fixation? Evidenced further by the fact that I followed it up with a morning snack of one of my flourless almond butter muffins…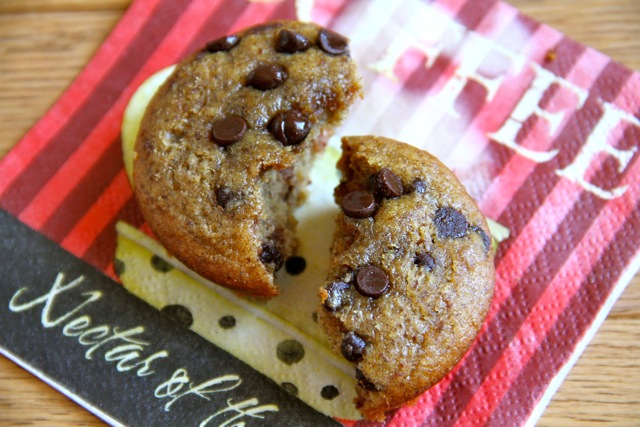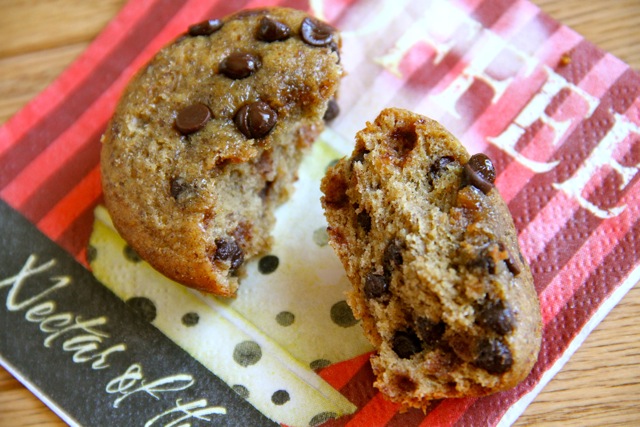 … whiiiiich, again, are made with oats, almond butter, and honey 😯 But at least the cantaloupe was different!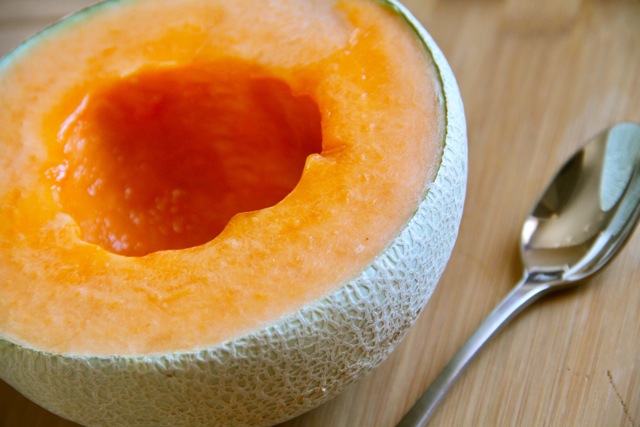 … as was lunch!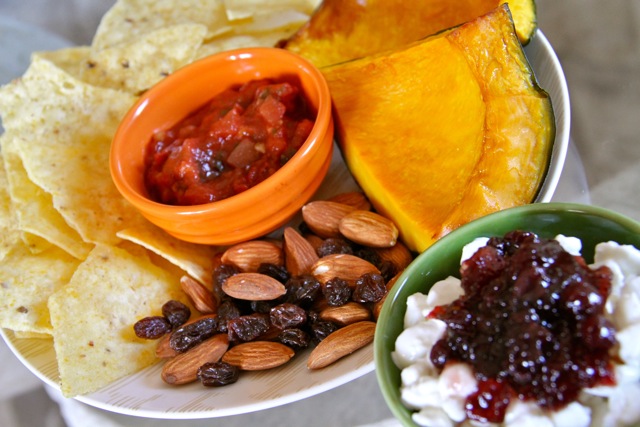 I'm still loving my snack plates, and I honestly don't see that changing anytime soon. This lovely spread was made up of some killer combos — chips & salsa (dangerous!!!); almonds & raisins; cottage cheese & jam; and…. roasted kabocha, all by its lonesome self. I think what I love most about snack plates is that they allow me to satisfy all my cravings in one go so that I'm not left prowling the kitchen in that annoying state of: "not-hungry-but-need-something," ya know? There's nothing worse than finishing a meal and not feeling satisfied, so I've learned to say to hell with convention and just eat whatever it is that I might be feeling… and for an afternoon snack, I was feeling some chocolate…
Belsoy dark chocolate pudding.
… and a banana, apparently…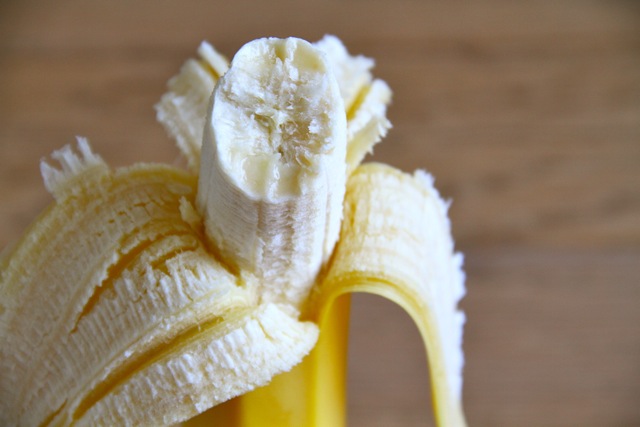 Another classic combo, but at least it's not oats, almond butter, and honey 😉 And neither was dinner…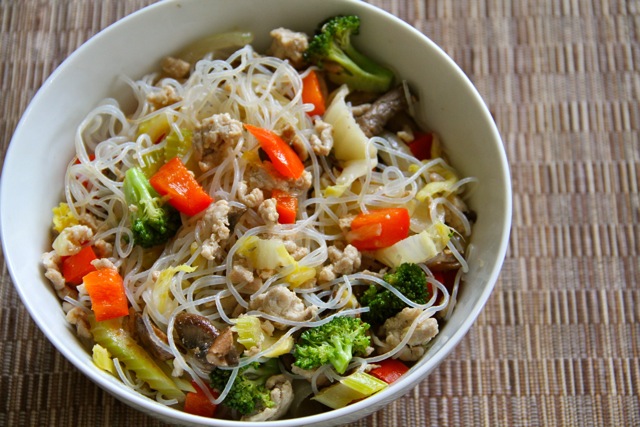 … which was leftover chicken stir fry, eaten cold because everyone knows that's the only way to do it.
I've got some exciting news to share, but it'll have to wait until tomorrow. I hope you guys have a wonderful Wednesday! And I'll see you tomorrow for Thinking Out Loud! 😀

What's one of your favourite food trios? I think mine is pretty obvious…
Favourite leftovers to eat cold? Stir fry or pizza.
What was breakfast this morning? Oats… with almond butter and honey 😉