I promised myself that I wasn't going to go all saptastic on you guys, but dangit… there's just no way I'd be able to start on today's post without thanking you for all of the e-mails and comments you left on my last one. Not gonna lie – it's never easy to make yourself vulnerable by opening up that way. I mean, who really wants to admit that they're not exactly where they thought they'd be at any given point in life? But, as always, the outpouring of support was incredible. Seriously. If you're struggling with feelings of drifting along with no purpose, go read over some of the comments that other people left – you may just find comfort in the fact that you're definitely not alone.
And I know I said I didn't really have any advice to give on the whole limbo situation, but there is one small thing I'd like to recommend you do…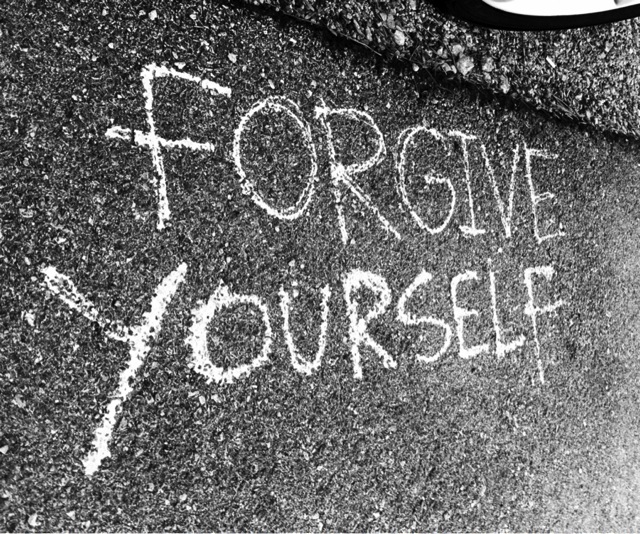 [Source]
Don't spend time looking back at all the time you think you wasted, because doing so is only wasting more time. As cliche as it sounds, you really can't move forward if you're constantly looking back. You may not be exactly where you want to be right now, but that doesn't mean that you'll never get there. The beautiful thing about life is that, as long as you're alive, nothing is set in stone. It's never too late to make some changes and start on something new.
And stop comparing yourself to others!
We're all on a different journey, and I know for a fact that I'm generally content with where I'm at until I start comparing myself to other people. Oh, she's happily married; she's expecting a baby; she's got tonnes of friends; she's starting an exciting new career; and I'm… well… here. Yes, here. And, honestly, here isn't all that bad of a bad place to be – I have more than enough to be thankful for and plenty to look forward to. Everybody does. Life can change in the blink of an eye without us even planning it, so really, there's nothing to get upset about. And I promise to keep reminding myself of that if you do too.
And another thing I want to remind you guys of is to cut comparison out of other aspects of your life as well. As you probably know, today is What I Ate Wednesday…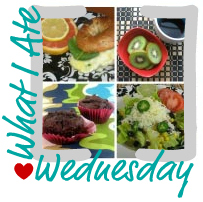 … and as much as I love sharing my eats and getting inspired by the eats of others, I'm also well aware of the fact that it opens the door for some nasty comparison.
I'm sure we've all done it before – compared our meals to somebody else's. We see someone with a body that we admire or hear about a diet plan that promises all sorts of benefits and instantly feel like we should be following suit.
Oh, she's not eating carbs after breakfast… I shouldn't do that either.
Oh, she's cutting back on sugar… I should cut back too.
Oh, she lost a lot of weight going Paleo… I should try that as well.
Sound familiar? No shame, I'm guilty of it myself. And while I'm all for experimenting with your diet and trying out new things, I can't stress enough how important it is to be able to admit to yourself when those things aren't working for you. Too often we get sucked into believing that what we're doing is good for us, when the opposite is in fact true. I've fallen victim to countless "bad ideas," only to rationalize them by telling myself that it worked for so-and-so, so it must be good! But now, after a good deal of trial and error, I think I've finally found a way of eating that works for me.
It's alternating between cereal and oatmeal for breakfast…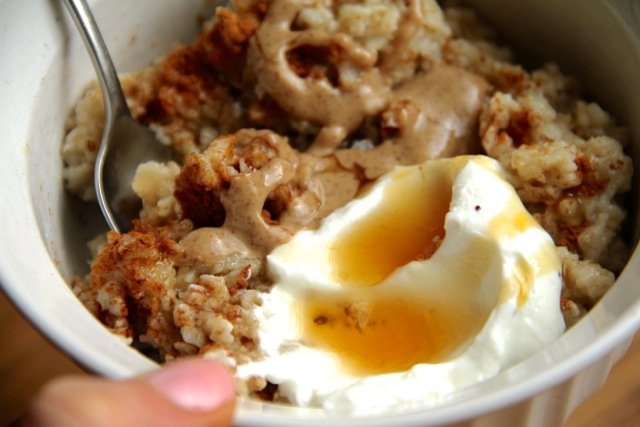 Eggy bananafied oats topped with plain Greek yogurt, honey, and almond butter.
It's eating my body weight in fruit…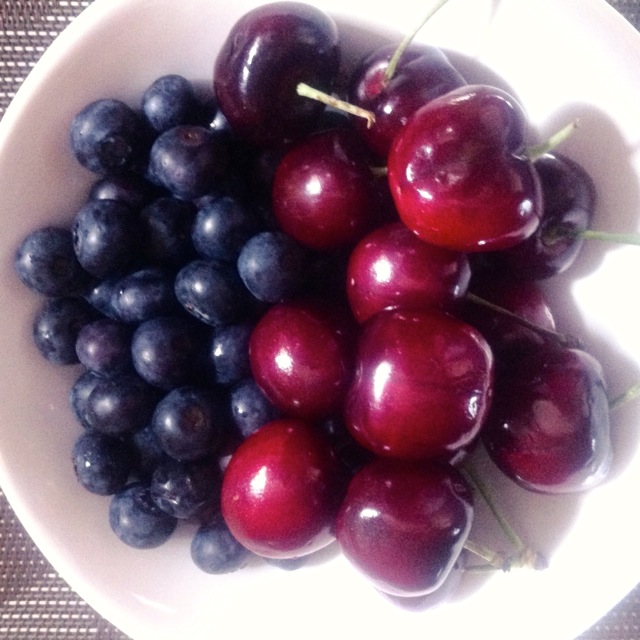 Fresh cherries and blueberries (finally!!!!).
It's satisfying those cookie cravings…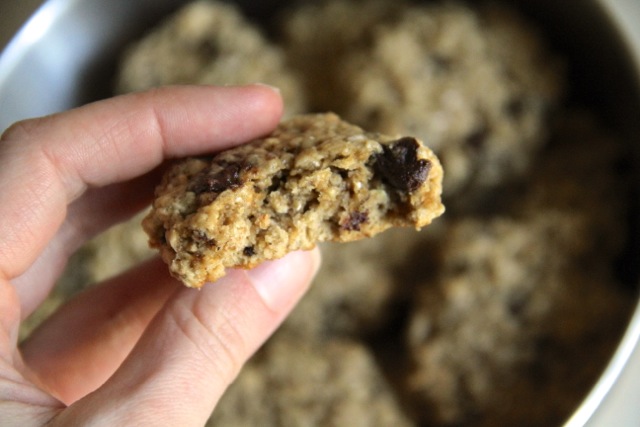 Freshly baked chocolate chip oatmeal cookies.
It's enjoying my daily coffee…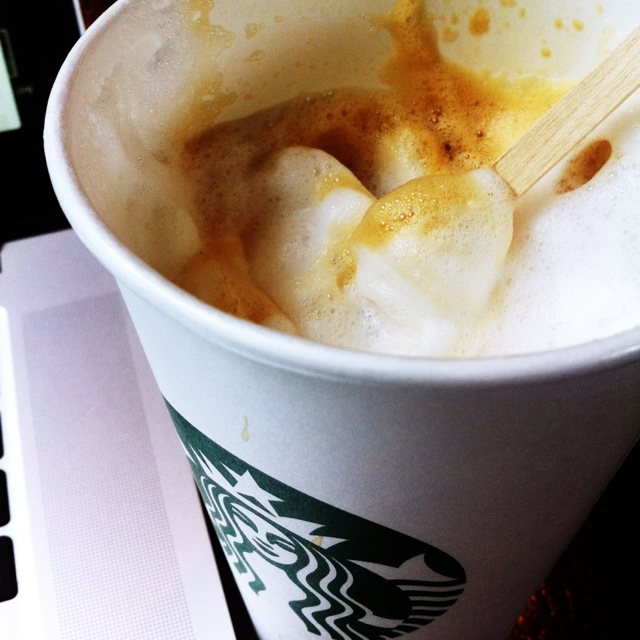 Dry cappuccino from Starbucks.
It's snacking on healthier versions of childhood favorites…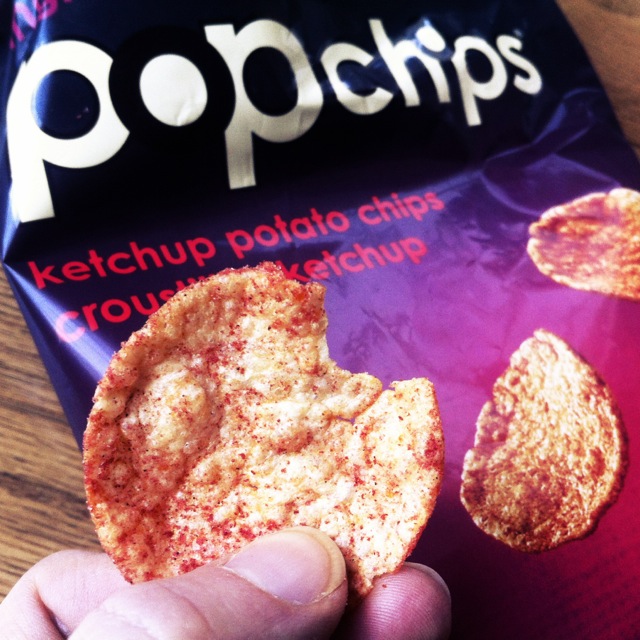 Ketchup flavored Popchips.
It's having breakfast for dinner at least twice a week…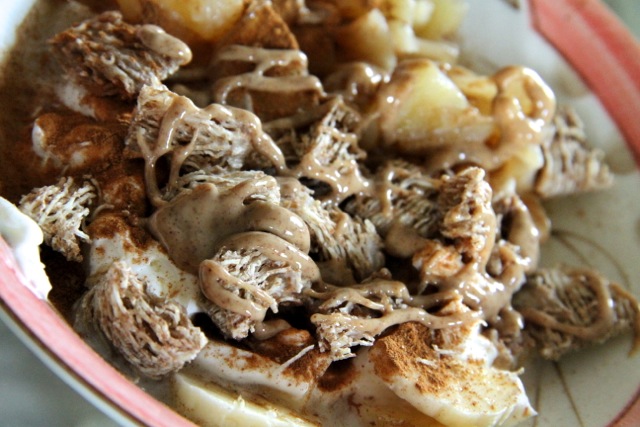 Cereal soup… Plain Greek yogurt mixed with a banana, homemade applesauce, and Kashi Cinnamon Harvest, and then topped with almond butter and almond milk.
It's making sure to end each day on a good [read: sweet] note…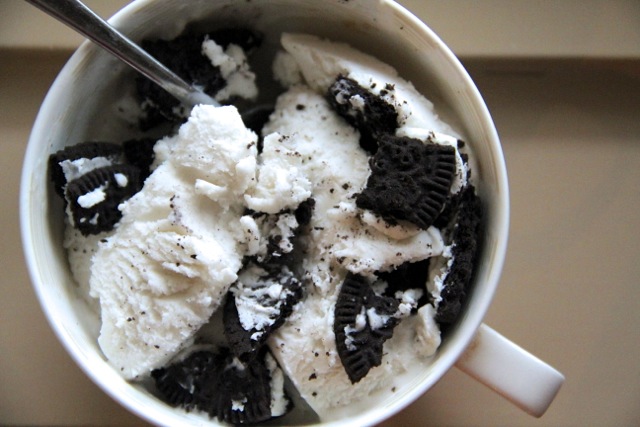 Vanilla ice cream and a couple of mock Oreos.
It's all about me, and doing what works… even if that means my eats sometimes resemble those of a 5 year-old.
Happy Wednesday, friends!
. – . – . – .
Do you ever struggle with comparing your eats to the eats of others?
What's one thing you know works for you?
What's your favorite flavor of chip?