Happy Wednesday, friends! 😀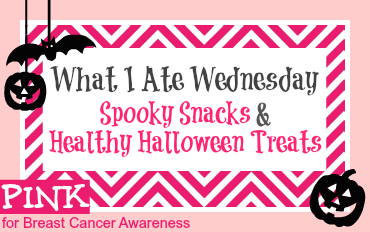 Apparently, I was super excited for this week's party because I woke up at around 4:30 this morning and just could not get back to sleep. I didn't have to be anywhere, nor was I trying to squeeze in a workout before work (day off, woo!)… I was just as wide awake as anything with basically no chance of falling back asleep. Boo.
After tossing, turning, and taking my frustrations out on my poor pillow, I finally gave up around 5, headed to the kitchen to brew up a cup of tea, and sat down at the computer to do some blogging. It wasn't long, though, before my stomach started hinting that it wanted to be fed.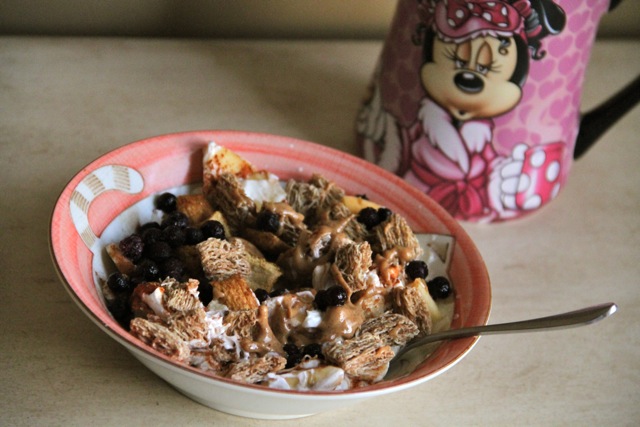 Now, I usually wake up anywhere from 6 to 6:30 and have breakfast at around 7:30. Today, by the time 6 o'clock hit, I was more than ready to chew my own arm off eat, but I found myself wondering if I should just hold off and wait until my "normal" meal time. In the end, I just couldn't do it, and breakfast was promptly served at 6:08.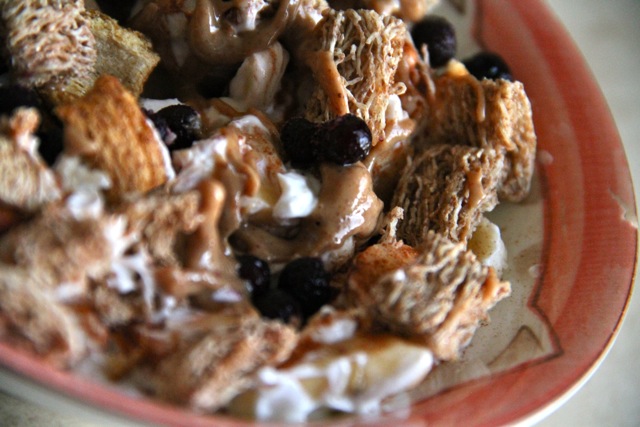 Plain Greek yogurt – banana/peach/blueberries – Kashi Cinnamon Harvest – Puffins – roasted almond butter.
It really bugs me that these kind of thoughts still pop into my head. Back in the days when I was really struggling with my eating disorder, I followed a rigid eating schedule that I refused to deviate from. I ate at set hours, and if I was hungry (which was basically always) but it wasn't yet "time to eat," I'd force myself to wait it out even if I felt like I was going to faint. I'd obsessively watch the clock, unable to focus on doing anything else, until that magic hour hit and let me know that I was finally "allowed" to eat. It was kind of a hellish way to live, and I'd rather not return to it.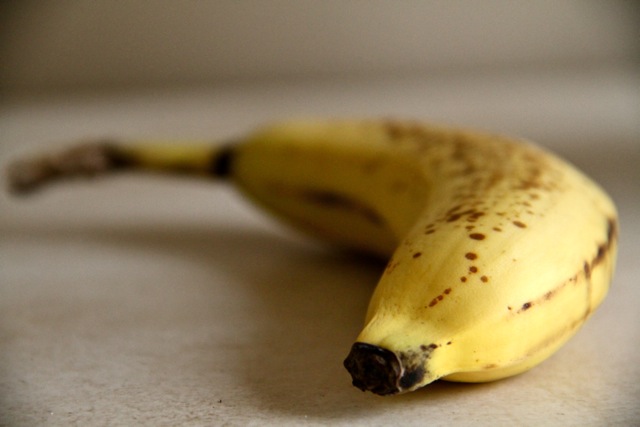 Morning snack. I'm a multiple-bananas-a-day kind of girl.
Thankfully, I don't see it ever happening again because I absolutely hate being hungry. Irritability. Mental fog. Fatigue. Lightheadedness. Who wants to deal with that? Or drag it out for longer than need be? I'd rather eat, feel satisfied, and move on with my day – even if that means having lunch at 10:30…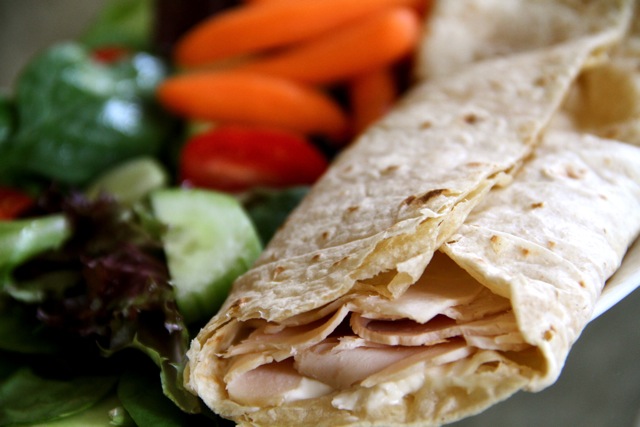 Turkey/cheese/hummus melt in a Rudi's spelt tortilla – Random veggies on the side drizzled in olive oil.
… a snack at 1…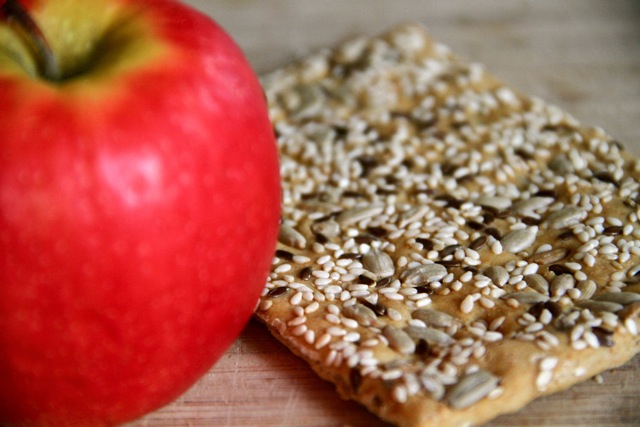 Pink lady apple (my favorite) and a Doctor Kracker Klassic 3-seed cracker.
… dinner at 4…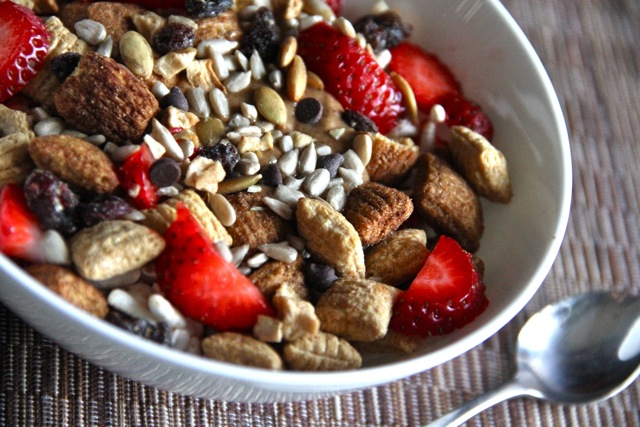 Breakfast for dinner! A bowl of Puffins, Kashi Honey Sunshine, and Enjoy Life trail mix. Milk added post-shot.
… and undoubtedly a few more snacks before the day is done, one of which must involve chocolate…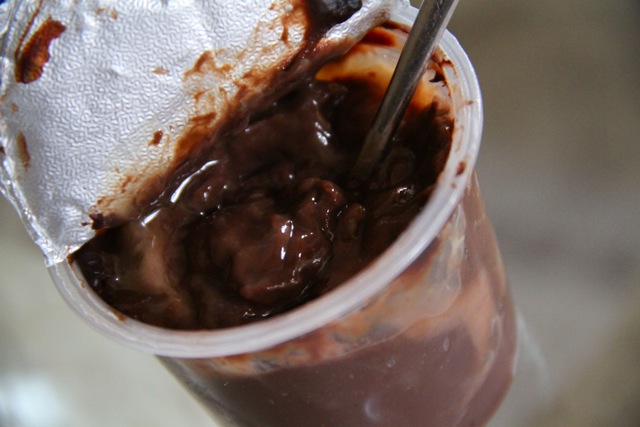 Zensoy Chocolate/Vanilla pudding.
As someone who thrives on routine, and needs a general schedule to maintain a balanced state of mind , days like today tend to throw me off a bit – they make me question whether or not I'm doing the right thing. Obviously, at the end of the day I know that I have to listen to my body and eat whenever I'm hungry, but that pesky little voice that lingers from my darker days never hesitates to try and veer me off course by throwing in his 2 cents. But he can keep his damn cents – I'd rather have dessert…
And on a completely unrelated note… where the heck are my veggies?! I think I need to look into that, stat…
Hope you guys are having a great night! 🙂
 . – . – . – .
Do you eat by a schedule or honor your hunger whenever it shows up?
Do you ever try to "wait out" your hunger, or "save" your calories for later in the day from fear that you might end up eating more than you'd like to? I'd love to hear your guys' experiences.