Hey hey, it's Wednesday! 😀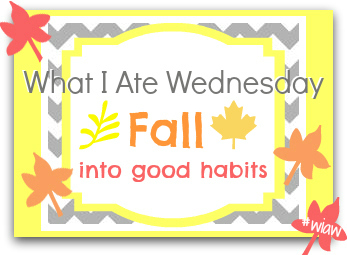 But my guess is that you're not here for me to tell you what day of the week it is – you want to know whether I did or didn't give in to what may or may not have been a craving for hot and crispy McDonald's fries…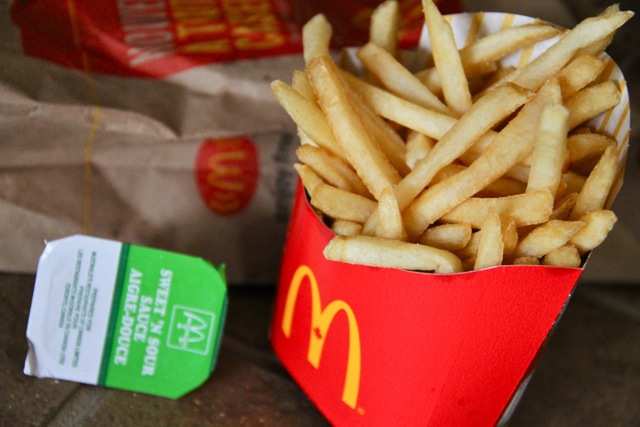 I totally did 😀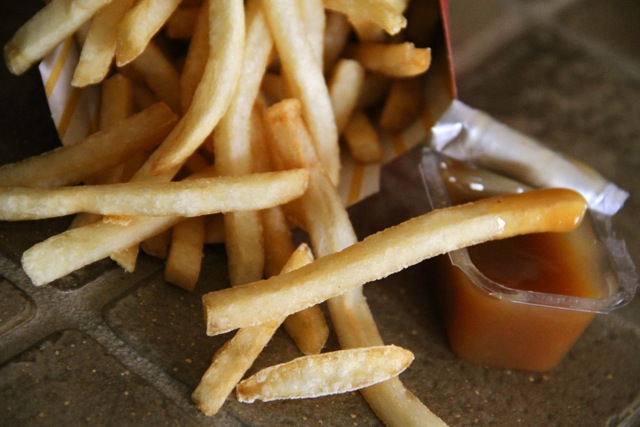 And holy.wow were they ever good – exactly like I remember. I was kind of worried that the greasiness would leave me feeling sick, but in all honesty? No problems whatsoever. I can't handle the healthy stuff, but when it comes to junk food I seem to have a stomach of steel. Huh. I'm honestly not quite sure how to interpret that…
Oh well. It is what it is. It's probably not something that'll become a regular part of my diet, but when the craving hits? Definitely. I just hope the craving doesn't decide to hit at 1 AM like it used to back in the day – let's just say that I spent quite a bit of time waiting in line at 24-hour drive throughs. True story.
And speaking of 1 AM… I actually managed to get to sleep at a decent hour last night – 12:30! Oddly enough, I'm feeling pretty darn good today – I'm actually starting to think that my body has a mind of its own, because no matter what I do, it seems to randomly do its own thing. At least I know how to satisfy a grumbling stomach, though…
Breakfast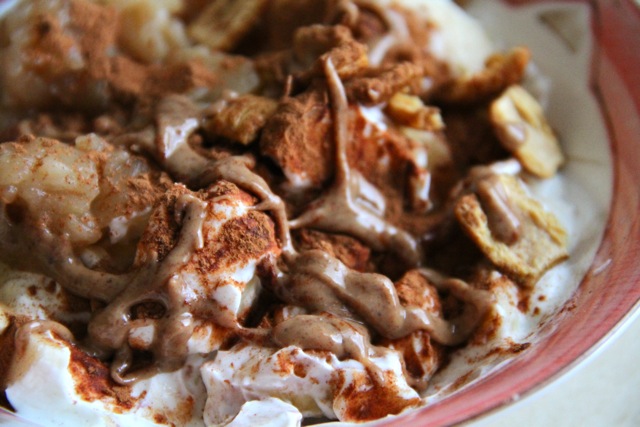 Kashi Cinnamon Harvest,  plain Greek yogurt, a banana, Puffins, homemade applesauce, and roasted almond butter.
Snack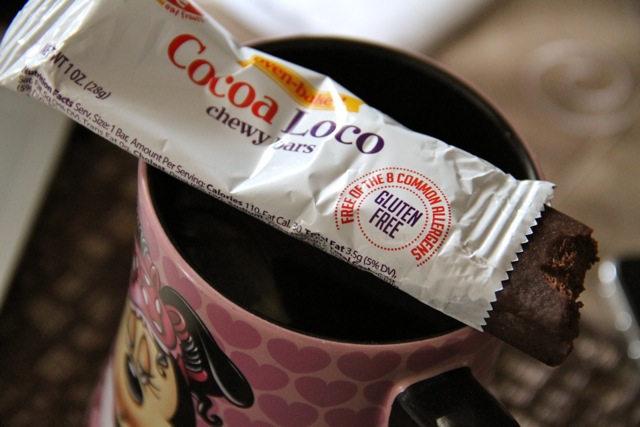 Enjoy Life Cocoa Loco chewy bar – black tea.
Lunch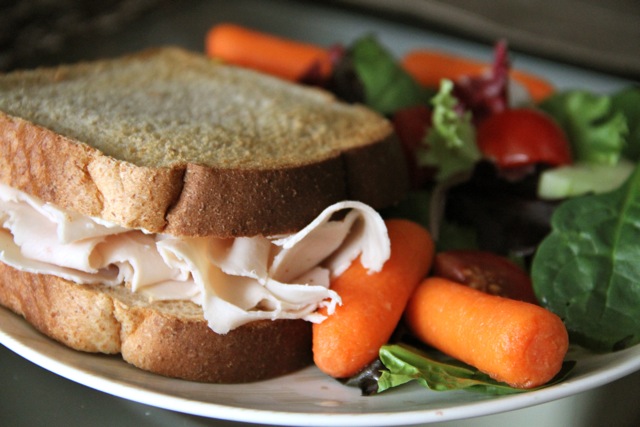 Turkey and hummus sandwich – random veggies.
Snack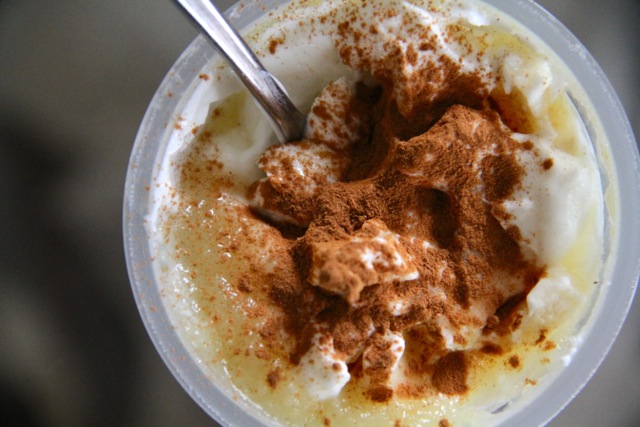 Applesauce with yogurt, a sliced banana, and cinnamon. This cup x3 because it wouldn't all fit in one go.
Snack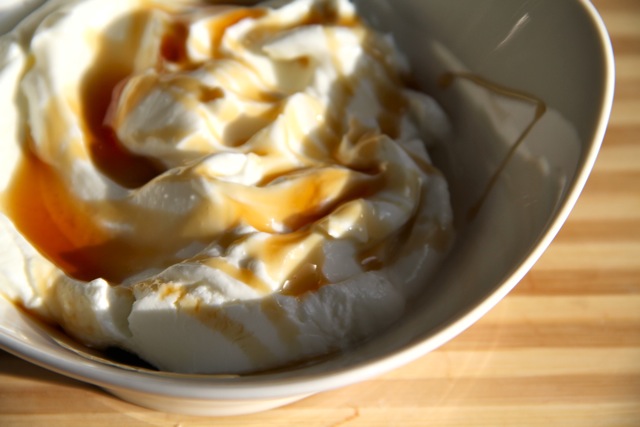 Plain Greek yogurt with honey.
Me time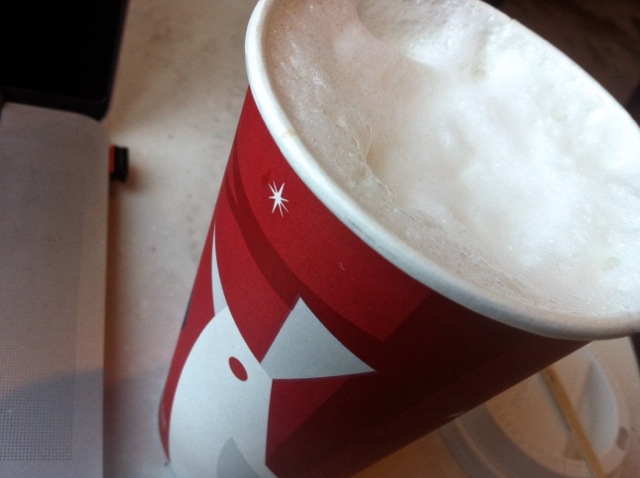 Starbucks Cappuccino
Dinner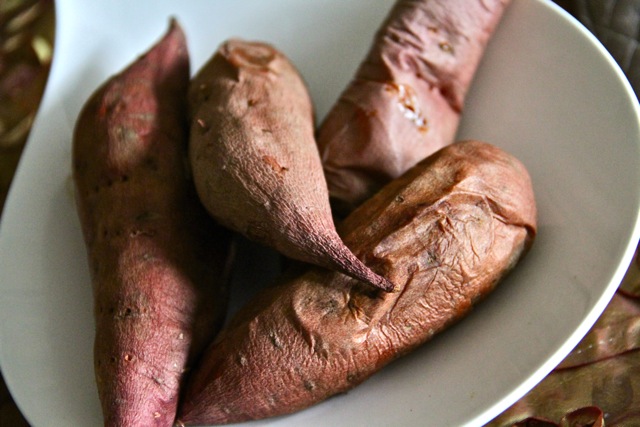 TBD! I baked up a bunch of sweet potatoes so I'll probably have a couple of those with something else. I'm thinking yogurt and almond butter.
Yesss. All in all, I'd say it was a pretty good day of eats. My car had a flat this morning, so I ended up having to work from home… which basically translates to being able to eat whatever the heck I wanted. No complaints! As for the rest of the evening, I'm seeing a movie, a big bowl of popcorn, and maybe a certain guy in my very near future 😉
See you guys tomorrow!
. – . – . – .
What's your favorite fast food? McD's fries (and chicken nuggets) will always be my #1.
Ever make any midnight food runs? Story of my life in my late teens and early 20's.
Favorite way to eat sweet potatoes? With yogurt, AB, and cinnamon.